MENU
Top 20 Eye-Catching Travel Brochure Templates
A travel brochure is a publication that is used to promote travel-related goods or services. The purpose of a travel brochure is to provide information about the destination and the services offered. The brochure contains also information about objects such as hotels and restaurants that are available in those destinations. What is more, it aims to persuade people to visit the location.
A travel brochure can be distributed online in the form of an electronic brochure, or at tourist locations, which is why it is important that they are visually appealing and concise in order to attract attention. Other distribution channels include hotels, airlines, and travel agencies.
Online Brochure Example
From this article, you will learn the basics of how to make an effective travel brochure and how to create a modern digital brochure that can be shared anywhere on the web. This blog post provides also examples of the best travel brochure templates.
How to make a travel brochure?
Best practices for designing and creating travel brochures are difficult to come by. Many aspects need to be considered, from the layout to the content, from the images to the fonts. The basics of how to create a good travel brochure are listed below:
1) Use a grid layout.
2) Consider different layouts for different purposes.
3) Use high-quality pictures of people traveling in your brochure.
4) Avoid using too many font styles in your content.
5) Make sure you have enough white space on your page and between paragraphs of text.
6) Include contact information or a map on your brochure.
The first step of making a travel brochure is to decide what the brochure will be used for. If you are creating event brochure or conference one, then you might want to include some of the highlights of the event in your layout.
If you are creating a brochure that is meant to be handed out at an airport or train station, then you might want to include some maps in your layout.
When it comes to designing your layout, there are many different ways that you can do it. You could use one large image with text and smaller images around it or create one large image with text and smaller images on top of it.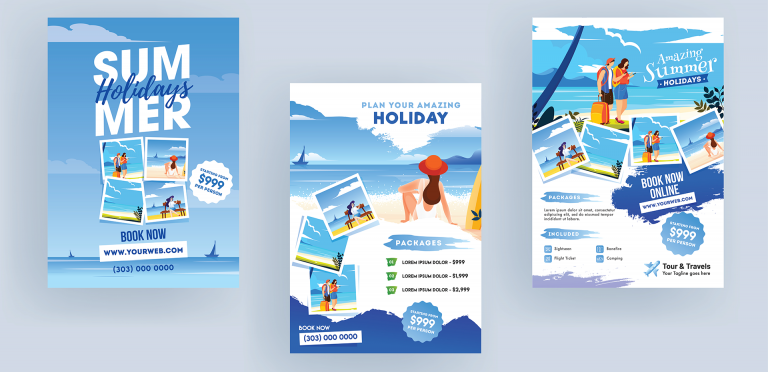 In order to map out your content, you need to know what your main goal is with this brochure. Is it to promote tourism? To sell a product or service? To provide information about attractions? The answer to this question will help you determine what kind of content you should include in your brochure and how it should be arranged for maximum impact. You may also want to consider including testimonials from happy clients or other experts in the field, as well as photographs that show off your destination or business at its best.
What is more, photography is one of the most important parts of any travel brochure. The pictures are what make the brochure memorable and they can also help to sell a tour.
There are many ways to incorporate photography in your travel brochures. You can use a series of photographs, or you could use one large photo with a small caption. You could also just have one photo with no captions at all, and let the beauty of the destination speak for itself.
What are the 6 most important components of a travel brochure?
1. A compelling headline that captures the readers' attention and makes them want to continue reading.
2. A catchy introduction paragraph or sentences, which grab the reader's attention and convey the purpose of the brochure.
3. A section on what to do in the destination, which includes things like day trips, tours, and activities that are popular with visitors to this destination.
4. Information on when to visit and what clothing is recommended for each destination.
5. A map of how to get there from one's hometown (or another nearby city).
6. Contact information.
Create your digital travel brochure with Publuu
Because of the growing number of Internet users nowadays, the tri-fold printed brochures gradually go out of date. So to stand out from the crowd you need your brochure to go online!
Use one of the fantastic brochure templates presented below, save your brochure as a PDF file and upload it to Publuu online brochure maker that can transform your static document into an interactive brochure. Publuu will automatically add a realistic page-flipping effect that enhances the reading experience.
Publuu's travel brochure example
View more online brochure examples
A good practice will be to diversify your travel brochure with multimedia such as colorful images or videos that can draw your audience's attention to the particular brochure sections. You can customize your brochure at will – change the background theme, upload your brand logo or add a lead capture form to collect the details of the potential clients. What is more, with Publuu it is possible to add some interactive hotspots to your travel brochure that can lead to your travel agency website.
Publuu allows you to embed the brochure on the web, and share it as a direct link via an email or social media profiles. Your readers will be able to display your stunning digital brochure on every mobile device, such as a smartphone, tablet, or desktop without the loss of quality.
The analytical tool available in Publuu makes it easy to monitor how your travel brochure performs in real-time. You can check who opens your brochure, the number of views, or even the exact amount of time people spend on each page.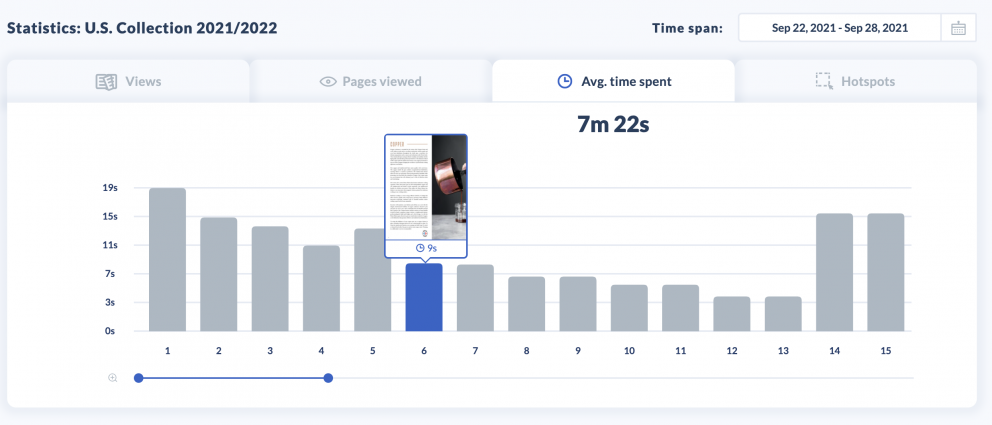 All of the aforementioned functions make Publuu the best choice for those who want to take their travel brochures to a higher level.
Travel brochure examples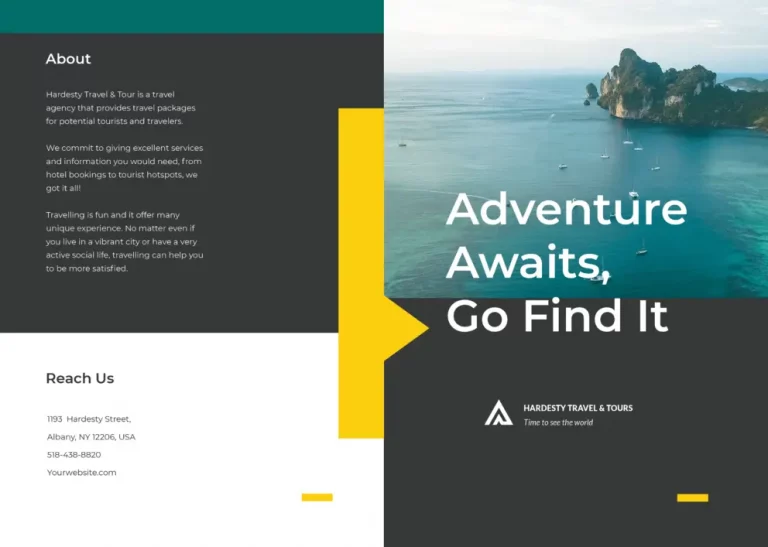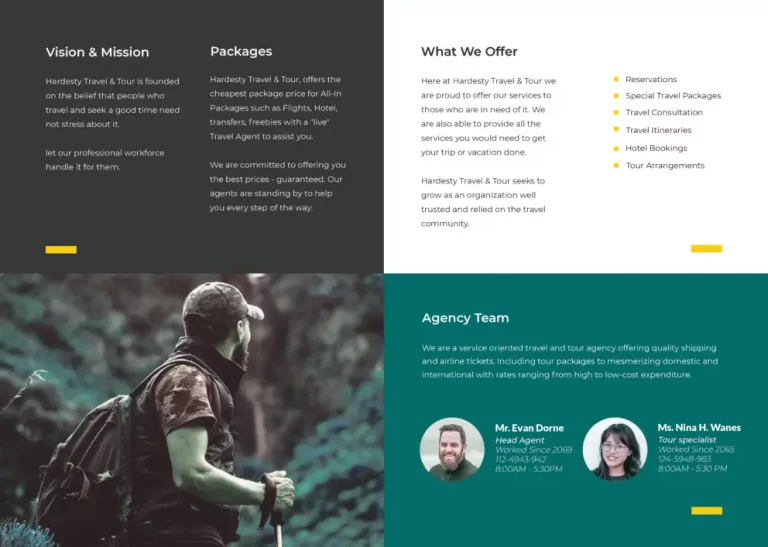 You can personalize this free bi-fold travel brochure at will using Adobe Photoshop, Adobe Illustrator, or Adobe InDesign. Decide what fonts and colors suits your travel agency best and change them with just a click.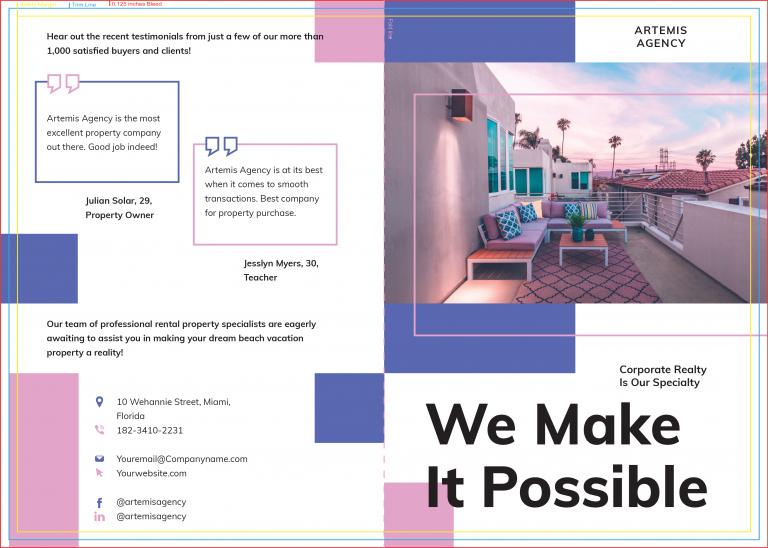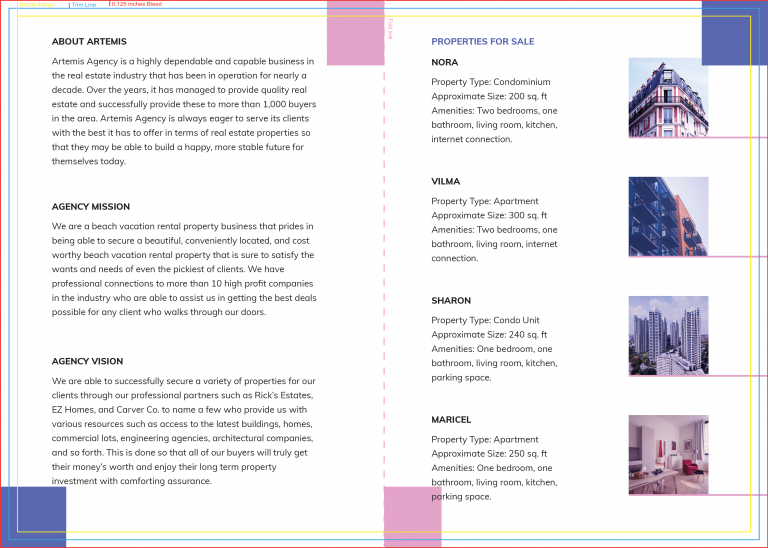 Looking to attract a lot of customers? This Beach Vacation tri-fold brochure template is a quick, easy and inexpensive way to get more traffic. The tri-fold brochure design is a versatile option that offers ample space to list your properties and services.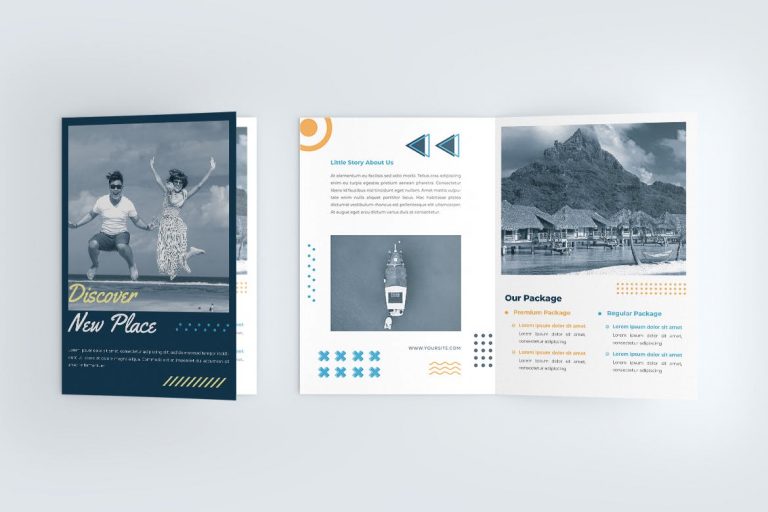 This bi-fold brochure template can successfully promote your travel agency. Download it on various devices in formats such as PSD, ID, AI, and customize it with Word, Pages, and Microsoft Publisher.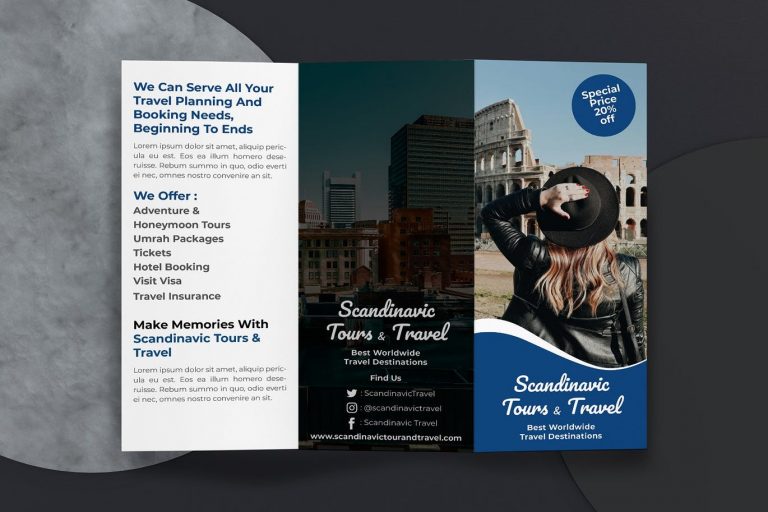 It is easy to customize this tri-fold brochure template even if you don't have any graphic design experience.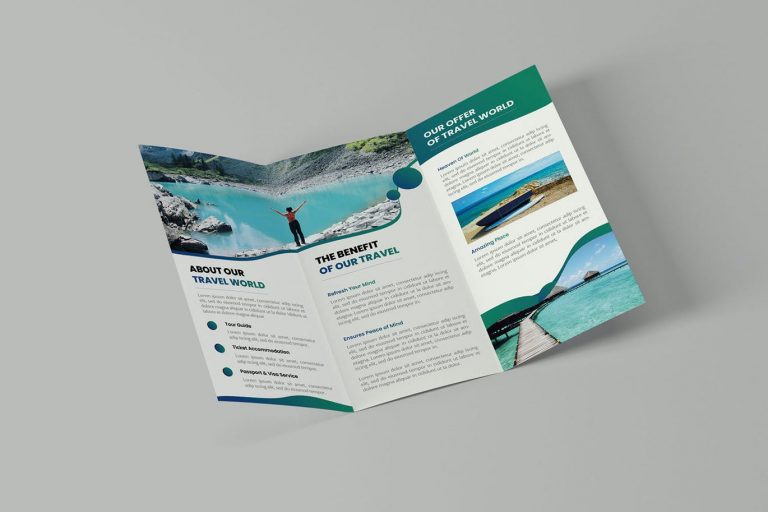 With this tri-fold brochure template, you can show the benefits of tourism.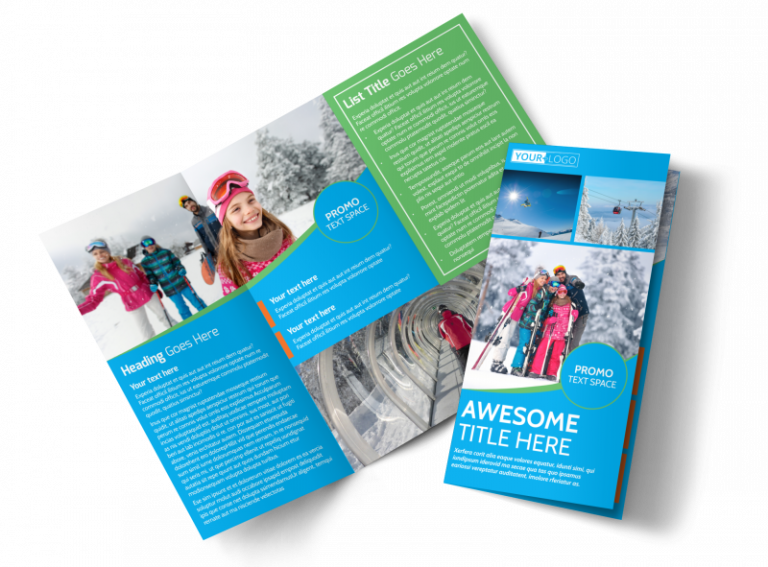 If your target audience is adventure seekers you should definitely try this tri-fold brochure template. It is devoted mainly to ski resorts but can be used by various travel industries.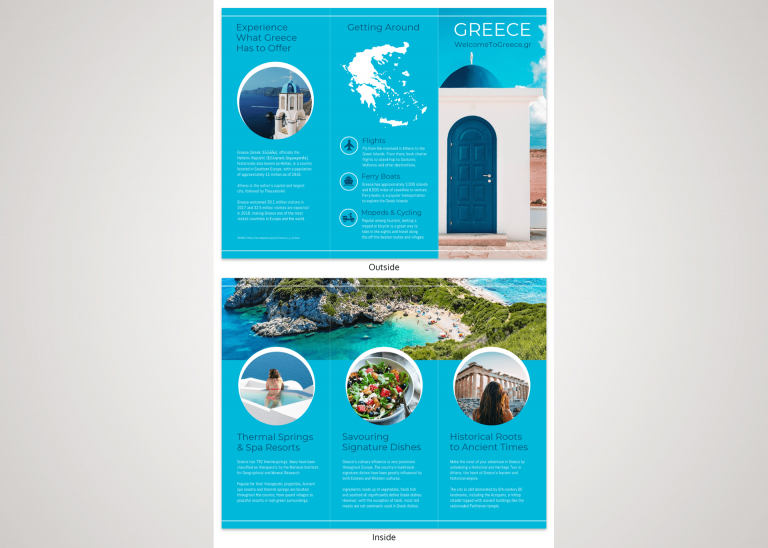 This tri-fold brochure template is best to present exotic destinations. Customize this template and enrich it with beautiful photos taken by a professional travel photographer.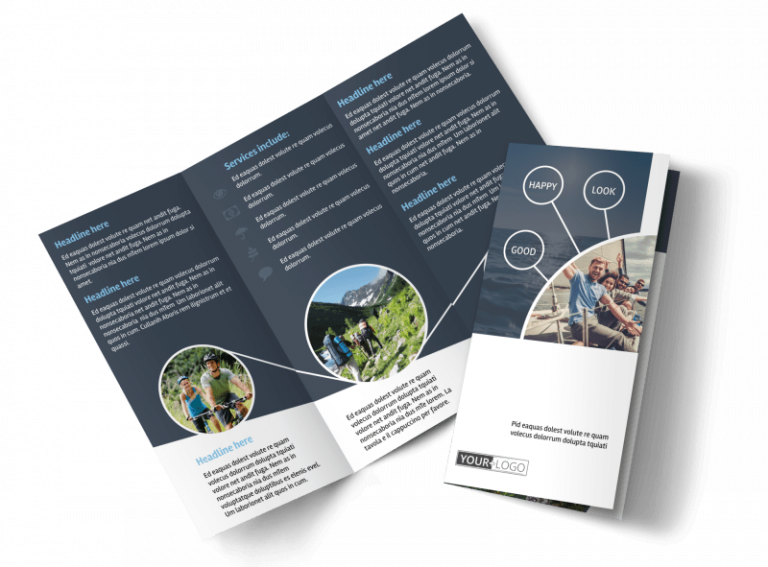 If you want to advertise your guided vacation or tour try this tri-fold brochure template. Its simple layout allows you to provide only the most relevant information about the places that your clients are able to visit.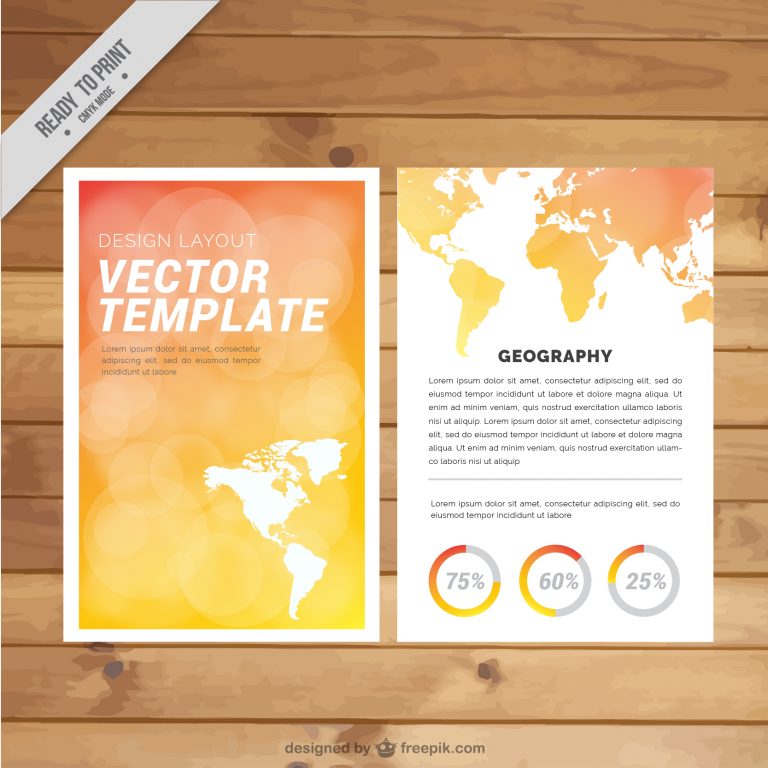 This ready-to-print brochure allows you to add a map of the destinations. You can download it in vector EPS or AI format to customize it using Adobe Illustrator.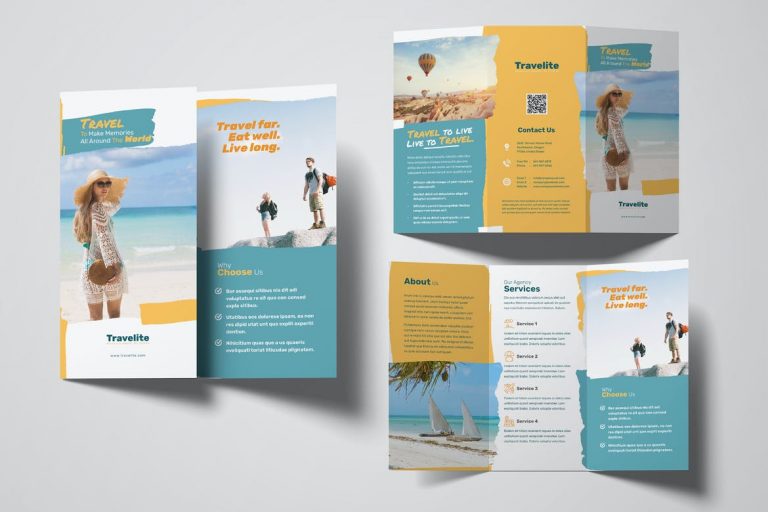 This colorful tri-fold brochure template gives your prospects the vacation vibe that they can't resist. This template is fully editable, so you can replace the pictures with those presenting various destinations or a guided tour.
Free travel brochure templates
Orange Minimalist Adventure Brochure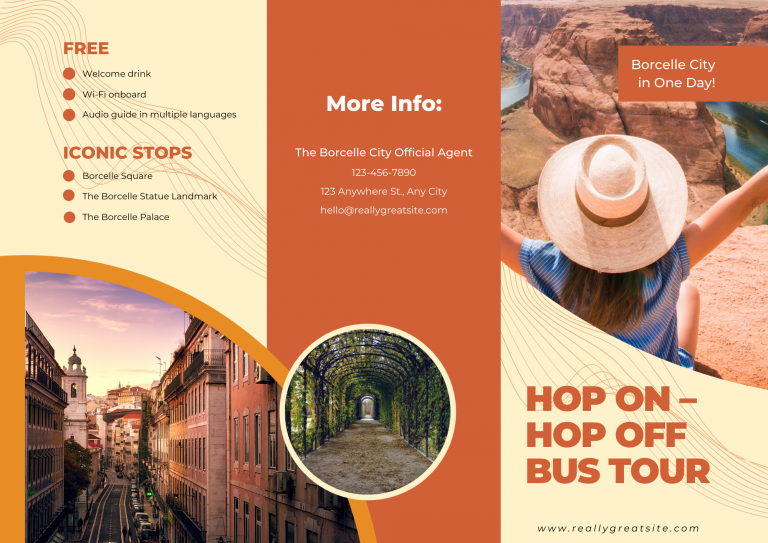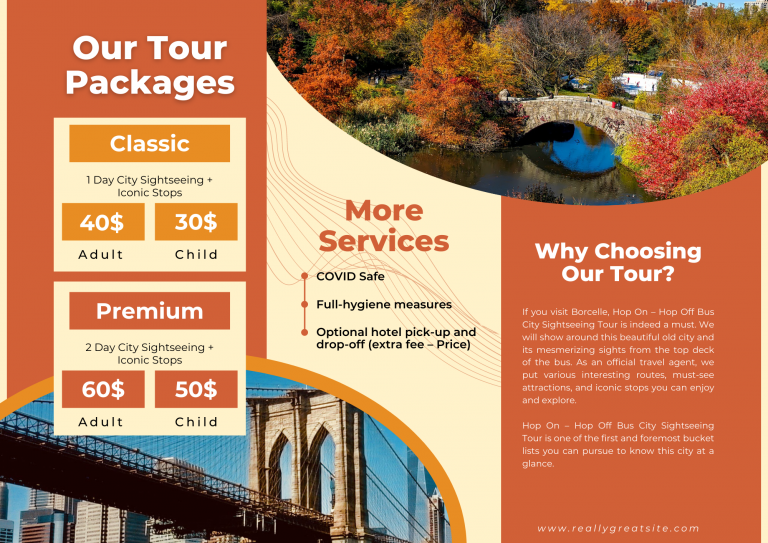 With this brochure, your clients will feel like real adventurers! Canva allows you to customize this travel brochure easily with only a few clicks. Use the elements such as graphics or stickers that Canva provides, add your own photos or videos and impress your customers!
Grey and Brown Travel Agency Brochure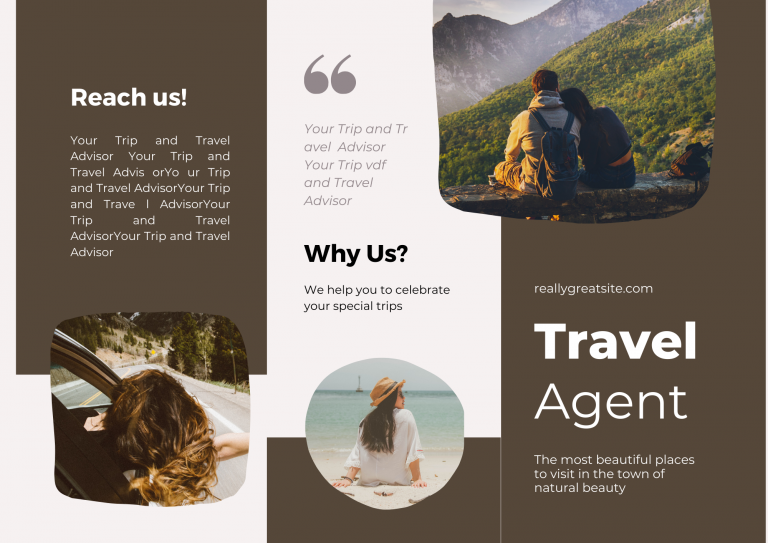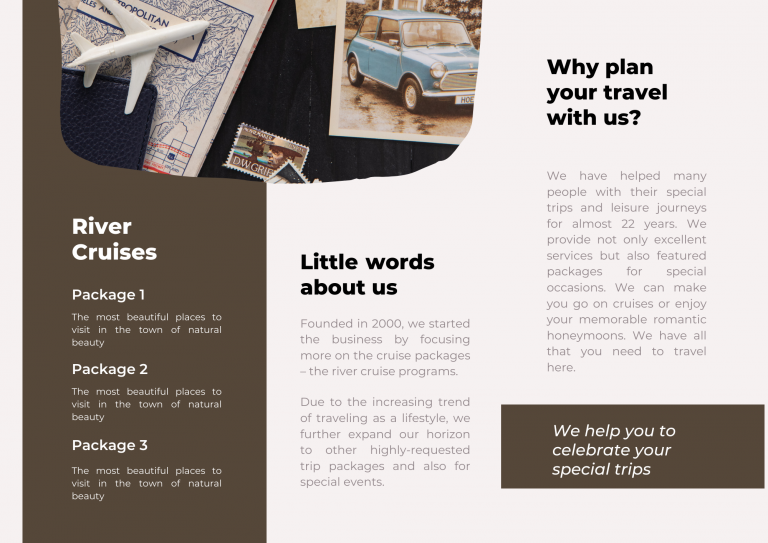 This free travel brochure template is the best choice for travel agents, for it is great for advertising the travel destination and it helps to persuade the potential customer to visit it.
Blue and Green Travel brochure template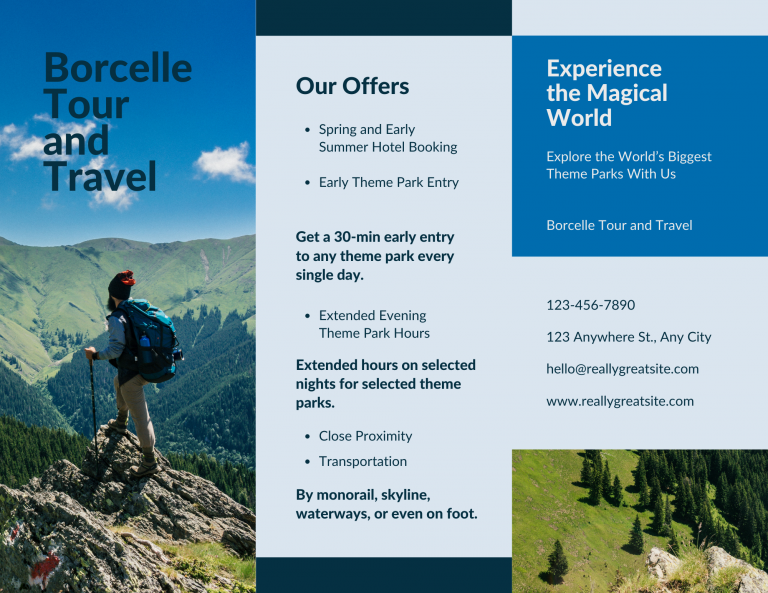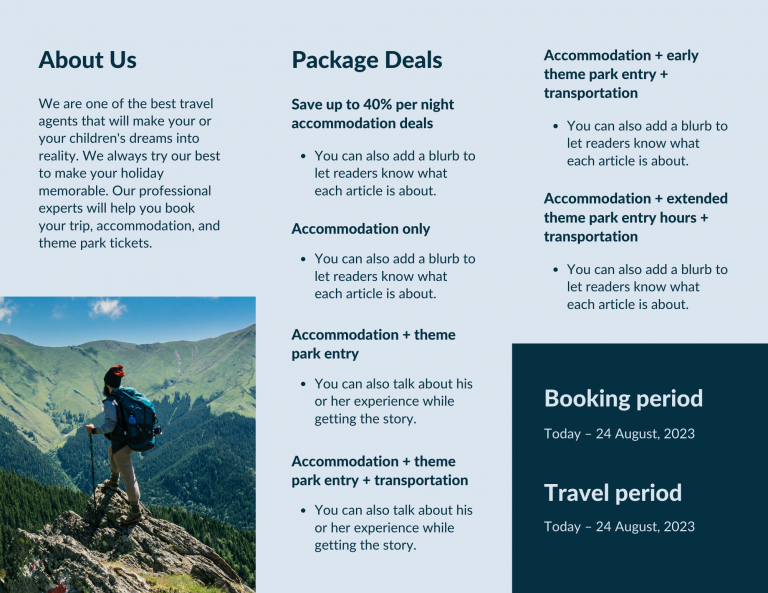 This professional-looking travel brochure template allows you to present your brand assets. A lot of space for your own images makes this travel brochure design one of the greatest to market your travel agency.
Modern Travel brochure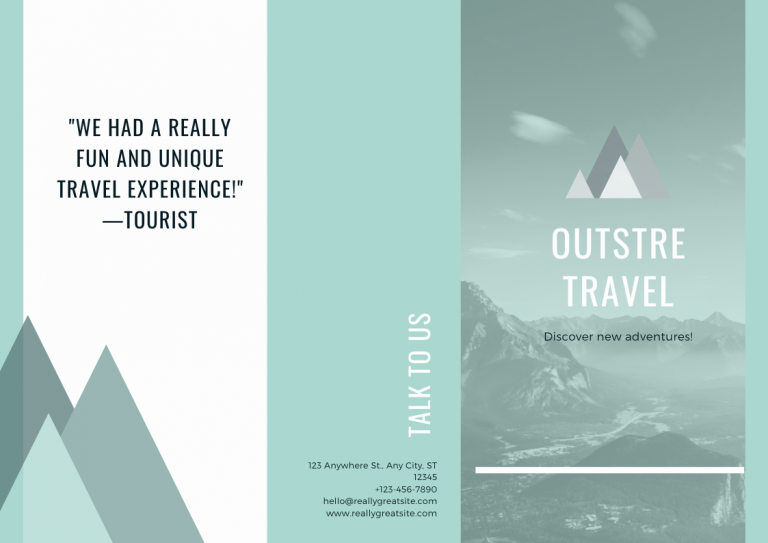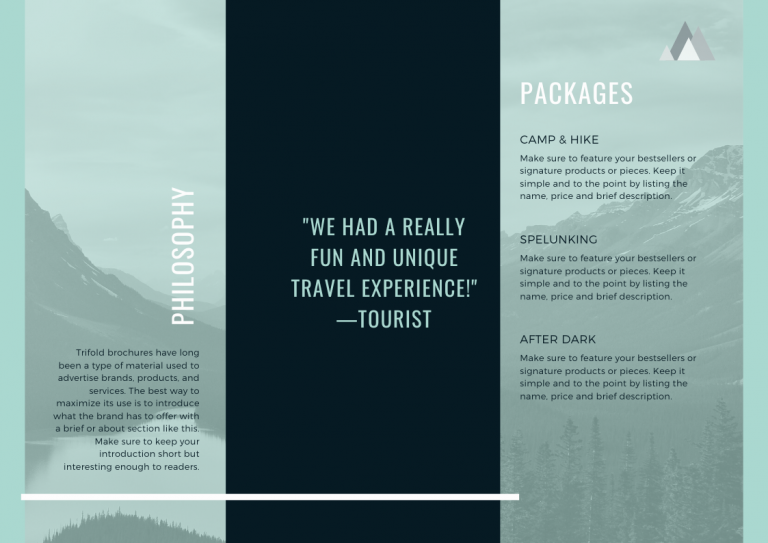 This modern travel brochure template will make your clients willing to explore the world. Its modern design is best for travel business that deals with organizing tours or vacations in the mountains. A few text boxes in this project allow you to provide the most relevant information about your services.
Creative Minimalist Travel brochure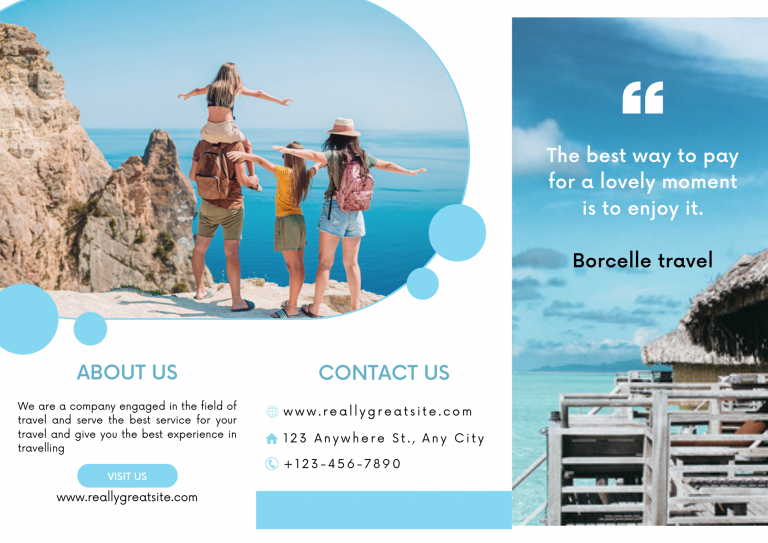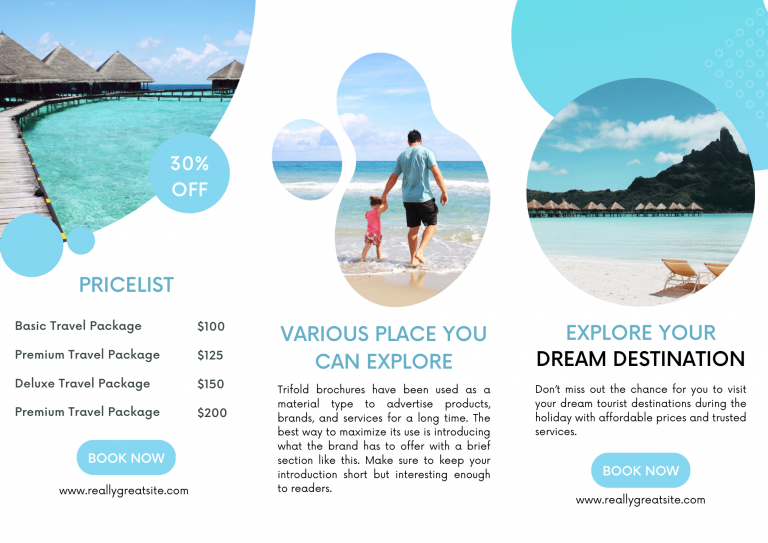 This fully customizable creative travel brochure can help to promote tourism outside your country. You can decide what colors suit your travel brochure best, but make sure that they won't dominate the whole design.
Travel Brochure Template Word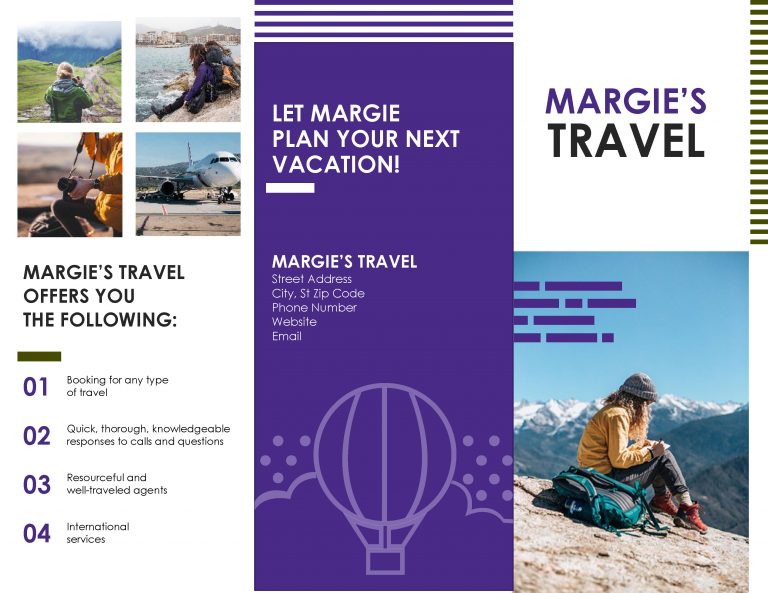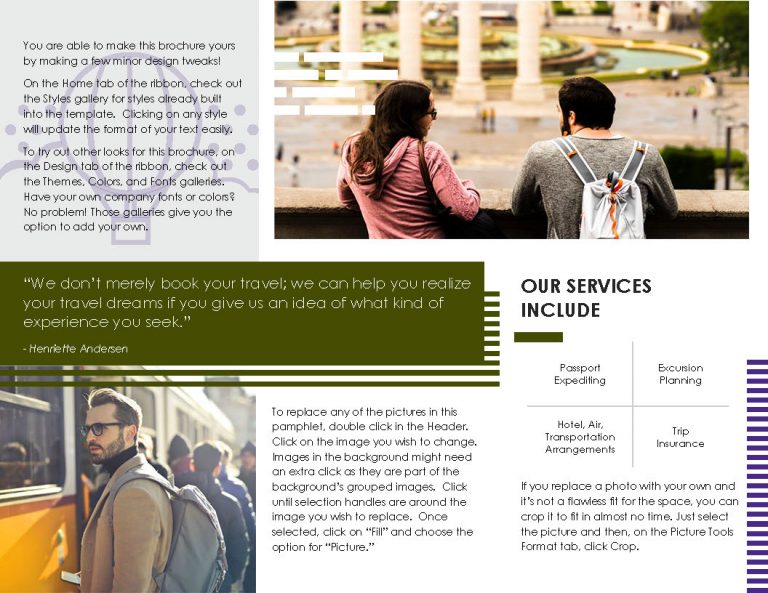 Microsoft Word offers a wide selection of free travel brochure templates that can be used to market various travel destinations. This tri-fold brochure template can be used by travel agencies as well as by hotels, resorts, restaurants, and so on.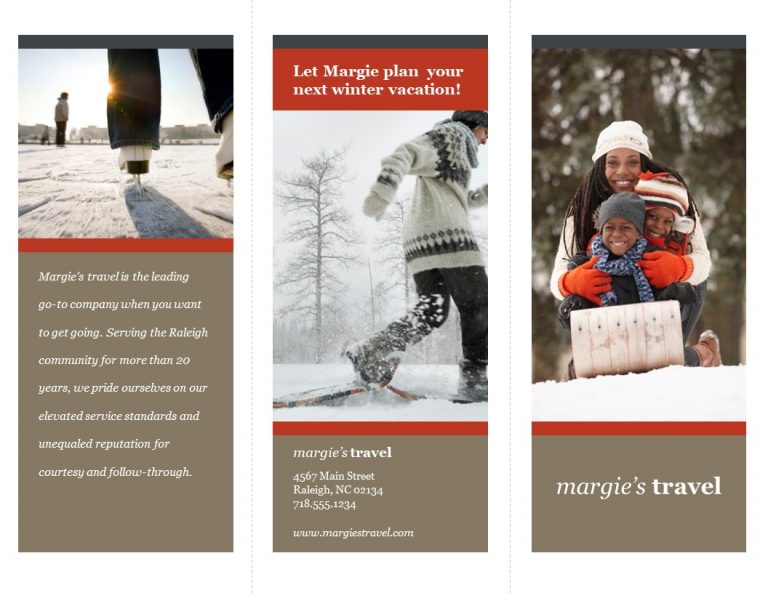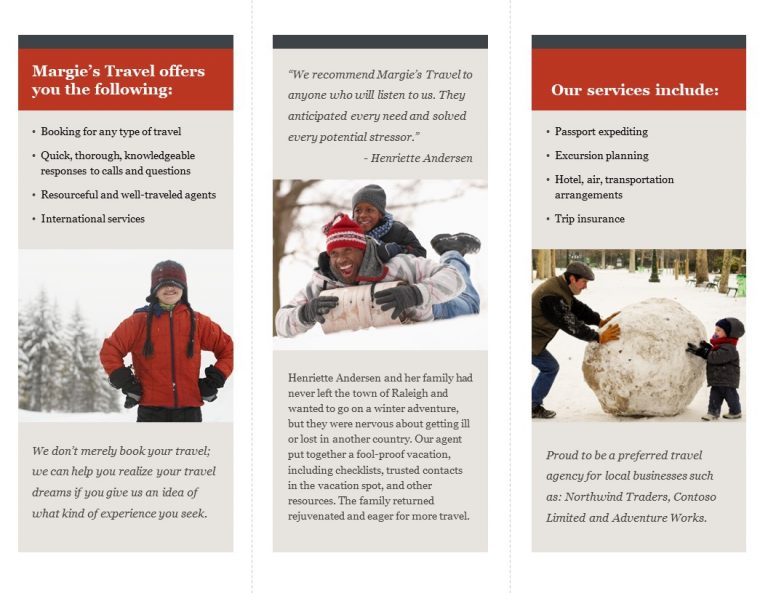 The above free tri-fold brochure template can be customized right away in Microsoft word, so you can easily change the text boxes, fonts, and images and then download it and print it.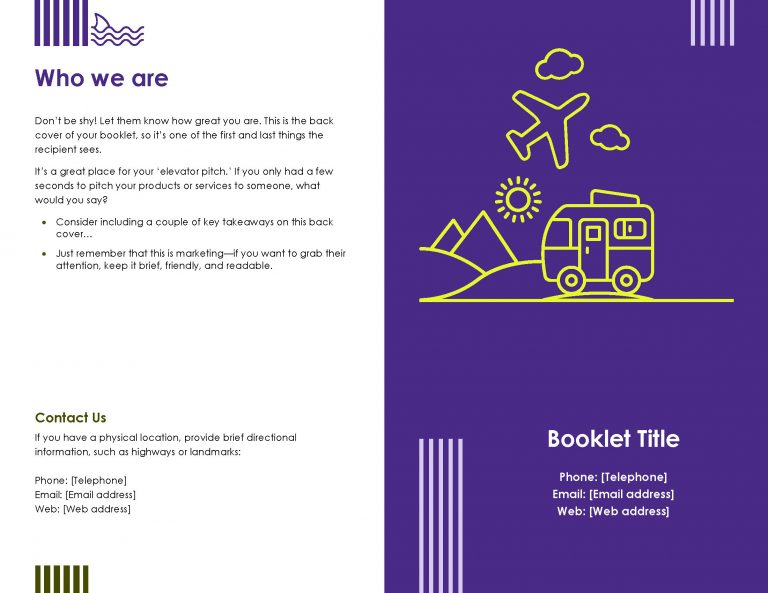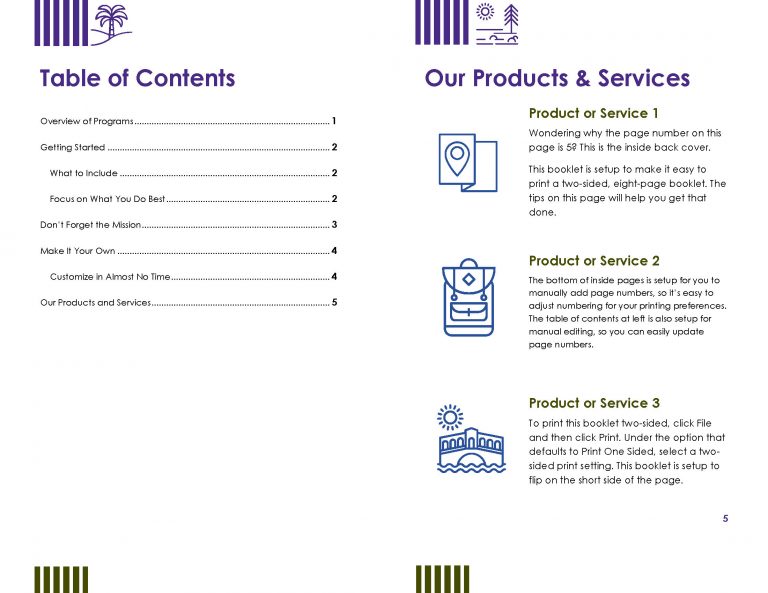 This free bi-fold brochure template is devoted to travel agencies that focus on various destinations. Its design relies on infographics and charts to highlight only the best features of your travel business.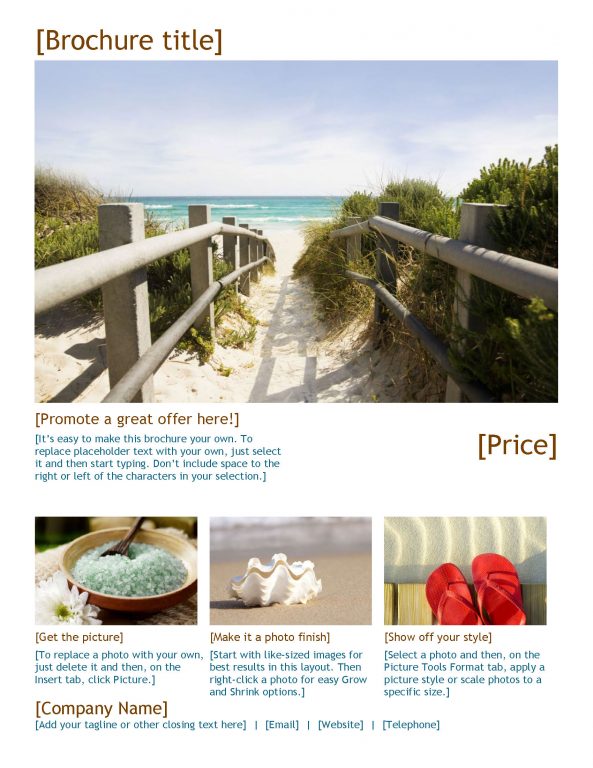 The above professional travel brochure is the object of the travel photographer's interest. It can be customized using Ms word, but you can upload your own professional-looking photos to market your services as a travel photographer. You can add your logo to build brand awareness.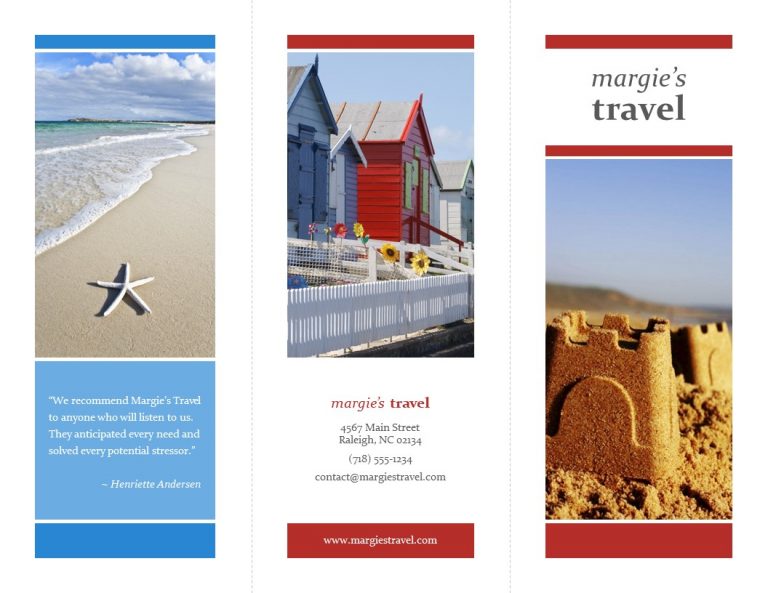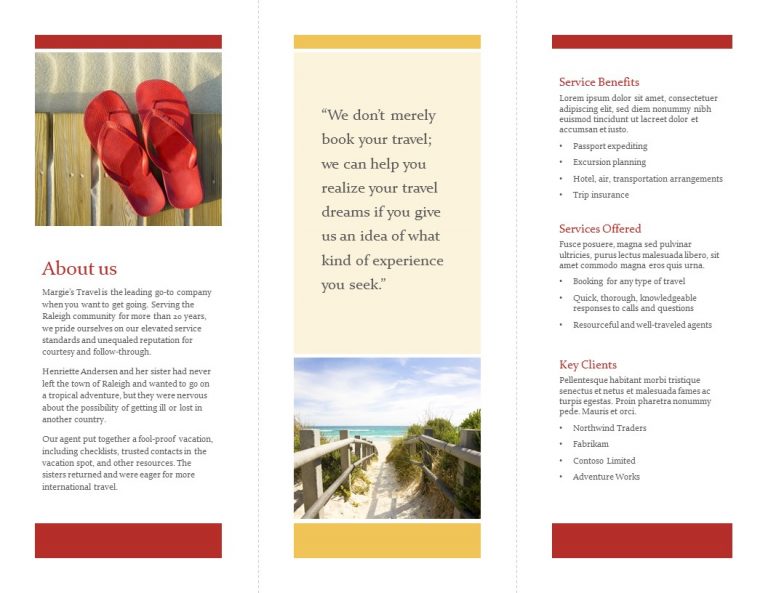 If you prefer simple but effective brochure ideas and templates, this free travel brochure is perfect for you. You can customize its colors and fonts in MS Word to make this free template suitable for your travel business.
You may be also interested in:
Tips For Creating the Perfect Travel Brochure
Real Estate Brochure Ideas
Pamphlet vs Brochure Differences