MENU
Real Estate Brochure Ideas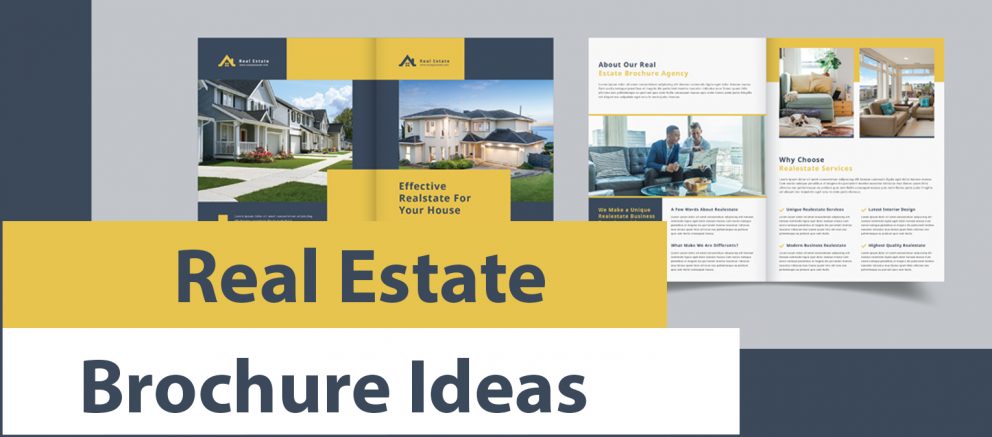 We all know that the properties industry can be extremely competitive. Creating real estate brochures that are efficient at attracting and retaining customers allows you to provide them with information about your hot properties and the capabilities of your real estate agency.
Whether you work in direct sales or as a marketing professional, in this article you'll find six of the best ideas on how to create a real estate brochure that will capture the attention of even the most demanding house buyers!
Share your real estate brochures with Publuu
Flipbooks from Publuu-online brochure maker let you display your real estate offer using great digital brochures! Thanks to flipbook technology, you can quickly create and customize a gorgeous HTML5-based brochure using your PDF creator. Thanks to a clean style, smooth and realistic page-flipping effect, straightforward navigation, and numerous interactive elements, your smart-looking online real estate brochures will undoubtedly capture the attention of your readers.
Publuu's real estate brochure example

View more real estate brochure examples
Publuu allows you to create real estate brochures that include features like hotspot links, MP3 embedding, and integrated galleries that will enable you to showcase your luxury real estate. Customizing your brochure for real estate marketing is simple enough and you can easily upload a new version reflecting changes to your real estate agency or any other changes you want to highlight.
Publuu flipbooks mean more than flyers!
Our functions allow you to share your real estate brochure online to reach a larger audience in your area. Publications made with a digital brochure platform like Publuu are immediately viewable in any browser and on any device compatible with modern HTML standards. It's very easy to share your flyers on social media for free. Any reader can see what real estate you have to offer and admire your eye-catching photos of your property.
You can produce a superb first impression of your real estate property. Whether a tri-fold brochure or one based on a real estate brochure template, your content will look accurately and worth evaluating. Your professional online real estate brochure, with its clever design and realistic page flip effect, will look just as good as if it was printed!
Add analytics to your brochures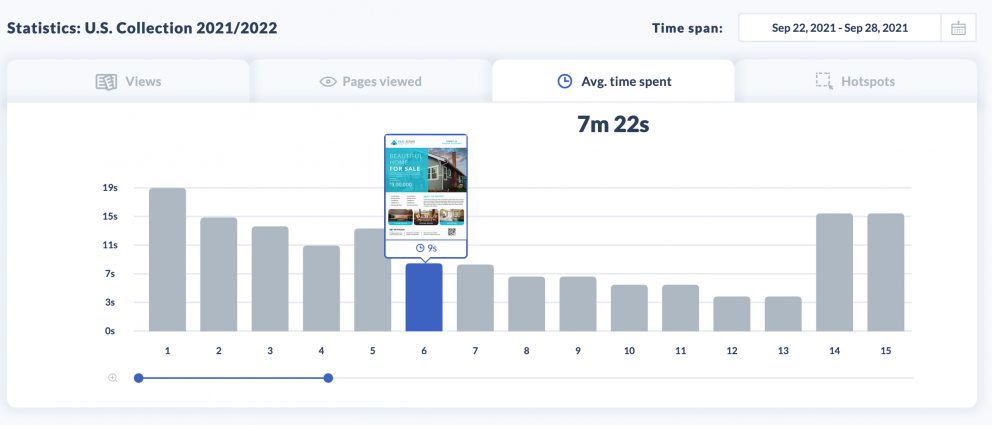 Your real estate brochure is not all about appearance, however. Our analytics solutions allow you to create trackable links to your PDF or monitor what pages of your brochure were read the most often. You can even receive real-time open notifications, allowing you to track how your potential customers interact with your content.
Discover and find great real estate brochure templates
Real estate brochures must be both appealing and professional. A well-designed brochure promotes your properties as well as the skills of your real estate agents. However, it is surprisingly simple to create marketing materials like this on your own! There are numerous real estate brochure templates available online that can be used in software such as Word, MS Publisher, or InDesign.
These trifold brochure templates can be found on sites such as Canva, Lucidpress, MS Office, or Google Docs pages – such templates create a fantastic design. They can also allow you to present your content elegantly, and showcase your capabilities efficiently. A brochure template enables you to advertise your company and set yourself apart from the competition.
Make your brochure template easy to adjust!
Once you've decided the design of your real estate brochure, it's a snap to make it fit your specific requirements. Your brochure template can let you customize the content in programs like MS Word or InDesign. Simply add personalized messages about your real estate agency or the listing information for the property.

Source: Freepik
Don't forget to include illustrations! Adding art or photos to your real estate brochure template will help it stand out from the crowd. You customize the design by adding photographs or drag and drop images from your computer onto your real estate brochure template.
Use Real Estate Brochures to present your house as the future home
First impressions are everything when it comes to real estate brochures. This is why it's critical that the properties in your brochure look their best if you want to sell them. Use filters and special effects to soften the view and give your real estate brochure a warm, good look.
Show the house not just as an attractive piece of property, but also as a comfortable place for your clients to live, and you're sure to find buyers. You could use props and other design elements in your photos to turn an empty house into a genuine open house.
Remove distractions from your image
You can use your graphics software to alter the photos slightly to remove distractions. The presence of these elements in your real estate brochure might cause visitors to lose focus on the house you're selling and give an impression of an overwhelming house and poor property management. Perhaps there's a chair in the front yard, destroying a wonderful picture of a beautiful garden, or there's a reflection of an onlooker – edit them out from your pictures!
Include plans, features, and details in your real estate brochure
Be sure to provide prospective consumers with a comprehensive list of all of the facilities and plans offered by your property in your real estate brochure. The more details, the better.
Not only is it critical to include the most detailed information on the properties in your brochure, but it is also critical to include information about yourself and your real estate agents! Apart from the details on your luxury real estate, add a quick introduction note, profiles, and contact information in your trifold brochure! There is no use in creating a real estate brochure unless you provide your readers with a clear call to action on how to visit and purchase the properties described in the trifold brochure.
The reader invests in real estate – he needs details
The more your reader learns about the property, the more interested he will become, so be sure to include all of the little details that are often anticipated in a property in your real estate brochure. This list of amenities may entice a buyer to pick up the phone and contact you to schedule a property viewing appointment. Of course, you should not overwhelm the reader, but real estate is a very specific industry.
A leaflet for a language school or a carpet store does not ask the reader to make a very costly purchase for his or her entire future. However, the specific information in your real estate brochure may even assist a buyer or renter in choosing their future home for the rest of their life. The choice to purchase a home is not made on the spur of the moment, which is why your leads will carefully research all of the relevant information from your real estate brochure before even going on a viewing.
Balance descriptions and emotions
The most appealing aspects of a given example of property should be highlighted in their descriptions in your real estate brochure. You have the well-described details and the floor plan which should appeal to the analytical part of the brain — now all that remains is to appeal to emotions. You should give the readers of the brochure some emotional connection: will this property be their home, headquarters of their business? Use words like "perfect", "unique" "hearth" to create this connection.
Because you already have a list of features and descriptions of your real estate, the more emotional description of example property should concentrate on the advantages. For instance, an address in a specific district is an element in the basic description. But you can appeal to emotions when you describe in your real estate brochure that this property is placed near a beautiful park, or bustling city center, or it's perfect for raising children.
Keep your information simple
The information included in your real estate brochure should be presented in a way to appeal to your readers. Try to use simple language that's understood by all, even if you want to create a real estate brochure for a laboratory. There are many customers out there who could be interested in what your real estate agency has to offer. If your marketing materials fail to deliver your intended message to the target readers, they will be completely ineffective and waste of time. Using a lot of jargon in your brochure can prevent you from connecting with prospective customers.
Use consistent graphical design
The initial impression also counts for a lot when you're developing a real estate brochure. Eye-catching design and layout are just as vital as the actual content of your work, so don't neglect them. You can ensure that your marketing message is seen by potential homeowners by using colors and matching them to the contents. Your marketing materials should be associated with the real estate industry – for example, using serif fonts are typically "classier" and if you want to appeal to the people who want to rent in a luxury area, use these in your leaflet.
Adjust the color scheme
Make sure your real estate brochure's color scheme matches your company's logo and colors, as well as the atmosphere of the properties you want to advertise. For instance, you can use wood paneling for rustic areas, and metal and glass textures for property in an urban area.
You can easily adjust the colors of the real estate brochure templates you find online to fit your company's colors. Above all, make sure your brochure's color scheme is consistent and learn how to use colors to great effect. Don't pick a color that's linked with your rivals in your real estate brochure or can be associated with a different type of property.
Match fonts to the content
Fonts also have a significant role in how well your message is received by your intended audience. Your brochure will seem amateurish if you use too many unnecessary typefaces. Fonts have a significant impact on the readability and aesthetic appeal of your real estate brochure. Do you really want your brochures to come out as unorganized, childish, or gimmicky? In fact, you need three fonts – one for body, one for the titles and one for the subheaders.
How to create a real estate brochure – a summary
Real estate agents frequently use real estate brochures to highlight and promote the best features of a property. A single brochure can include a single apartment, house, condo, or commercial property; you can even market multiple properties in one brochure. Publuu allows you to create an online collection of high-quality real estate brochures for marketing purposes.
You can easily create your own real estate brochure using a variety of real estate brochure templates, even if you are not a professional designer. With our advice, any real estate agent can create a fantastic flyer and publish it as a fantastic flipbook on the Publuu website!
You may be also interested in:
Brochure Design Tips and Tricks
Pamphlet Design Ideas Examples
The Best Online Brochure Maker in 2021