MENU
How To Make an Event Brochure With Templates?
Although it's becoming more common to invite customers to events using social media, online brochures are still useful for capturing the attention of potential customers. With a simple, intuitive design, it's a great way to communicate important information about your event in a visually appealing and easily digestible format.
You can pass out your event brochure as a flyer, and distribute it in clubs or companies if you're planning a business event, but you can also share it as an online version, in a form as shown below.
Digital brochure example
Check more digital brochures here

In this article you'll find collection of event brochure templates to help you learn how to create eye-catching and engaging brochures that effectively convey the essence of your event, leaving a lasting impression. We hope that these event brochure examples will inspire you to create your own great brochures and advertisements, but firstly, let's explore the basics.
How do I make an event brochure?
To create a personalized event brochure, begin by establishing your brochure's objectives and identifying your target audience, as these factors will all influence your content and design choices.
Select an event brochure design that complements your event theme and accommodates the information you wish to feature. For sports events, it's best to use vivid tones and imagery, although it depends on the specific sporting event. Opt for a bi-fold or tri-fold brochure template— for instance, a tri-fold brochure allows for six distinct panels, which you can use in event brochure designs. A bi-fold brochure template creates the booklet effect – the second and third pages can reveal something new to the reader, like the details of the upcoming event.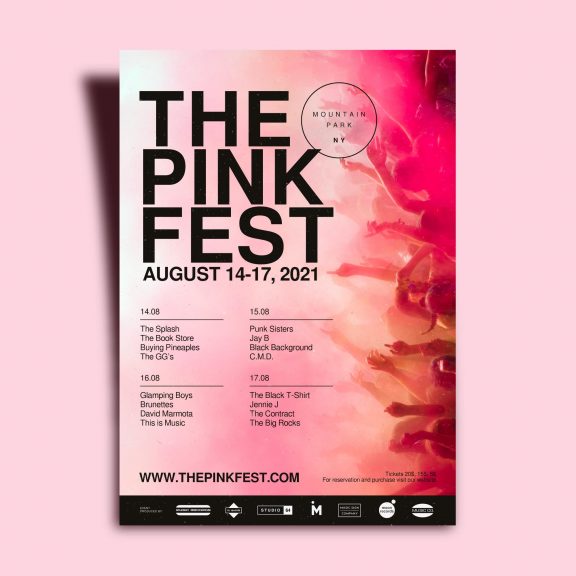 Browse pre-designed templates or embark on crafting your own design from scratch. Templates expedite the process and serve as a source of inspiration, while custom designs grant greater flexibility and uniqueness.
Proceed to populate the template with engaging text explaining event details, high-quality images, graphics, and logos that embody your event and brand. Remember to make the event name stand out as a part of a logo or similar design elements.
Lastly, for a polished finalized result, consider publishing your brochure online using platforms like Publuu, ensuring a professional appearance that captures your audience's attention.
Remember that different audiences expect different styles, for example life insurance brochures are required to be more professional looking than event brochures, which tend to be more attention-drawing.
Publishing an event brochure using Publuu online digital brochure maker is a great way to create an interactive version of your brochures and present them to the world.
Converting a static PDF to a dynamic flipbook increases visual appeal – you can publish dozens of brochures online that can be viewed on any device. After that you will reach access to on-line statistics which will show you number of views, most appealing pages and much, much more.

Publuu's user-friendly platform offers various customization options and seamless integration with your website or social media, ensuring your event brochure reaches a wider audience while maintaining a polished and professional look.


Free event brochure templates
Now you know how to create your first event brochure. You can use simple software like Microsoft Word, but also more complicated programs like Adobe InDesign, Photoshop or Scribus. We can also recommend Canva, which is a simple and easy-to-learn program for creating your own design elements.
This event brochure gallery can showcase what can you do – with several templates being free to download and edit. Perhaps they can inspire you on how to create an event brochure for your own needs.


Art exhibition brochure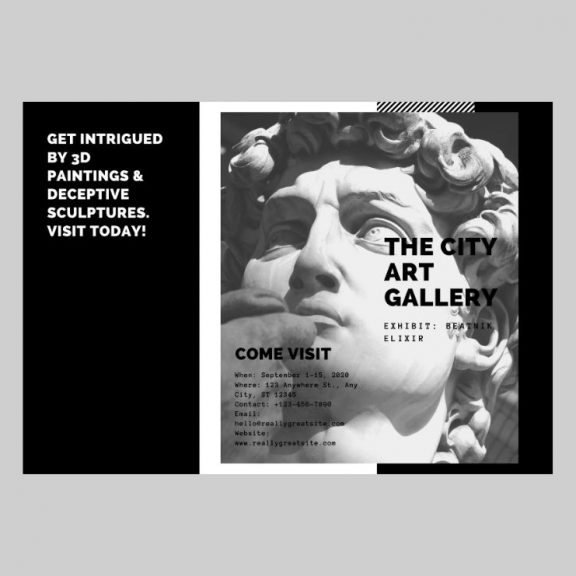 You can use this event brochure template for all kinds of cultural events. This elegant black-and-white layout showcases an attention-drawing image that instantly engages the viewer, while the subtle background ensures the legible typography remains the focal point.


Music event brochure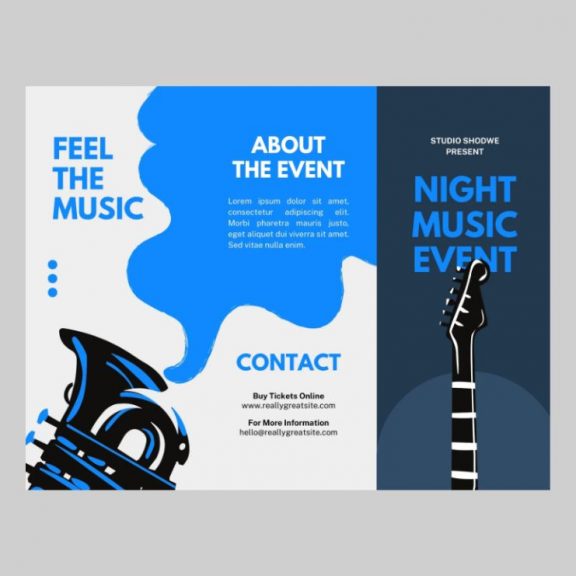 This music event brochure features a simple art style, using a clean sans-serif font to convey crucial information in a modern and easily readable manner. A toned blue palette creates a cohesive and calming backdrop, while a single, attention-grabbing photo captivates the viewer's attention.

Wedding planner brochure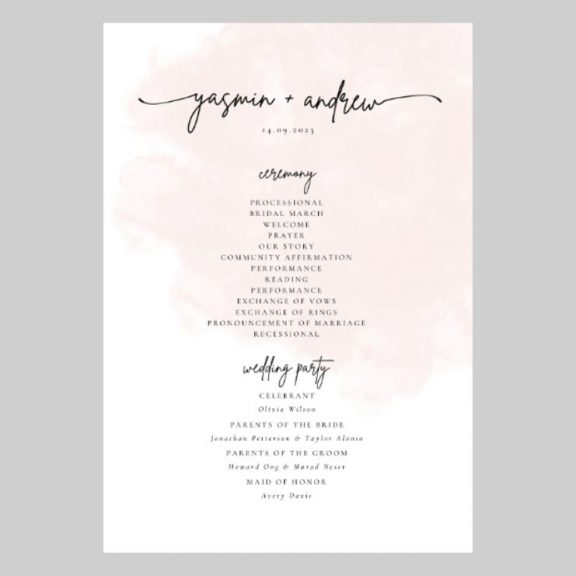 There are a lot of wedding brochure ideas, but this wedding program event brochure is full of sophistication thanks to delicate pink watercolor splashes. The elegant headers gracefully highlight each section, while the legible and beautiful typography ensures that this brochure will be memorable on that special day.


Kids party brochure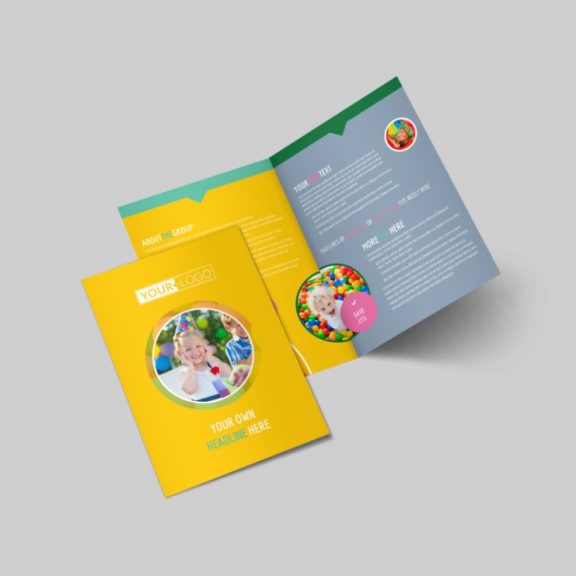 This bi-fold booklet template features a charming contrast of grey and yellow, to showcase the energetic design of these event brochures. The unique event brochure design includes circular photo placeholders that add a playful touch, showcasing the highlights and attractions of the event.


School event brochure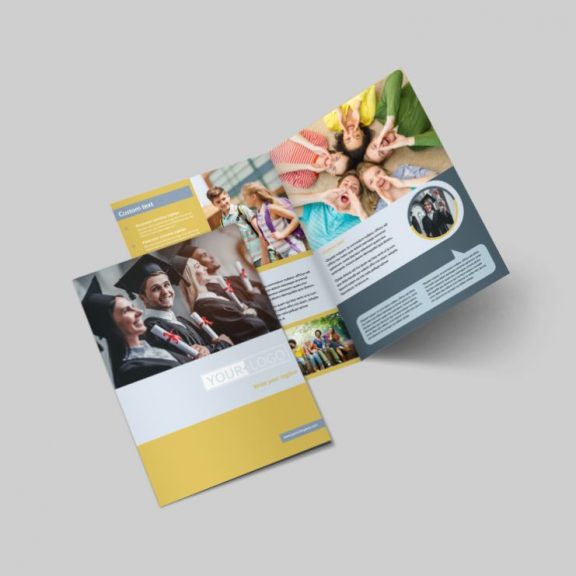 The bi-fold school event brochure incorporates large photo placeholders, allowing for striking visuals. The design ensures that crucial information stands out, making it easily readable and accessible to parents, students, and staff alike.


Workshop brochure

This sleek business workshop event brochure template is designed to make a lasting impression and effectively promote professional events. This bi-fold brochure features a striking dark blue and white contrast, ensuring that your workshop stands out and captures the attention of potential attendees.


Summer camp brochure

This colorful event brochure template features friendly cartoony icons that evoke the warmth and fun of summer camp activities. The inclusion of a clear and concise schedule allows parents and campers to easily plan and make the most of their experience. Attention-grabbing headers ensure that each section stands out, making it simple for readers to navigate the brochure.

Festival brochure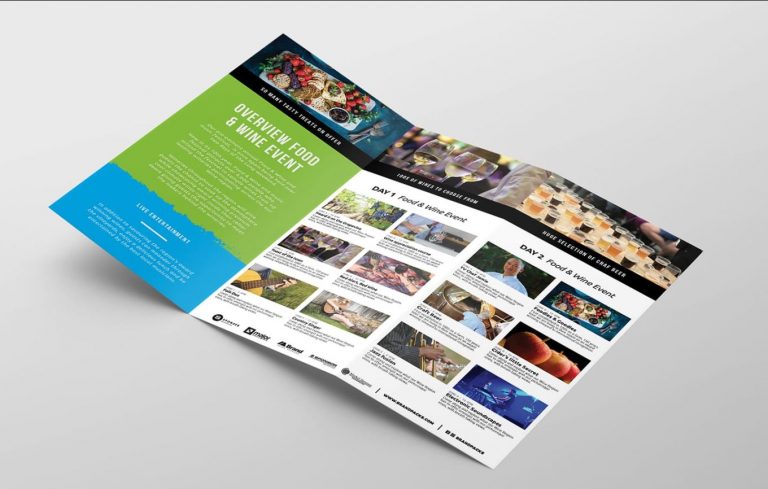 Vivid colors of this event brochure capture the festive atmosphere. Thanks to a grid-based layout this event brochure design efficiently showcases an array of small photos, highlighting the diversity of activities and experiences the festival has to offer. You can use it for a music festival or any kind of event, thanks to a comprehensive schedule.
You can be also interested in:
School Brochure Design – Helpful Tips and Awesome Templates
16 Creative Summer Camp Brochures