MENU
The Power of Interactive Magazine
The magazine market has changed dramatically in recent years with the development of digital platforms and the growing demand for interactive content. Digital magazines are a staple of today's market because they offer an immersive and engaging experience. People are increasingly less likely to buy magazines at the newsstand and store, but instead prefer to read a digital magazine on their mobile devices!
Publuu's online flipbook example

View more online flipbook examples

MAKE YOUR OWN


Today's online magazines seamlessly integrate multimedia elements such as audio, video, and hyperlinks, pushing the traditional boundaries of static text. A good digital magazine design can create a dynamic and visually appealing narrative that attracts readers and greatly improves user experience.
In this post, we'll preview the world of interactive digital magazines, delving into the tools used in creating them and exploring the diverse spectrum of interactive content that continues to fascinate audiences around the world.
What defines an interactive magazine?
What distinguishes an interactive magazine from a classic one, is its ability to maintain dynamic exchanges with readers. Digital magazines allow you to break away from static text and images; interactive magazines encourage readers to immerse themselves in the content at their own pace, offering a personalized experience. For example, while browsing a fashion magazine, you might find a video tutorial on styling a particular outfit. A travel digital magazine may allow you to take a virtual tour of a popular tourist destination. These magazine examples are just a couple of things you can achieve in digital magazine publishing.
Interactive magazines use reader interaction in various forms. They may include links to facilitate navigation to other magazine pages, external sites, or social media platforms. Publuu also offers call-to-action (CTA) buttons that allow readers of your digital magazine to subscribe, make purchases, or sign up for newsletters. Thanks to Publuu you can add animated GIFs and high-quality videos to enhance the magazine's multimedia appeal.



Top advantages of interactive magazines
Compared to their traditional print counterparts, interactive magazines have many advantages. They increase engagement by fostering more profound and more meaningful interaction with the reader. Digital magazine analytics also allow for tracking reader engagement and gathering valuable data on reader preferences. Here are some of the crucial advantages of online magazines.


Enhanced Engagement
Interactive elements of digital magazines, from captivating visuals to short clips, ensure readers spend more time exploring your content. They're attention-grabbing and more likely to capture the user's attention than static text and images. They're also much more shareable – you can send a direct link to a specific page in the Publuu flipbook for a friend!

Building Connections
Interactive features allow readers to feel a part of the magazine, fostering a deeper emotional bond. This personalized experience lets them choose what they want to read and how. And since an interactive digital magazine can make it easy to direct the reader to a forum or a comment thread on social media, it can help build a community of readers and give them a voice!


Branding Excellence
A unique interactive magazine can set your brand apart, making it memorable and trustworthy. A magazine grants your brand a platform to introduce itself – and interactive media like video, audio, and animation can bring your brand to life. Make sure that you can differentiate yourself from your competitors by granting readers useful, valuable interactive content!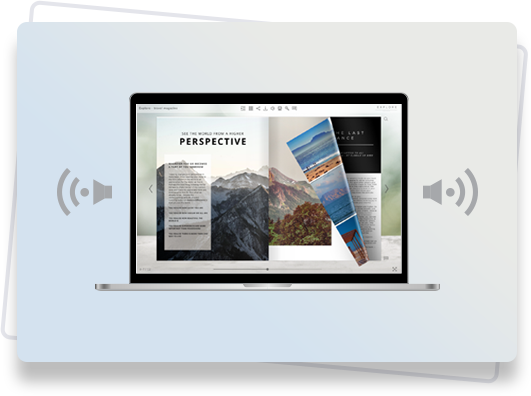 Sales Boost
With integrated shopping tags and direct purchase options, your magazine becomes a subtle yet effective sales tool. Thanks to movies and interactive galleries, a digital magazine can showcase your product in a new way. Imagine that you're reading about new software, and when reading an interactive magazine you can see how it's used and can go with a single click to the online store!


Enhanced Traffic
An interactive magazine can seamlessly redirect readers to your main website, enhancing organic traffic and brand awareness. They can help you to attract new visitors to your website and store who may not have been aware of you before. Interactive magazines can help to improve your website's ranking in search engine results pages (SERPs) since Publuu content is archived by Google and Bing search engines!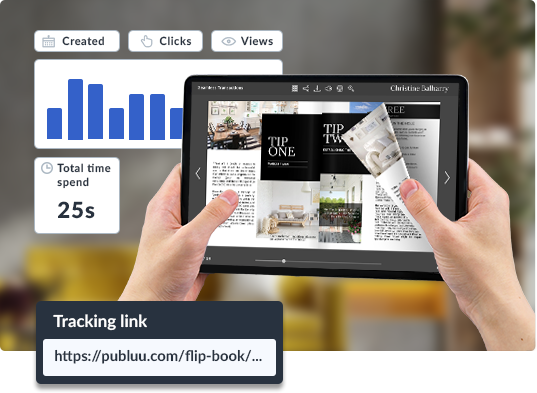 Statistics Insights
Digital magazines offer you the ability to monitor statistics, helping you understand reader preferences and optimize future content. Publuu analytics lets you see how often your interactive online magazines are viewed, which articles are most popular, and what links are clicked on. This data can be used to learn more about your customers' interests and how they are interacting with your digital publishing.



How to create an interactive magazine from scratch?


1. Start by preparing content.
Start with articles, reviews, and news. Think about what kind of interactive elements you want to include. Once you have a plan, you can start to create interactive magazine content.
2. Pick a high-quality digital magazine template.
In our Knowledge Base, you'll find many digital magazine examples that can inspire you when creating your own! You don't need to be an expert to create PDF files.
When you create an interactive magazine from scratch, remember to use high-quality photos and videos, and write engaging and informative text. Digital content might make or break your interactive magazine.
3. Convert the content to PDF format.
You can use specialized software like Adobe InDesign, Canva, or the free Scribus, or even convert a Microsoft Word document. A PDF magazine isn't fully interactive, though.


4. Choose a platform for your digital magazines.
There are many different platforms you can use to create your online publications. Publuu is a platform that offers various features for creating interactive magazines, including video, audio, and hyperlinks. Extensive analytics allow you to accurately track your readers, and integrate it with sales and development.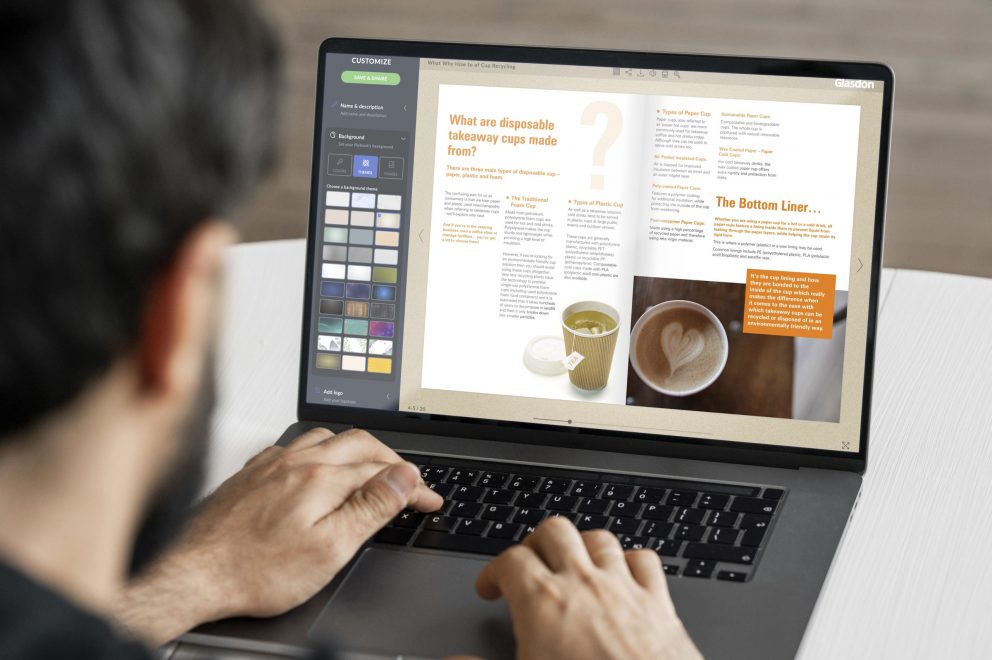 5. Upload it on the platform of your choice.
Once you are satisfied with your magazine, you can publish it on the chosen platform. It's easy to create interactive magazines using Publuu's intuitive navigation – just pick the file and wait until it uploads to our secure cloud.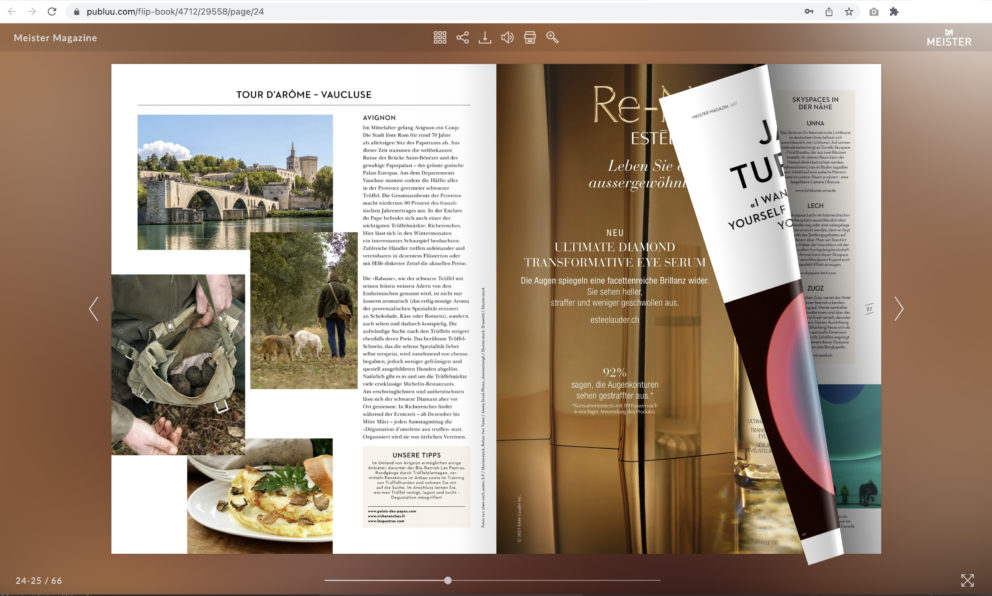 6. Add interactive elements.
Once you have uploaded your magazine to Publuu, you can start adding interactive elements. This can include video, audio, hyperlinks, polls, and surveys. A great example is the interactive table of contents – with a single click you can make the reader jump to a specific article.
You can now add interactivity. Your digital magazine might need:
High-quality animated movies. You can add music, video reviews, opinions, or links to your social media like YouTube.

Links to other publications, other pages, or external websites.

Photo galleries to add illustrations of the described products.

Customize background and theme music!
You can now share your magazine with readers via email, social media, or other channels. Just use the embed code our app can generate for you!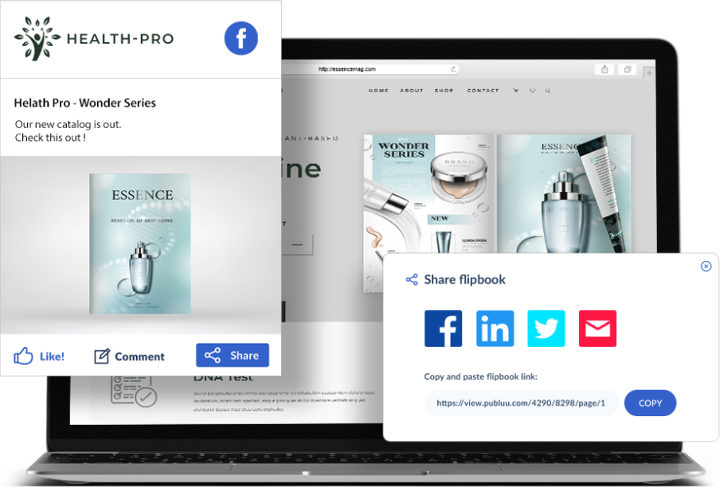 Summary
The online magazine market is booming, and for good reason. Interactive magazines offer a host of advantages over traditional print magazines, including enhanced engagement, building connections, branding excellence, sales boost, enhanced traffic, and statistics insights.
You can easily create your digital magazine, with the help of Publuu. Our online magazine platform lets you upload PDF files and create interactive magazine publications in a matter of minutes.
With a little planning and effort, you can create an interactive magazine that is both informative and engaging, and that will help you build a strong connection with your audience.
You may be also interested in:
What are E-zines and How To Publish One?
How To Write a Remarkable Interview Article for a Magazine