MENU
Top Best Free PDF Converters in 2023

Perhaps you want to create a PDF file? Or maybe you want to make changes to an already created file? That's why you need PDF converters. These programs can help you convert your PDF file into an online flipbook and many different types of files , to make them look better on any computer or mobile device.
In this article, we'll explain what is the PDF file format, what is a PDF converter and describe some of the best free PDF converter apps online!

What are PDF files?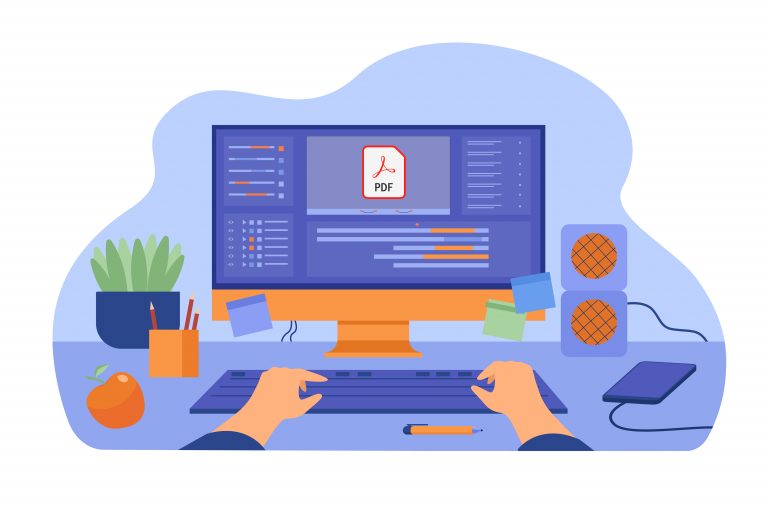 If you have prepared a text document in Word formats like RTF or DOCX, the way it appears on the screen can depend on a number of factors. If the other person doesn't have the specific fonts installed or is using a different application like Libre Office or macOS Preview, the document will look different than you'd expect.
This is why PDF files have been created. Thanks to PDF format, your text is converted to curves, which display the same on every computer. However, since the text is read both as text and as an image, it is not possible to make changes to a PDF file without completely rebuilding the file. PDF format means that you cannot change the content of the document.

What is a PDF converter?
The PDF converter is a software able to perform this task. As the name implies, it converts to PDF all sorts of files: DOC, XLS, or RTF. Some can also convert PDFs, to an editable format. With such programs, you can, for example, make corrections to your CV or "pull" some graphics from a closed PDF document. An online PDF converter works in your browser, pulling content from data it gains when you upload files to the server.
You can also convert your PDF with an online flipbook maker to HTML-5-based flipbooks, keeping your data secure on specially designed servers. Your PDF can be displayed easily in a browser on all operating systems. Besides these features, you can add videos into your PDF file, add photo galleries and much more! It gives your PDF a new, more eye-pleasing look that can easily make it more engaging for the receivers of your converted document, like the one displayed below.
Publuu's online flipbook example

What interactive features should a good PDF converter have?
A good online pdf converter works not just to create files in the PDF format, but it should also have additional features. Publuu lets you convert files in the PDF file format, and add multimedia capabilities. Some of these interactive elements can be adding photo galleries or adding videos to your PDF.
When you find out how interactive PDFs are presented and you replace your documents that you send on a daily-basis. Adding interactive elements will be a sure way to make your PDFs stand out from a sea of similar files and make your readers engage more.

What should a good PDF converter have?
Read on to find out about the best PDF converters and the advantages and disadvantages of each, so you can make an informed decision.
Here are a number of criteria we have taken into account in preparing the list of the best PDF converter apps:
Multiple output file formats: a good-quality free PDF converter should provide a variety of output and input file formats. This includes commonly used formats such as Microsoft Office documents, images, text, and HTML, as well as rarer formats like EPUB, MOBI, or DJVU. This ensures that users can convert PDF files to the desired format for their specific needs, as well as convert to PDF.

OCR capability: OCR, or optical character recognition, is a key feature of the PDF converter. Many free programs do not have this feature. It allows images to be scanned and converted into editable documents. This is particularly useful for scanned PDF files that may contain text saved as graphics – for example, document scans. Libraries and archives should try to convert PDFs using the OCR features.

Batch conversion: the batch conversion feature allows users to process multiple PDF files simultaneously, saving time and effort. This is particularly useful for users who have a large number of PDF documents that need to be converted: for example, people working with invoices. Often free versions only allow up to about 5 files to be converted at a time.

High conversion speed: The faster the program, the more time you save. A high-speed online PDF converter enables users to convert PDF files quickly and efficiently without waiting long for the process to complete.

High-quality conversion: High-quality conversion ensures that the original format of the PDF files is preserved. This means that the text, images, and other elements of the PDF file will be preserved and the final result will look exactly like the original. This is not always possible, especially with online pdf converter apps!

User-friendliness: User-friendliness or ease of use is an important feature of a free PDF converter. It refers to how easily users can navigate and use the software, without facing challenges or obstacles. A user-friendly PDF converter makes the conversion process simple and straightforward so that users can carry it out efficiently and effectively.

Additional features: A lot of extras matter when you convert files. For instance, Publuu lets you embed video content in their flipbook and takes care of the necessary file transfers. If a PDF converter goes the extra mile to provide you with a good experience, it's also worth thinking of!

What is the best online PDF converter?
Publuu


Publuu is also an excellent PDF conversion program. However, it makes you convert PDF to a customizable flipbook with a realistic page flip effect. You can publish your PDF document securely on the specially designed servers so that the reader doesn't have to download it or buy any kind of PDF reading software.
What's more, the Publuu PDF converter allows you to change the logo, and background, and add music to make the flipbook look and feel exactly the way you want. You can easily share it with others with one click on social media.
In addition to PDF convert functions, Publuu also allows you to create interactive flipbooks from your PDF file by adding links, audio, video, forms, or galleries. This helps engage your audience and capture their attention. With Publuu, you can turn a PDF into a truly interactive and engaging experience. Since Publuu operates inside your browser, it's compatible with all operating systems.

Only Office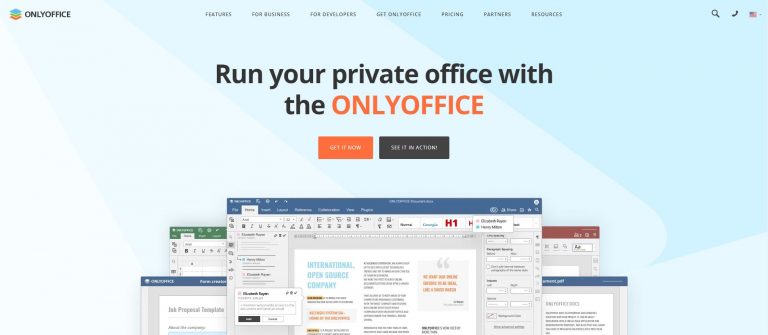 OnlyOffice is a web-based document editing suite comparable to that offered by Microsoft. With it, you can create documents, presentations, spreadsheets, fillable forms, and PDF files. The entire program also offers online document editing tools, a cloud-based document management platform and many other applications. With OnlyOffice, you can convert documents in any format, such as DOCX, Powerpoint or any spreadsheet, to PDF with ONLYOFFICE's online PDF converter and reader. You can also convert your PDF documents to any other format. You can even use documents with a .docx extension and build ready-made templates.
This online pdf converter works in most browsers and is free – for both creating and converting documents. However, unlike many online pdf converter apps, it requires a constant internet connection to work as an editor.

Foxit Phantom PDF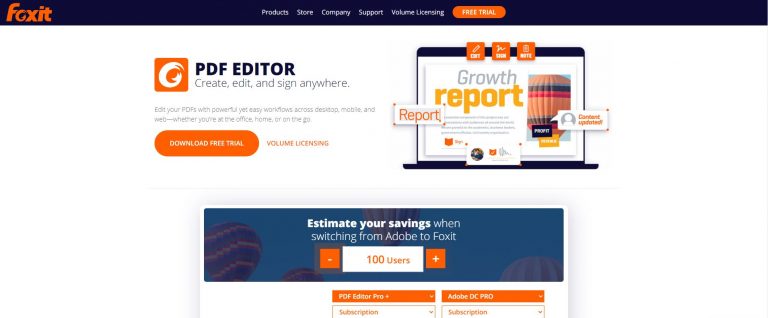 Foxit Phantom PDF is a great PDF conversion program that can be used offline after downloading and installing on your computer – it's not just an online PDF converter. It's free and can perform basic conversions, such as converting PDF files to any file type: Excel, PowerPoint, Word, HTML, and other formats, as well as converting other formats to PDF. It also makes it easy to convert scanned photos to PDF files. With built-in OCR, you can quickly convert scanned documents and extract the data you need.
The program has a user-friendly interface, similar to Microsoft Word, making it easy to use. The PDF conversion process is fast and efficient, preserving the original quality of the document. The desktop version is free for Windows only. After a trial period, however, you have to pay to use the Mac OS version.

Adobe Acrobat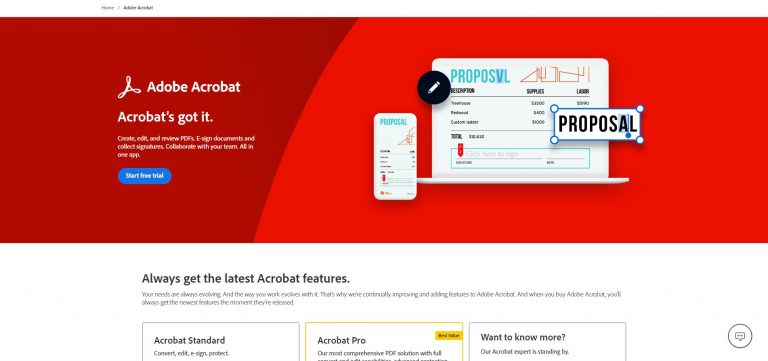 The best-known Adobe Acrobat application is perhaps the most popular choice today for converting, editing, and reading PDF files. Acrobat Reader allows you to read the PDF format, but Adobe Acrobat Pro is a PDF editing and conversion program. Thanks to this PDF converter app you can convert documents saved in PDF format. It also allows you to digitally sign PDF files.
Since the typeface and general formatting of the document, including bullets, tables and any other types of content, will be preserved during the conversion process, there will be no need for additional editing after the document is converted. You can convert several files to PDF files at the same time thanks to the batch conversion feature included in this software package. In addition to the powerful OCR tool, Adobe Acrobat offers various viewing modes to alleviate eye fatigue for the reader. However, adobe PDF converter is free only during the free trial, and does not work with all file types.

Nuance Power PDF


Nuance Power PDF is also a very good all-in-one solution for multiple users, as it includes functions for viewing, editing, converting, and reading PDF documents. This makes it an ideal PDF converter for companies that need to manage large volumes of PDF files.
Nuance has a simple interface that is easy to use and allows you to convert PDF files to the original format of Microsoft Excel (XLS, XLSX), PowerPoint (PPT), and Word (DOC, DOCX) documents while preserving the layout. Worth praising here is the excellent and intuitive resizing tool, which allows you to edit the format style and resize PDF content without damaging the original quality of the image content. It also has an optical character recognition function that allows you to extract data from scanned documents saved as PDF.

SmallPDF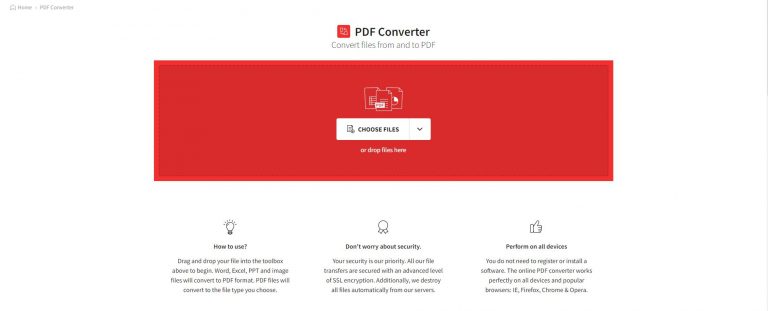 SmallPDF is an excellent conversion tool, and the output it generates for all supported file types is of very high quality. Documents saved as PDFs can be viewed, edited, and converted in the same PDF converter which also reads the files. This free PDF converter allows you to convert files from different formats to PDF format, or use PDF to convert to other file formats, such as Excel, PowerPoint, Word, JPEG, TIFF, BMP and PNG.
With additional tools you can compress, merge, edit and alter PDF files. A very good option is the OCR function which is activated automatically when you open a scan. You can easily convert images to text thanks to fast and intuitive user interface.

Nitro PDF Pro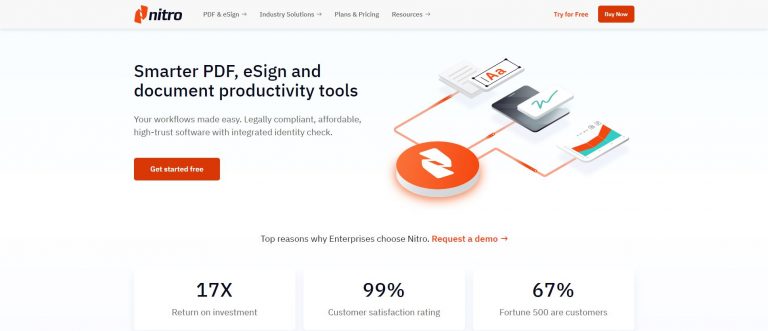 Nitro PDF Pro is a professional PDF conversion tool. It allows you to convert, edit, sign, view and password-protect your PDF documents. Converting a PDF file to Word format can take just one second using this document, and it also allow you to convert to PDF. What's more, this program is great for batch conversions, allowing you to convert multiple documents at once. It also has the ability to convert emails and attachments to PDF with a single click. While it's not an online PDF converter, it is available for any computer or mobile device: it even has a touchscreen mode for ease of use. Unfortunately, the program is not free after the free trial ends.

Why convert PDFs to interactive Flipbooks?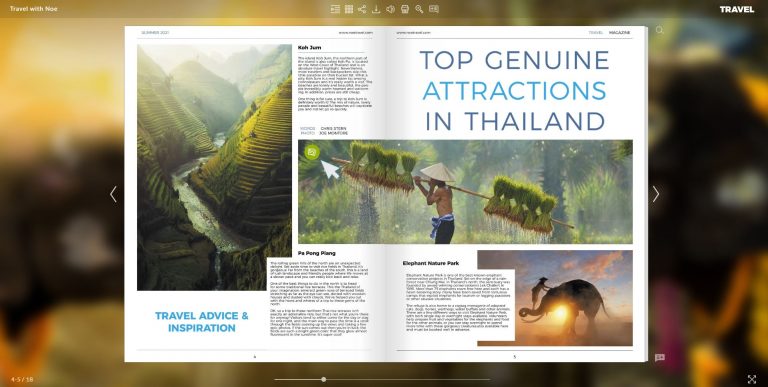 Online interactive flipbooks are a modern enhancement to static PDF files. They allow you to turn your PDF file into a dynamic, immersive experience. With Publuu technology, you can incorporate elements like video, audio, links, and other multimedia elements into your online flipbook. This makes the content look fresh and modern compared to an ordinary, static PDF file.
Traditional PDFs are limited to text and images only and lack the visual appeal that today's audience demands. People browsing the Internet are more interested in interactive, visually rich content than static, boring PDF files. With Publuu and our interactive flipbooks, you can keep up with the changing digital environment and provide your audience with a better experience.
Interactive flipbooks can add a new level of interactivity and engagement to your content. With the ability to add videos or animated gifs to PDF content, you can create a visually appealing and dynamic online experience for your audience. This can help keep them engaged and interested in what you have to say.
Using the features offered by interactive flipbooks from Publuu, you can create a modern, dynamic and engaging representation of your content that your audience is sure to appreciate.

In conclusion
As you can see, choosing the best PDF converter can be a tricky task. There are a number of factors to consider when picking an online PDF converter or a desktop application to convert to PDF, including multiple output, different file types, OCR capability, batch conversion, high conversion speed, high-quality conversion, user-friendliness, and additional features.
We recommend PDF converters like OnlyOffice, Publuu flipbook maker and Foxit Phantom PDF, but there are many other programs available that may better suit your needs. It is important to weigh the advantages and disadvantages of each program before making a decision, to ensure that you find the one that best fits your needs.

You may be also interested in:
How to Improve Your PDF Files
PDF Design – The Best Software to Create a Professional PDF
How to Create an Interactive PDF With Just a Few Clicks