MENU
How to Create an Online Course? The Ultimate Guide

Long gone are the days when you could just say that you were the best in the business – now you have to prove it. Some entrepreneurs create eBooks, online flipbooks, while others work on YouTube presentations, but a great way to demonstrate your knowledge is also to create an online course.
By teaching your topic using online courses, you leave no shadow of a doubt that you know what you're talking about, that you're good at what you do, and that you're an expert in your field.
Imparting your knowledge and expertise through an online course will allow you to become an authority in your field, build a community of like-minded people around your business, and expand your reach. Especially if you offer a unique product, it's a good thing if there are a lot of people knowing it online! Online lessons instructing people on your product can get the word about it, can help create interest, and are often very shareable.

An online course is now as essential for any entrepreneur as a website and business card. It's one of the fastest and most powerful ways to make your knowledge available to a global market, make a bigger impact and make more money. Not only do you make money by selling knowledge of your course topic, but you generate leads and influence a new generation.
If you are wondering how to make an online course, or how to sell online courses, you can learn it from our article! Read on to learn more about online courses creation!
What are online courses?
So, what exactly is an online course? Any course that can be accessed via a computer, tablet, or mobile device is an online course. Remote learning that has become popular in 2020, is only one example of an online course.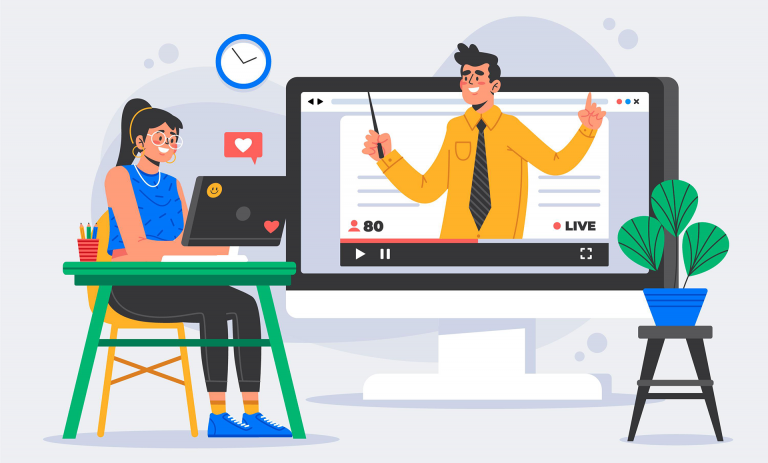 Why should you choose an online course?
Online lessons are often planned and recorded in advance, then uploaded and organized into a series of lessons and modules on the online course platform. The student's results and achievements are graded at the end of the course, but as a rule, the student can progress through the course material at his or her own pace.
Taking an online course has numerous advantages and benefits. You can study whenever and wherever it is convenient for you. If the online course platforms are certified, you can receive an official certificate or diploma based on the course or learning path you choose. Usually to complete the course you must pass a test.
There are several reasons why people choose online courses. Market research tests typically show that most people are looking to advance in their current position or start a new profession. Other people are looking for more academic instruction. Others simply want to use online learning to gain useful skills to improve their daily lives and develop their IQ.
What distinguishes synchronous from asynchronous courses?
A synchronous course is one in which all students watch a lecture at the same time at a specific time. This is often remote teaching – the lecturer imparts knowledge in real-time. You can discuss and ask questions with this person. However, those with demanding schedules may find it less flexible. Sometimes such lectures are recorded and made available online.
An asynchronous course, on the other hand, allows students to progress through modules and learn at their own leisure. You can access all the recorded or provided instructional materials whenever you want, and practice your skills, but the teacher doesn't respond to or correct your mistakes.
How to structure an online course?
Before you can create an online course, you need to prepare a course outline first. Write down everything you'd need to teach and order it in order, from the basics to the more advanced classes. Plan each lesson in order, and break it on:
what do you want to teach?

what is your teaching style and how would you teach this?

what other things I could mention?
Remember that the entire teaching process is guiding your students from the basics to the more advanced topics. Every lesson needs a goal – "after this lesson a student will be able to use filters to alter images". Even on online course platforms, you should be able to verify these learning objectives if this goal has been achieved.
Once you have the outline, fill in the blanks! Write down what to do, and plan your online courses accordingly. If you want to record videos to create an online course, write the scripts and film the videos.
How to create an online course PDF?
Once you have completed your handout, you can move on, to the next step of online course creation, which is writing content and presenting it to the viewers and the existing audience.
Each method of content delivery has its advantages and disadvantages.
For example, video content not only facilitates interaction with the audience but also makes it more interesting for the viewer. On the other hand, however, preparing good videos for an online course requires not only specialized equipment but also good skills.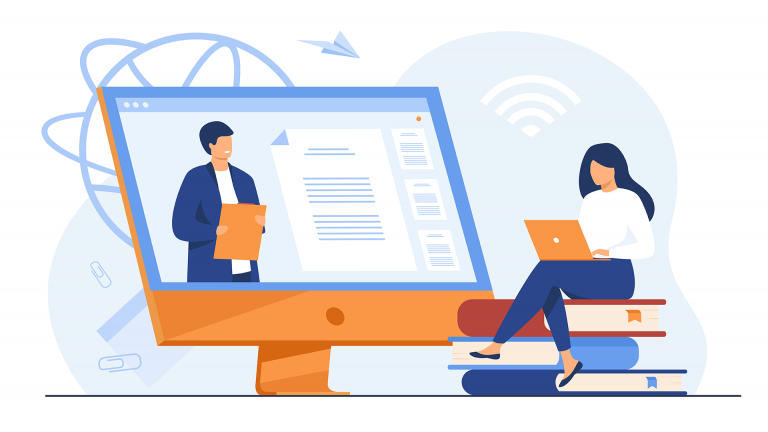 Slides and presentations are the basis of many online lessons. They help you organize complicated ideas into a system that has a simple structure and consists of points and sub-points when you physically present them to students. However, slides absolutely must be combined with a lecture. They can't say the same thing as the teacher, because they will overwhelm the students.
That's why it's a good idea to save materials in PDF format. Such a document does not change and describes detailed topics well in a way. The reader can keep coming back to your ebooks. This is a great tool for providing additional explanations, facts, free resources, or important material to review in the context of the course. It is also very easy to copy and paste with others. You can also save the PDF in a beautiful, aesthetically pleasing way – tools like Canva or even MS Word will be useful.
Creating online courses doesn't have to take specialized education industry skills. Look at the school handbooks you already know. Typically, there's a section that explains things, helpful images, additional reading, and exercises for the readers to practice in their own time. Most successful online courses stick to this idea.
How to create a course to sell?
If you want to create an online course to sell, again, first consider what you want to teach. The course topic is entirely up to you – if you have specific skills, teach them in your online course.
Business users frequently showcase the ways to use their products – for instance, if you sell specialist software for designers, your first online course could be on how to use your programs.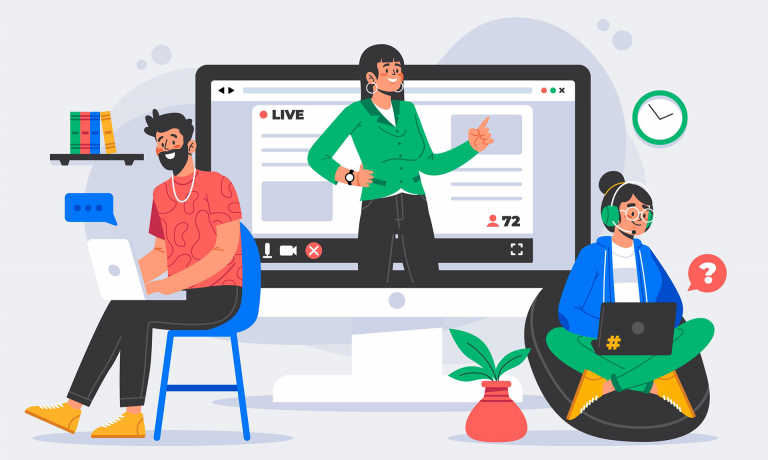 You should choose the course content you yourself want and know how to teach, and what your target audience wants to learn. If you're an expert in geography, that's great, but think more closely about your course idea: an awesome online course could be one about survival and using the compass in the wilderness!
Conduct some online research for the course and research your target audience. Since most online course creators focus on popular subjects, a niche in course content could be very useful. The most profitable online courses are about rare and well-sought-after ideas.
Once you have an idea for your course, you might want to start creating the materials. Research the topic, and organize your findings. Think of what people would ask you on a face-to-face course, and plan your course material accordingly. Once you have enough materials and knowledge, you can start writing a course outline.
Turn your online course in PDF file into an interactive one!
Flipbooks made with Publuu are perfect for use in education, especially for online learning, for a number of reasons.
To view a flipbook, you don't need any specialist software – it works in the browser of any device, from a computer to a smartphone. There are people who can't install new apps, but can still access your course content using your flipbooks.
Publuu's flipbook example
View more online flipbook examples
With Publuu, you have the ability to protect your textbooks from being downloaded or printed. You can, of course, disable it and allow free course downloads if you want to distribute your content quickly – but that's your decision as the course creator.
To use Publuu, you don't need specialized knowledge or skills. All you need is a PDF version of your textbook. We'll convert it automatically to an online flipbook, and you can personalize it even as it uploads. Choose a background, or music to help your students learn – you can also add instructional videos, links to relevant sites, and a gallery of useful content. Flipbooks from Publuu can do much more than static books.
What's more, analytics systems allow you to watch how people engage with the material you've created. You can monitor how many people have read your course materials. By tracking the amount of time your students spend on each page, you can find out which online lessons are the most challenging or interesting. The teacher can also see if a student has opened a link you sent – no questioning like in a traditional school!
What is the best software to create online training courses?
You can use a dedicated learning management system if you want to open an online school or start selling online courses. Such software can be quite expensive for beginners, but it allows you to coordinate with your customers.
Of course, if you're thinking of marketing online courses as an addition to your main activity, you can safely start out with a free mini course. Creation of these courses does not require a lot of effort.
LearnDash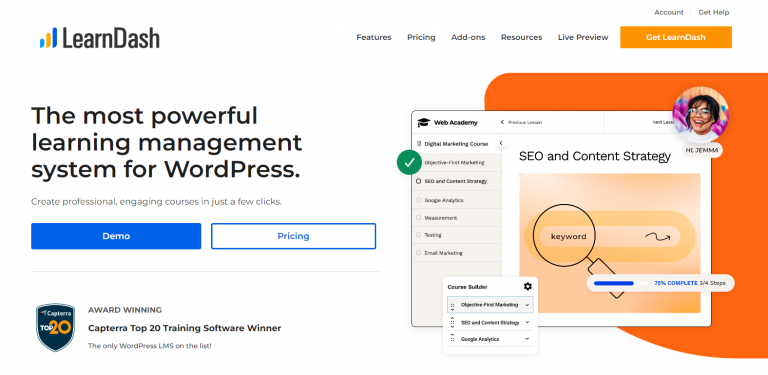 LearnDash is a WordPress plugin that lets anyone create a successful online course. Since WordPress is one of the most popular website engines in the world, LearnDash is used by many online education specialists – with $159 dollars of an annual subscription. The main advantage is that you own the site: you can set it up in whatever way you want, and LearnDash helps you create a dedicated educational website.
Thinkific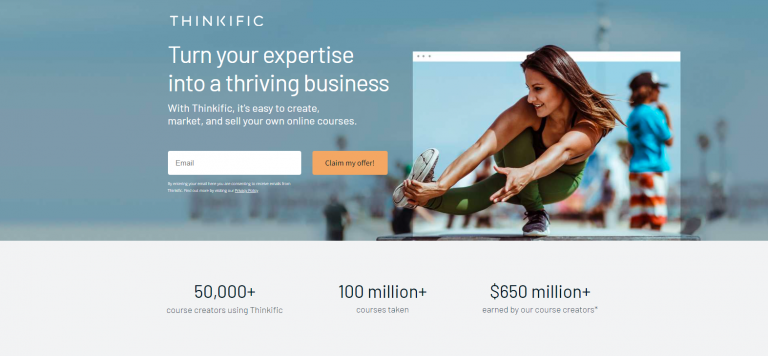 Another successful course creation tool is Thinkific – it's a simple system to bring your course idea to life. You can pick a template and drag and drop your materials in place. The beginners can use the free plan to create an online course without hassle.
ISpring Suite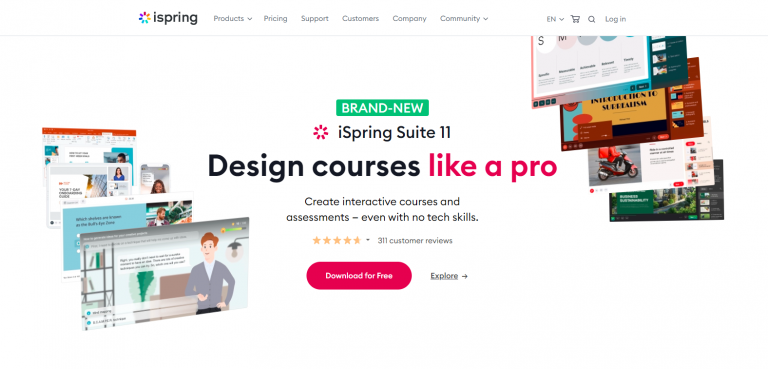 What we like the most about ISpring is its familiar interface, based on the one from Microsoft Office. There's also a great database of course creation tools and course management systems. It integrates well with PowerPoint so you can start teaching right away!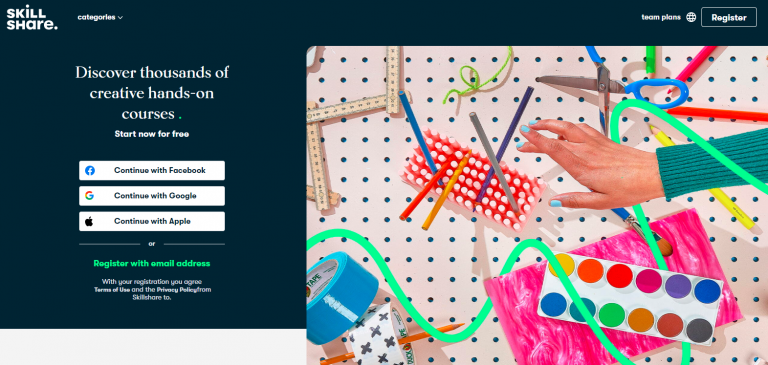 Creating a course on Skillshare is a great way to promote your course. The platform is free to use for creators, so if you want to create a free course or an online class, you can use it as a part of your ongoing marketing strategy. Skillshare pays instructors $10 for referrals and royalties for movies watched. If you want to get paid, you need to be included in the premium catalog.
Teachable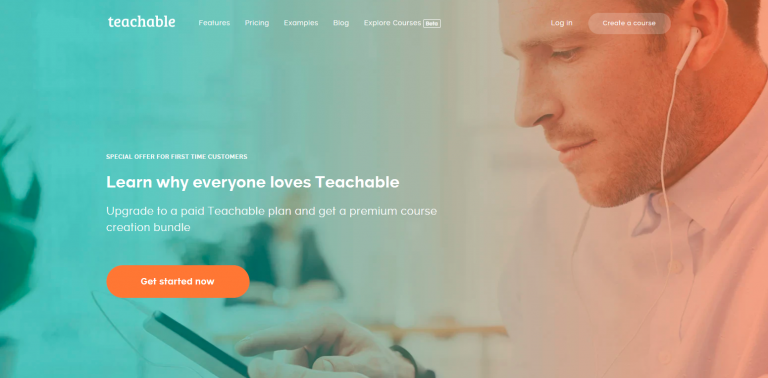 Teachable is a great platform to build a course. From a course outline to the course landing page, Teachable lets you design it all. What's better, there's a free option – and if you want to stick with the free plan, Teachable can sustain itself by taking the cut of your online course fees. It integrates with Google Tools and can track your marketing efforts.
Adobe Captivate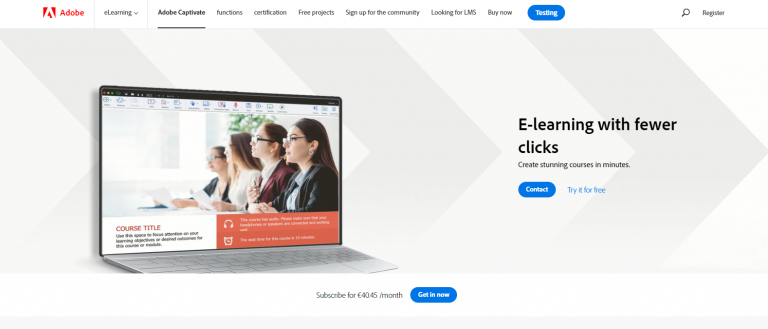 Adobe Captivate is not specifically created for online course creation, but it's still one of the most popular authoring tools in the industry. Even novices can use it to create interactive content with powerful scripting functionality. If your company already pay for the Adobe package and you want to create the first course, you can try using Captivate.
EdApp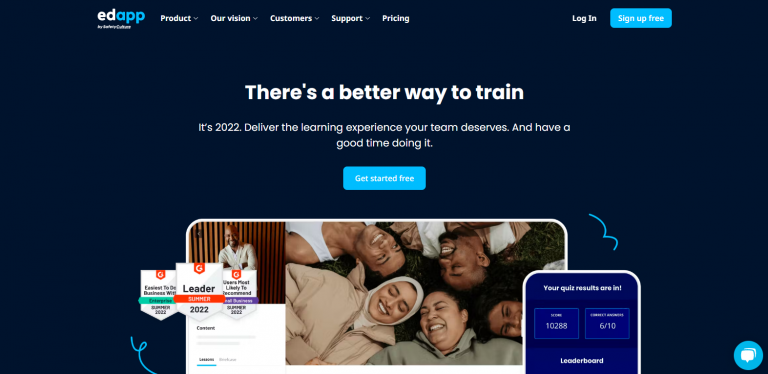 EdApp is a great mobile app-building tool that focuses on gamification. Like in popular apps like Duolingo, students deal with a particular subject in small, bite-sized lessons, and the app uses game elements like rankings or achievement for creating an online course that will be engaging and interesting thorough the entire learning journey. There are dozens of interactive templates of games and puzzles which makes the learning process more interesting than just watching videos.
How to create an online course for free?
If you're not interested in running an online school but want to share ways of using your products or just boost the visibility of your online business, you can use Google Slides or MS PowerPoint online to present the slides, and use YouTube or Vimeo to record videos. Visibility on YouTube helps boost your business – and you can embed these videos in the content of your interactive online course materials created with Publuu.
If you need tools to design the PDFs you can write them in Google Docs and use Canva or Visme to create great visuals for your online course. There are many great stock photo sites to illustrate your course materials.

Google Draw can also serve as an online course whiteboard – draw something there so that all the students you share your drawing with can see it. There are many online course tools available on the Internet and they can easily help you create a simple lesson plan without the need for expensive learning management systems!
Online Course Template Gallery
The Canva templates below can help you create an advertisement for your course and publish it online on Facebook groups or on your own website.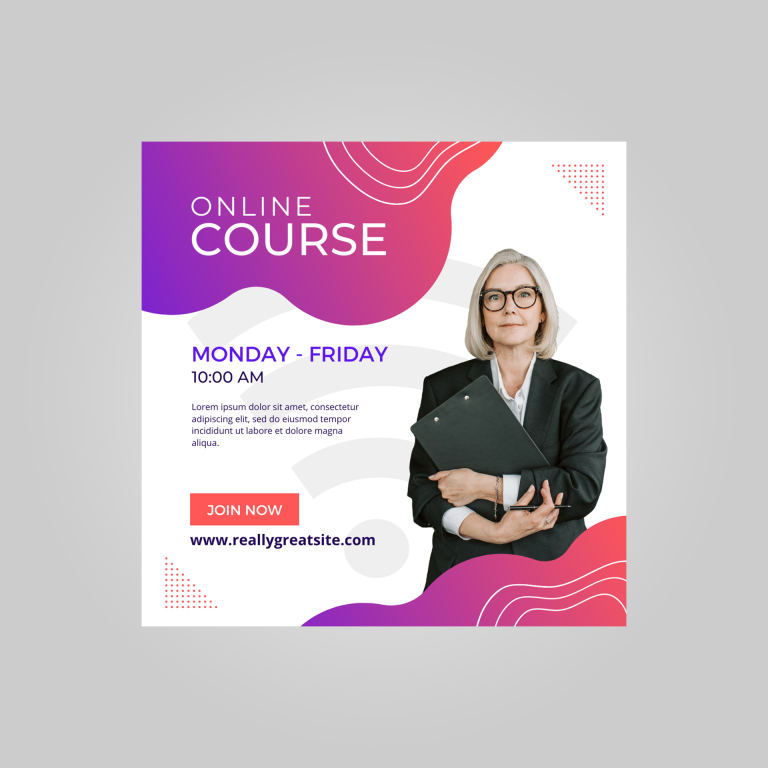 This simple template is easy to adjust and shows professionalism.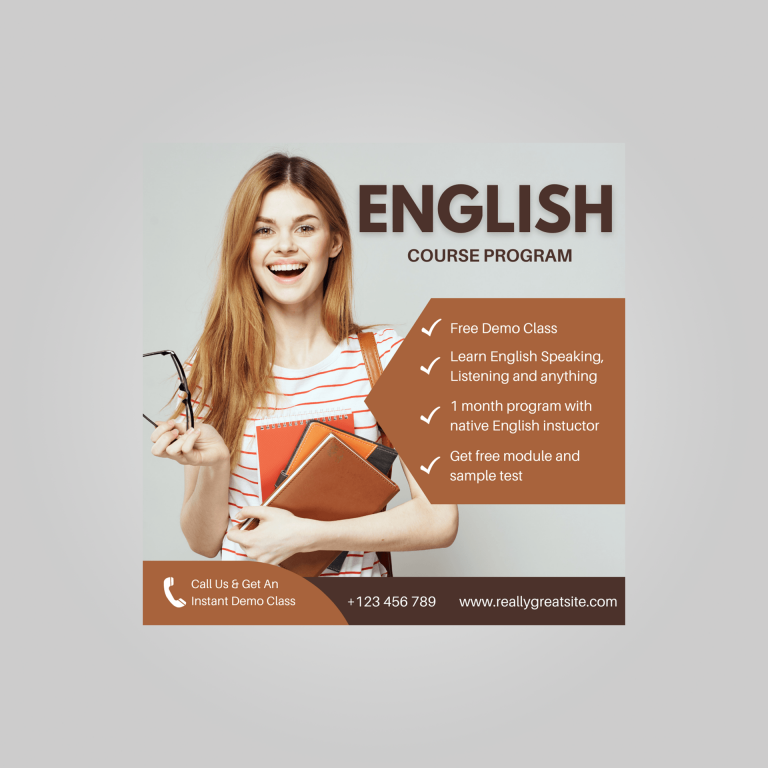 The simple minimalist template can showcase learning objectives to almost every audience.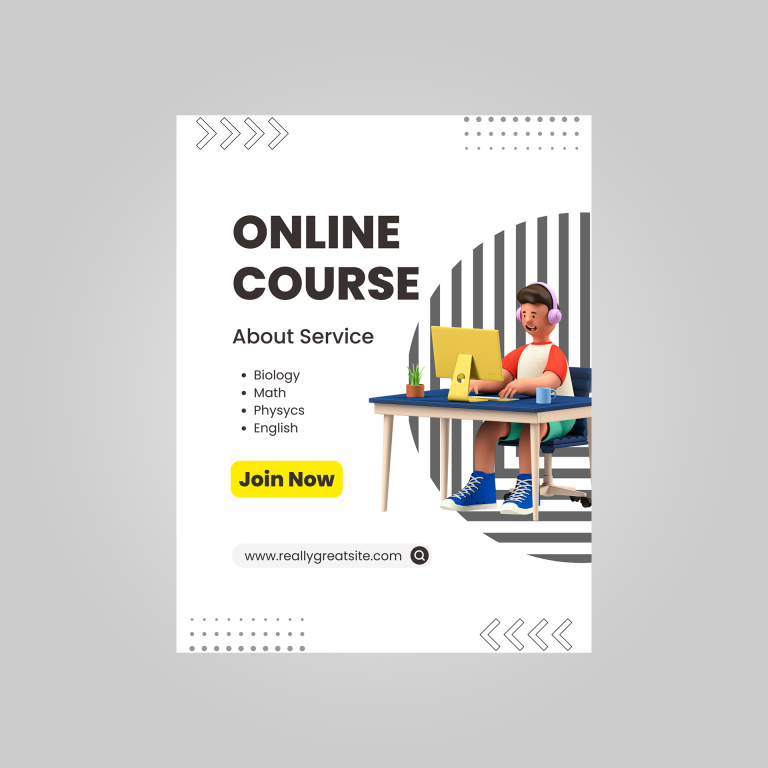 This flyer template looks a bit like a handbook cover.


This colorful cover template can be used when designing PDF materials for your online course.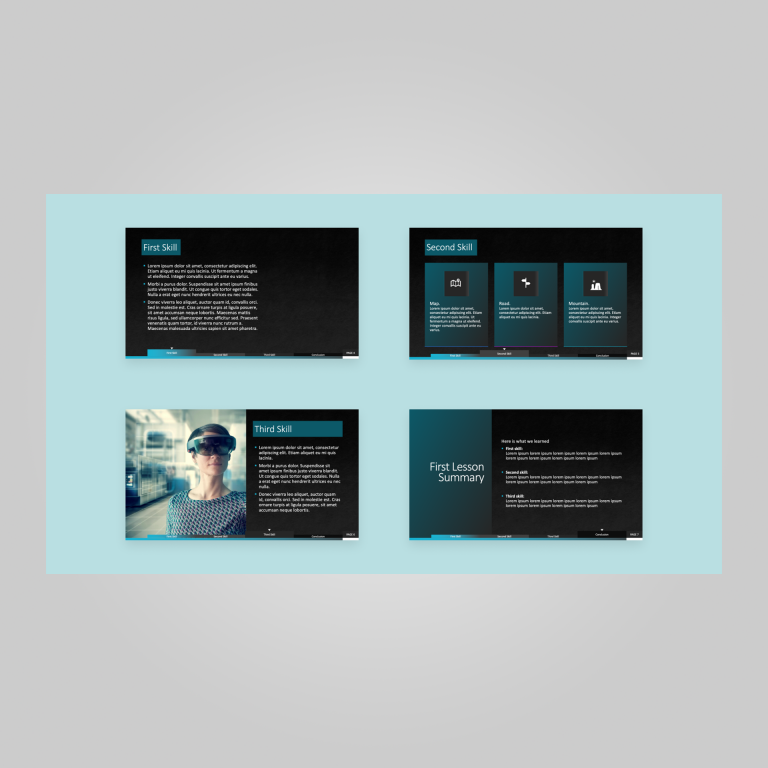 This collection of simple corporate templates will help you to create an online course for a company or paying customers using PowerPoint.
Creating online courses – conclusion
Now you know how to create an online course. By creating an online course, you prove to your potential customers without a shadow of a doubt that you are a high-level expert in your field.
Creating an online course today is easier than ever. Thanks to the advent of new course platforms, the ability to distribute textbooks as flipbooks, and a host of other technologies, you can develop a brand-new online course in less time than it will take your students to complete it.
You may be also interested in:
12 Tips to Create a Powerful Lead Magnet
21 Best Content Marketing Tools For Every Business
How to Gain More Clients in 2022 For My Online Business?