MENU
Top Issuu Alternatives in 2021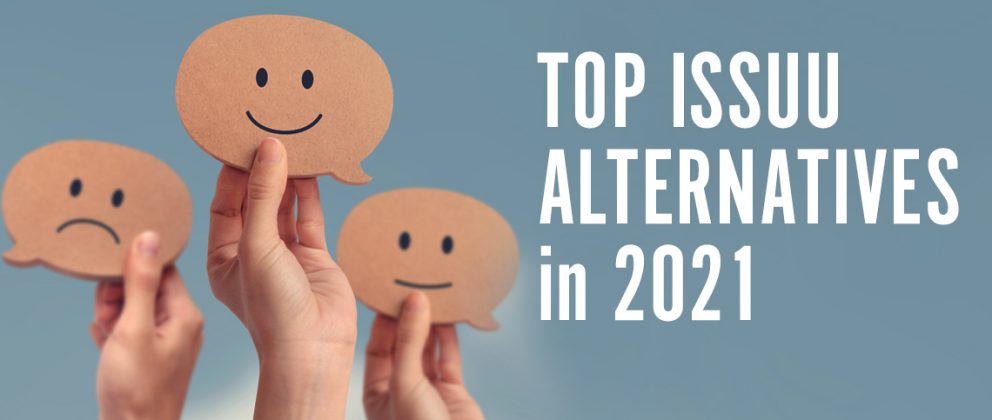 Ever since Issuu had its premiere in 2006, it's been dominating the market as a leading digital publishing tool.
But, can you expect to become a market leader, by doing the same thing everyone else does?
Not really.
To become the best at what you do, you need to do things differently than the others. Starting with your digital publishing tool. If everyone else are using the same thing, try to surprise them!
Find the alternative to Issuu that your competition will be jealous of.
In this article, we will try to help you do just that – to find Issue alternative that you will love!
Replace Issuu with Publuu (Recommended)
In short, Publuu can do the same things that Issuu can, but better. And cheaper.
What is Publuu?
It's a sophisticated flipbook generator. Of all alternatives to Issuu, it's the one that let's you know if your content is actually GOOD! All thanks to Publuu's real time PDF tracking system.
It's a feature that track user activity. It tells you how people interacted with your content – did they spend much time on it and which part of it was most popular. It doesn't matter if your content has been published on your social media or was it embedded to your website. Publuu works with them all.
Publuu's flipbook example
How to use Publuu:
Step 1: Upload your PDF into flipbook generator.
Step 2: There is no step 2!
Publuu is the Issue alternative, that does everything automatically. You can have your digital publishing done by a sophisticated algorithm. No effort and no skills are required from your end.
Just upload your PDF catalog, brochure or magazine and see how Publuu transforms them into fully interactive flipbooks, that flips pages just like a real book.
Can you name one other Issuu alternative that can do all that?
If your answer is "no" then you should replace Issue with Publuu by clicking here.
Replace Issuu with Publitas

Just like Issuu, Publitas can upload your PDFs and turn them in shareable link.
However, Publitas is the only Issue alternative, that focuses on catalogs only. It focuses on helping ecommerce stores getting their products out in front of the customers. It does that with a very interesting feature: creating catalogs, straight from the web store.
And unlike Issue, Publitas allows for making purchases right from the catalog.
Is this a worthy alternative to Issue? It could be, but only if you run a webstore focused purely on catalog sales.
Replace Issuu with Scribd

Scribd is an alternative to Issuu in a sense that it's a digital publishing platform. Scribd, just like Issuu, offers a library of books and digital magazines. But, Scribd is the only one of the Issuu alternatives that offers library of podcasts and music.
Scribd strength lies in its ability to publish content. Any author and writer can get their work out and make it a part of Scribd's media library.
When it comes to publishing PDFs online, Scribd offers only a fraction of features that Issuu does. Of all the alternatives to Issue, this is the only one that can merely publish your PDF with a title on it. No interactivity. No customization.
Should you replace Issuu with Scribd? You could, but only if you are an author looking for a new digital publishing platform.
Replace Issuu with FlippingBook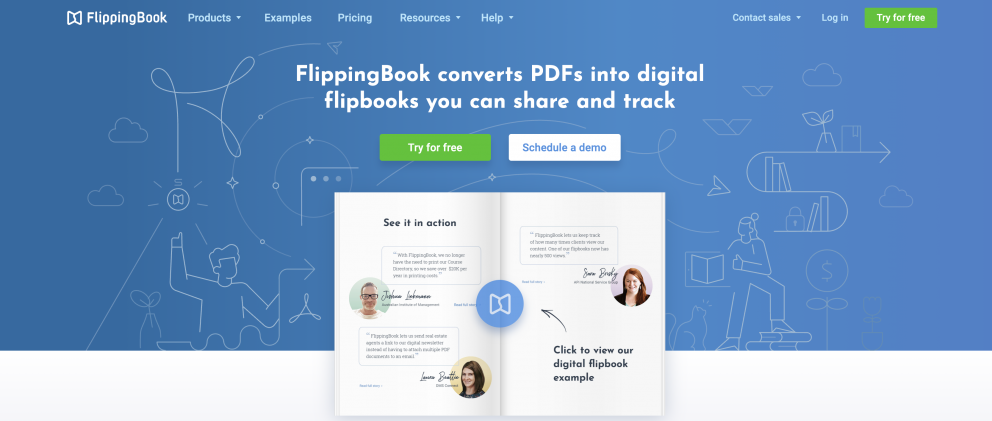 FlippingBook is an alternative to Issuu that focuses on mobile devices.
FlippingBook allows you to upload your PDF, tweak it a little bit and share it with a single link.
Just like Issuu.
The difference? Your PDF will automatically adjust to mobile devices (smartphones, tablets etc.). This Issuu alternative can help your customers get a better experience reading your latest piece of writing.
Should you replace Issuu with FlippingBook? Only if your budget allows it. Of all alternatives to Issuu that we tried out, this one is the priciest. It does come with interesting features, but most of them can be found in cheaper alternatives, like Publuu.com.
Replace Issuu with Joomag

Of all the Issuu alternatives on our list, Joomag has the most basic PDF viewing feature.
But, it is one of the best Issuu alternatives if you are looking for something with that will support your email campaign. Joomag comes with their own Customer Relationship Management tool as well as support for email campaigns. Joomag offers a way to collect and send large amount of email.
Should you replace Issuu with Joomag?
Only if you need an email management tool as well. You can design your emails and send them to everyone in your email subscribers list.
Replace Issuu with Zeplin

Zeplin is a good Issuu alternative if you are working on a project in a team. Zeplin is a collaboration tool.
Other than that, Zeplin is pretty similar to Issuu. You upload PDFs, post on social media and edit your content. It is quite expensive though – which can hurt your budget in a long run.
Should you replace Issuu with Zeplin?
Zeplin is the very good Issuu alternative for team projects. So, if you are working on a digital magazine and you need some help you can replace Issuu with Zeplin
Conclusion – What is the best Issuu alternative in 2021?
Finding a perfect Issuu alternative is not an easy task, but we hope that our list made things a little bit clearer.
Which one should you choose?
The best way would be to try each one of them yourself and see which one works best.
But, if you are a business owner than you are probably too busy to try them all.
That is why, we would like to recommend that you try to replace Issuu with Publuu for free!
Check out our FREE TRIAL by clicking HERE
Do you know of any other tools that would make the best Issuu alternatives?
Let us know in the comments below.