MENU
School Brochure Design – Helpful Tips and Awesome Templates
Every parent goes to great lengths to find the best educational environment for their kid. As a result, school brochures are one of the greatest methods to give information about private or public schools. You may offer a school brochure to parents at any time to notify them about extra educational institutions such as elementary schools, language schools, dancing schools, sports schools, or courses.
Everyone has the right to an education, and when developing a brochure, you should underline that a good education may prepare a person for his or her future and provide him or her the greatest opportunity to effectively and independently overcome problems. The brochure templates provided here will set your school out from the pack.
A brochure created with an online brochure maker is also an excellent resource for first-year students. Information about the school maps to help students navigate the campus, or organization will aid in acclimating to the new school culture. Our templates will assist you in creating the ideal brochure for your institution.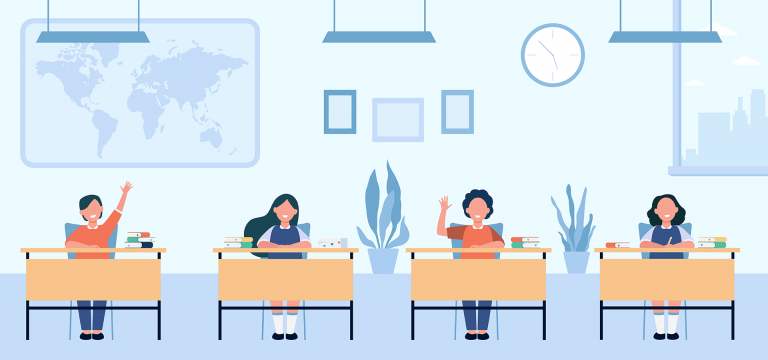 How can I make an online school brochure?
If you are looking for an effective way to promote your school, Publuu lets you showcase your educational institution. You can share your story with your potential students through a brochure published online.
Publuu lets you convert PDFs to beautiful digital brochures viewable in any browser. Add your own images and hyperlink gallery to make it memorable. You can change the brochure background, add multimedia content, and even links to other sites.
You can share your brochure design with friends, family, and clients – send the link directly or share it on social media. If you have a website, you can easily put your digital brochure on it or even embed it in the content of your e-mail.
What should a school brochure content include?
On the front panel of the tri-fold brochure, it's a good idea to include your school's name and emblem, a picture of the school, and basic information such as the school address, phone, and fax number. You can also add class times, and a link to the website. In Publuu, you can use a link hotspot, a QR link, or both.
On the back panel of the tri-fold brochure or on the second page of a bi-fold brochure you can include a calendar of school dates and activities for the current school year. Another good idea is to add contact information for important people like the bursar or deputy heads.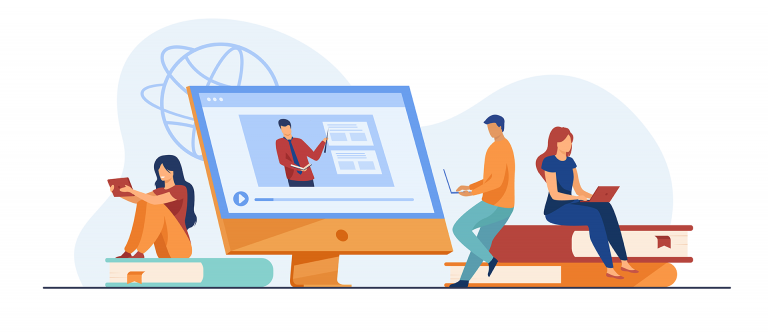 The middle panel of a tri-fold brochure template relies heavily on graphics, so you can put your own illustrations there to show your school and classes to potential students. On the left side of the brochure template you can put your school's motto, goals, and objectives, and on the right side the history of your school or the opportunities it provides as the college brochures usually do. Of course, these are just assumptions. Other users might like a map, biographies of teachers, or examples of student success in their tri-fold brochure template.
School brochure design – helpful tips for everyone
When creating school brochures from a template, remember that one of their crucial purposes is to connect with students and parents. Depending on the profile of your school, you need to find important differences between your potential customers that should influence the design and content of your brochure.
Not only is it important to understand your audience, but also the mission of your institution. The design of your chosen brochure template should reflect the ideals, best qualities, and goals that guide your school. The language, graphics, style, and quality of images used in your templates should reflect the messages that are central to education. A brochure that does not showcase your school's capabilities is of little value.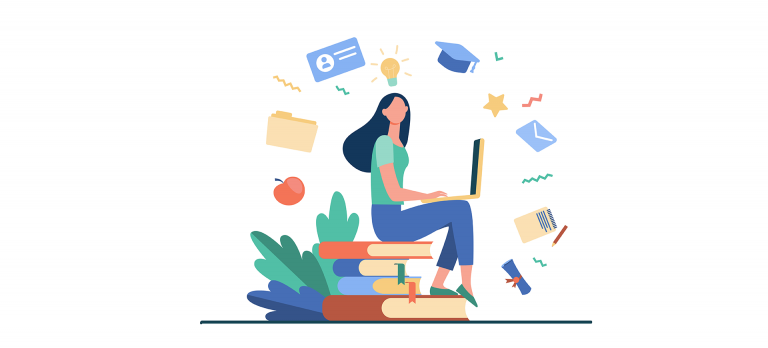 The purpose of a brochure is to stimulate interest in your school, so avoid using pompous language and walls of text. The text in your tri-fold or bifold brochure must be easy to read so that the reader can fully understand their content. Even if you are working with scientists and experiment teachers, avoid specialized language in your brochures.
This doesn't mean that your school brochure templates have to be stiff and boring. A good quality tri-fold brochure template has various aesthetic aspects that fit the brand or evoke emotion. The school can be interesting – so don't be afraid to use strong colors and patterns in your designs.
School brochure template gallery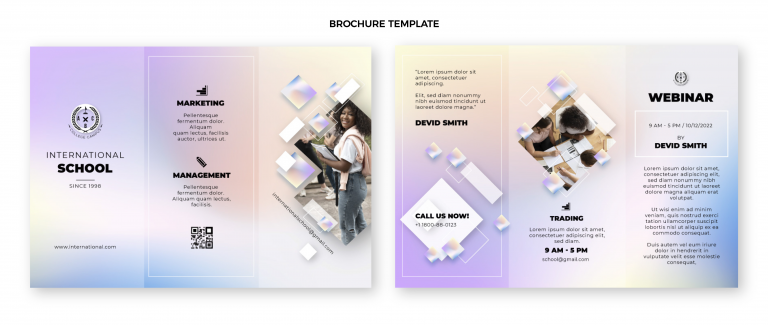 This gradient effect helps this school brochure template stand out from the crowd. You can customize them by adding your own fonts to the template.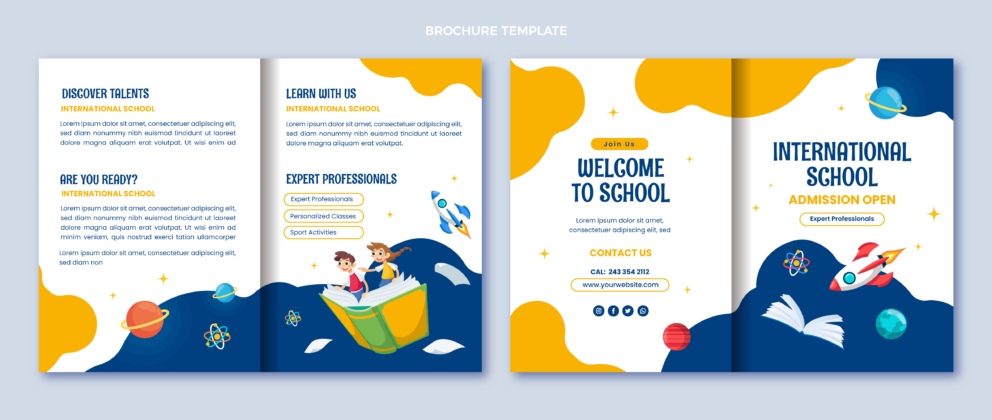 This bi-fold brochure template uses the effect of clouds and shapes to great effect – you can use it to design and print a booklet using Adobe Indesign or Adobe Illustrator.

This tri-fold brochure template is intended mostly for dance schools, but it will also work well for elementary schools if you add your own art or photos.

This bi-fold brochure template can be customized with your own illustrations. Use it as an inspiration for any school or kindergarten.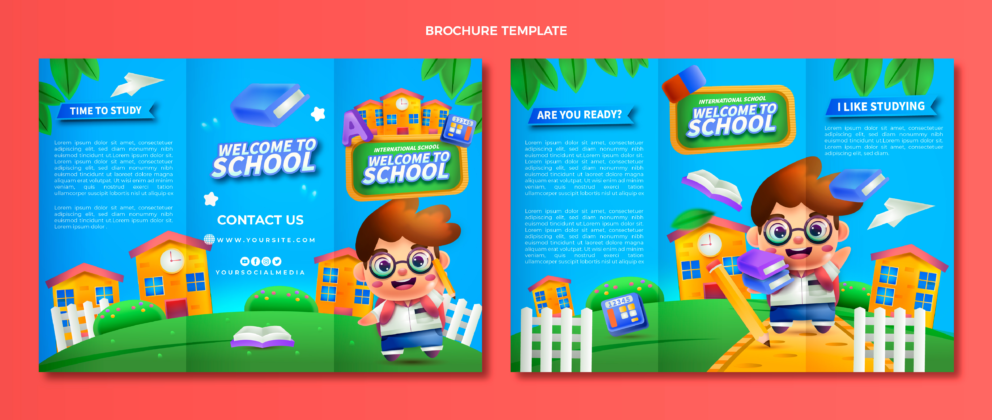 Cartoon graphics and vivid colors make this tri-fold brochure template perfect to advertise an elementary school or a kindergarten.
School brochure free template collection
There are more templates for the people who are interested in creating a school brochure. To create PDF documents, you don't need Adobe PDF software – you can find school brochure templates that use software like MS Word or free Canva, available online.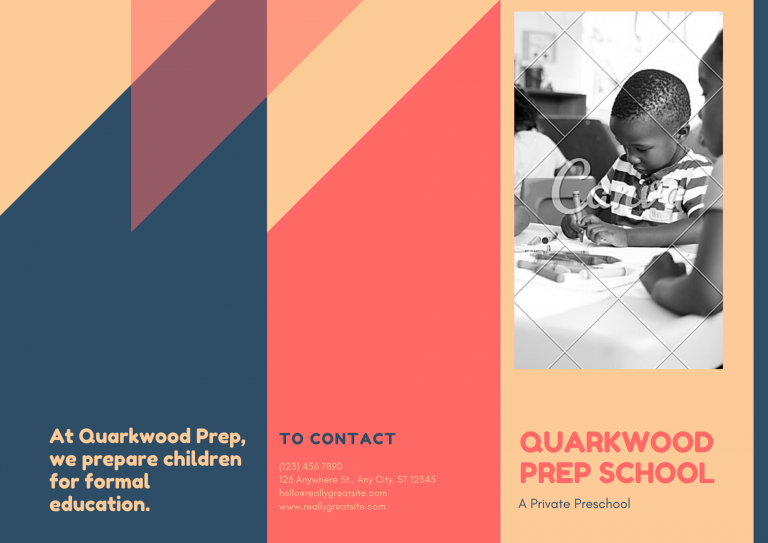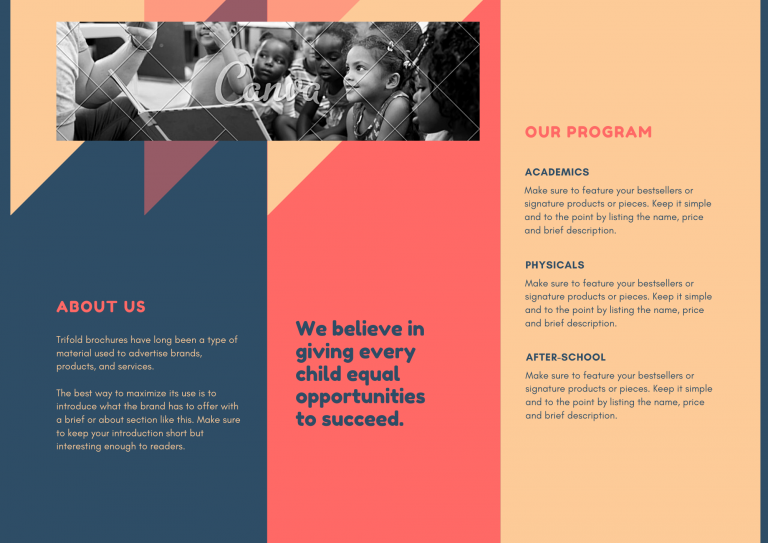 The formal colors and shapes of this tri-fold brochure template are balanced by friendly fonts and large images.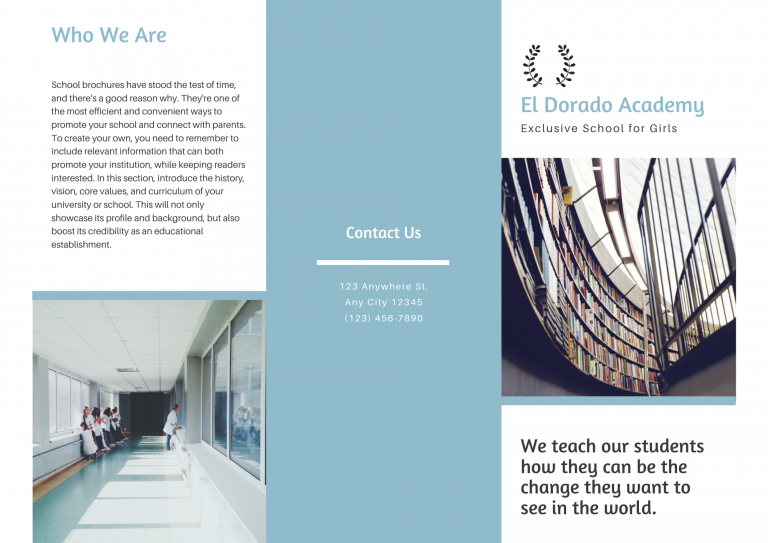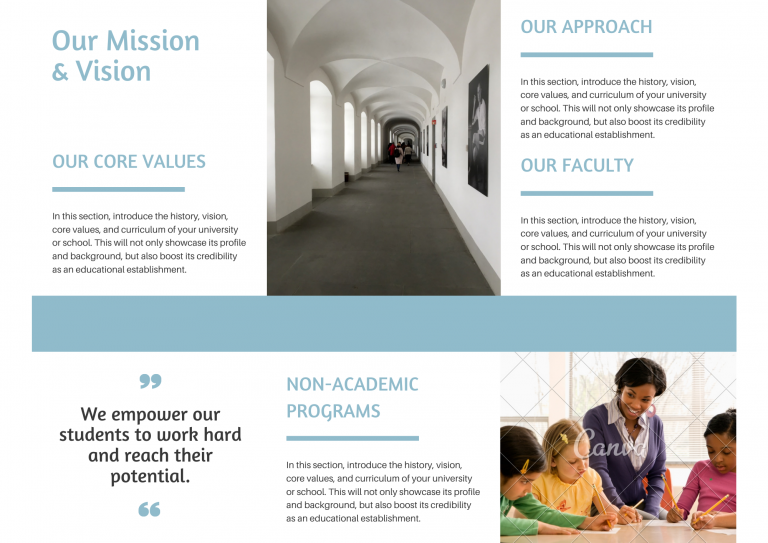 The elegant design and mild colors of this tri-fold brochure template give off a very toned, neutral theme.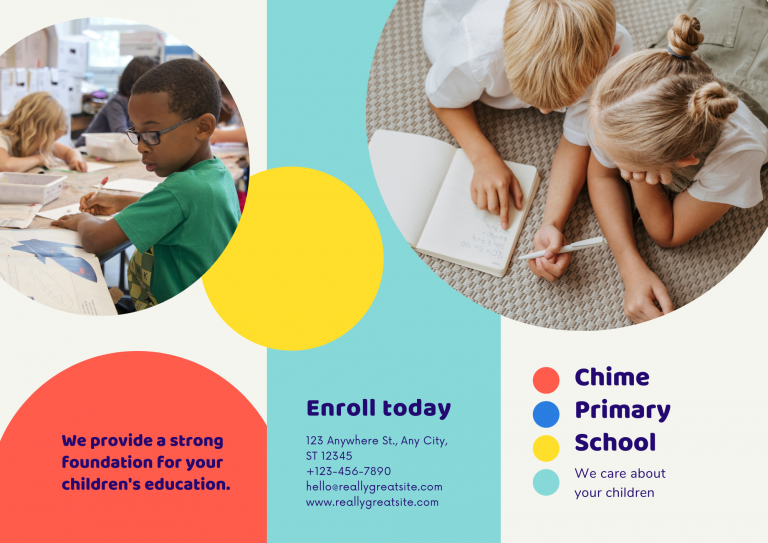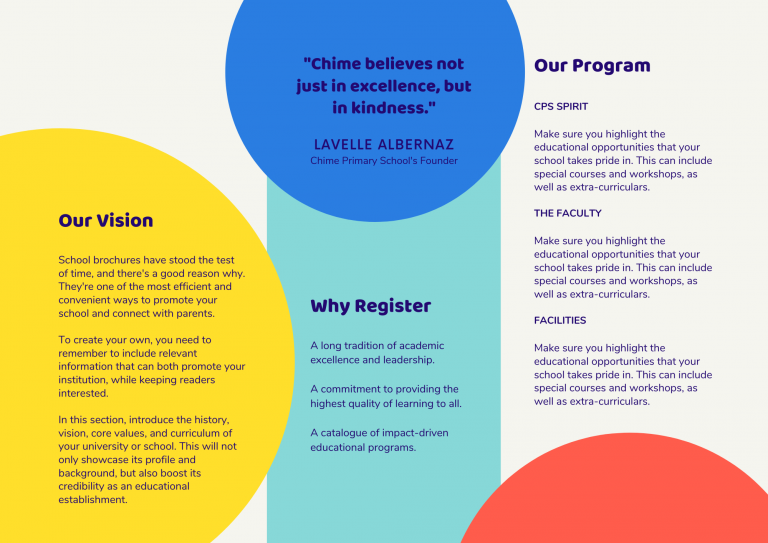 This versatile tri fold brochure template is available for free. Customize the template with the images of a preschool or language school!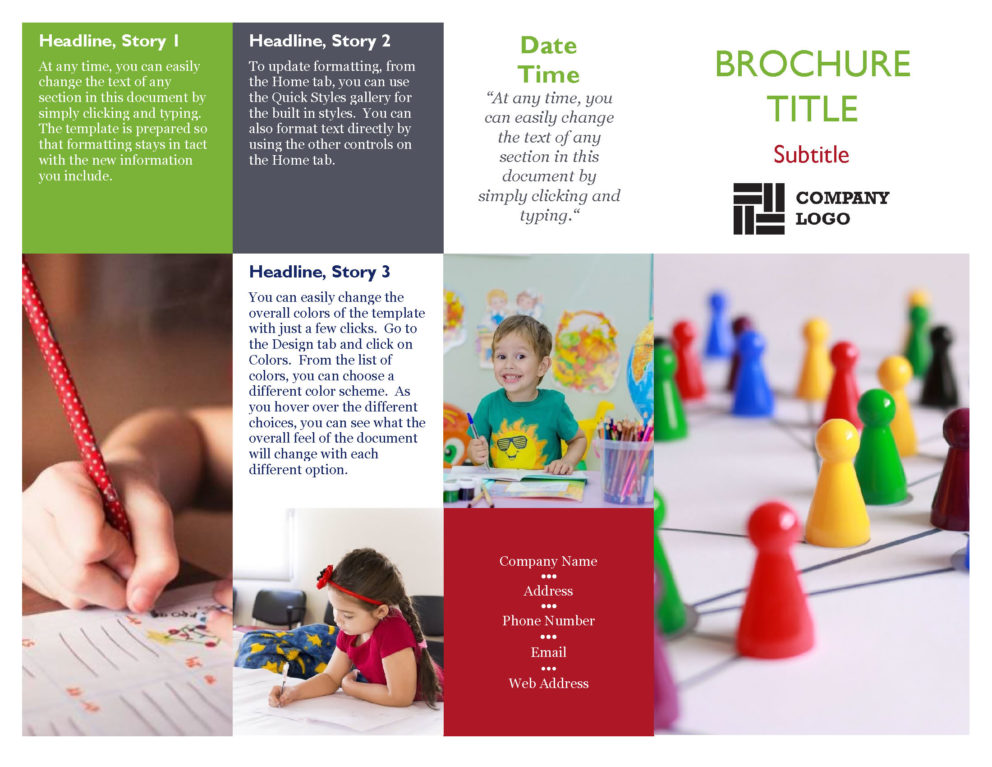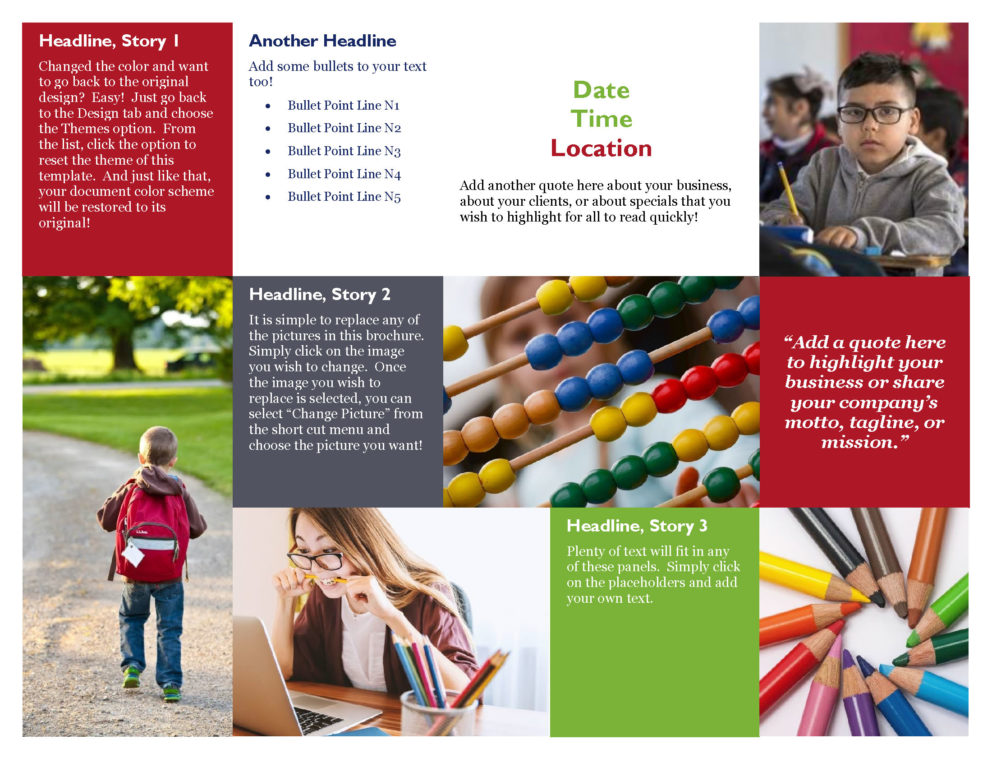 This tri fold brochure template can be used to create a brochure using only MS Word. You can download it and use it with software like Libre Office or open it in the browser.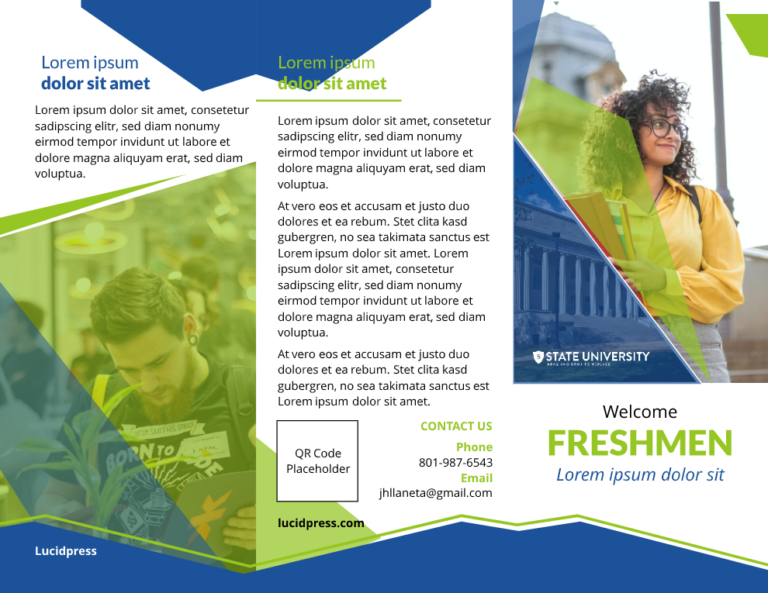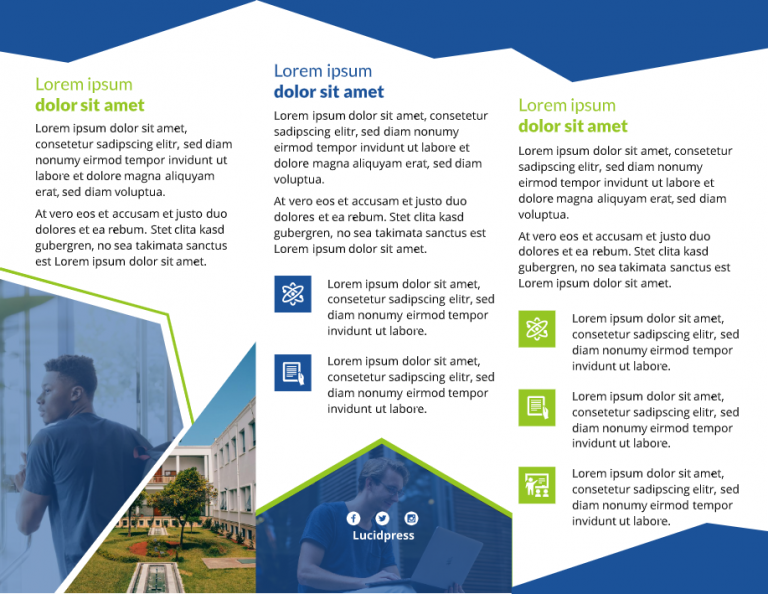 The clear style of this tri fold brochure template makes it easy to understand and perfect for university orientation.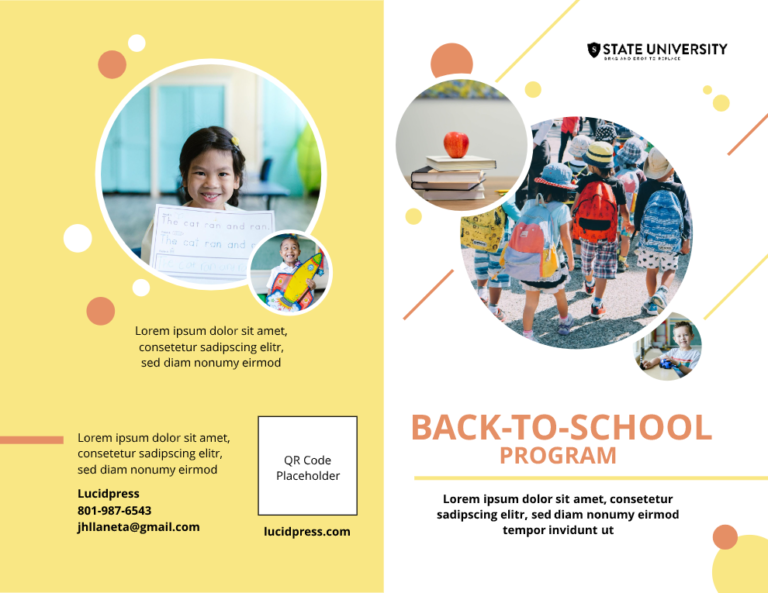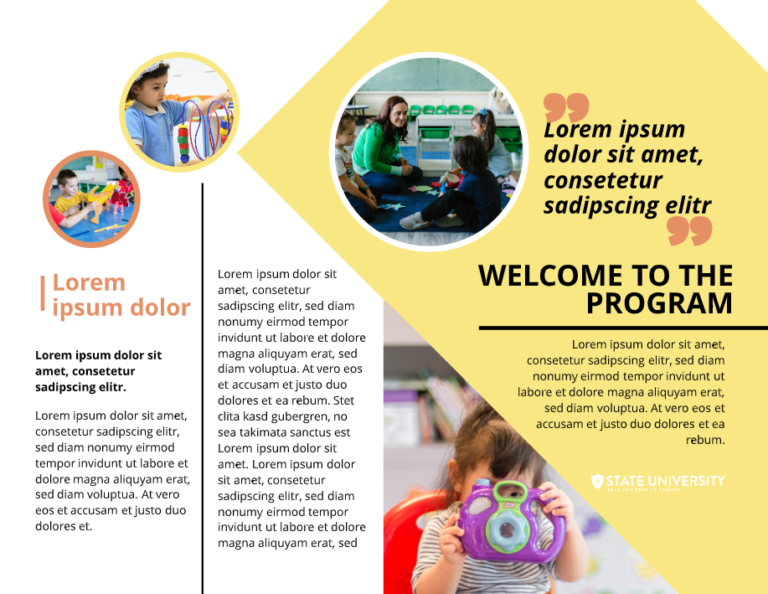 This bi-fold brochure template gives the vibe of a friendly, positive preschool or school.
Conclusion
School brochures are one of the best ways to present information about the school or preschool that will determine the students' future. It's easy to design them and print them yourself using the numerous school brochure templates available online.
Publuu lets you convert PDF files into beautiful brochures viewable in the browser, which can help you present your educational offer, rather than printing them.
You may be also interested in:
Top 8 Holiday Card Maker Software
12 Impressive Non Profit Brochure Examples and Tips
The Best Brochure Templates Websites