MENU
12 Impressive Non Profit Brochure Examples and Tips

Non profit brochures are an excellent way to get the word out about a non-profit organizations that may also be called charities, nonprofits, nongovernmental organizations (NGOs), or voluntary organizations.
There are many different ways that a non-profit can use brochures to get its message across. They can be used as fundraising tools, informational flyers, or even as invitations for events. They are a great way for institutions to share their mission, values, and accomplishments with the world.
There are three types of non profit brochures: the brochure or a flyer, the newsletter, and the annual report. The brochure is a printed document that is typically used for fundraising purposes. The newsletter is a publication that includes information about the organization and its programs. The annual report is an annual publication that provides information about an organization's financial activities and accomplishments during a fiscal year.
Whether you want to create a beautiful digital brochure for your institution using Publuu, or you're looking for templates to design one or make it from scratch, we've got the perfect options for you below.
Thus, in this blog post you will find:
how to make an interactive brochure that you can share online,

what should you include in an effective non profit brochure,

best nonprofit brochures with examples,

free nonprofit brochure templates.
Nonprofit brochure design – what are the basics?
Non profit brochure design is often seen as an easy task. However, there are many things that need to be considered when creating these brochures. The most important thing is to make sure that the content is not boring and it conveys its message effectively.
The design style in a nonprofit brochure should be minimalistic. It should place an emphasis on content and information rather than the design itself. The design of this type of a brochure should be simple and clean and there should be no unnecessary details included in it.
Create your interactive nonprofit brochure with Publuu!
Publuu is a great way to create brochures, booklets, or magazines that you can share anywhere on the web. Prepare your brochure in PDF format using the brochure templates presented below and upload it to Publuu online brochure maker which will give it a realistic touch by adding a stunning page-flipping effect.
Publuu's nonprofit brochure example
View more brochure examples
You can customize your brochure easily: you can select the background, add your logo, and upload images or videos. Publuu will allow you to publish your content in the cloud with added design elements, such as hotspots with embedded links transferring your audience to your website.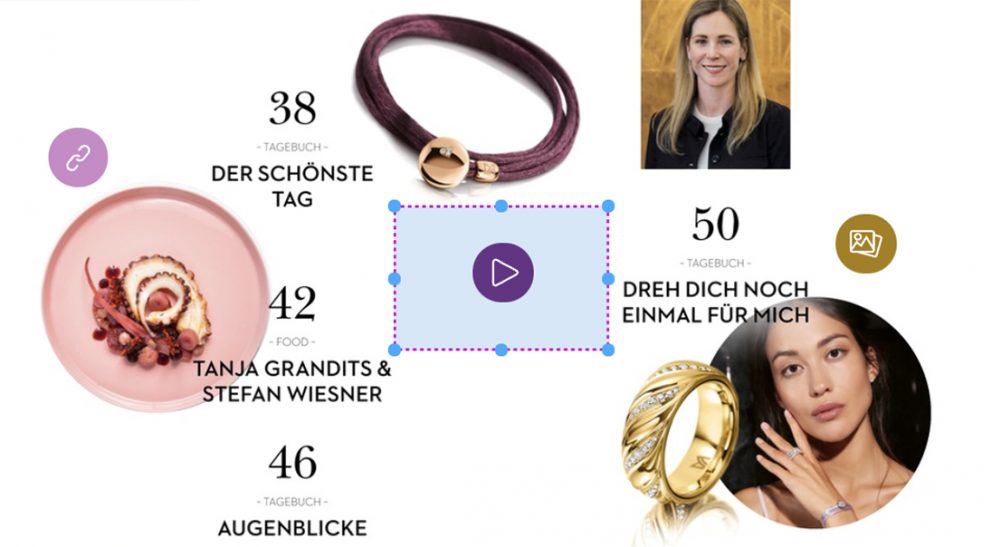 Publuu's analytics tools let you track user data, which is especially useful for marketing and branding purposes. You can see information on the number of people that saw your brochure, and how they interacted with it.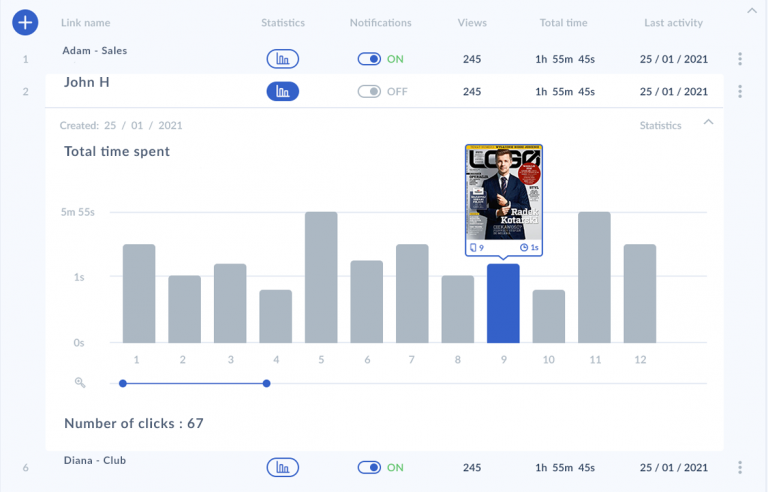 What to include in a non profit brochure?
Non-profit brochures are a vital part of the marketing strategy for most non-profits. They help to get the word out about the organization's mission, reach potential donors and raise money. The brochure should be used as a tool to tell prospective donors about your organization, your beliefs, and its accomplishments.
The first section of the brochure should include the name, logo, and contact information for your organization. The second section should highlight the mission statement, goals, and values of your institution.
The third section should list some of the programs you offer or services you provide to members of your community.
The fourth section can be used to detail how donations are spent on programs and services offered by the organization.
Let's take a look deeper at some of the most important sections of the non profit brochure:
A short introduction and a mission statement
A nonprofit brochure should be attractive and clearly explain the organization's mission and what they do. First of all, you have to decide what your target market is – identify the people who are most likely to support your cause and show them why they should do so.
Then, write a catchy headline that will draw attention and make people want more information about what you have to offer them. The introduction should be short and concise but it should also be informative enough so that the reader will want to read more on the subject matter.
Non profit mission statements are a way to articulate what the organization is about and how it makes an impact. It is a way for nonprofits to establish legitimacy, share their values with the public, and provide a vision for the future that can help them grow in size and impact.
The statement should be able to answer the following questions:
1) What do you do?
2) How do you do it?
3) Why does it matter?
A full list of services
Nonprofit brochure should provide a comprehensive list of services offered by the organization. It should be written in a clear manner so that it can be easily understood by potential clients or donors. The brochure can also include the history or presentation of staff and board members.
Non-profit organizations help people, animals, and the environment all around the world. The core services provided by non profit organizations are varied and depend on the specific institution. Some of the most common services include:
youth development programs

job training, employment, and placement programs

financial counseling and other financial services

health care, health education, and preventive health programs
Thus, no matter if your institution provides one of the services mentioned above or others, you should write a word about it in your nonprofit brochure.
A clear call to action
Increasing the number of people volunteering is a topic that many non-profits are struggling with. One way to encourage more volunteers is to design a brochure that has a call to action at the bottom. This means encouraging the reader to take action by signing up for an upcoming volunteer event or joining your team or donating. A call to action at the bottom of a brochure could read something like, "Please join us for a volunteer event." or "The time has come to join our team! We are looking for volunteers to help with the following upcoming events."
Photos or videos
Nonprofits often have a hard time convincing donors to give them money. This is where the use of photos or videos can help. The videos or photos should be attractive and interesting enough that people want to donate. For example, the photo of a horse in a field can help to convince people that your nonprofit is working for all animals. These photos can be used as a marketing tool or an informational tool to help people learn more about your mission.
The annual report
The annual report is an important document for non profit organizations because it gives them an opportunity to show their progress, highlight their achievements and share their plans for the future with potential donors and investors. The purpose of the brochure is not just to show how successful an institution has been in its year, but also to provide an overview of where they are heading in the future.
Best Nonprofit Brochure Templates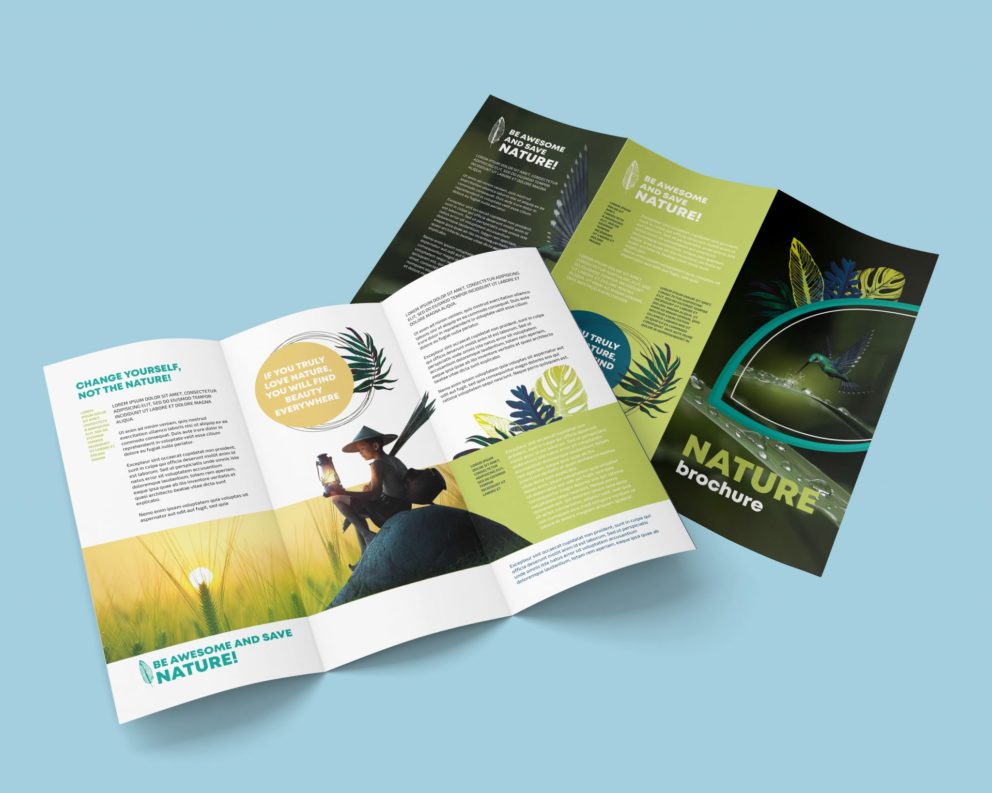 This green brochure template is best for nature lovers and institutions that take care of expanding eco-awareness. It can be downloaded in PSD format to later customize it using Adobe Photoshop.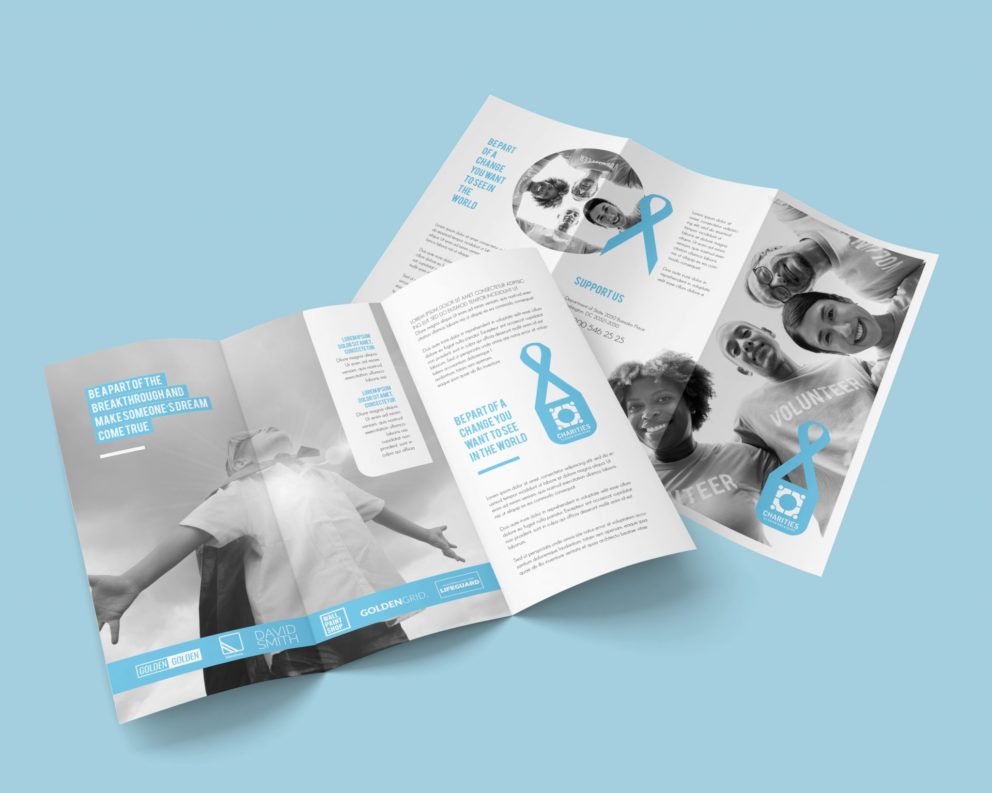 This nonprofit black and white brochure uses color to emphasize the importance of the organization's mission. You can customize it using your own images but take into consideration that the images you use don't distract the readers' attention and focus on your institution's values only.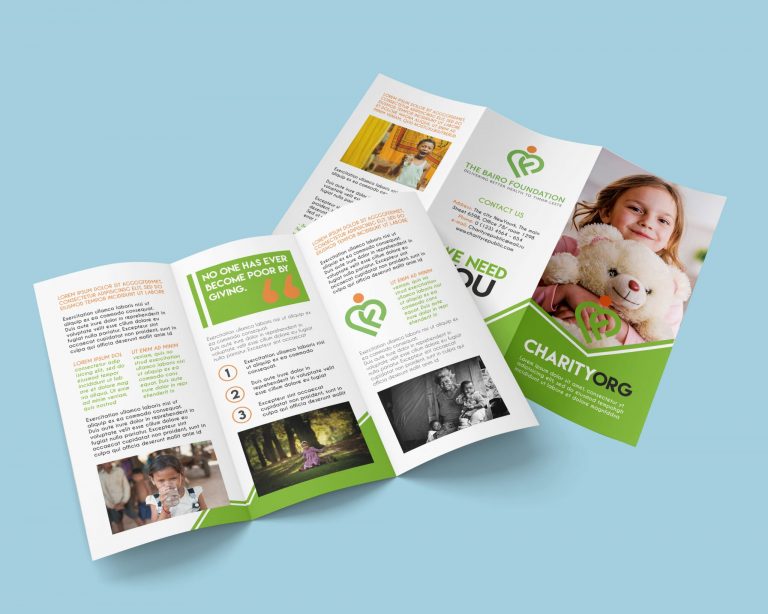 You can easily customize this tri-fold brochure template using software such as Adobe Illustrator or Adobe InDesign. You will be able to change the colors and edit all the elements after downloading it.
Charity Brochure Template Gallery
Charity brochures are used to inform the public about the charity and its activities. They are usually created in a professional way, with the aim of informing people about the work of the charity, their mission, and vision, as well as what they do for their beneficiaries.
A charity brochure can be used to attract donors by presenting them with various benefits of donating to this particular institution. It can also be used to inform potential volunteers about how they can help and what skills are needed for certain tasks.
Creative charity brochure template examples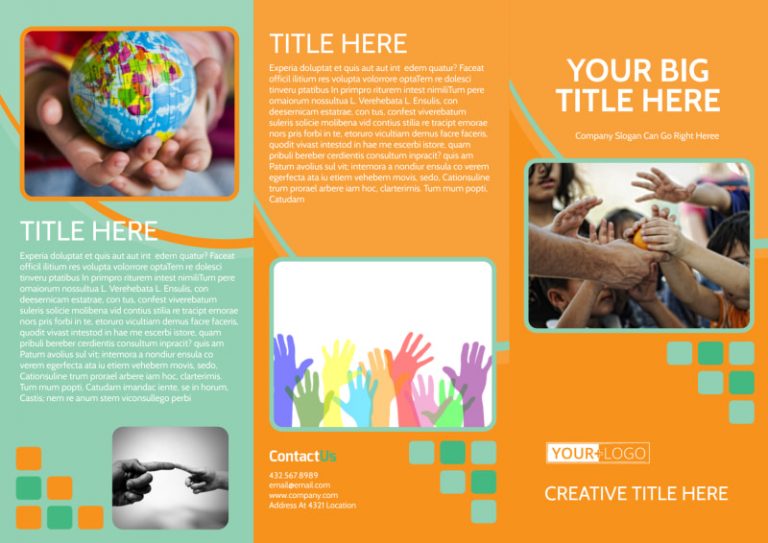 This A4 tri-fold brochure template presented above is an example of a fundraising brochure. Feel free to add information about your institution and how it impacts the community.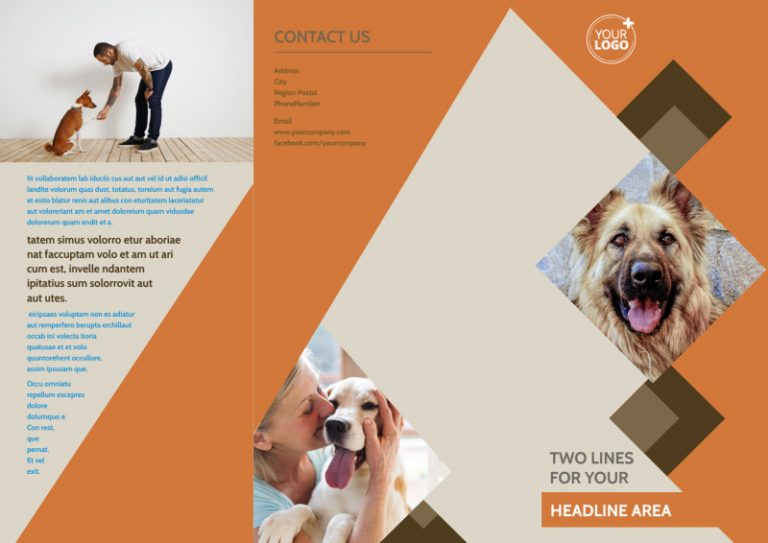 If your institution takes care of rescued animals, you can use your own images of them and add them to this brochure template. You can customize the layout of this tri-fold brochure template using the online editor. This tri-fold brochure template is ready to print using one of the online printing services.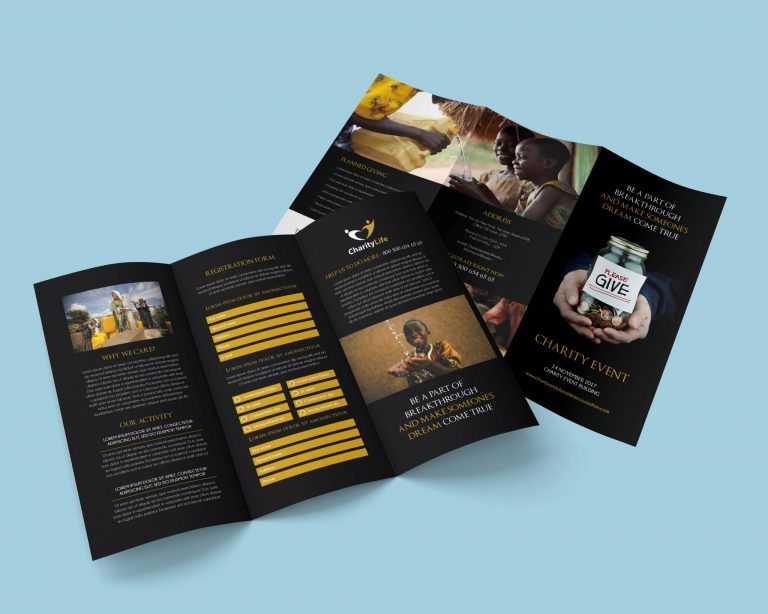 This appealing black project of this template was designed as a marketing tool to attract the readers and as result gather donations to the charity event. You can download it in PSD format, customize it, add some infographics, change the details and then print it.
Best NGO Brochure Template Gallery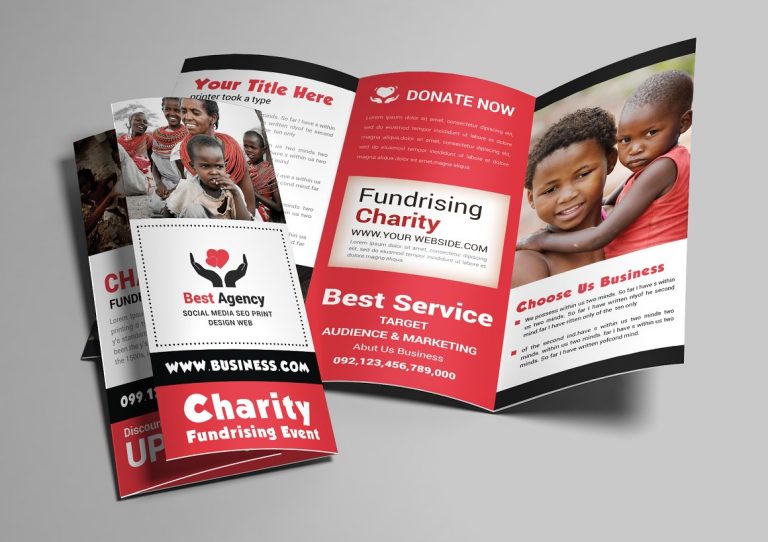 Tell the world about your cause with this elegant red theme. It has all the features you need to get across your mission and convert more visitors into donors.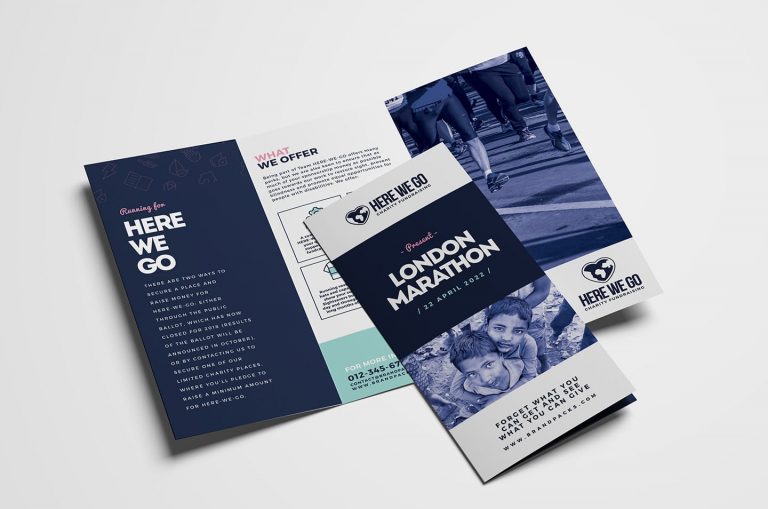 Its alluring design style makes this template an ideal choice for any client. Schools, NGOs, and corporate clients can all benefit from it.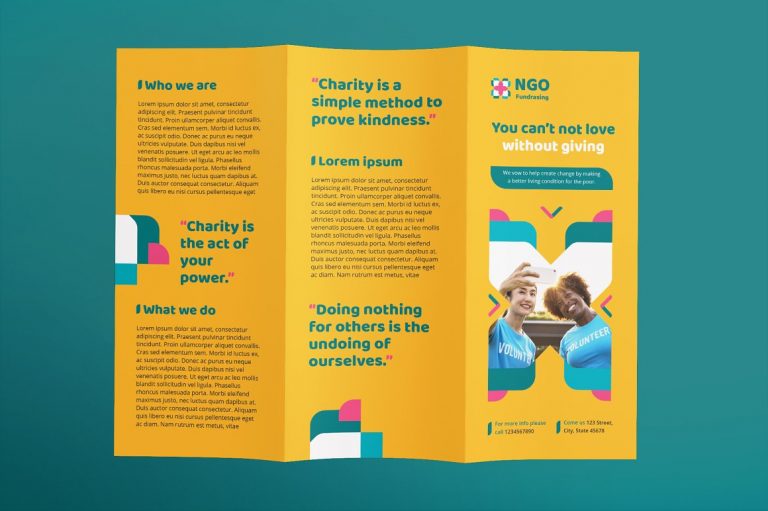 This orange NGO tri-fold brochure template draws the attention of the audience with ease. You can edit it easily and customize it to show your institution in the best possible light.
Free Non Profit Brochure Template Examples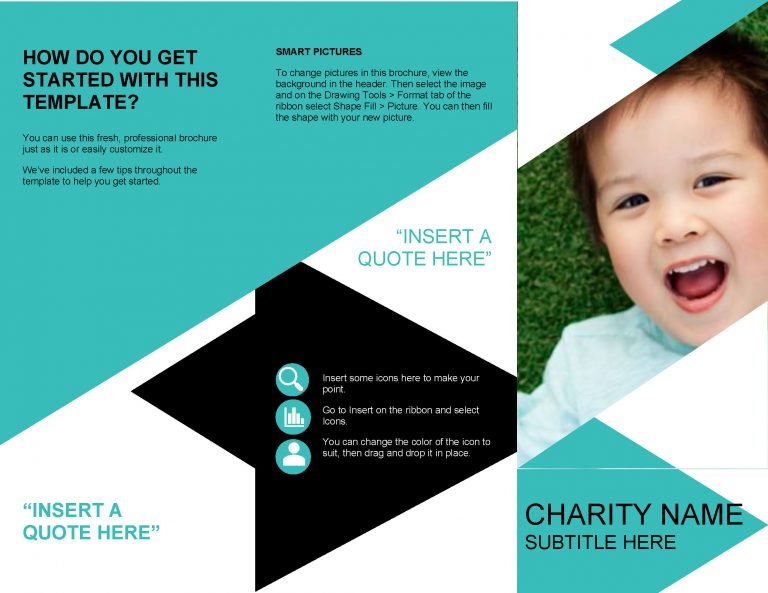 This free tri-fold brochure template can be found in the Microsoft 365 collection of templates. The elements of this tri-fold brochure are ready to customize right away in Microsoft Word, so you can edit the details and graphics with ease.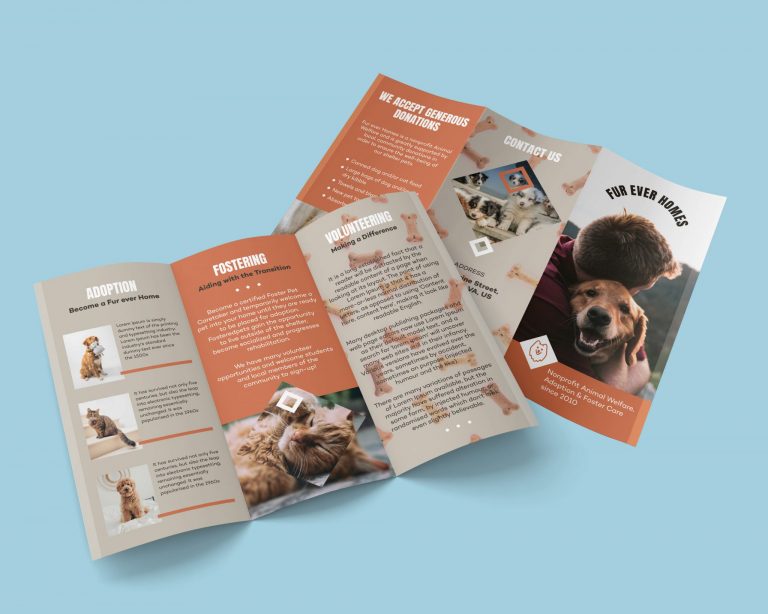 If you work for an institution that puts an emphasis on animals rights, you should try this brochure template. Use it to spread the word about the benefits of pet adoption or volunteering. The layout of the brochure makes it easy for you to include all necessary information and images.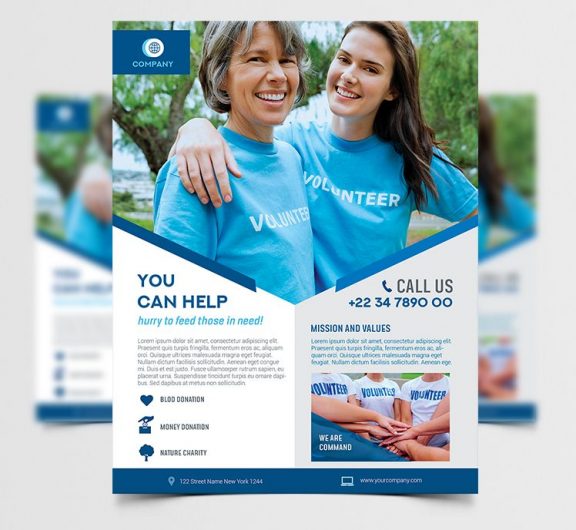 Use this simple free brochure template to find people interested in voluntary work for your institution. Download it in PSD format and customize it using Adobe Photoshop.
You may be also interested in:
Brochure Design Tips and Tricks
The Best Brochure Templates Websites
What is a Booklet?