MENU
College Brochure – All You Need to Know

When you want your university to shine and attract attention, it's hard to find a better way to grab the attention of potential students than an information-rich college brochure. A well-designed brochure not only highlights your institution's distinguishing features and strengths but also conveys the essence of your brand, setting you apart from the competition.
As the number of people interested in quality education grows and students have more and more options, it is important that your brochure captures the attention of your target audience and leaves a lasting impression. It's worth selecting some of the best college brochure templates to further create a stunning college brochure as the one below.
Publuu's digital college brochure example
View more digital college brochure examples
make your own college brochure

Whether you're an established university looking to increase student enrollment, a college club looking to attract new members, or a sports team looking to increase fan support this school year, this guide will provide you with the knowledge and tools you need to create a winning college brochure that not only looks great but also effectively communicates your institution's unique value.

What is a college brochure?
Colleges and universities use college brochures as a way to inform prospective students, parents, and educators about their academic programs, campus life, facilities, faculty, achievements, and other distinctive features. The primary objective of brochure design is to engage potential applicants, present the institution's brand, and pique their interest in applying specifically to that university.
Most college brochure templates boast visually appealing layouts, captivating images, and well-organized content, which enables readers to easily comprehend and retain the provided information. These brochures can be disseminated through various channels, such as direct mail, college fairs, high school visits, or as downloadable resources on the school's website.
An effective college brochure goes beyond simply promoting the institution. It represents the school's values, culture, and atmosphere, helping prospective students grasp what sets this particular college apart from others, and enabling them to make informed decisions about their higher education choices.

How do you write a college brochure?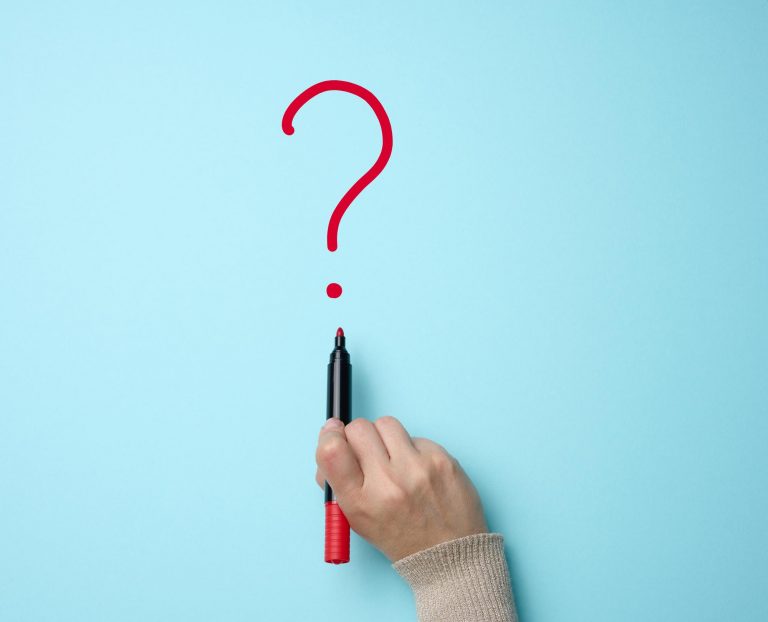 Understanding the purpose of a college brochure is crucial before you begin creating one. Are you aiming to attract prospective students, showcase specific courses, or highlight your state-of-the-art facilities? Your choice of visuals and positioning will depend on these goals, so make sure you adapt the best brochure design ideas to your own piece.
It's important to recognize the needs and interests of your target audience, which typically includes potential students, parents, and educators. This understanding will help you choose the college brochure templates you need, tailor your message and tone so that it resonates with them. For instance, arts-related colleges may adopt a more relaxed and friendly tone, and choose the brochure template you need.
Once your brochure is complete, you'll need to decide whether to print physical copies or distribute them digitally as an online download. When making this decision, consider factors such as your target audience, distribution channels, and budget.
Utilizing HTML5-enabled online flipbooks from platforms like Publuu to share your university's brochure as a digital download brings numerous advantages to your institution. Online flipbooks create a more interactive and engaging experience, similarly to browsing through a physical brochure. Such brochures are designed to capture readers' attention and motivate them to explore your university's offerings further.
Flipbooks are compatible with a range of devices, including smartphones, tablets, and desktop computers. Prospective students and their families can access your college brochure anytime, from anywhere, with just a few clicks, whether they're in the school library or on campus. Additionally, online flipbooks can be readily shared on social media, enabling your college brochure to reach a wider audience and generate increased interest in your institution by adding videos, photo galleries and much more.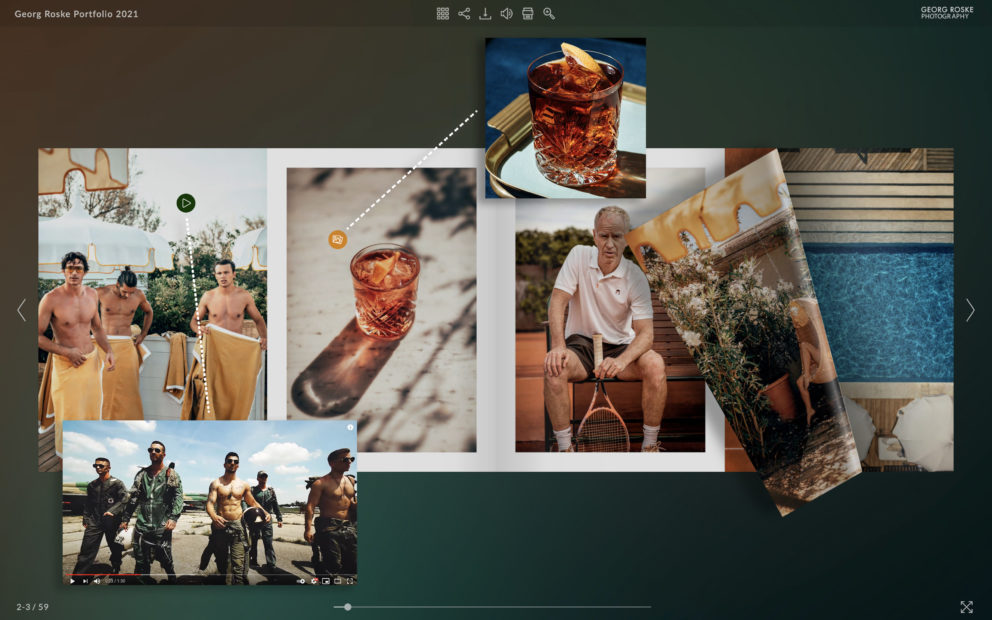 In comparison to printed brochures, digital flipbooks offer a more environmentally friendly alternative, minimizing paper consumption and waste. This eco-conscious approach can make a significant impact on many schools and campuses.
By leveraging the benefits online flipbooks like those offered by Publuu, you can enhance the overall experience, accessibility, and effectiveness of your college brochure while conserving resources and promoting environmental sustainability.

What should a school brochure include?
There are many kinds of information you want to include in the brochure, such as academic programs, campus life, admission requirements, or post-graduation job opportunities. Craft engaging text that captures the reader's attention. Use clear, captivating language to communicate your institution's unique features and advantages.
Incorporate high-quality images, graphics, and illustrations that complement the content and reinforce your institution's brand. Use photos to showcase your campus, facilities, events, and student life, ensuring they are both intriguing and relevant to your audience.
Don't forget to include a call to action. At the end of your copy, guide readers on what to do next, such as visiting your website, attending an open house, or contacting the admissions office for more information. Provide clear contact details and website links to make it easy for them to follow up.

What is a good design for a brochure?
Good design layouts for a college brochure can vary depending on the purpose, content, and target audience. The most popular designs of a college brochure are:
Tri-fold brochure divides the page into three equal columns, creating six panels when folded. It is one of the most common brochure layouts, offering ample space for both text and visuals, while remaining compact and easy to handle.

Bi-fold brochure is folded in half, creating four panels. This booklet is suitable for situations where less information is needed or when you want to provide a more in-depth look at a specific topic.

Gatefold brochure: This layout has two outer panels that fold inward, meeting in the center, like a gate. It creates a sense of anticipation and is perfect for revealing important information or a visually striking image inside.
There are, of course, other designs that university and college staff may find useful to use on different occasions, such as certificate templates.

Brochure examples for students
These free college brochure templates can be used to create or edit your own brochures for your college: use them as inspiration and add your own logo and design to reflect your school and community!

University brochure

This template uses a harmonious color scheme with contrasting hues that complement each other, enhancing readability and visual appeal. The font choice also reflects the tone and character of the school.

College brochure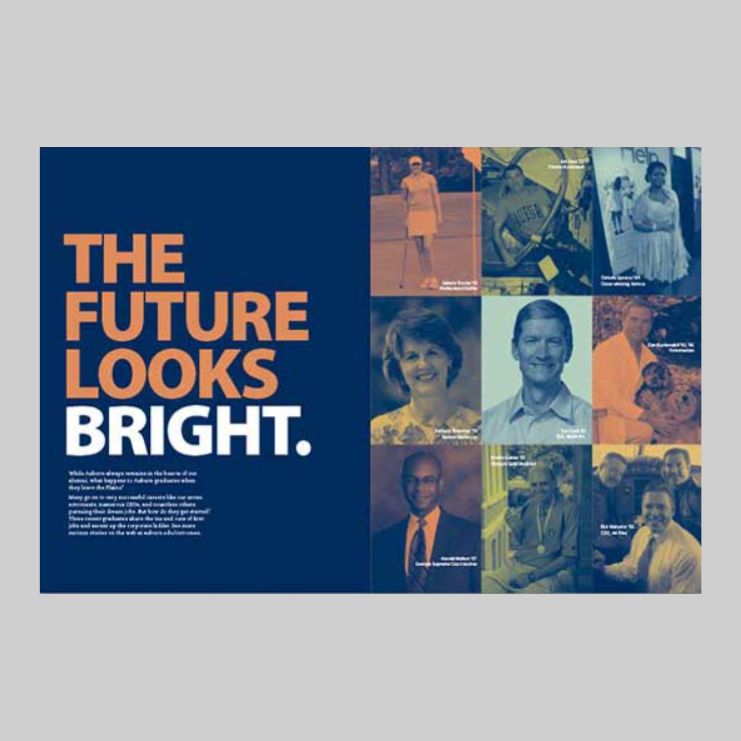 This college brochure example shows an interesting style of brochure design. You can easily use this college brochure as a visual reference and base your own brochure on this one.

University trifold brochure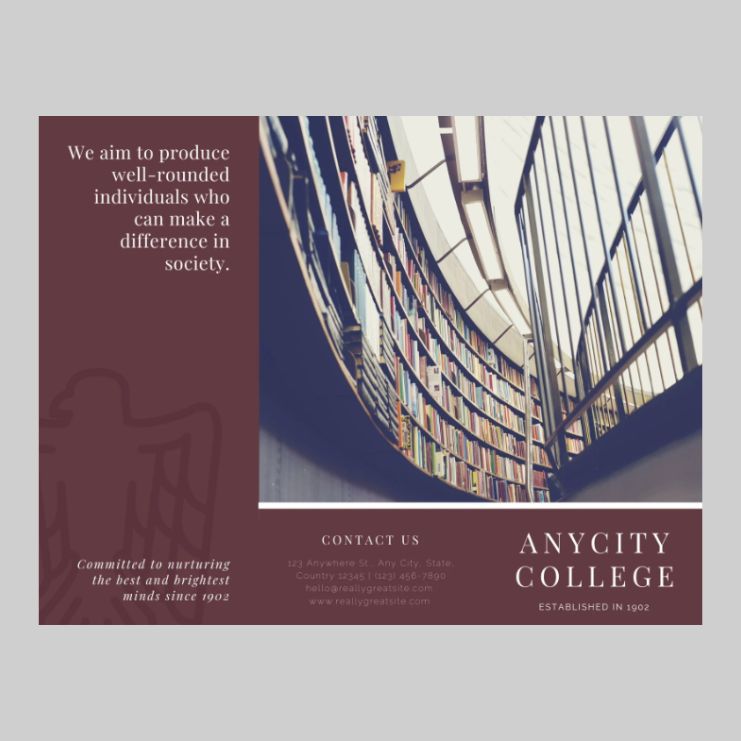 This dark brown brochure template is very professional and easy to customize. The large photographs and legible fonts also increase the visibility of this brochure design.

Child education brochure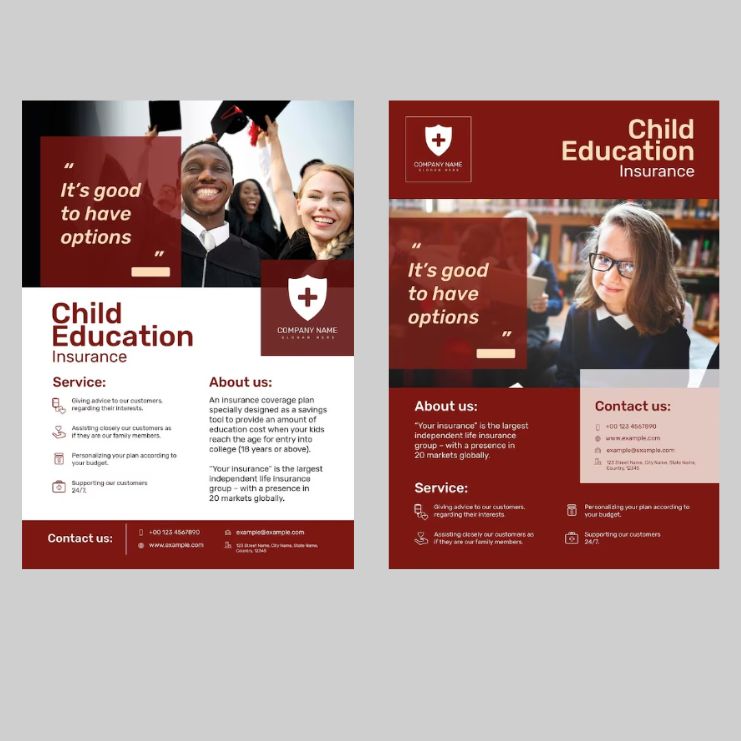 College brochure templates on freepik like this one are usually very easy to customize and this brochure template is a great example. The bright red color makes it stand out from the crowd.

You can be also interested in:
School Brochure Design – Helpful Tips and Awesome Templates
How to Make a Pamphlet?