MENU
11 Most Inspiring Magazine Ideas
Magazines attracted attention for a long time with the widespread adoption of the Internet and social media. Before the advent of smartphones, people relied heavily on print media for daily analysis of news, opinions, pop culture trivia, and celebrity gossip.
Although many magazines have declined today, many have nevertheless moved online. Today, people use smartphones to get news but reach for a professional digital magazine to relax. In addition to its many other uses, a print magazine can serve as an excellent medium for disseminating information, advertising, and other purposes.
Even today, magazines still play a significant role in the media market. Most people today read magazines online, or at least expect a print publication to put news online first.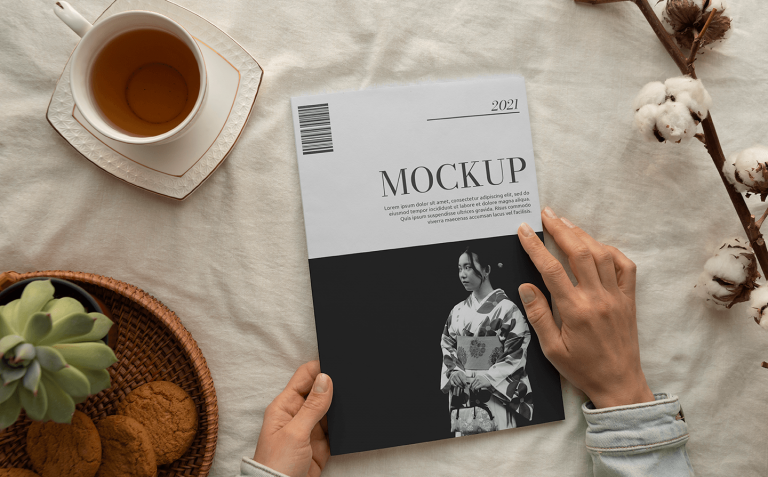 Some magazine websites seem to have the same perfect layout as a print magazine, including typeface and margin sizes. Other publishers showcase their PDFs as magazines online on the Internet.
These days, finding sources of inspiration for magazine design is often a real pleasure. You can easily find ready-made magazine templates, free fonts, and beautiful illustrations and photographs on all sorts of web design websites.
It's not easy to make an online magazine seem beautiful. In this blog post, you'll learn how to find design inspiration for your magazine, whether it's a magazine about board games, a sailing magazine, or a newspaper for history buffs; you'll also learn some technical tricks to make your layouts look great and professional, and easily create several elements that are crucial to the graphic design for DTP.
Don't print magazines – publish your own online magazine with Publuu
If you publish traditional magazines, you're probably aware that they're frequently given to printers in PDF format. Many websites host magazines as PDF files, which is not an acceptable solution. You must first download it, which is not always doable on a business phone. There could be issues with images and typography. That is why many people prefer Publuu's attractive digital magazines with a genuine page-turning effect.
Publuu online magazines are full of content – articles, images, and videos – just like a real magazine. They are in fact magazines, but in a digital format. They can be read on every device (smartphone, tablet, computer), provided you have Internet access.
Publuu's online magazine example
View more online magazine examples
Publishing a digital magazine in HTML format is more efficient than in pdf. Publuu online magazines can contain interactive video content, image galleries, and links to external pages, to supplement your graphic design ideas. What's more, you can easily share them on social media – and Publuu automatically saves the magazine cover as a miniature of your post.
If you make a digital edition of your magazine, you will no longer need to worry about printing costs, distribution, or shelf space. Moreover, your publication will be available to more readers worldwide, in a quick and smooth manner. With a single click, you can embed your online magazine on your website or e-mail, or on social media.
You'll receive stunning visual quality, and your publications will also work on smartTVs, smartphones and tablets. Your readers will immediately start reading your magazine and admitting your graphic design skills on both large and small screens!
The best magazine theme ideas
A magazine's ability to gain readers and a devoted audience depend on how simple its layout is and how intuitive it is. Your graphic design inspiration can make or break your digital magazine.
A magazine that is poorly laid out and designed can scare readers away. That's why it's no surprise that some of the world's most widely read publications have websites that focus on readability, organization, and simplicity. You should consider the same when creating your own magazine.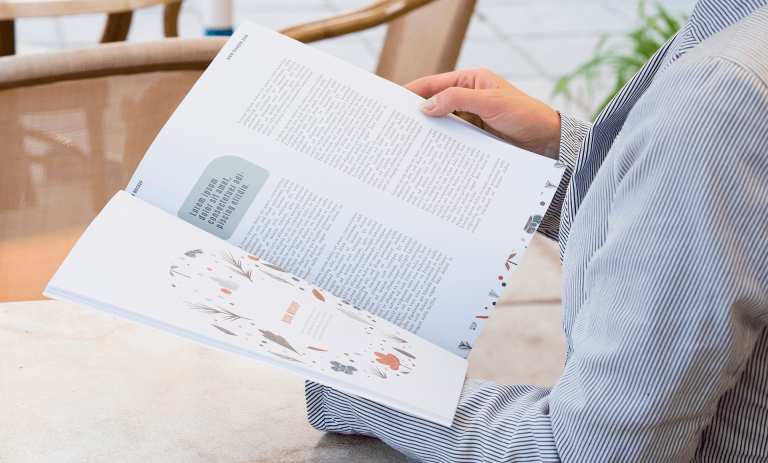 Whether you will emphasize illustrations or text depends on the industry. Fashion magazines or magazines related to video games or movies, for example, require excellent illustrations. But even historical or trade issues require appropriate visual elements. Digital magazines offer new opportunities for combining text with illustrations – including animations or image galleries.
Vertical magazine layouts are more common in print media. But designers are taking another look at the idea now that tablets and e-book readers are becoming more popular. More and more people are reaching for publications in which the page is visible horizontally.
In this type of template, columns can be used in many different ways to create eye-catching designs. The page can be divided in half, emphasis can be placed on one side or two photos can be placed next to each other. Content blocks don't depend on a simple page layout.
6 Magazine names ideas
Creating a catchy and memorable title for a magazine or newspaper can be difficult, even if you have a ton of ideas. Here are some great tips and ideas of what title put on your magazine cover.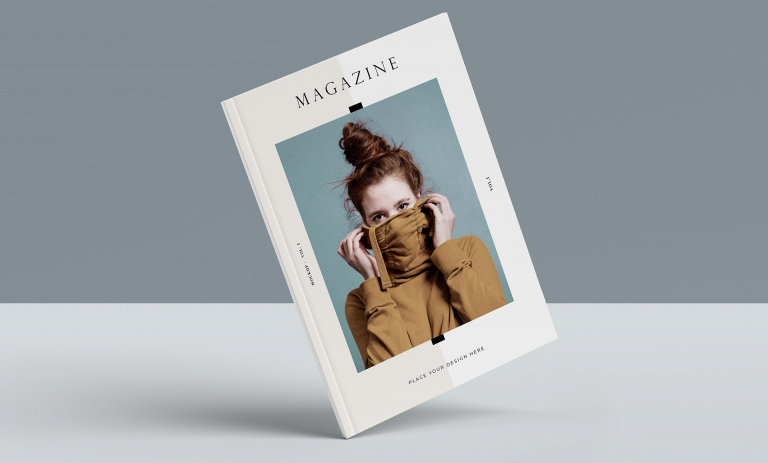 1. Consider your content
Your first task in creating a magazine or newspaper is to plan its content and structure. What your magazine can read depends on what you call it – think about the main topic of your magazine, and the words connected to it. The different title will suit a bridal magazine, and different will be appropriate for magazine about politics. Consider how often you will publish new issues. Monthly mags are more prestigious than weeklies, so they require more highbrow titles.
2. Consider the demographics
The vast majority of publications target their advertising to a specific demographic group. Think about demographics – in terms of the classics: wealth, gender, age, ethnicity- so for younger audience it is best to look for inspiration in engaging kids' magazines. Psychology is the other important factor: people who are more liberal buy different magazines than those who are conservative. You should choose a brand name that reflects your culture and values.
3. Think about keywords
Once you have a general theme, think about keywords related to your chosen topic. If you want to create a laid-back board game magazine, addressed rather to young men, you'll probably use keywords like "party," "beer and dice," and "friends". If you are targeting family groups, maybe the keywords will be "fun", "entertainment", or "evening". Write out the keywords on a piece of paper and start brainstorming. Eventually, you'll have 10 ideas for a name!
4. What is your magazine about?
Your title simply needs to give the reader an idea of what they can expect from the content. Your chosen keywords can help you with this. They can be overt or subtle, or they can use cultural allusions to help readers choose the magazine for themselves. For example, O refers to the first letter of its founder, the iconic Oprah Winfrey.
5. Remember, you are selling a product
Remember that you will be developing the magazine under your chosen name for many years. You need a memorable name for your newspaper if you want to expand its readership. Unforgettable brand names are often quite short. It needs to be easy to remember and pronounce – if the title has three words, it may already be too long. Examples of catch names include Vogue, GQ, or Vanity Fair.
6. Be visual
A title is not everything. A logo or headline is also important. Think about how the writing will look on the front cover. For example, a magazine whose title consists of two words – one short and one long, like Entertainment Weekly needs to work hard to make the title look iconic. Many newspapers have one-word titles written using distinctive typography. Sometimes some letters are eye-catching, like Q or W — depending on the style and other visual elements.
5 Tips and magazine layout ideas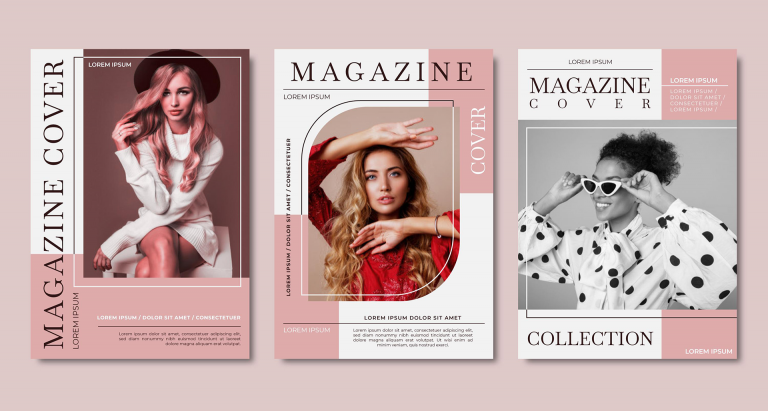 1. The cover is the basis
The magazine is an essential element of any publication. The most famous publications usually have stunning covers. Think about what you yourself do in the magazine stand – you browse through magazines and focus on those whose cover is interesting. If the magazine cover doesn't draw readers in, then your hard work on the inside pages is for naught. However, your magazine cover design should not be too assertive – one strong accent works better than many complex ones, including the wise use of white space.
2. A single strong accent
Some of the best magazine layouts use very little color. Sometimes just one big, bold color can have more impact than a whole rainbow of pastels. A strong accent draws attention, as do contrasts. You can use a bright color combined with black and white photos and monochromatic text. Neon colors are very fashionable, especially sharp pink. Another powerful creative inspiration can be bold fonts visible from a large distance.
3. Vectors instead of photographs
Most magazines rely on photos for the cover. However, a drawn magazine cover can provide a distinctive visual element. Hand-drawn illustrations or vector graphics will set a magazine apart from many others and give it a unique, amazing, and well-balanced feel. Magazines that don't fit the typical fashion or lifestyle niches can benefit from using vectors, as they are an excellent medium for expressing more abstract or imaginative thoughts.
4. Infographics are informative
Infographics are not only popular with web design. Magazines are beginning to use these types of graphics to make their print editions more interactive and interesting for readers. This is a useful solution for digital as well as regular magazines. Use techniques familiar from infographics – statistics, arrows and links, maps, and simplified vectors.
5. Spreads, not pages
When creating a magazine, it's easy to lose sight of the fact that when printed, each page will really be part of a two-page spread. Readers look at spreads, not individual pages. When it comes to the design of a magazine spread, don't be afraid to apply your material to the center spine of the spread. Most magazines have their pages glued to the spine; a binding method known as "perfect binding." It's a good idea to place large materials, such as headlines and photos, along the inner edges of the spread, where they will attract attention.
Innovative magazine ideas
Encourage people to subscribe instead of buying just one issue. There are many ways, however, other ways to reach your audience, such as giving a discount or freebies to new members. People like gadgets like tote bags or keychains. You can also give new subscribers access to a digital archive of content.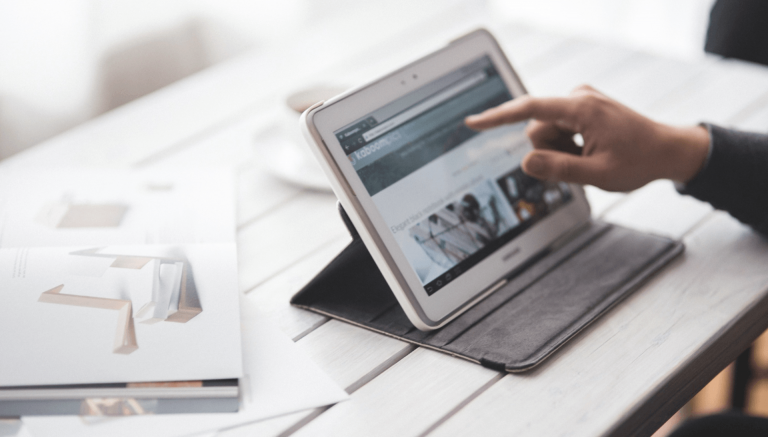 You need to find your own niche. Inspiring, expert writing on topics of interest to readers is what will undoubtedly attract them. Of course, magazine design is important: people like glossy magazines with bold photos printed on thick paper. But it's important to have content you can't find online.
If you're running a digital magazine, be sure to provide subscribers with exclusive content. Digital content, like Publuu, allows you to do more – including links, videos, and photo galleries. Small magazines can use sites like Patreon or Kickstarter to secure readers.
Keep your readers' needs in mind. To know exactly what your audience cares about, you should conduct annual reader surveys and keep in touch with them – for example, through social media.
Fashion magazine ideas
Fashion magazines rely heavily on graphics and layout – but the text should not be neglected either. Your fashion magazine must be authentic, consistent, interesting, and inclusive.
What does authentic mean? Your tone and writing style must convey feelings, motivate readers and establish an emotional connection with your audience. In the fashion industry, storytelling is important, showing how a reader will change after trying a new style.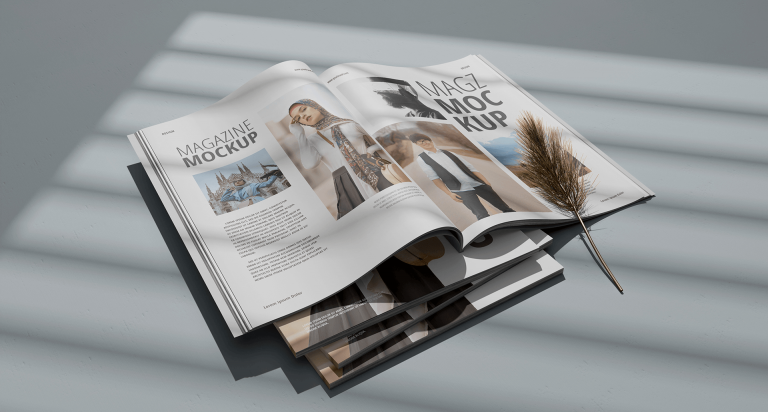 To ensure an interesting and consistent style, write exhaustive text — long-form content that is both valuable and of high quality, and complement them with photos, videos, and other additional elements that add a visual dimension to your writing.
Don't underestimate the use of white space – negative space between texts and images. It helps your text breathe and focus the attention of the reader. Not just your articles but fashion photography can make good use of sufficient white space.
To pique the reader's interest, make sure you have an interesting opening paragraph so that they can read the article from the very first words. Identify the goals your magazine hopes to achieve. Take control of the material, exercise your creativity, and put your extensive knowledge to good use.
Read the comments left by your media watchers and note the thoughts and perspectives they provide. Simply put, write what your readers would like to read.
Magazine ideas for school project
If you want to make a magazine design for a school project, you can find great graphic design software. Use more professional tools like MS Publisher or Scribus rather than rely on MS Word. Try out the free version of Canva, to at least design a magazine cover.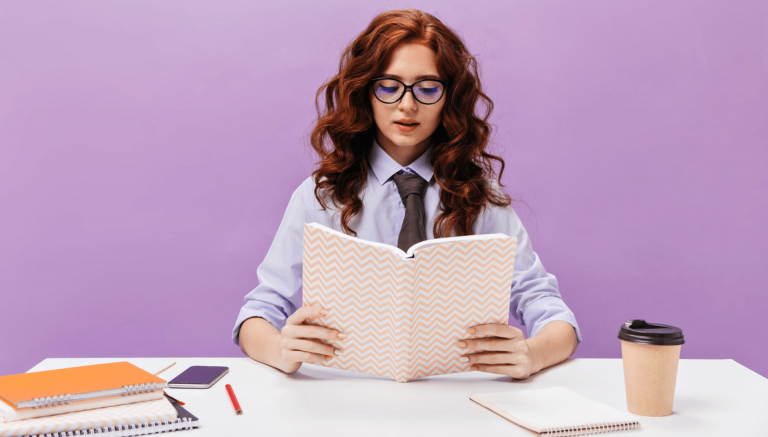 Pick the topic of your magazine: sometimes it will depend on the project, but sometimes you can pick the issues that you're passionate about. In an IT-focused class, pick ideas that can serve as a sign that the students know about computers: video game reviews, history of hardware or software, opinion pieces. If you want some more inspiration look at your favorite website or offline magazine!
Ask your writers for the articles and ideas. Remember to set deadlines for the text – and that you'll have to edit and proofread them later! While the authors write their articles, the editor must decide on the layout – choose typography, pick the format of the text.
Once the magazine is ready, choose images and art that'll serve as the illustration. Usually, for a school magazine, you don't have to bother a lot with the rights to images. However, school projects should also teach students respect for intellectual property. Look for photography with public domain rights or use this opportunity to learn about the Creative Commons license for your illustration purposes.


Inspiring School Magazine Ideas
Creating a school magazine provides an exciting avenue for students to unleash their creativity and embark on their journalistic journey.
If you're seeking inspiration for captivating themes to feature in your school magazine, check our ideas below.

Study Tips
Learning effective methods of studying can be a challenging task for students. However, as the creators of a school magazine, you have the opportunity to provide your schoolmates with valuable learning tips. These tips can encompass various aspects, including time management strategies like study schedules, abandoning bad habits, goal-setting, and prioritization. Additionally, you can explore note-taking methods such as mind maps, as well as techniques to create an optimal learning environment.
Since students have diverse learning styles, it is important to discuss visual, auditory, and kinesthetic approaches. Some students may benefit from reading aloud, while others might find group study sessions more effective. Including examples, personal anecdotes, and expert advice will enhance the relatability and credibility of your tips.



School News
Through the school newspaper, you have the power to keep students, teachers, and the entire school community well-informed about crucial events, noteworthy achievements, and ongoing developments. As creators of a school magazine, you have an incredible opportunity to curate and share captivating school news about new topics, events, new school uniforms or visitors to school!
It is essential for students to provide accurate and timely school news, ensuring that readers never miss out on important announcements, upcoming events, or significant achievements. Whether it's the latest releases, victorious games, an upcoming fundraiser, or an esteemed guest's visit, the School News section should aim to cover these updates comprehensively. School newspapers can contain opinion pieces and explanations of news so that students can learn expressing their opinions.

Sports Corner
Sports are an integral part of school life, promoting physical fitness, teamwork, and healthy competition among young people. The Sports Corner of your own magazine celebrates the achievements, stories, and passion of sports-loving students. Here, you can discover all that is happening on the school grounds, learn about the successes of outstanding student-athletes, and write opinion articles on recent games.
The Sports Corner offers helpful advice on how to improve your sports skills, including tips on nutrition techniques and effective training. By highlighting the many ways in which sports can build character, foster friendships, and create unforgettable memories, this section of the school magazine serves as a testament to the power of athletics in shaping well-rounded individuals.



Interviews
Your school magazine can also contain fascinating interviews with students, teachers, and influential figures – thanks to which the reader can discover people from a completely different side. Interviews with discovered students reveal their talents, passions and achievements. Students may include talented artists, researchers, athletes and activists – and their classmates may not know it at all.
Interviews with teachers and administration staff publish their teaching philosophies, career highlights and advice for everyone. It's also worth interviewing experts and experts outside your school or alumni. Anyone can turn out to be a potential role model for the student body!

School History
If you're eager to dive into captivating articles, you can take a journey back in time to uncover the rich history and significant events that have shaped your educational institution. The magazine can explore the origins of the school, including its founding figures, patrons, and the motivations behind its establishment. Often, teachers from previous generations have fascinating achievements worth highlighting in an article, as they dedicated their efforts to promoting science, excellence, and innovation within the school community.
Additionally, you can delve into the history of the school's buildings, tracing their evolution from new constructions to state-of-the-art facilities. Discover the diverse range of organizations that have utilized these spaces, such as scouts, NGOs, or religious groups, and learn about the ways in which they have contributed to the school's vibrancy and community engagement.
Within the pages of your magazines, you can also present outstanding students, accomplished alumni, and exceptional programs that have embodied and spread your school's values.



Environment and Sustainability
A well-crafted school magazine should have a dedicated section for environmental issues, innovative solutions, and inspiring stories. In this section, articles and discussions can delve into the impact of climate change on our planet and the need for environmental conservation. Encourage students to participate in environmental advocacy, share tips on how to adopt a sustainable lifestyle, and discuss the importance of responsible waste management.
In the school magazine, students have the freedom of expression to share their thoughts and ideas on how to protect our planet for future generations. By motivating and empowering readers to join the global movement for a healthier planet, we can create a collective effort toward environmental sustainability.

Self Help
The self-help section of the school magazine contains valuable insights, practical advice and inspiring stories to guide students on their journey to self-improvement and fulfillment.
In articles, your magazine can present the power of positivity and resilience needed to overcome fear, set goals and motivation, learn to ignore peer pressure and practice mental health and well-being. Through inspiring stories, expert advice and practical tips, the school magazine can easily support personal development, resilience and well-being among its readers. The school magazine will empower readers to become the best version of themselves and face life's challenges with confidence.

Tech and Innovation
The technology and innovation section of the school magazine offers insight into the latest developments, current events in the world of science cutting-edge trends and breakthrough ideas related to science and technology.
In articles, you can highlight the potential uses and implications of emerging technologies for students. Many students want to read about the ways technology improves education and expands learning opportunities. Another great idea is informative reviews and recommendations on the latest gadgets, apps and tech accessories. For more examples of magazine ideas and designs you can check our article on business magazines.



Cultural Recommendations
It is worth using a few pages of school magazines for creative projects that support the students' lives and broaden their horizons. Users can check out thought-provoking novels, short stories, and contemporary works that explore different perspectives and explore universal themes. Reviews of music, movies, computer games, but also new media such as films on TikTok or board games.
Using the magazine's space for literature, music, film, visual arts, festivals and culinary experiences, the students can encourage their friends to participate in diversity, broaden your perspective and cultivate a lifelong appreciation for the arts and cultural expression.

Creative magazine design ideas
Your magazine covers may take your branding efforts to the next level with the appropriate color combination and alignment. After all, magazines are simply digital paper documents that mimic the appearance of traditional editions. Making your digital magazine look like a real book will help you attract more readers.
Creating the front cover might be a difficult undertaking. How can you make your magazine stand out amid a sea of competing titles on a digital magazine stand?
Using color and print techniques to create an eye-catching magazine cover is simple and enjoyable. You can start with a pre-made photo (though we don't recommend using stock photography) and customize it with filters and effects in Photoshop or other graphic design tools.

Consider darkening or lowering contrast to improve contrast with the white letters on the magazine cover. Photography pros say that colors can also serve as contrasting imagery. A black/alpha gradient can be used to darken one section of an image and create a noir feel.
A lot of colors can make it look like a cheesy romance story. As a result, avoid making your title the same color as the image's primary element on the cover.
Conclusion
Despite the Internet and social media, magazines still play an important role in the media landscape, even now. Inspiration for your visual design can be key to your digital magazine. Think about the right layout, cover design – and, of course, the content and a good name for your magazine.
Whatever the content and design of your magazine, you can use Publuu to publish it online. You can embed an online magazine from Publuu on your website or in an email with one click, include interactive content, and do much more.
You may be also interested in:
A Collection of the Best Canva Fonts in 2022
How to Write a Magazine Article? 12 Golden Rules
How To Publish Digital Magazine?