MENU
How to Present a Business Proposal ?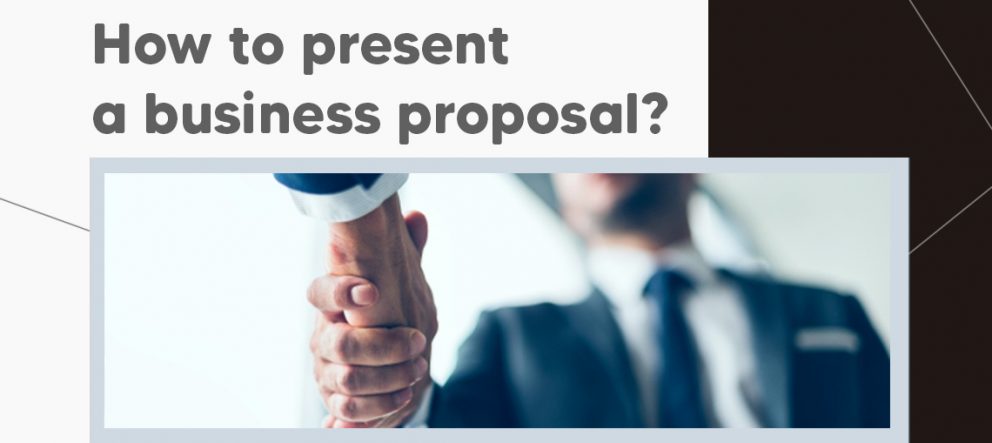 When you want to sell your products or services to another company or government agency, you know it's time to write a business proposal. A business proposal should describe the problem you have noticed, offer a solution you're capable of delivering, and explain why you are the best person or company to handle it.
In this article, we will guide you on how to create a business proposal and present it to prospective customers. Below you'll find a short explanation what are business proposals, how to work on the Powerpoint presentation or what tools to use instead, and how to improve your presentation skills.
Why write business proposals?
Creating a business proposal is often prompted by RFP – Request for Proposal, issued when large companies or government organizations are in the need of goods or services. When a local railway station is being built, for example, companies in the area might receive RFPs from the railway company or the government. This is different from "tenders" which often require citations and legal work, and many RFPs come from private companies, often new to the area. You should be familiar with the requirements and the legal ramifications of answering business proposal requests in your country, state, or province.
You don't need to create your business proposal in response to a call – for instance, you might have noticed a new private school in town and decide that it needs your services as an education consultant. Instead of spamming their e-mail account with leaflets, you can send them a respectable business proposal – and with Publuu you can send them a one-kind of an offer as a special flipbook pdf. This is usually called an "unsolicited" business proposal – these days many companies don't want to answer to these!
If your business proposal has been accepted, you might be invited to the business proposal presentation. Usually, it is a more formal business meeting with the management or technical department. You are expected to present your solution and communicate your ideas. Your clients can also use this opportunity to learn about you and your business solutions – which is why we're here with our tips to help you prepare!
Use Publuu to present your business proposal
A flipbook is a digital publication system that uses e-books and PDF documents instead of PowerPoint presentations. With Publuu, one of the best tools to display content online, you can transform your presentations into stunning, realistic flipbooks that will be memorable to your audience. It's easy to save your PowerPoint presentations as PDF files and transform them into HTML 5 documents that can be opened by any modern internet-enabled device.

Publuu's business proposal example

Instead of displaying your ideas slide after slide, your prospective customers will see your business proposal presentation in a form of a booklet that is sure to be memorable and attract their attention. They offer much more functionalities than simple PDF – you can include multimedia effects, image galleries, hotspots for easier navigation.
What's more, you can share your flipbook easily. You can show your business proposals online on social media, as case studies or to present them to the audience all over the world – it's easy to send them as a direct link available on direct device. Robust tracking functions allow you to discover who has read your presentation and what elements of your proposal interest the viewer above all.
A flipbook is a great alternative for a traditional PowerPoint proposal presentation, allowing you to easily display your products or services. You can use the available templates and tools to enhance your PDF and use it as a sales tool as well – and use the flipbooks as a great solution for additional materials. You can deliver your presentation and then distribute a pamphlet on your business or services in the flipbook format. Busy people in management are sure to appreciate it!
How to prepare an effective business proposal presentation?
Practice your business proposal presentation
After you have created your written document according to the template, double-check it and review the requirements. You need to work on your presentation skills! When working on the text of your business proposal, whether using a template or writing it from scratch, double-check whether you have included all the necessary information and create your PowerPoint presentation separately.
As with any document you will present, you can show your business proposal presentation to a friend, especially if they know your industry. Practice presenting the proposal, in front of a test audience of friends and family. You can ask your colleagues to listen to what you have to say. Use their feedback to fine-tune your PowerPoint presentation. Knowing the strong and weak points of your presentation will help you deliver them to the business customers.
When giving your business proposal presentation to a friend, ask them to imagine themselves in clients' role – how would new clients answer to this solicitation, to your offer. If you omit a single piece of crucial information your entire proposal might be problematic. You want to present your idea to solve the client's problem, and they will judge you on basis of that.
Crafting your business proposal presentation
A presentation is different from a written document. When working on the Powerpoint presentation, don't copy the document word for word. You can deliver the actual text of your business proposals to their desks or computers – perhaps using Publuu to present the PDF will be interesting to your potential clients.
Sell your solution to your potential client using your persuasion abilities, not just slides. Remember that if you want to create a great business proposal to the client you have to be able to address audience's concerns. Think of the ways they can use to shoot your business proposal down – and imagine your response. Yes, it might be expensive – but not hiring your company might incur more significant costs to the client.
Keep your language clear and to the point
When delivering a winning business presentation, you should reinforce the main points and emphasize why it is your offer that should be considered and selected. This is especially relevant if you're answering a request and competing with other companies that have similar goals. You never know who else might deliver a PowerPoint presentation on the same day to the same group of clients…
When creating a business presentation, you need to avoid big business buzzwords. Use clear and concise language, because the readers of the proposal in question have a limited amount of time. Technical jargon might overwhelm casual readers, but it just creates confusion. Use plain English – and when delivering your presentation don't hesitate to answer the questions from your audience.
As always, what you say when delivering a business proposal presentation, should never be what you show on your slides. If you're not great with improvising, prepare the text of your presentation beforehand and do your best to keep it easy to understand by the audience. You can use your notes to keep on track and keep your audience engaged as you show them Powerpoint slides.
Craft a good story!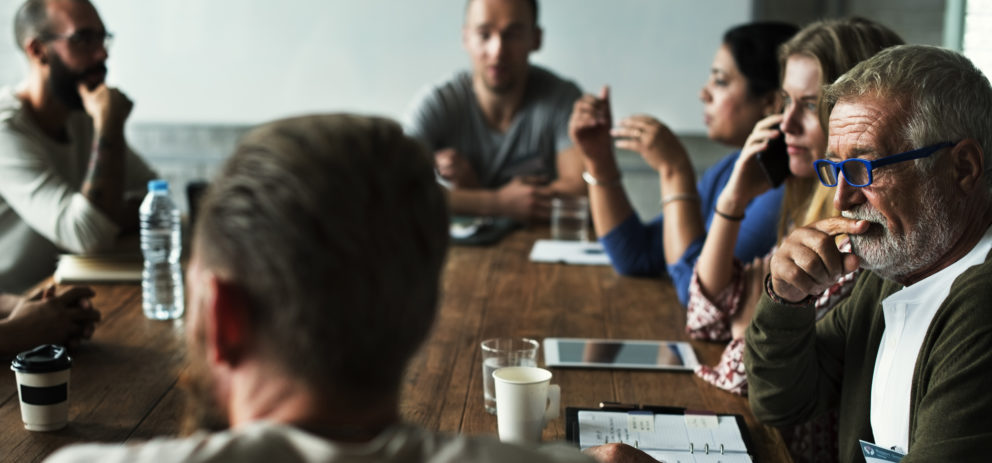 Everyone likes to analyze data by seeing it as stories. Storytelling is an excellent marketing strategy that has been used by experts for years. That is why it is important to provide relevant examples in the form of a story that will capture the attention of people who are listening to your business proposal presentation. Customers love to compare themselves to others or think about what they would do in a given situation. Give them an example that inspires them – and makes them want to use your services.
Don't overwhelm your audience with statistics and data – start with a single specific, measurable example. For example, "This gym had two hundred customers a month – but I managed to increase that by over 200%." You can build on that as long as you use specific benefits.
The best way to engage a client is to tell an interesting story. A great business proposal is an idea where the client immediately sees the benefits of using your services. Your business proposal should not just be a presentation of your skills and projects, you need to tell them – "this is why I can solve your problems".
Now it's a good idea to make the client curious and show, for example, the changes – and how you knew to find a solution. Surprise him, take care of the twist to show new methods. "How did I find the new customers? Mostly thanks to word of mouth and the power of social media. How much did this cost me? Less than a lunch." The more emotions you stir in the customer, the better and more memorable your argument will be.
Support your story with statistics and research, adding them to prove your point. If you have testimonials from satisfied clients that's great – new customers are generally prone to FOMO. When they know that others are using new solutions, they also want to try them out. Then they will also identify with the characters in your story. A good story has facts in it, and your presentation will back them up.
Prepare strong visuals for your business proposals
Strong visuals and good imagery you can create in your presentation are a great way to make your business proposals look fantastic. There are different kinds of strategies for absorbing information among various people – some like reading plain text, others enjoy graphical presentation. You should consider the needs of your potential audience when planning your presentation and remember to balance out the text and the images.
Diversifying your proposals will allow you to reach more clients, especially if your presentation will be watched by a committee. Slides can help listeners retain information. Pick at least one slide per major point you make in your business proposal… and explain to others why you picked this slide, rather than read off it.
How to deliver the proposal presentation?

Remember to stay cool
The rules of delivering a business proposal presentation are similar to any presentation. You need to feel relaxed and don't be overwhelmed by the stress and the judgmental customers. The best way of delivering any speech is by being cool, calm and professional. Presenting your company is an opportunity to show your skills and that you are in control – think of everything you managed to create and build in your company and what made you get hired at this position. You should have done your research and know the data you're talking about.
When delivering your proposal presentation, be sure to speak clearly and be understood by your audience. If a client doesn't understand anything, repeat and explain. You deliver your presentation for their benefit. Don't be afraid to start a conversation, ask questions, talk with the clients. This is professional and the best way to deliver your points rather than go slide by slide. Avoid interjections like "uh" – if you're not sure what to say, just stay silent. Your business presentation should seem professional!
Remember to keep optimistic and smile at key moments. The great strength of meeting your clients face to face is the opportunity to maintain physical contact and deal with the management or marketing specialists in person. When creating a proposal presentation remember to maintain this contact.
Many specialists also add that good presentation means good storytelling – think of a good story that will resonate with clients. Explain how your company solved a difficult problem, how you found a great solution or how can you create key solution to any problem. These all can both be a selling point of your proposal and make you seem more human.
After the business proposal presentation
Remember to keep your clients and audience involved during your business proposal presentation. Always finish a section – and the entire presentation – by asking the audience if they have any questions. Be ready for them and prepare explanations and data to back your points. Your clients might have more experience in the industry, but usually, it'll be you who have more direct experience or even access to tools with the relevant task you're presenting.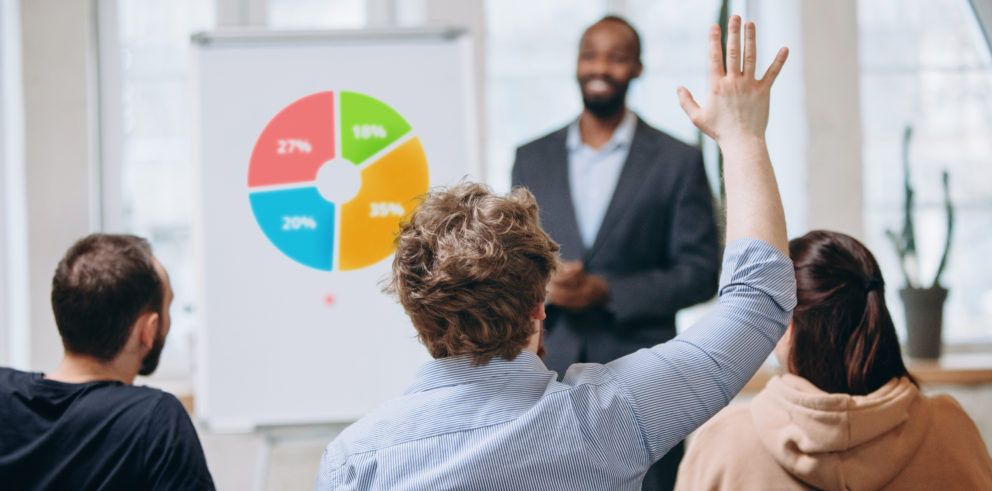 If anyone in your audience has any concerns or questions, you should do your best to answer them to the best of your ability. A good tactics is using these questions to show your skills and benefits from hiring you, and redirecting the question on why your solution for their problem is the best. Explain your skills and your approach on the project, and be ready to defend your thesis – a bit like in the world of academia.
To appear even more professional after your business proposal presentation be sure to thank your audience for taking their time to listen to your proposal. In business, time is especially valuable. Leaving with a smile is an important presentation skill that will help you deliver a winning presentation.
Give your clients a couple of days to think it over – during the next working week send each client an e-mail or call them whether they'll be interested in your points. You don't have to expect a positive response, but you can also solicit feedback for any future PowerPoint presentations, and that's worth something. Sometimes, depending on your country's business culture, you might get an official answer, but you don't have to count on it.
Now you know how to plan a business proposal – use this knowledge and share your ideas with the world using Publuu!
You may be also interested in: