MENU
Top Free Catalog Templates Website and Selected Catalog Templates

Whether it is fashion shops, cruise lines, or even e-commerce platforms such as Amazon, an increasing number of businesses are producing design templates for both online catalogues and physical to advertise their wares. However, developing and managing fully-fledged product catalogs is a distinct art form. In this post, we will discuss some of the finest catalog websites to utilize in 2021 for optimizing your catalog management process.
Publuu.com
If you are in search for the best solution then stop your search right here! Publuu is not a typical brochure maker or online catalog creator but this is solution for converting pdf file (for example file of catalog, magazine, ebook or brochures) to stunning flipbooks. It is a place where marketers may combine their creative design talents to produce something really distinctive for their company and prospects.
Publuu's online catalog example
The following are some of the features provided by publuu – online flipbook creator:
Responsive catalog
Whatever screen size or device you choose to browse the catalog, it will always be within reach. The responsive design feature enables you to advertise your goods to a broad audience regardless of the device they use.
Increase Your Sales
The greatest difficulty for company is increasing sales, but fortunately, with Publuu's, you will have a significant advantage over your competitors. You may boost sales creating a catalog that stands out from the competitors.
Sharing And Keeping Track Of The Catalog
You may share your flipbook directly with prospects without bothering them with emails or other platforms. Additionally, after you send your link to a prospect, you can simply track and monitor it to see which product page drew the prospect's attention and how much time he spent on each page.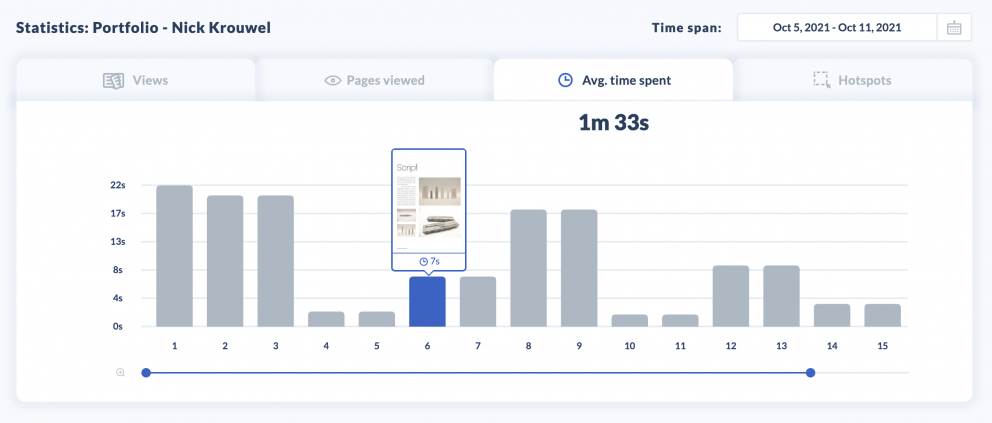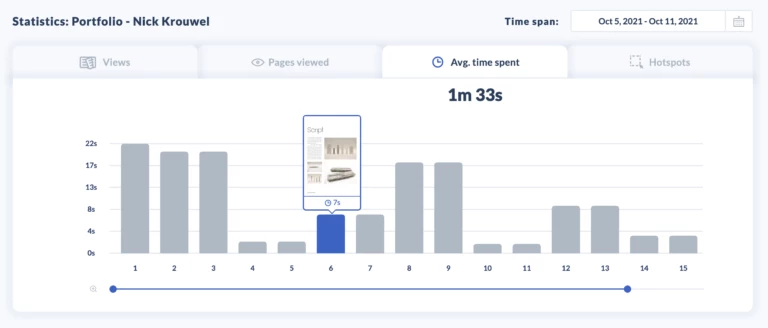 Additionally, you may include your own logo and colors, as well as videos and links to goods on your website, enabling quick and easy purchasing.
In a word, If you are looking for the best flipbook solution, you should immediately visit publuu.com and give it a try. We guarantee that you will not be dissatisfied with the outcome.
Templatnet

If you have completed PDFs that you want to digitize, Template.net may be of tremendous assistance. It is a web-based catalog generator that enables you to create web-friendly catalogs. It is simple to browse through your e-catalogs regardless of their size thanks to text search, an interactive table of contents, and thumbnails. Template.net enables you to seamlessly integrate pictures into your website for an enhanced viewing experience. Alternatively, you may convert your pictures into attractive pop-ups that work great for catalog items, allowing users to view everything well without having to zoom in.
Additionally, becoming digital with your material enables you to distribute it securely and intelligently. Therefore, if you want to build interactive catalogs that look great and are simple to manage Template.net is the good option.
Envato templates

Envato is a well-known tamplates database. You can find there a lot of templates not only about catalogues but also presentation templates, web templates and a lot more. If you have proper technical abilities you can prepare product catalogs for every data and occasion. Therefore, If you are looking for a reliable big templates database, Envato may be exactly what you need.
Pagination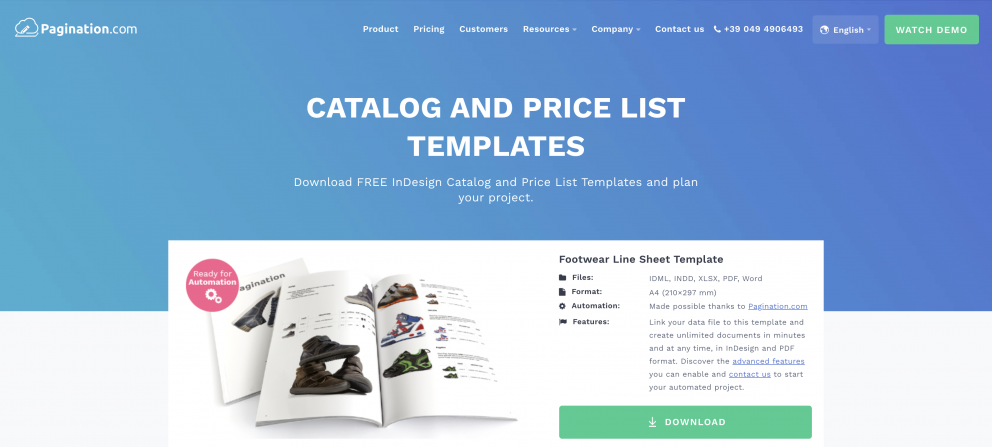 Pagination is an indesign catalog templates website that enables you to gather, organize, and grow product listings; construct an online product catalog and distribute it to your sales and eCommerce channels. Additionally, you may increase your sales by using eCommerce websites. With this ebook catalog website, you can speed your time to market and worldwide expansion: a single center simplifies the management of product information and assets across all of your sales channels. If you are looking for a simple way to enhance product descriptions and handle various sales channels, give Pagination a try.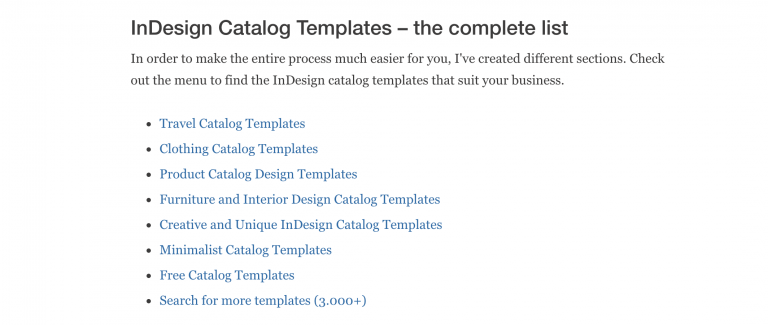 This online indesign catalog templates website enables you to build digital catalogs using a choice of professionally designed templates that include adjustable features like as fonts, colors, and pictures. It is a PDF catalog generator that enables you to start from scratch, use the drag-and-drop editor, and brand asset center to ensure your material is polished and consistent with your brand.
Additionally, you may collaborate in real time to develop and modify designs, debate changes and propose modifications through comments and chat. Are you interested in learning how to create an online product catalog for your company and how to enhance it with attractive visuals and branding? Consider using a website for indesign catalog template website such as Redokun.
Psprint

Psprint is a straightforward free catalog templates website that enables you to easily convert your PDF to an online catalog. You may pick from Psprint's extensive template library, customize it with your own pictures and product information, and then download or publish your catalog online. Additionally, you may build an online catalog from the ground up utilizing a specialized design studio or integrate e-commerce to sell directly from your catalog. Therefore, if you need the ability to generate and host documents online and desire simple-to-use e-commerce capabilities, consider using a PDF catalog website such as Psprint.
FlipHTML5

FlipHTML5 is an outstanding free catalog creator that allows you to build and distribute digital catalogs . With this catalog publishing tool, you can simply start from scratch and create animated catalogs with movies, pictures, audios, links, a shopping cart, and shapes. Meanwhile, your published catalogs may be viewed on a variety of platforms, including desktop computers and mobile devices. And it is quite feasible for you to manage your subscribers easily, sell your digital and paper catalogs on the FlipHTML5 web platform, and simultaneously gather data from your catalog readers. FlipHTML5 enables consumers to view your flip catalog at any time and from any device, since the catalog produced with it is device-independent. It is an incredible instrument that you cannot afford to overlook.
Adobe InDesign

Adobe InDesign is the industry standard for catalog and web page creation. Adobe picture catalog website enables company owners to develop and distribute professional-looking catalogs and other marketing material that will attract new consumers. While many of the capabilities included in the Adobe InDesign catalog maker website are also included in other publishing packages, there are a few that you will want to include in your own program. It includes tools for uploading digital photos from your camera or computer, editing text, changing fonts, and adding text or images. Additionally, the ability to adjust colors and borders, AutoShape tools, and clipping path tools are included.
Freepik

Freepik is a software-as-a-service platform focused on picture services. Among its further specialties are Photoshop Image Files (PSDs), stock pictures, and vectors. Of course, you can also find catalog templates there. Downloaded resources can be published on your website, provided that you make "contribute author" in the form of linking to the source from which the graphics were downloaded. You can also use this in the paper form if you choose premium license. Details about license of course are described on freepik.
As the name implies, photos are available for free on the website. Additionally, you may choose for the paid premium feature to get the most out of the site. To begin, you do not need to be a member of the organization to access any of this. Simply visit the website, do a fast search, and you're ready to go. You may either do a specialized search on the website or discover all of the materials you need.
Graphic River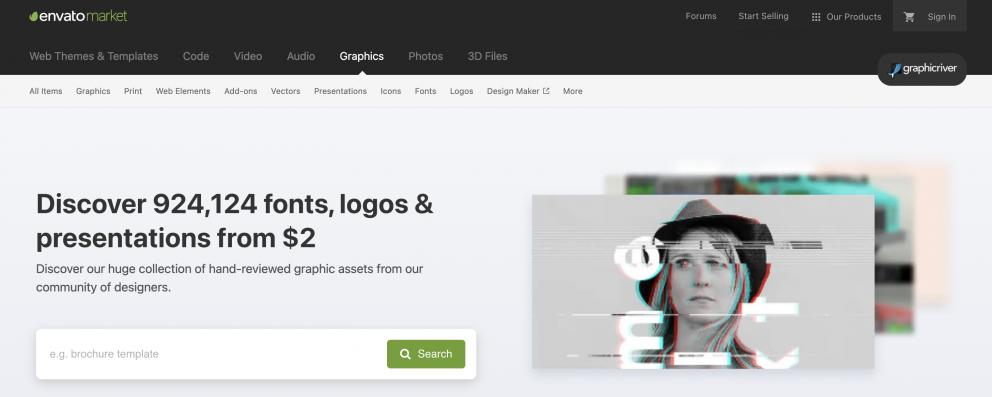 GraphicRiver is a marketplace for hand-curated graphic assets created by a community of designers. You can find there vectors, presentation templates, icons, logos and a lot of catalog templates. GraphicRiver is a subsidiary of Envato, which has invested significant time and effort in building their content collection. As a result, you'll be able to locate a wide variety of designs on GraphicRiver to suit your demands. It is an excellent choice if you want a diversity of images. You always have alternative choices, but this is one of the simplest and least expensive.
Best Design Templates

The majority of firms build their catalogs as simple PDF files or in the worst-case scenario, as a text document. While there is nothing wrong with the structure, it has become quite routine, and it offers little to differentiate your business.
This is no longer the case with Flipbuilder, which enables you to rapidly turn static PDF periodicals, brochures, and catalogs into interactive, multimedia-rich eBooks. Additionally, you may read, modify, and share them effortlessly through the Internet, social networking websites, and mobile devices.
The converting procedure is really straightforward, and the final effect is quite remarkable. There is no degradation in picture or text quality, but catalog management becomes far more fascinating.
In our opinion, a flipbook made with Publuu.com is a bit better. The interface is more intuitive. In addition, the quality of the graphics on Publuu.com is slightly better (you need note that Publuu.com offers vector fonts which is not very popular in other flipbooks).
Canva

Canva is a well-known graphic design application. You may use this online tool to create whole graphic design projects, including brochures and catalogs. Whether you're creating education brochures, technology brochures, catalog with your products or services or any other kind of design, Canva's catalog creator simplifies the process of creating brochures. There you can find many very useful catalog templates. You only need to add your information and personalize it to your specifications.
You may easily build your brochure using a drag-and-drop interface. You do not have to be a professional designer or possess any special abilities in order to develop an attractive brochure for your company. The program has a large library of icons and graphics from which you may pick or upload your own from your desktop.
You can also make a flipbook with Canva ! Yes – with just few clicks your will convert your finished publication into stunning flipbook there.
Dribble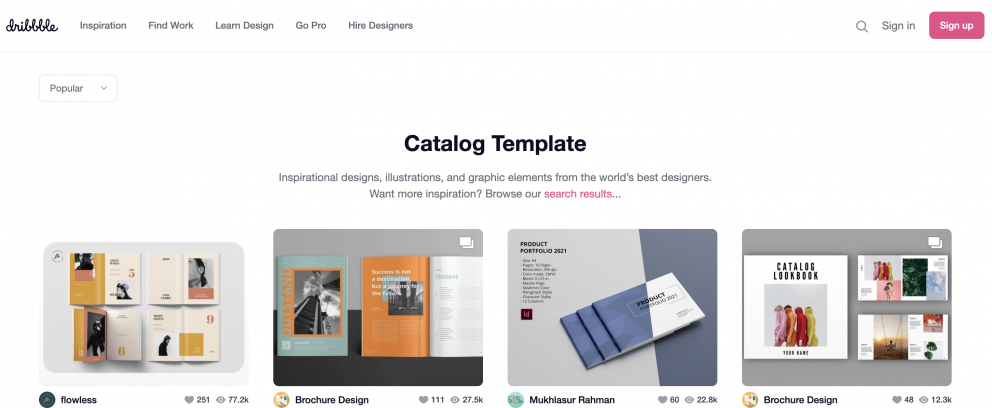 Dribble is a well-known online brochure creator that serves as a one-stop shop for all graphic design requirements. Anyone may generate brochures online in a couple of minutes with the aid of this free tool. The program incorporates artificial intelligence, which makes brochure creation enjoyable.
The greatest part is that you don't have to be a professional catalog designer or spend a fortune to generate visually appealing brochures. In only five simple steps, you can make and personalize any brochure. You only need to choose a brochure template from the library of hundreds of pre-designed templates developed by world-class graphic designers.
You may upload a picture or use one from Dribble's collection of millions of stunning photos and customize the fonts, colors, and size. After that, you can download your print-ready design in JPEG, PNG, or PDF format with a single click.
Selected Catalog Templates
Sometimes, too big of a choice can be problematic, leaving us overwhelmed with options and unsure of what to pick. To alleviate this issue, we have diligently curated a selection of the finest catalog templates available in the market.
If you are struggling to choose a template from the websites listed above, our article about Stunning Product Catalog Templates will help you to make a decision. Inside, you will find a list of 15 carefully selected templates that will help you to create a catalog of any kind.
If the templates listed above will not suit your needs, you can also check our article about Best Custom Company Catalogue Templates. It includes a selection of more unusual designs that will help you create a tailor-made catalog.


You may be also interested in:
5 Tips to Make Your Catalogs Stand Out
Catalog Design Ideas
Catalog software for managing your products