MENU
The Most Impressive Wedding Program Ideas

Perhaps you're thinking about creating a program for your wedding ceremony. Although wedding programs are in no way required for such an event, they are highly recommended and very useful when you have invited many guests.
A good wedding ceremony program usually includes a summary of the events that will take place and the names of all the people who will be attending the ceremony.
The wedding program is an easy detail to overlook when organizing a wedding. It is true that you probably put a lot of effort into planning the wedding ceremony itself, but it is also worth remembering that describing these details takes time. You can do it yourself, explaining how to reach the place to every guest… or you can save plenty of time when you create wedding programs for your guests using an online brochure maker. In this article, we will describe how to prepare such a wedding program and how to use custom wedding templates to create an interesting design.
What to include in a wedding party program?
A wedding program should include all the useful details you want to convey to your guests, including things like the order of the ceremony, sometimes descriptions and introductions of your family or officiants to help your guests get to know your VIPs, a list of music tracks, your wedding oaths, explanations of different ceremonies or cultural traditions, and notifications of important information like directions or a request not to take pictures.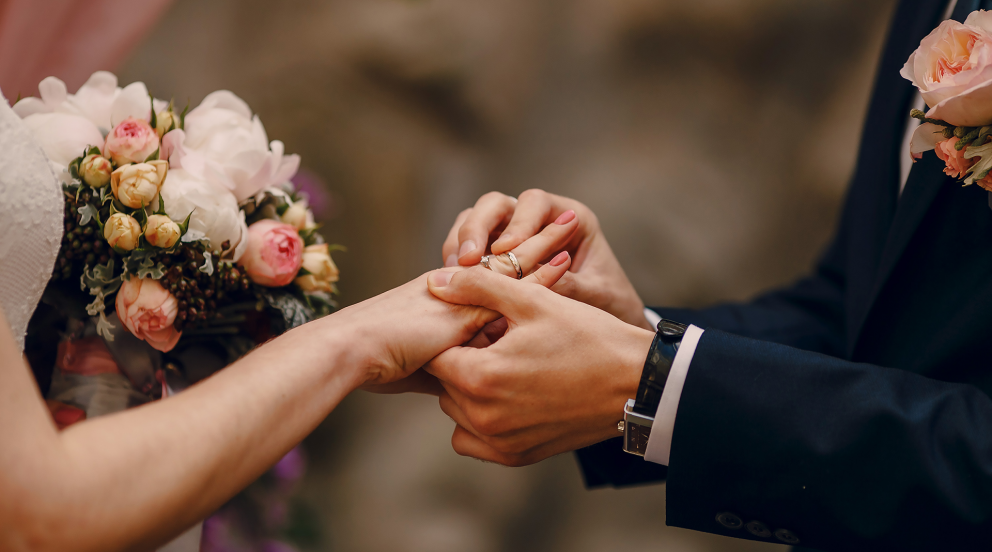 Explain everything!
The ceremony program should include all the information necessary for guests. Many of these may start with the invitations, so they should include what the invitations say. Start by presenting the names of your guests, stating the date of the ceremony and where it will be held. If you are having a church wedding, include a text of prayer and blessings.
You can provide a detailed program of events or they can go into more detail about the order of the ceremony and any additional blessings or unity rites that are included in the ceremony. In your custom wedding program, you should provide the names of any readings or hymns that will be included in the ceremony. You can also add the text of the prayers and hymns – especially if they would be unfamiliar or you are inviting people who are not of your religion.
Explain your wedding day traditions!
Your wedding program is also a great place to explain your cultural traditions – if you're inviting people from outside your circle, hosting a multicultural wedding, or have many different interesting traditions practiced in your family. Include personal explanations in the wedding program, too. For example, if you don't want flowers, as more and more couples are doing, remind them of this by writing, for example: "instead of flowers that are hard to clean up after, donate a small amount to an animal shelter" in the wedding ceremony program.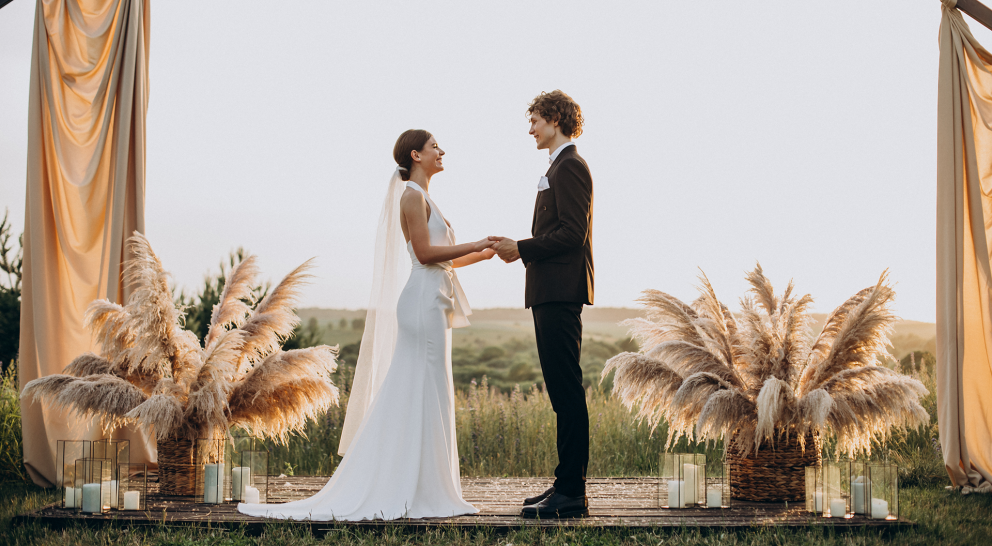 The guests and their titles
As for the names of those who will attend the wedding ceremony, the traditional order is as follows: parents of the bride, parents of the groom, bridesmaid and best man the florist and ring bearer, ushers and readers, and the officiant. Also remember to include the correct title of the clergyman or person who will give you the wedding, such as father, rabbi, or imam.
When you identify the members of your bridal party, it is a good idea to explain in the program how you know each person, such as the fact that your sister will be a bridesmaid or that the ring bearer will be your best friend. Some people also want to mention those who are missing from the ceremony – a deceased grandmother or friends who were unable to join in celebrating the occasion.
Perfect wedding program design ideas
No matter what you include in your wedding program, it should convey to your guests the most important information about your big day and be a reflection of you as a couple and what your relationship is all about. Like any wedding design element, it should reflect you and your new life.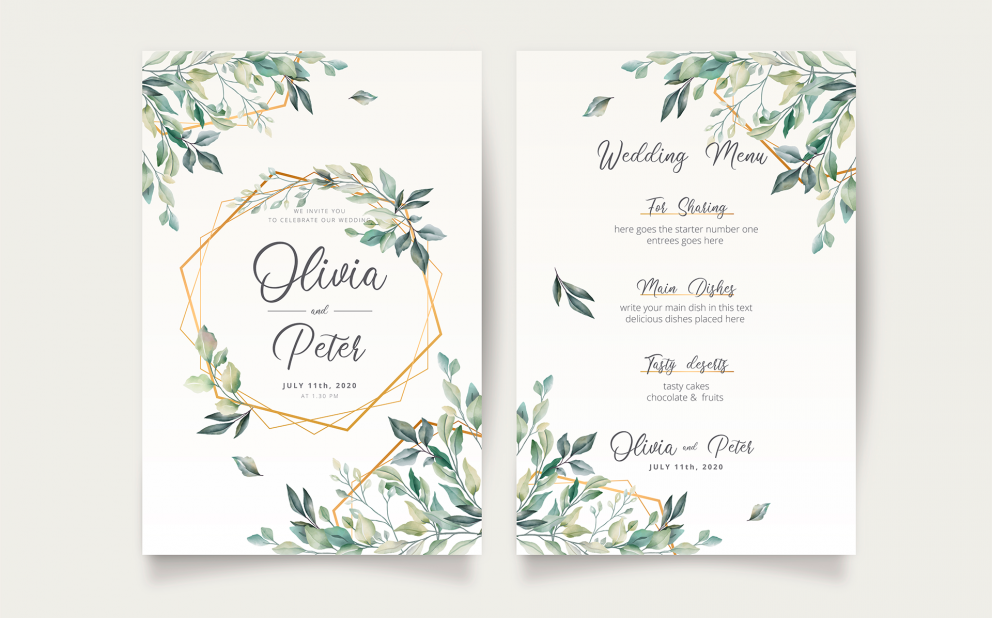 Customize your wedding program!
The wedding program should be an extension of what you are already preparing, if the ceremony already has a ready-made theme or color palette. In that case, the program should be designed to reflect that theme – if you've prepared invitations in pink and gold, stick with that for the programs.
In the same vein, whether you're having a traditional ceremony in the style of your ancestors or a Star Trek-related wedding, the style and tone of your wedding program should be consistent with these aspects. You might consider designing a new monogram, stamp or logo so that your union has a distinctive mark by which others can recognize it.
Many beautiful wedding programs incorporate pop culture elements. For example, if you and your partner are fans of Lord of the Rings or Hunger Games, you can design your own illustration or team crest to create an interesting graphic design in the wedding ceremony program. Using a font that relates to some artwork in your wedding program will allow you to create interesting, unique wedding programs that reflect you as a couple.
Your wedding program doesn't have to be paper
If you want to save on your wedding stationery budget, you can think about arranging the ceremony information on a huge signboard. Instead of making wedding programs that each guest will take home with them, you can make a sign that will be visible at the entrance of the wedding ceremony house or temple. On the sign, you can put a QR link to the wedding reception program.
You don't have to print the wedding program on paper either – you can prepare a version on tissues, pouches, pens, or in digital brochure form in Publuu. This way you give your guests information about the ceremony, save paper, and maybe even provide a gift that your guests can reuse.
Publuu's online brochure example
View more online brochure examples
Free software to create wedding ceremony programs
Canva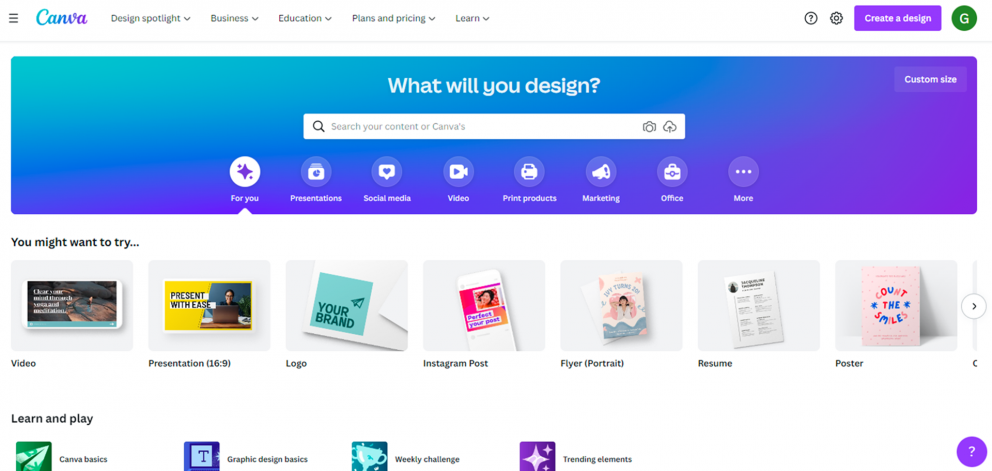 Canva lets you prepare a great keepsake wedding program that will let your guest feel the weight of one of the most important moments in your life. Canva is a software package that's simple to use and works within any HTML5 enabled browser, letting you customize wedding programs for your big day. You don't have to hire a graphical designer to prepare eye-catching programs, invitations and other materials for the wedding party.
Publuu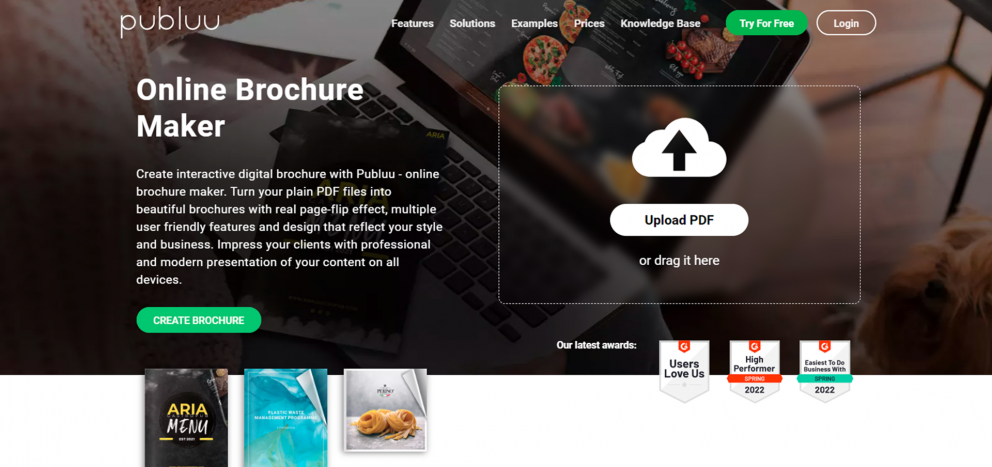 Publuu lets you save your wedding program in PDF format online, as a beautiful brochure with a page-flipping effect. You can create your wedding programs in software like Canva or InDesign, then convert them to PDF and export them to Publuu so that every guest can learn about wedding details from the programs on their own mobile device. You can also personalize your program – by adding a gallery of photos of your guests, links, music, or cultural explanations, to let the guests feel that they're experiencing your wedding day the way you intended. Online wedding programs let your guests browse them at their own pace.
Fotor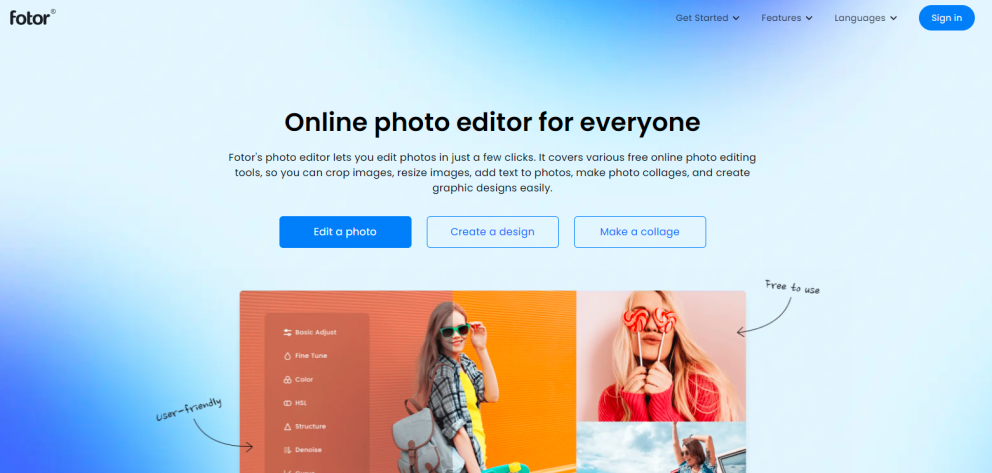 Fotor also allows you to make a wedding program from scratch thanks to its rich gallery of custom program templates. It's simple to prepare custom wedding programs and add all those details that matter when adding information on your wedding. Thanks to the program maker templates in the program you can not only create a wedding program that describes all the events on your special day but will also serve as a great souvenir to commemorate these ceremony events.
DesignWizard
DesignWizard also lets you create and personalize a wedding program to ensure that one of the biggest days in your life goes smoothly. Thanks to a large wedding template gallery it will help you create a plan of the ceremony and wedding party that will be memorable and welcomed by the guests. You can add your own photos or images, create a cover and easily resize the wedding program template to the desired size.
Wedding program templates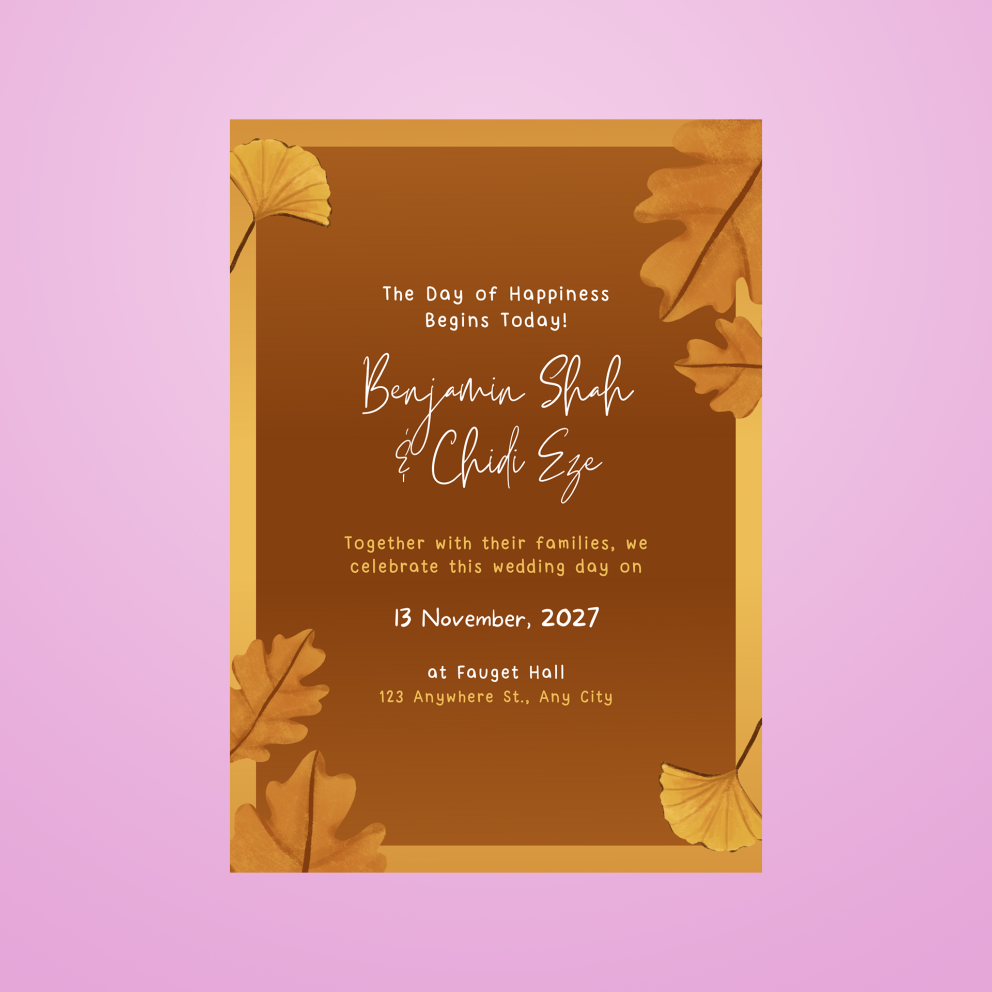 Golden autumn leaves of this template are perfect if you're preparing a wedding during the fall.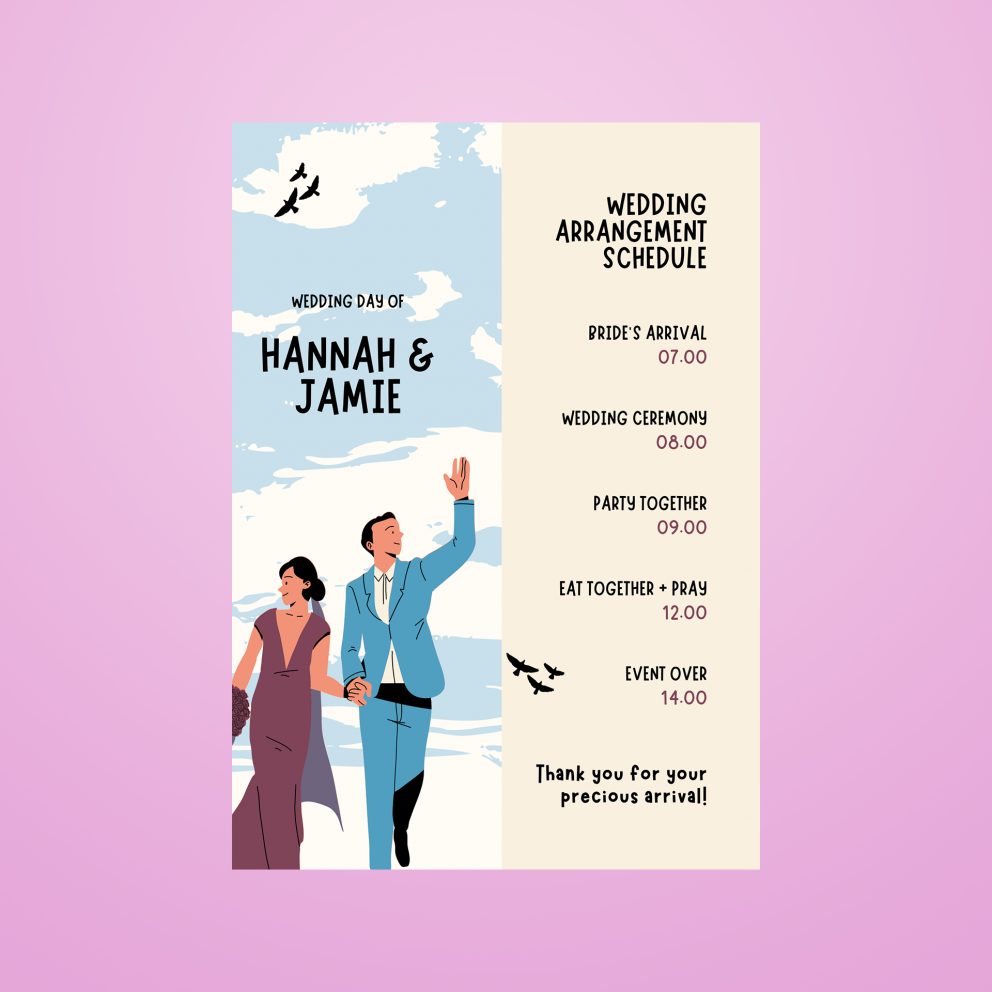 The vivid cartoon graphics of this design make your wedding program unique. Be sure to match the characters to your own appearance or skin color.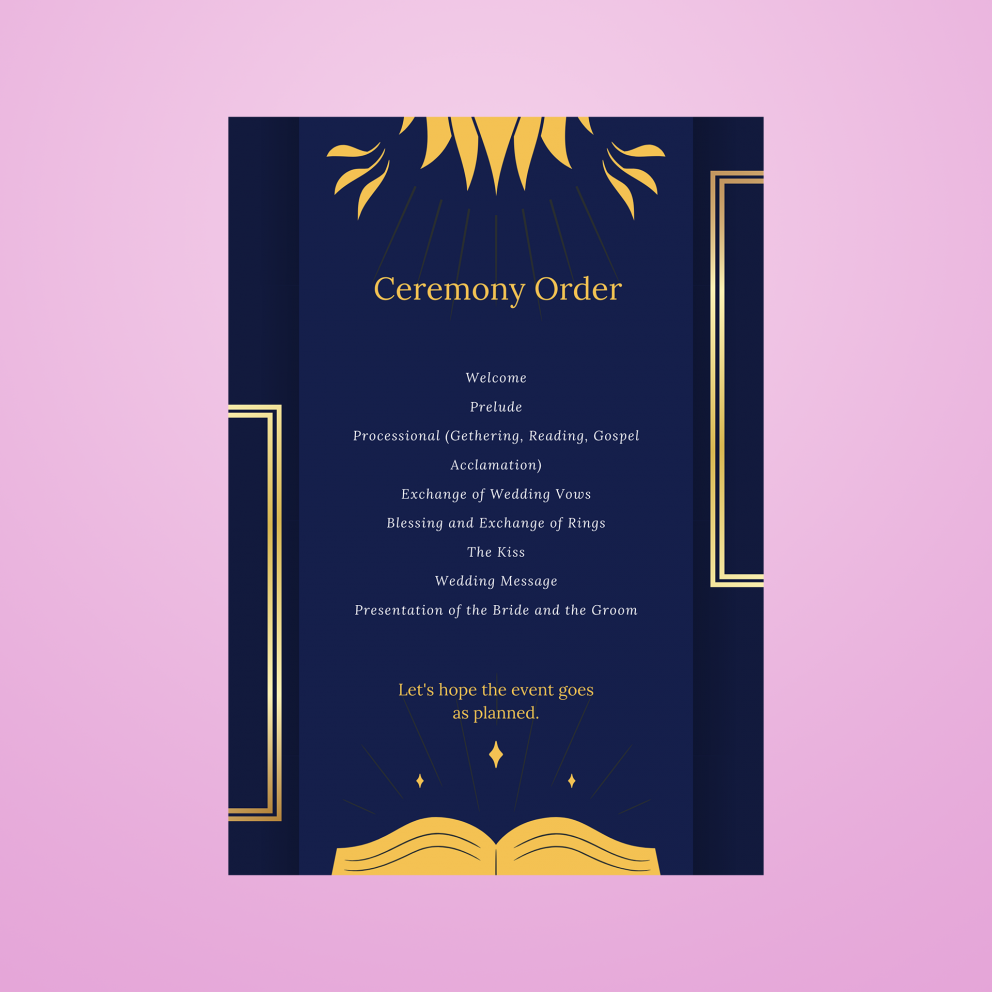 The elegant colors of this template let you design tasteful wedding programs with a touch of mysticism.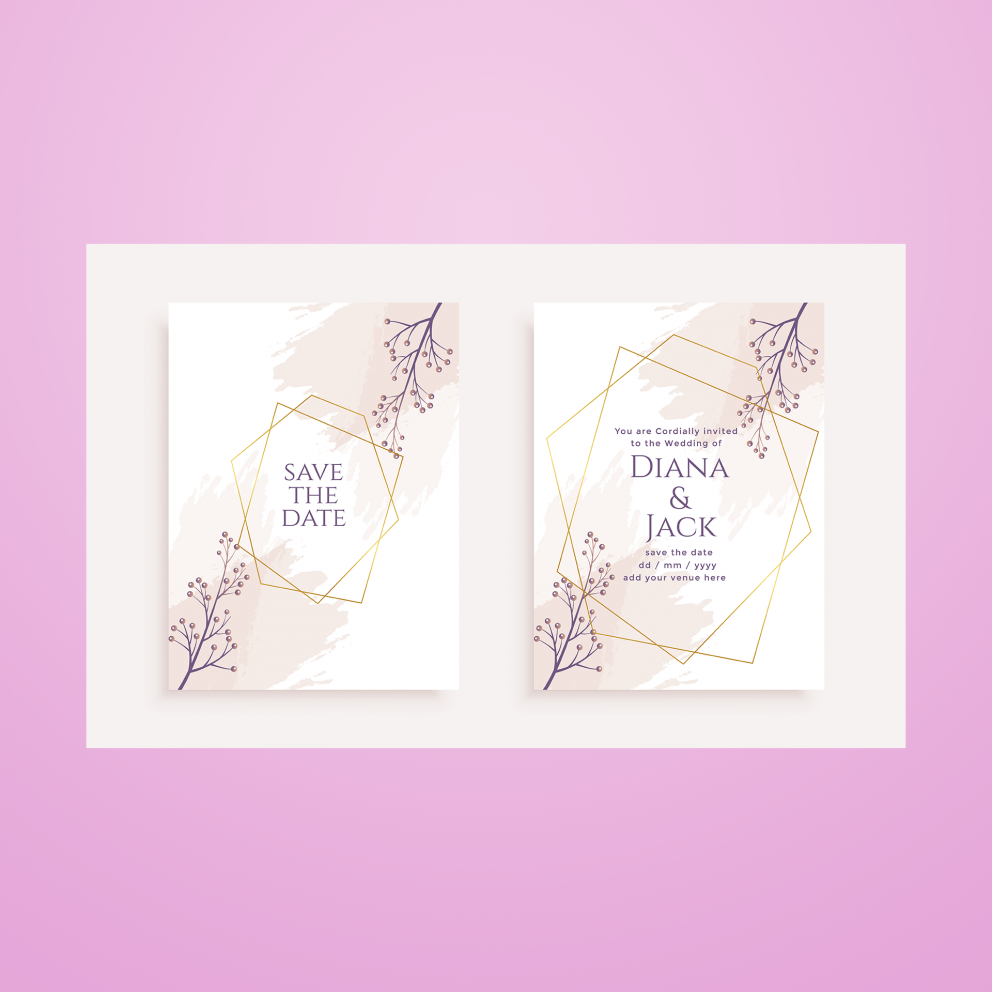 This invitation template can also be used to prepare a wedding program that matches the style of the entire event.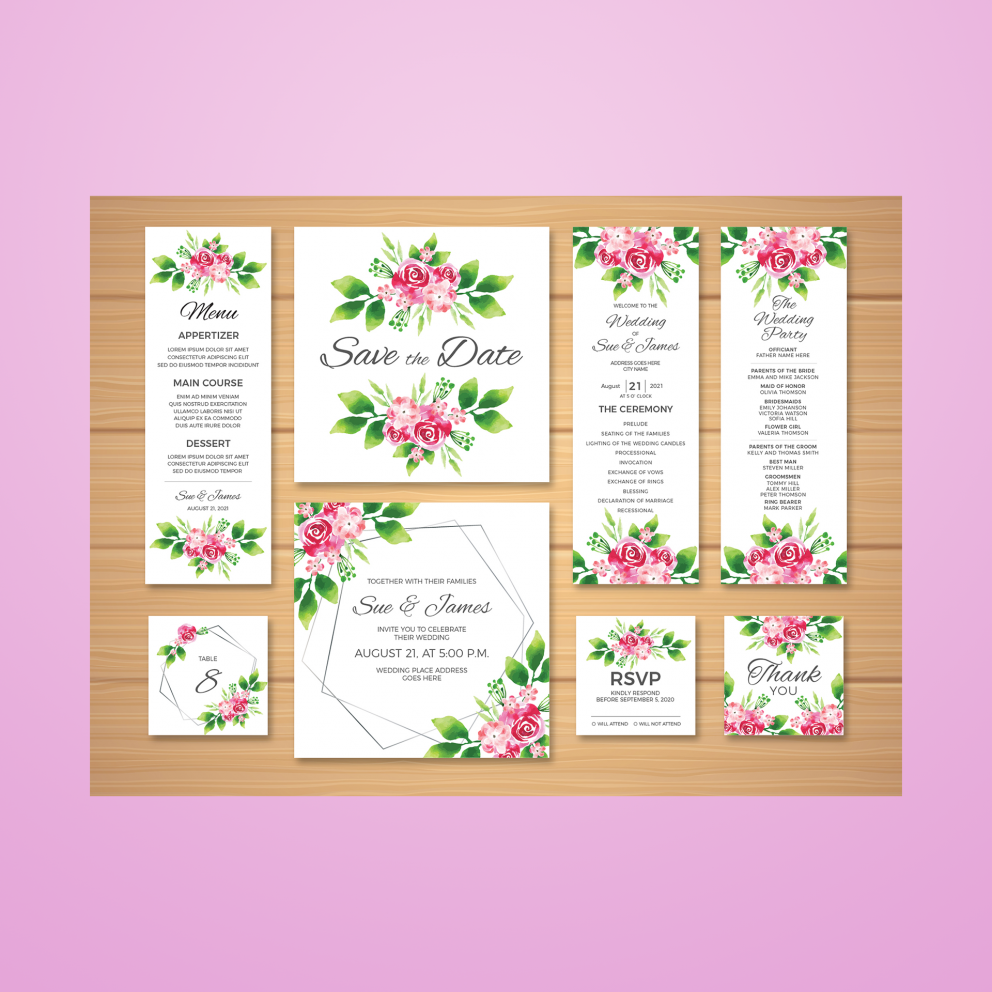 You can use this exclusive collection of wedding program template examples to prepare invitations, programs, notifications and so on.
Free wedding programs templates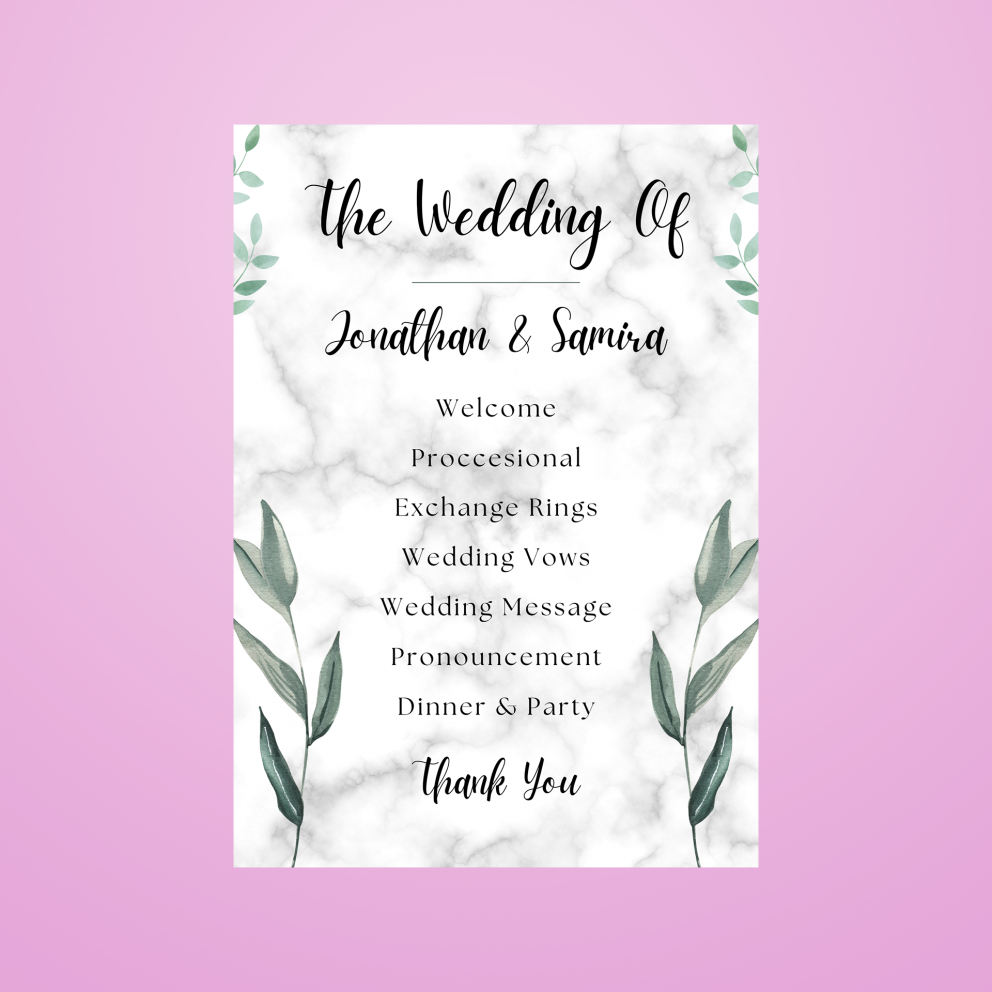 This elegant, watercolor-based wedding program template is simple enough to customize in Canva.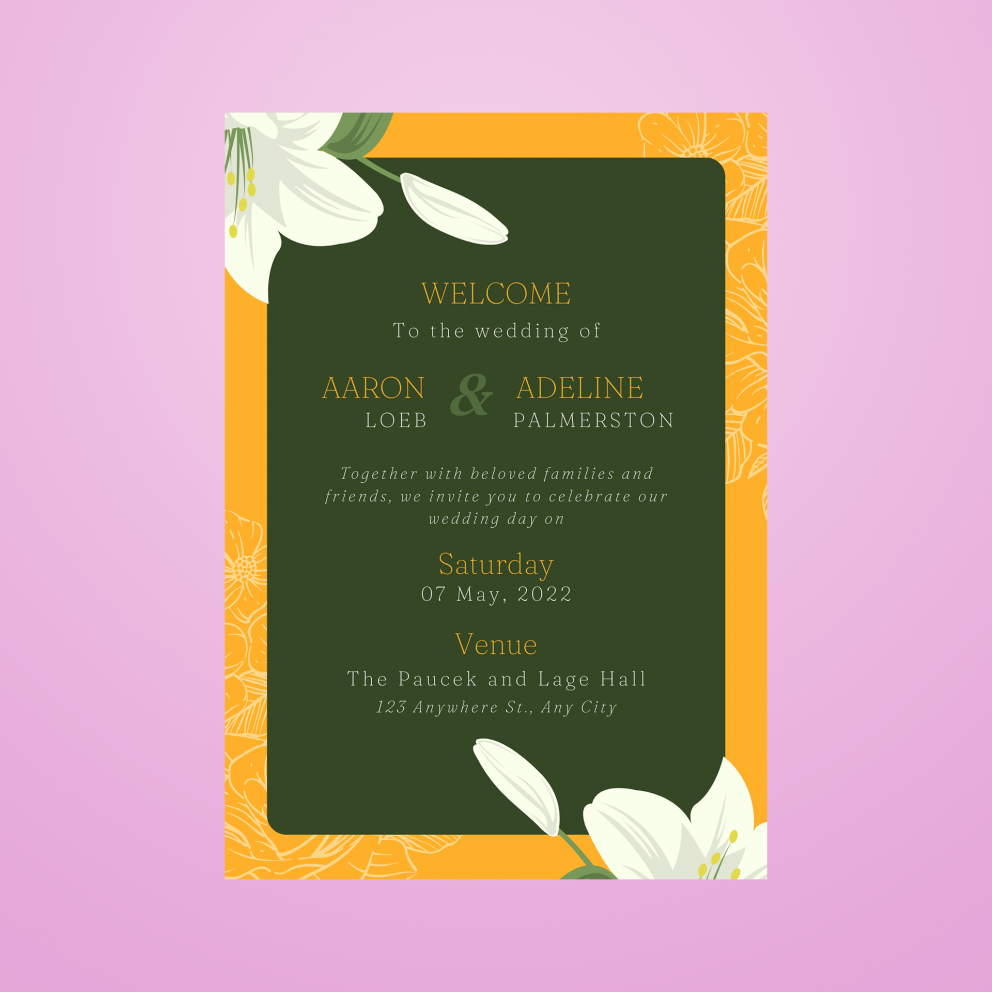 Simple contrasting colors of this template make it stand out and be very memorable.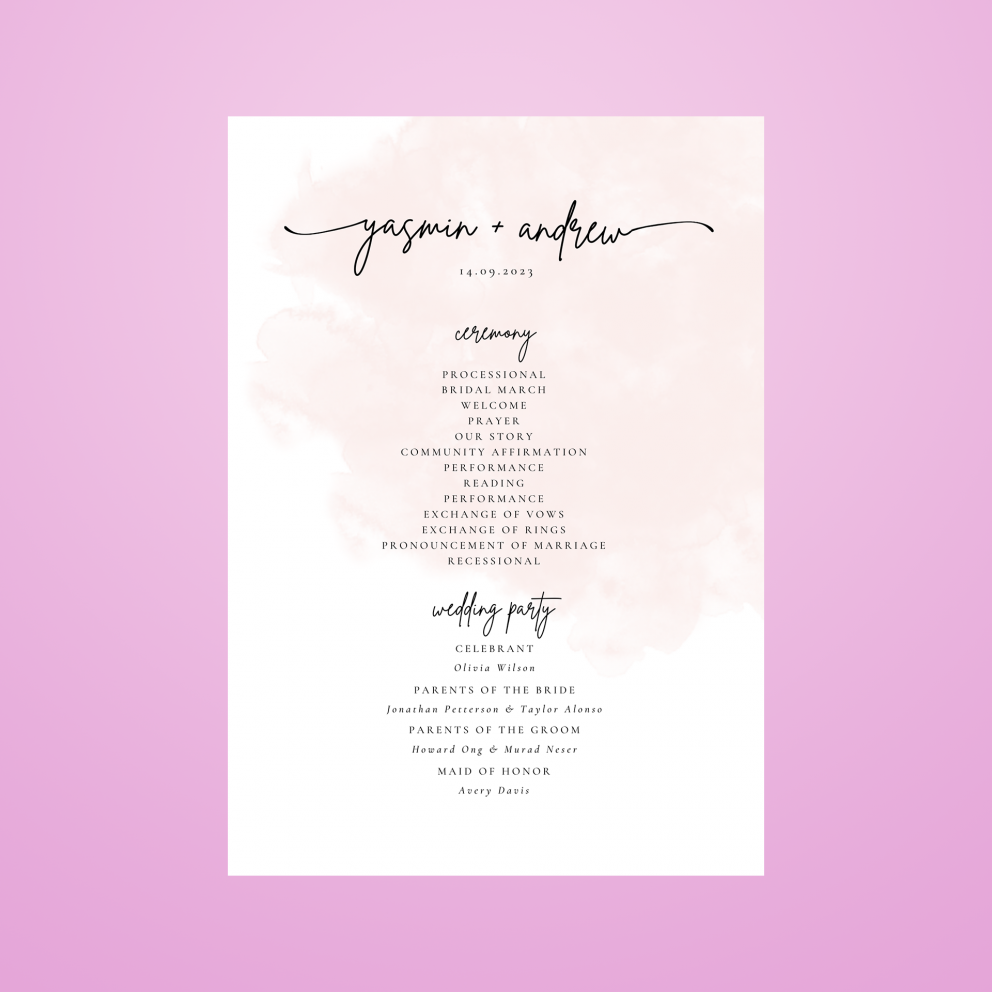 This simple, minimalistic wedding program template gives you ample space to plan the events and can serve as inspiration to your own designs.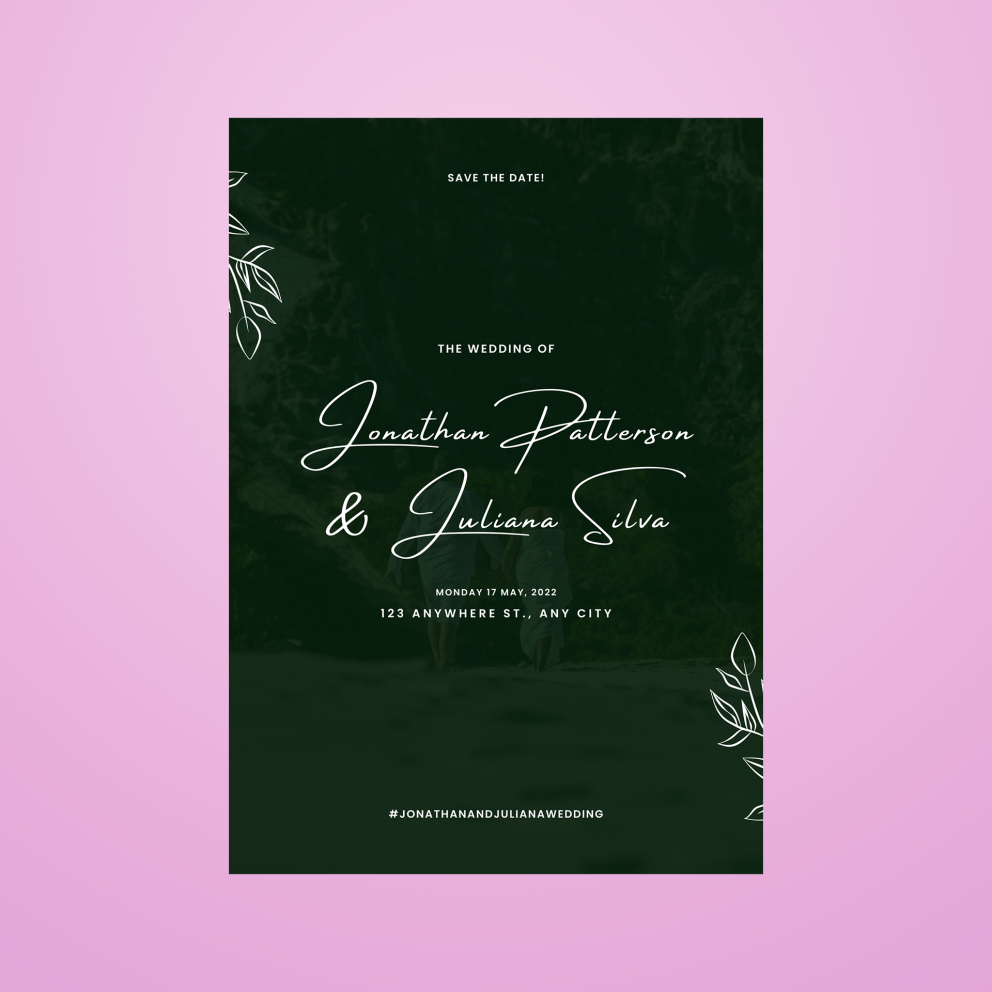 This elegant wedding program example is suitable for most couples, but you can use specific colors that fit your couple personally.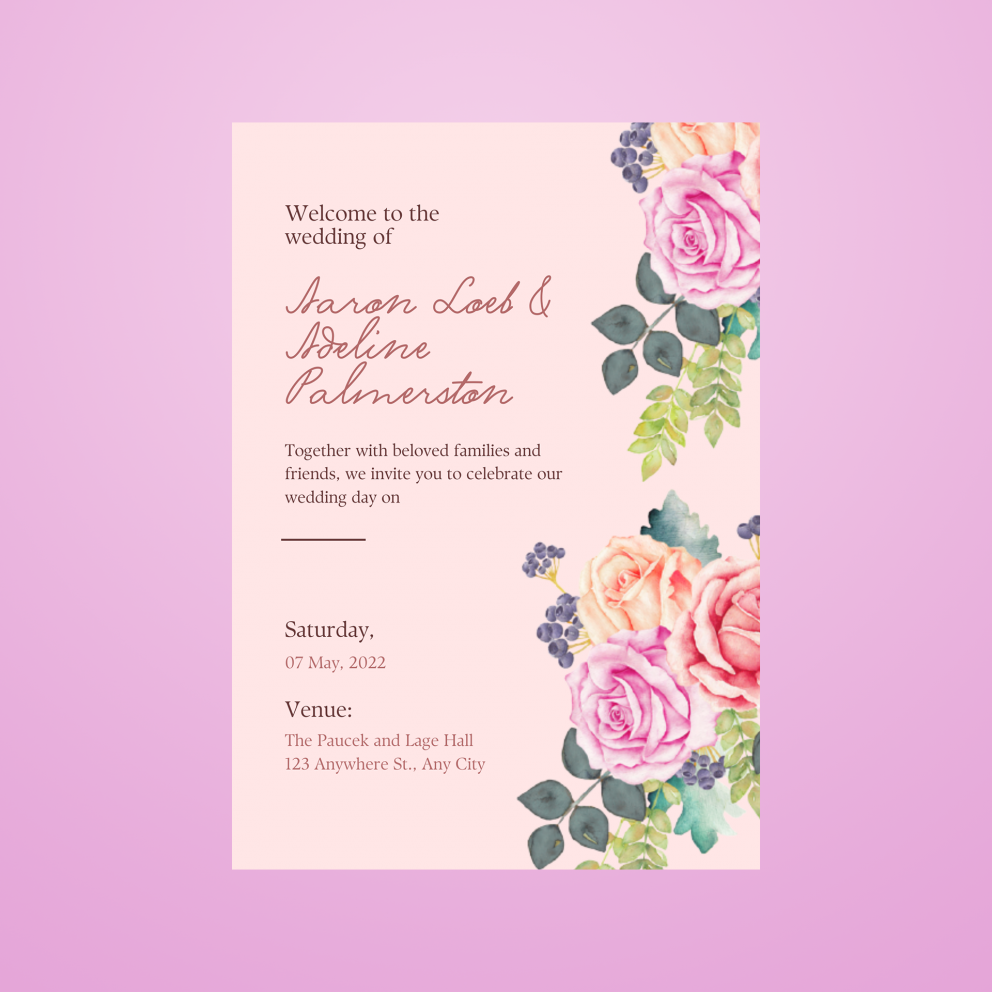 This colorful wedding program design can showcase the romantic side to your relationship.
You may be also interested in:

The Best Family Tree Creator Apps in 2022
Invitation Maker – the Best Software to Create a Stunning Invitation
How to Make Cards in Word?