MENU
8 Steps to Create a Unique Memory Book

Did your grandmother also have a big stack of old albums or a keepsake box in the attic? We love looking through big, usually dusty albums filled with an extensive collection of movie stills, postcards, old greeting cards, and other paper memorabilia reminding us of the special moments in our family history.
Today, almost everything is digital and mostly on social media accounts or blogs. It's not rare to find grandparents post a family meme or a digital album on Facebook or Instagram.
We have access to many photos and memories online. Why not collect our milestones in a beautiful book of memories? It doesn't have to be an ordinary family album or a photo book from a vacation. Photo books filled with memories of your favorite moments can be the most memorable gift you'll ever prepare, whether it's for yourself or someone else.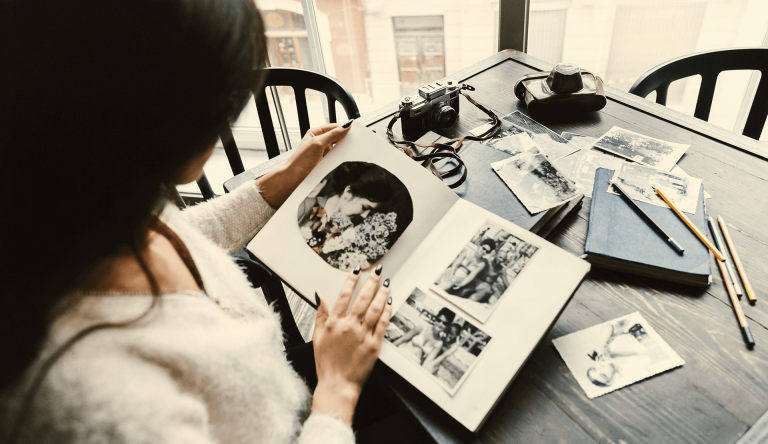 There is something more intimate and special about physical memory books that you can hold in your hands, but it doesn't mean you can't create digital photo books that you can share with all family members.
Most people put photos, text, illustrations, signatures, and mementos in them. But there are no limits or restrictions on what you can add to your own memory book. Create a memory book that captures special moments in your life using the ideas below!
Turn your memory book PDF into an online photo album!
Digital memory books are a great way to show your creativity and preserve your memories. You can easily publish these photo albums online. Create your own memory book PDF and share it as a beautiful photo album using Publuu.
Publuu allows you to create beautiful memory books and digital photo albums with a page-turning effect. When you view them on your smartphone and tablet, you feel like you have a real book in your hands – but you can add sounds, interactive galleries, and videos to it.
Publuu's online photo album example
View more online photo album examples
When you're using Publuu to create an album, look book, or memory book, you get an interactive HTML5 publication that looks great on any screen. Your family and friends will love how easy and fun this online publication is to browse compared to boring PDFs. Photo books from Publuu make for great gifts that you can always carry in your pocket.
All you have to do is upload the PDF of your memory book to Publuu. It will be converted in one to two minutes. It will be easy for you to change the look of the photo book, add interactive hotspot links, and add pop-ups and embedded galleries. When your memory book is ready, share it with your audience. You can easily send the link in an instant messenger, embed it in an email, and share it on social media.
The most impressive photo memory book ideas
Memories of your friends
A good photo book tells the story of you and the people who are most important to you. Collect memories that show you value your friends or family members. You can divide your book into sections for each friend or relative or according to events or stories that connect you to them. Don't forget to add funny captions and quotes. You can find similar inspirations by exploring unique yearbook ideas and themes.
Your favorite things
When you see things you enjoy doing, you immediately feel better. You can flip through such a photo book when you're feeling lonely, depressed, or lacking the inspiration to recharge yourself positively. It doesn't even have to be a photo you took yourself. It can be anything you enjoy looking at, such as quotes from inspiring people, magazine clippings, or photos found on Instagram – as long as you download them for your own use, don't worry. Just creating this memory book is fun, and browsing through it will be beautiful.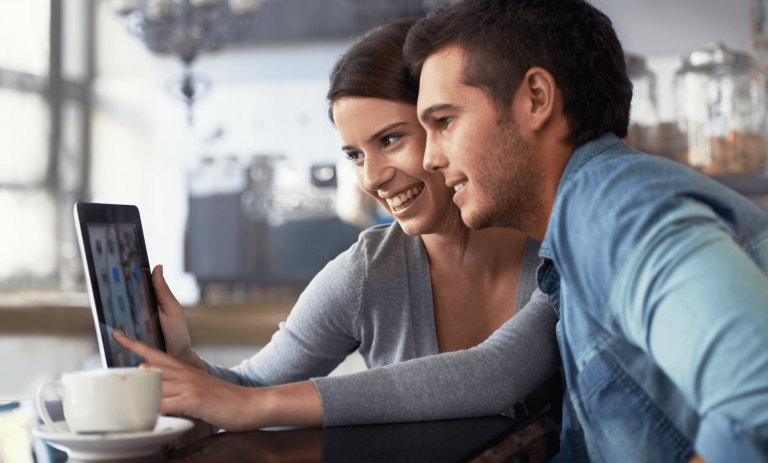 Music and inspiration
Use songs and albums to tell the story of your life – everyone has favorite albums and changing tastes. We've all had music carried out through difficult parts of our lives.
Find the cover art, and maybe even take a picture of your CDs, cassettes, or vinyl. Write a short note about how the song affected you, how it changed you, and what it is associated with. You can use sites like Spotify or Wikipedia to remember the iconic sounds of your youth. Moreover, you can add music to your online photo album created with Publuu to highlight the most important moments in your life.
Important quotes and idols
Whether it's advice from family, quotes from your favorite books, or some important moments in your life, if you're creating your own memory book, you can put everything that shaped you in one place. Combine quotes with photos of their authors or with inspiring illustrations. Add everything that inspires you.
Your background
Your memory book can be about your hometown or your family history. You will include family photos, pictures, and artifacts from your hometown or neighborhood, as well as stories about local landmarks, family traditions, etc. Taking a look at your roots not only allows you to preserve the beauty of the past but discover inspiration for the future.
How to create personalized memory books in 8 steps?
1. Consider your audience
First, consider who you are creating the memory book for. This affects the content, the tone, and whether you write in the first, second, or third person, for example, if you are telling about your hometown to your grandchildren or some other family member, you probably want to write what you did there. But for other people – maybe you'll be more accurate, and tell what happened before you were born.
2. Gather your materials
Plan which memories and precious moments from your life you want to include in your photo book. It will probably be easiest to do this in chronological order – perhaps if an important event dominates (such as a war) you can repeat it from time to time. However, it is worth reviewing what materials you have at your disposal and what you can include in the photo book.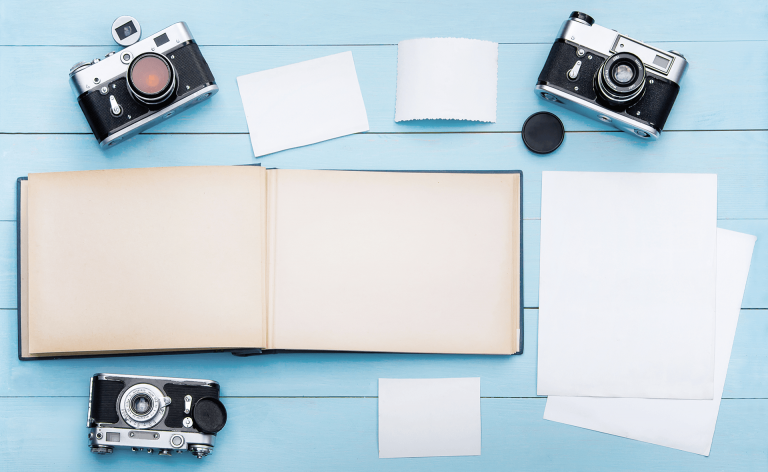 3. Prepare photos for your photo books
Try to find a photo for each event in your life. Scan old photos, if you can't take pictures of them with your phone. Also, remember to include text in your photo book. Be sure to write what made the person special, write down memories and stories of family members, favorite sayings, poems, etc.
4. Gather other design elements
Don't forget that it's not just about photos. A plane ticket or an old banknote from a place you've been can add a new dimension to your memories. Notes, drawings, illustrations from books – these details will all enrich the pages of your photo book.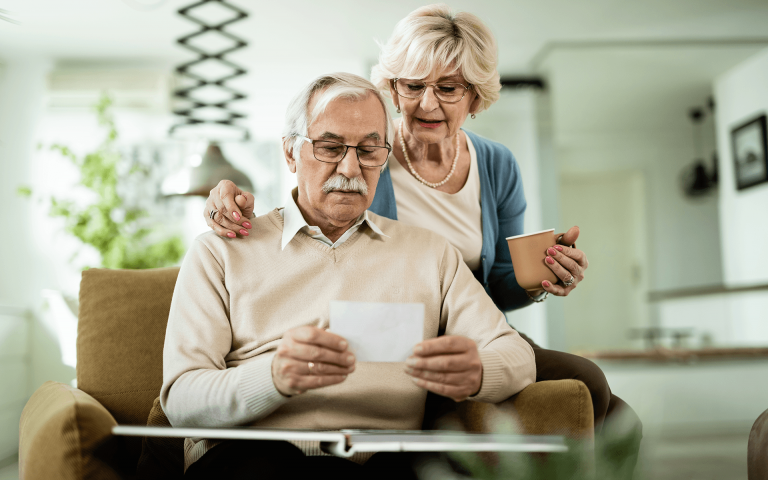 5. Introduce the whole family
Once you know what you want to write about, think about how you want to show how great your entire clan is in your photo book. Everyone is different and they all have interesting stories to tell.
You can tell the story of your family as a whole by showing common features like weddings or reunions, but you should also try to give each person their own "chapter" of the photo book.
For example, if your child loves superheroes, you can use a few pages of a photo book to show how much he or she loves them. In addition to scans of photos from cosplay events, you can show their drawings or pictures of their favorite movie stars.
6. Prepare a suitable template
Find a program or template for creating memory books that you like. Look online for digital scrapbooks, photo books and sample memory books. Scan and prepare everything you want to include in your digital album and think about how it would all look in a photo book.
7. Determine the design
As we said earlier, a memory book is not just an old-fashioned scrapbook with clippings. You can be creative not only with the content you choose, but also when it comes to the design and layout.
You can use a simple, clean style to draw attention to the content, or you can design complex pages to tell unique stories about relatives or special events from your childhood. Handwriting and different fonts will make the photo book seem cute.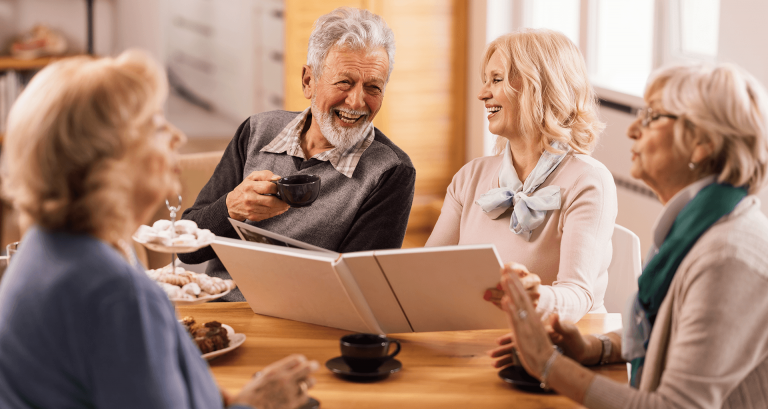 8. Prepare your design for printing
With programs like MS Word, free Scribus, or InDesign, you can work on the design yourself and export it to PDF. Prepare a beautiful layout and publish it as an online photo album with Publuu.
All you need to know when creating baby memory books
There are some moments in your baby's life that you definitely don't want to lose sight of, such as the moment when your precious baby boy was born, the first steps he took, and other early memories related to your beloved child. That's why you definitely could make a baby book to capture these moments.
Make your own baby memory books
You can buy a memory book for your baby, which is already made for storing photos and notes – these are some of the best gift ideas for new parents. However, many people know that creating a memory book yourself that is one-of-a-kind and personalized will make a wonderful keepsake when the little one grows up.
You probably want to make a memory book for your child, to become a reminder of the time when your child was a newborn. However, you don't have to worry about how artistic you are or your ability to design pages. Some of the best baby memory books are made in MS Word or Google Docs.
Keep your precious moments in your book
You can create something as simple as a photo book that tells a story in the order in which it was taken. Your memory book, however, can be more involved, with colorful backgrounds, creative covers, page decorations, and fun captions. A baby book could cover the first five years of your baby's life… but you don't have to stop there!
If you don't have the time, skill, or inclination for all that cutting and gluing, you can lay the pages out using graphic design software like Canva or InDesign. You also have the option to create a "memory book" in digital format if that's more your style – and publish them on Publuu.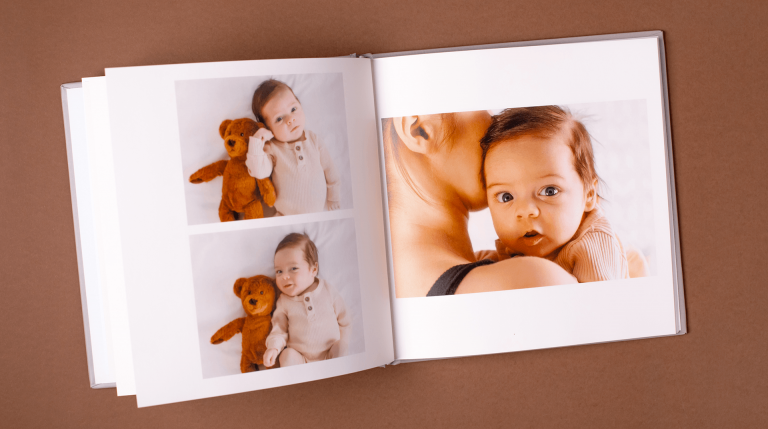 Keep these special moments in baby milestone books
A simple baby book usually relies on photos. You should choose images that are high-quality so as to tell the story of your child's development throughout childhood. You can even include images like ultrasounds, birth photos, the baby's first night at home, and religious ceremonies.
Everyone likes pictures of their baby at important milestones, like first sitting up, steps, etc. Such milestones are important points in your photo book, around which you will describe the whole story.
Summary
A memory book doesn't have to be a simple photo book – it should recount the narrative of you and your loved ones. You can easily create it showcasing your personal memories, difficult moments in your life, your children and grandchildren.
Mothers and expectant mothers can prepare a photo book for their children, documenting on its pages every aspect of their new child.
You can create simple online photo books with Publuu, and preserve them – using cloud storage – to be able to show them to your relatives and friends.
You may be also interested in:
How to Create Interactive Photo Album Online?
The Best Photo Album Maker
How to Make Photo Album Look Great?