MENU
Perfect Fashion Lookbook – Simple Guide

Creating branded fashion lookbook should be something natural for all fashion companies. There is no doubt about that, creating professional-looking lookbooks is important part of developing fashion brand.
Brand building is all about creating interesting tales to captivate your audience. In our opinion, in the very visual realm of fashion, how you express your personal style design ideas is incredibly crucial.
Once you have refined the design process, product development and sample creation, your marketing should begin in earnest. Catching the notice of significant buyers and prospective consumers may be done in numerous ways but you should note that notebook is very important marketing tool and it really can help sell your fashion related products.
With stylish collection of well-styled photographs, you will be in a better position to offer yourself in a professional way. The lookbook reveals the essence of your business via creative storytelling and functions in a multi-functional approach. It presents your items on models, in a stylized atmosphere.
You have to note that the fashion lookbook is not only to present your products. It should be something that will present the type of lifestyle your company identifies with. Fashion lookbook is at the same time a tool for presenting fashion products and for creating a brand. For sure, if you create stylish and professional fashion lookbook, then it will be effective marketing tool.
Professional photography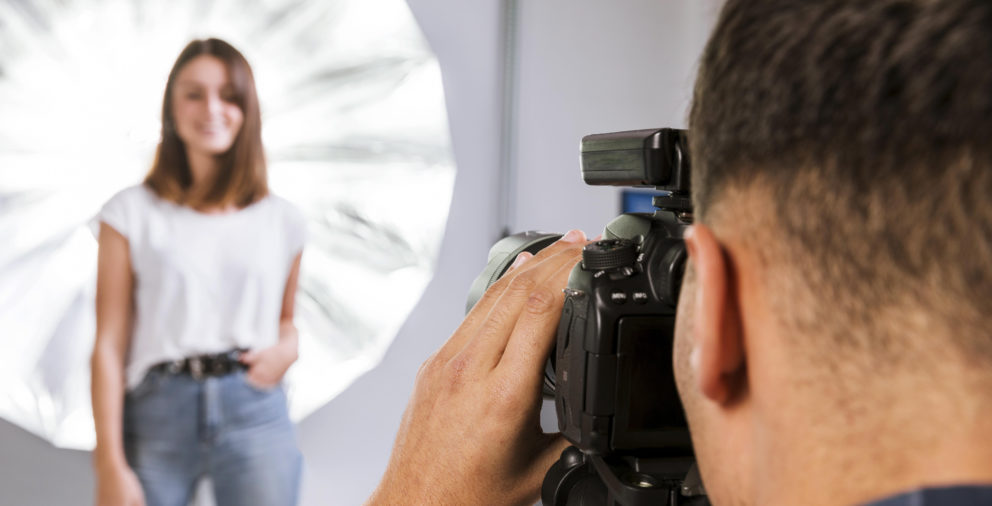 Professional photography is an essential for fashion lookbooks. Therefore, when making a fashion lookbook, you definitely need to think about hiring a professional photographer. Each product shot should be styled in a manner that highlights its functioning or attractiveness to the target buyer. For example, an apparel lookbook should be able to show the fit, texture, and advantages of the item of clothing readily in one photograph.
To produce the required impression, the lighting and photographic equipment employed by professional photographers will be essential. Cell phone images will likely not make it for a lookbook. When taking photos, try to think about "how to style outfits in the best way ". Lookbooks should go beyond ordinary uninteresting product pictures and genuinely exude enthusiasm in the product.
Professional photography plays a key role in fashion world. In our opinion, even, If you're a tiny company or restricted on budget, paying bucks for a good photographer will be worth it!
Publuu – The Best Platforms For Fashion Lookbook
Publuu is the best website, if you want turn PDF files into a great digital lookbook in 2 minutes. With Publuu, you can simply and intuitively create an interactive online flipbook.
Publuu's online flipbook example
View more online flipbook examples
Make your flipbook SEO-friendly and share it with your viewers by professionally embedding it on your website or distributing it through email or social media. With Publuu you can send your fashion lookbook to your customers and then you can track how many time they spend on each page! In our opinion, it's really nice and useful feature!

Publuu's Statistic panel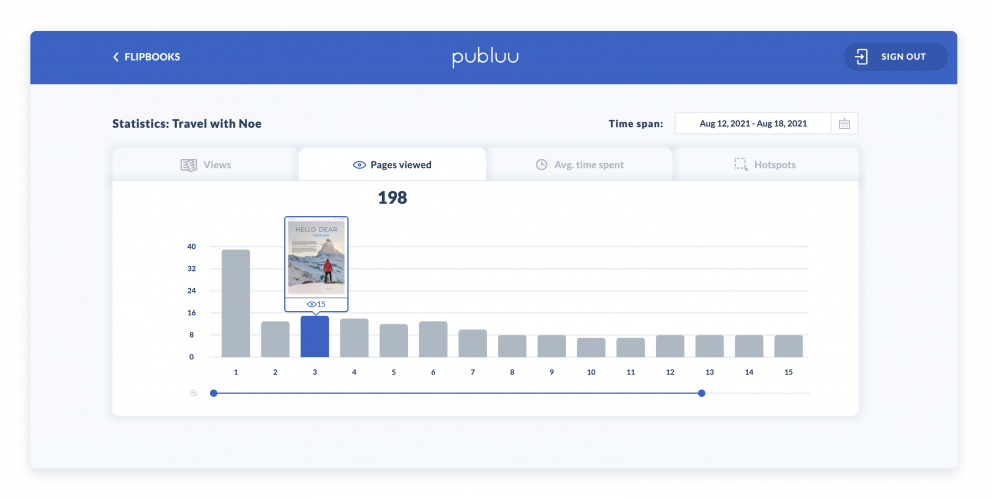 You may share your fashion lookbook through links, QR code and email, which is a very convenient solution. Lookbooks generated by Publuu operate well on all the latest web browsers. Users also may control the books on mobile devices efficiently and promptly whenever.
Next great feature is Publuu enables you can add interactive multimedia such as links, videos, audios, animations and photographs. Interactive design elements make fashion lookbooks much more interesting for the reader. Such a lookbook attracts the attention of recipients more and this is much better than a boring .pdf file.
Example of interactive hotspots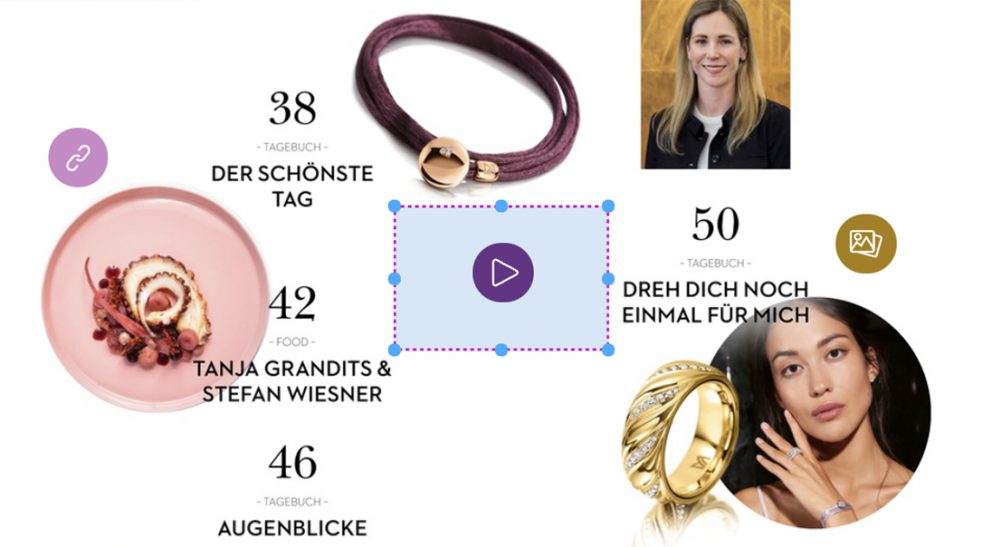 With Publuu, you can simply and intuitively create a flipbook from PDF. Convert a PDF to flip, personalize it by adding your logo, picking backdrop, colors and introducing interactive hotspots. Make your flipbook SEO-friendly and share it with your viewers by embedding it on your website or distributing it through email or social media. Engage your consumers and see their responses in real time!
Branding
It's crucial that your brand is effectively represented in the lookbook as well. Your brand should be shown in numerous of the photographs on the apparel or goods. It should be subtle and not overpowering when utilizing the logo throughout the pages. However, at the beginning or finish of the lookbook it is advised that the brand be prominent. Adding your logo or mission statement at the front of the book might assist set the scene as the user flips through the pages. Your brand should be favorably reinforced via the quality of the pictures, layout design, and items themselves.
Layout Design
Most lookbooks have a size 8.5×11. The photographs should take up most of the page with the text out of the way. Don't be scared to keep things SIMPLE. The thing you are offering is the most crucial aspect on the website and should draw the complete attention of the reader. Placing a model picture on the left side page complimented with close-ups of the apparel is a terrific approach to present the collection.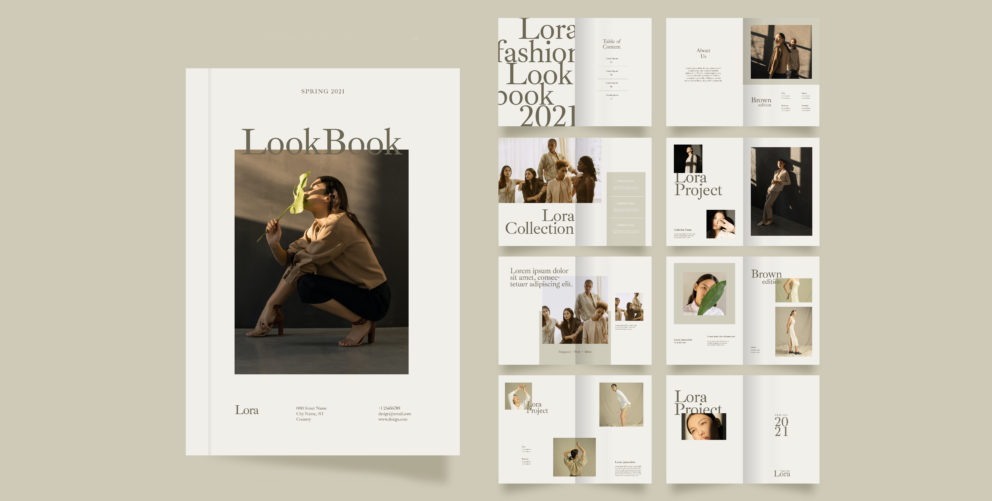 Easy Steps for Designing the Perfect Layout:
The following information should assist you on your road to establishing a stylish lookbook that is properly created and and looks professional.
a) Select your design program
The Adobe Suite (Adobe Photoshop, Adobe InDesign, and Adobe Illustrator) it's really good for graphic designers. If, however, you don't have access to them or to the pricey services of a designer, don't despair. There are tons of free programs (many of them are available through a web browser) that may help you construct your fashion lookbook.
Of course, you dont' need professional solutions such as Adobe InDesign, you can also use Microsoft Word but this is not the best idea if you want great graphics effects. So better solution is choose software like GIMP, Inkscape, or Photoshop. These sites come with either a User Manual or Support Forums for you to learn how to utilize them.
When setting up your files, make sure to have them set to CMYK at 300dpi in PDF format and saved as Press Quality for printing, or have them set to RGB at 72dpi in PDF format for publishing online.
Another simple option to have your lookbook designed aesthetically attractive and quickly is to utilize Canva online.
b) Create a concept and layout
If you choose software for creating lookbook, after that you should create concept and layout. Don't worry about the content at this point but do decide out where you want your page title, photos and paragraphs. This is a vital phase in the design process.
c) Decide on the size of the printed version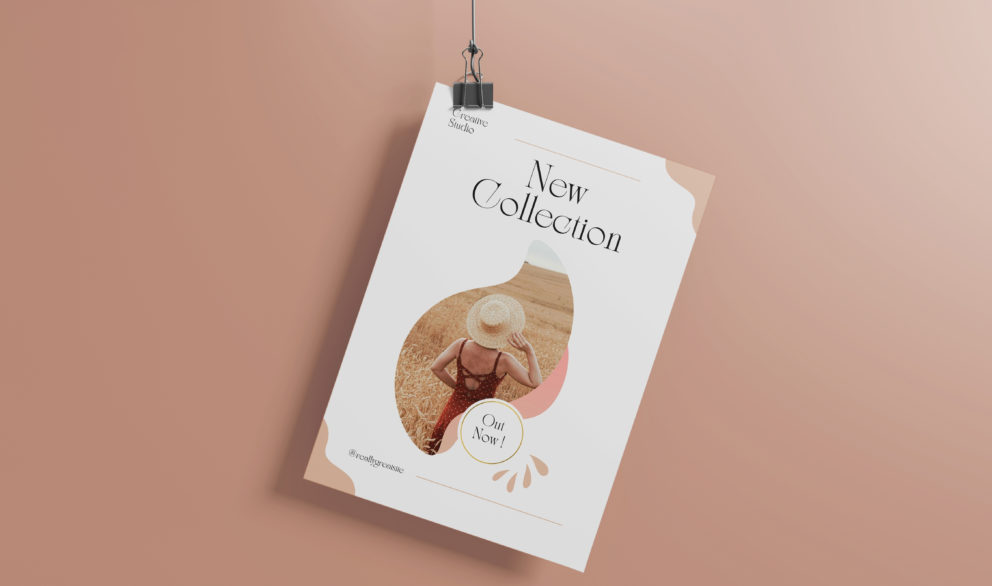 Consider the size of the printed version at this time. Bear in mind that there are standard sizes for printing physical copies. Doing something uncommon although it may appear remarkable, it will without a doubt also add to the expense.
Speak to a printer before you settle on a size and start preparing your photographs. Take counsel on which size is the most cost-efficient to print. Millimetres of variation in the size might result in bigger paper waste and hence significantly higher expenses to you. Not to add if you intend on sending them out in an envelope — finding an envelope to suit an uncommon standard printed catalogue would be near impossible. Of course you can create dedicated envelope but these are unnecessary costs.
d) Lastly, be sure to contact a few local printing shops
Talk with your printer shop and choose the right paper and print quality. It is really important to adapt the digital project to the requirements of the printing shop. Otherwise, even if your digital lookbook looks nice and professional, it will not meet your expectations after printing.
Conclusion
Creating a fashion lookbook is an interesting endeavor that requires careful attention to many details. Creating a lookbook from A to Z is not an easy task. Maintain control of your workload by creating a to-do list that covers everything necessary to do your job successfully. You should start your work with depth research and check sample lookbook design (or many designs!) on the Internet. Design inspiration is really important. Then if you have idea for layout you can start creating content (pictures, graphics and text). Once your flipbook is ready, you have to decide how you will send it to your potential clients. This can be done in a traditional form (printing in print shop) or you can send it in digital form (for example with Publuu).
In our opinion, it is worth using Publuu.com. You could also use it to present your online catalogues, digital brochures and more. Thanks to this, the person viewing the lookblook does not look at the boring .pdf file. Readers can see your fashion brand in the form of an interactive flipbook. Thanks to this, readers perceive your brand as professional.
Lookbook should present your clothing line or new collection in the best possible way. However, to achieve this, you need texts and photos that describe the lifestyle, not products. Detailed product descriptions are also important, but not as important as photos and slogans that relate to your brand.
The most important thing is to skillfully present your brand. Above all, be loyal to your brand's own style and ensure that your next lookbook accurately reflects your vision!


You may be also interested in:

What is a lookbook?
What Is A Brandbook? The Complete Guide.
How to make a lookbook?