MENU
How to Create Interactive Photo Album Online?

There are many ways to create an online photo album, but the best way is to create it in a flipbook form. Below, we will explain why!
What are Flipbooks?
Flipbooks are a type of presentation of a pdf document. You can easily convert any photo album in PDF format and display it as a beautiful flipbook with a realistic page-turning effect. Publuu offers you an opportunity to upload your photo albums online and convert them into interactive virtual photo albums to be accessible by your friends and family world-wide.
Publuu's virtual album example
How to create photo albums in PDF format?
If you already own a collection of images, it's really easy to convert them into PDF. You can use professional page designing software like Adobe InDesign or Microsoft Publisher, but even a casual user can convert their photos into a beautiful album using MS Word. You can design your photo album yourself, just embedding your pictures on pages of a text document, then saving the existing files as PDF. If you have any issues with that, you can find guides and support in our Knowledge Base.
If you have a virtual PDF printer, you can convert your photos to PDF files by simply saving them as PDF. It only takes a couple of clicks to present others a beautiful photo album – and if it doesn't look beautiful you can change that by uploading it to Publuu.
Digital photo albums for you
Publuu can make any photo album beautiful. When you upload the PDF file, Publuu will add a great page-turning effect that will make your online photo books resemble actual books and feel as if you're holding your memories in your hand. You can customize your own background and switch on sound effects if you choose so.
Or turn it off, if you don't want to get distracted, like below:
Your friends and family don't have to download any app to view your photo album. All you have to do is send them a free link to your flipbook in Publuu – you can send it in an e-mail, via social media or place it on your blog. They can view your beautiful photo collection on any device – mobile phone, wireless tablet, smart TV or computer. If you want to, you can allow them to save it on their device, or allow sharing your photo album further on social media.
Multimedia interactive photo album – Not just a photo collection.
If you create your digital photo album, picture collection or image gallery for your family or your brand, Publuu lets you make a stunning HTML5 album that looks great at any screen. With a single click you can convert any PDF to the flipbook format. But Publuu is much more versatile and can offer you more than just any photo album.
You can add multimedia content to your digital photo album. It's enough to link to videos on youtube and allow your family viewing the album to relive these moments with a single click on their device. Apart from image galleries and video functionalities, you can also embed MP3 files – they can embelish any photos and make your photo album tell stories rather than just show static images.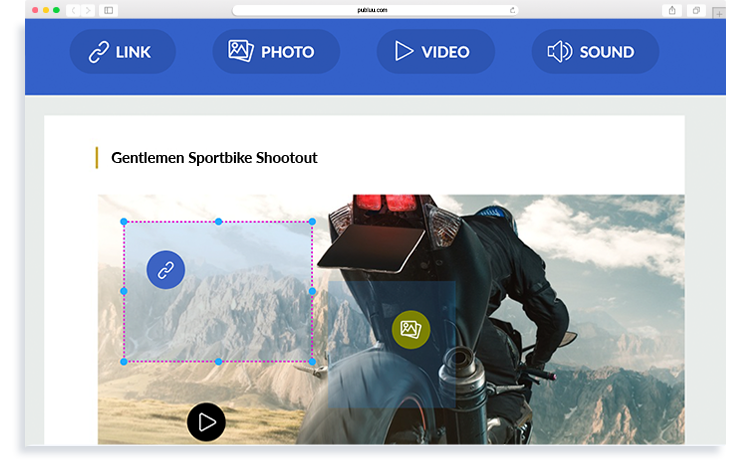 You can make navigating your photo album to be full of real joy because Publuu offers advanced hyper-link features that lets your readers quickly search and find the needed photos. You can make a beautiful album from your holidays and put all images and videos from one day into one section, then link to the next album with more videos from the following day.
It's easy to share your digital photo album
It's a real joy to share your photos with your family. Publuu social media sharing features are simple enough. Instead of waiting to upload your photos to your Instagram, you can just assemble a beautiful photo album, put it on Publuu and share it with your friends on any mobile device. You can do it from the level of the book itself, using the free sharing features, with a single click.

Publuu lets you add video and image galleries, insert links in your text or photos, and easily share the eye-catching flipbooks with anyone that cares enough to read them!
Create your flipbooks easily
You can start playing with your digital flipbook right away – Publuu offers a free trial with all advanced functions available. You can choose a basic plan offering space for several books at a very reasonable price or an advanced ones with more features and great customer support.
You may be also interested in:
The Best Photo Album Maker
How to Make Photo Album Look Great?