MENU
17 Modern WordPress Alternatives

WordPress is perhaps the most popular program for creating websites. It is estimated that about 75% of sites use this website builder. And no wonder! WordPress allows users of all skill levels to quickly and easily design personalized sites with its intuitive editor and hundreds of plugins, widgets, and themes – some advanced features are free, and others can pay for themselves several times over.
Whether you're a freelance blogger looking for a flexible blogging platform, a graphic designer who wants to create an online portfolio, or an entrepreneur running a small business or building an online community, WordPress' numerous plugins allow you to create any site you want. For example, you can add eCommerce features to your site, modify the look of product categories, use different themes on different pages, plan your WordPress site design according to your needs, and much more.
However, not everyone wants to use WordPress as a website builder – this content management system has its limitations. Many newcomers like to have access to either technical support or an intuitive way to use the pages. Store owners need website development and web hosting tools in one place. WordPress is created for someone a bit more experienced, who knows how to create and maintain a custom domain or an online store.
That's why in this article we'll take an in-depth look at the various WordPress alternatives to help you discover a solution that suits your goals and those of your organization. In this post you'll also find an explanation of how these tools work, what is a website builder, and a guide on how to choose it for your company!
What is a website builder and how does it work?
In the early 00s, everyone had to have their own website. You had to learn how to program in HTML – which was not particularly difficult (and today it's worth knowing this and that about HTML if you're working on your own website), but it was certainly time-consuming. Today it is much better to use a website builder.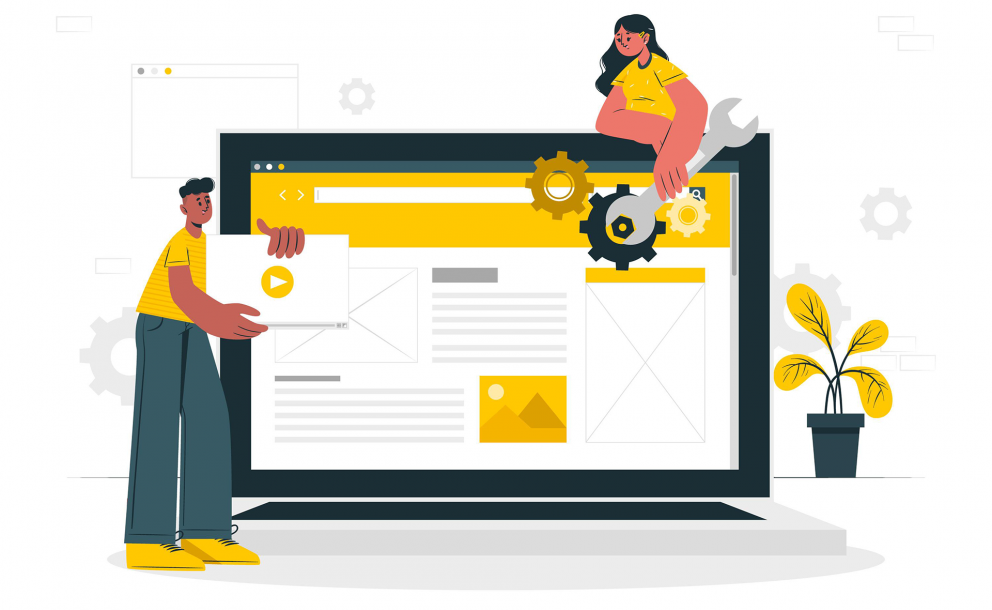 A website builder is a platform or tool that allows you to create a website quickly and easily. These website builder tools will help you develop your online presence, and create websites or stores, tailored to your specific business goals and needs.
Why choose website builder tools?
Website builders often include a drag-and-drop editor that allows you to edit your site. You can add your own illustrations and content, and often can gain access to multiple website templates and stock content. Many offer advanced features like a blogging platform or the ability to serve as an externally hosted eCommerce platform.
The classic HTML editors used to run as a program on your computer's disk. Today, however, website builders are available both online and offline, unlike the older website building tools. A website builder doesn't require downloading any programs and runs entirely in your web browser. This means you can work on your own website anywhere and anytime (as long as you have an Internet connection).
These modern website builders also often allow you to make corrections even on your smartphone. This website creation method, unlike WordPress, often already includes a free reliable web hosting package – you don't have to agonize over uploading documents to the server and having them indexed by Google yourself.
Consider whether website building tools are for you
These platforms are a great way to promote self-employed freelancers, small business owners, and entrepreneurs who want to quickly and easily develop a strong online presence. Especially if you don't have an IT department, alternatives to WordPress are worth using.
Of course, using website builders usually means less freedom. If you're familiar with web development, you can stick with WordPress or design the site yourself in CSS and HTML 5. It's completely free, and if you chose a hosted website builder you can't always have full control over the code that governs your pages – custom solutions give you full control.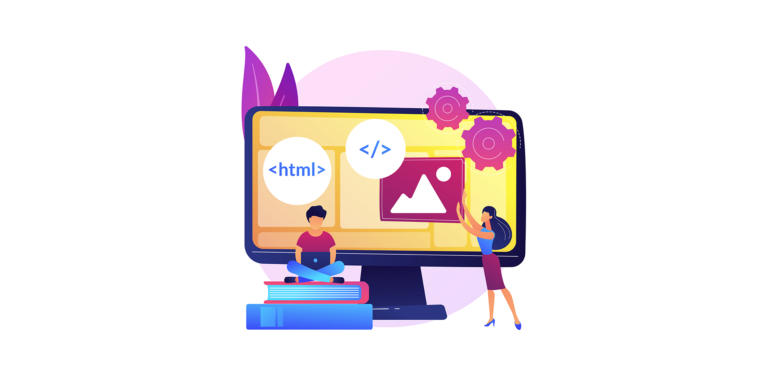 Website builders often have their limitations — free plans may limit the number of pages on your site, provide limited capabilities to run an online store, etc. The free version of such a tool is often a great option to start with, but a growing business requires a growing website.
Why use WordPress alternatives?
You don't have to be a master of technology to launch a website using a website builder. Simple interfaces allow you to create nice and aesthetically pleasing pages without writing a single line of code. You don't have to worry about your website because of its simple setup – often all you need to do is fill in the template with your information. You can create your own unique site in minutes by choosing from a library of pre-formatted and eye-catching templates – often this is enough to create a business card for your company or online store.
Web developers do the hard work for you, providing attractive ready-made designs for your use. They also provide the option to customize your site without any coding skills, allowing you to add your own unique style with professionally created templates. A professional website builder will often help you stand out from the crowd. You don't actually have to stick to templates and basic websites. Using a flexible drag-and-drop editor, you can create your one-of-a-kind site with an extensive library of options, and user-friendly and useful content.
WordPress is free but requires some familiarity with HTML. However, with site builder trial periods and budget options like free web hosting you can save a little on your own site or domain.
Why search for WordPress alternatives?
Among the WordPress alternatives, you can find many different options. You have the option of using another open-source content management system that is flexible like WordPress – a free WordPress alternative can have its own fans and creators.
Or you can opt for a proprietary, manufacturer-owned CMS. Such packages often combine hosting and website development tools in one place. Many include additional features such as built-in SEO tools and advanced security measures but are rarely as flexible as WordPress or Joomla.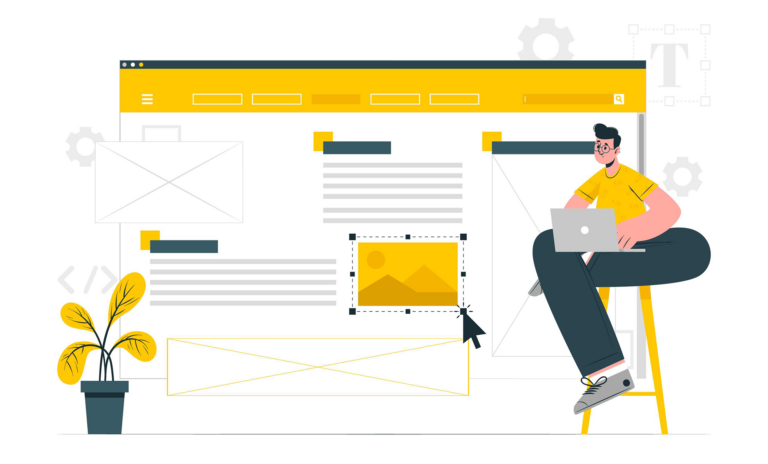 For many people who simply want to create a simple website, and don't need a wide variety of built-in features and CMS add-ons, a website creation tool such as Wix or Weebly will suffice. Such programs often have a free version – ideal for freelancers or bloggers. You get website creation tools and hosting in one place, without having to pay for advanced features you won't use.
How to choose the best alternatives to WordPress?
It's obvious that not all website builders are equal. So how do you choose the best WordPress alternatives for your business? What factors should you consider when choosing a publishing platform for your content?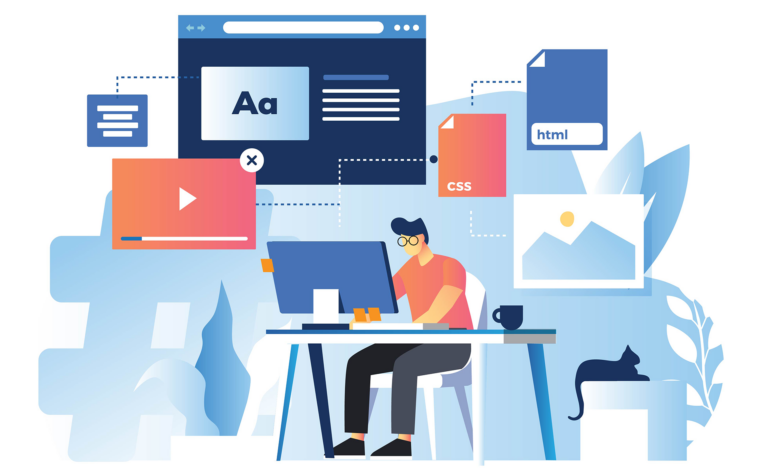 Simple editor
If you don't want to code yourself, go for simplicity. Choose a simple, user-friendly design that will allow you to create a website seamlessly, preferably with a drag and drop editor. A great WordPress alternative also has high-quality, professional-looking templates that are both clear and attractive. The larger the gallery of sample layouts, the better.
You probably want to use the site for blogging. Your site needs quality content that will attract visitors from google and other search engines. Make sure your site builder makes it easy to blog – adding content (including from mobile devices), and social media integration can come in handy even if you run a store.
Social media integration can also completely replace a publishing platform or blog. A good website builder has social media features. This could be Instagram widgets for a clothing company, or the ability to preview your tweets.
Embedding a digital portfolio
Adding your own content is also very important for online portfolios – Publuu allows you to embed interactive portfolios in your site content. If your website builder includes the ability to embed your own content it can perfectly enhance your site. Publuu allows you to embed multimedia content and perfectly complements any web builder.
Publuu's online portfolio example
View more online portfolio examples
Customize your site
Even smaller companies want a site that reflects their brand. A good website builder should allow you to add your own graphics and logos. If your company has a signature font or a recognizable color, you need to take that into account. So, make sure you have flexibility in your setup.
Use a custom domain name
In addition to your hosting provider, you will want to have your own custom domain name. You can buy it separately, and set it up under WordPress, but an online builder often allows you to buy your own domain and simple email support. You can find a perfect domain name using service like Ultahost.
Useful eCommerce features
If you're using your own website to run an online store, you need more advanced features related to trade. WordPress offers a simple online store engine called WooCommerce, but even free WordPress alternatives can offer some more advanced features like integration with your warehouse or instant notifications. Compared to WordPress, the best WordPress alternatives have a wealth of tools useful to the larger storeowner.
Best WordPress alternatives in 2022 (with their pros and cons)
Squarespace
Squarespace is a very well-known website development tool – you've surely seen its ads. Unlike WordPress, themes, plugins, hosting, and SEO tools, and e-commerce are already part of the minion.
Squarespace is also famous for its high-quality templates. Many beautiful visionary templates are available only on this site. This builder also provides best-in-class features such as a blogging platform, photo galleries, podcast hosting, e-commerce, and more.
With Squarespace, you don't have to have any coding skills, and the whole site has good tech support. Hosting sites on Squarespace is quite expensive, however, with monthly fees starting at $16 (or €27).
Shopify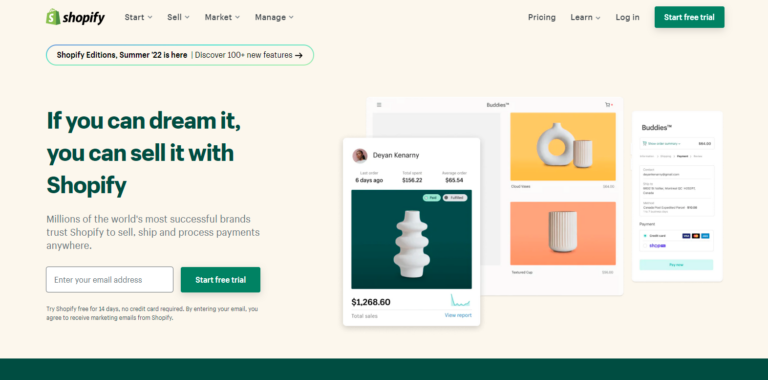 One of the most popular e-commerce platforms for creating and managing an entire store is Shopify. It's far more than a WordPress alternative.
You have a choice of 70 different themes and a drag-and-drop site creation tool. For the price of a monthly subscription, you get built-in blogs, SEO tools, review features, an analytics system with much more. Shopify also integrates with content management systems and other CMSs.
Webflow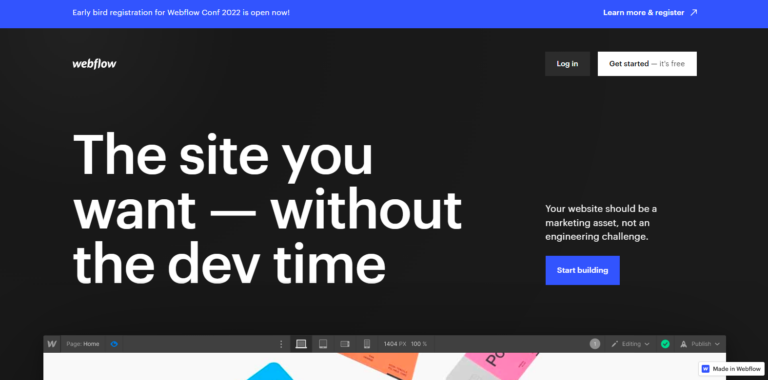 Webflow is a content management system very popular among freelancers. With Webflow, you have full control over the appearance of your site. While you can use pre-made designs, you can also start from scratch and design your own aspect yourself.
Webflow allows you to design sites and portfolios from scratch with Webflow Designer (which looks like Photoshop in your browser). This drag-and-drop website provides coding versatility without forcing you to code.
Building a site is completely free – you can have fun creating a site yourself. When you want to publish, you pay for a site plan and a custom domain name. Webflow is best suited for freelancers – be they programmers or graphic designers.
Jimdo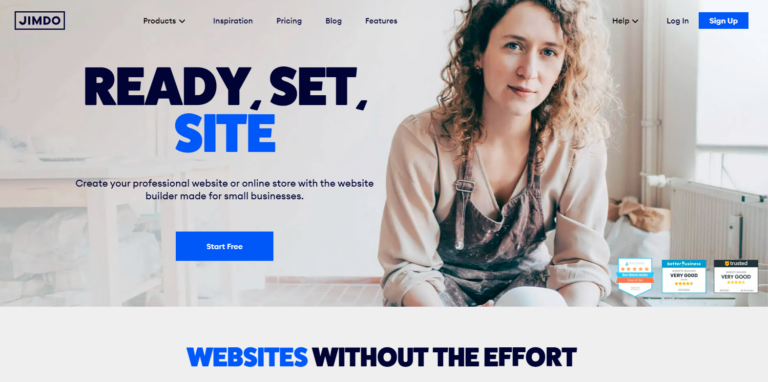 If you're looking for a website builder that will make your life easier, Jimdo is for you. It has a free plan for you to test, and in the premium plan, you have access to graphics and content. However, not all options have good search engine optimization.
Compared to WordPress, you may be frustrated because the themes on Jimdo are much less customizable. Still, it's a great option for those site owners who want to get their basic website up and running as quickly as possible and don't care too much about additional features. Jimdo Assistant can create a company page automatically, using photos from Instagram and Google My Company accounts. That and the ease of use make it worthy of our recommendation.
Weebly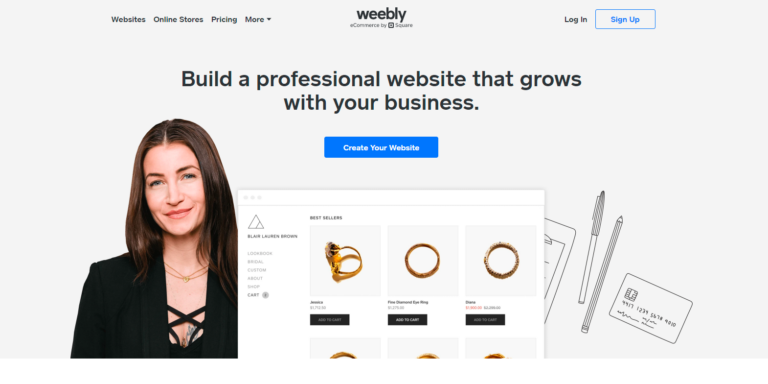 Weebly is a commercial website builder that lets you easily create a custom website with pre-designed themes and a drag-and-drop editor. It has a free option with ads as well as premium hosting using the free domain weebly.com and many nice themes.
The flexible editor allows you to add elements to your blog posts, you can decorate your site with animated video backgrounds. It allows simple navigation and is mobile-friendly. It's a very good solution for both small and medium-sized businesses, especially thanks to free hosting.
Site123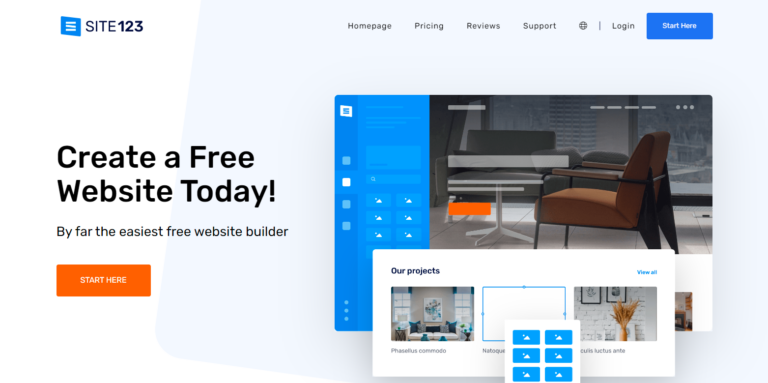 SITE123 is a very popular hosting site – the base plan allows you to use the site, sometimes a custom domain. The premium plan is inexpensive, and it can serve as a great WordPress alternative for smaller companies.
The user Can use all the ready-made features of SITE123, both on the free plan and on the premium account. It allows publishing audio files, blogging, has a suite of SEO tools and many other facilities. It also has a rich plugin package though not many compared to WordPress.
Zyro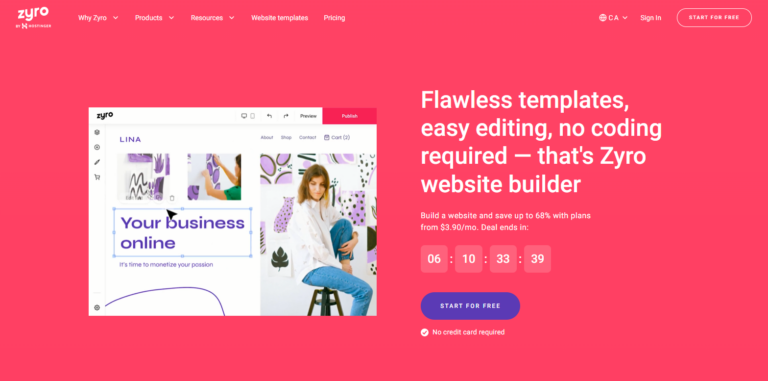 Zyro is an inexpensive alternative, and compared to WordPress, it provides many interesting features. It uses tools based on artificial intelligence, such as a page builder and logo maker, which ensures convenient work. It is worth noting the extremely low prices, which start at $4.90 and sometimes even lower.
An intuitive editor and more than 100 ready-to-use templates make it easy to create a site in Zyro. However, this system doesn't have many advanced features, for example, app features or subscriptions for paying members. It is also difficult to blog here. Still, it's a good solution for small stores.
5 Free WordPress alternatives
SquareOnline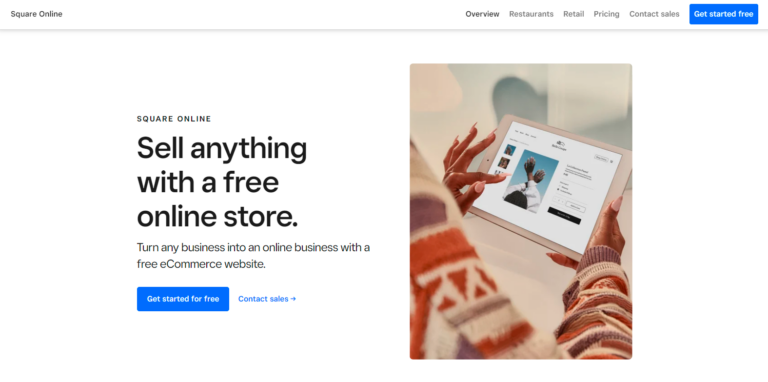 Many people select WordPress for their websites just because it is free. They must, however, pay for their hosting, domain, and plugins. There are also free WordPress alternative options available out there, such as Square Online.
Square Online is 100% free, with the basic free plan including a website builder, hosting, and eCommerce features. You can use the square subdomain to access the free hosting. Square, the commercial option, provides an easy drag-and-drop editor, unlimited bandwidth, and decent e-commerce capabilities. Even the free plan is a great WordPress alternative for small companies or self-employed.
Drupal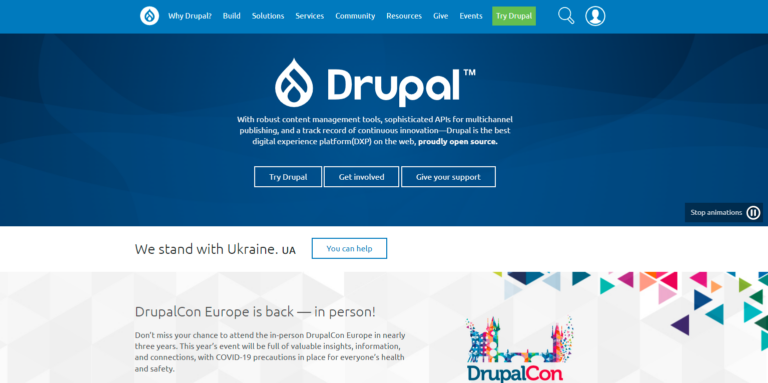 Drupal is a highly flexible customizable CMS with almost unlimited modifications. Like WordPress, Drupal is open-source software. Anyone can use it, but it requires knowledge of HTML, CSS, and PHP.
Drupal's strength is the huge number of modules compared to WordPress. You can choose from hundreds of free templates in Drupal's official theme repository or paid themes at ThemeForest. These modules and themes are extremely customizable. This means that you have full control over the functioning and appearance of your site.
The process of creating a custom website on Drupal is longer and more complicated than creating a WordPress site because of the huge variety of customization options. That's why Drupal is often chosen by large organizations like universities and NGOs – often having dedicated IT specialists.
Joomla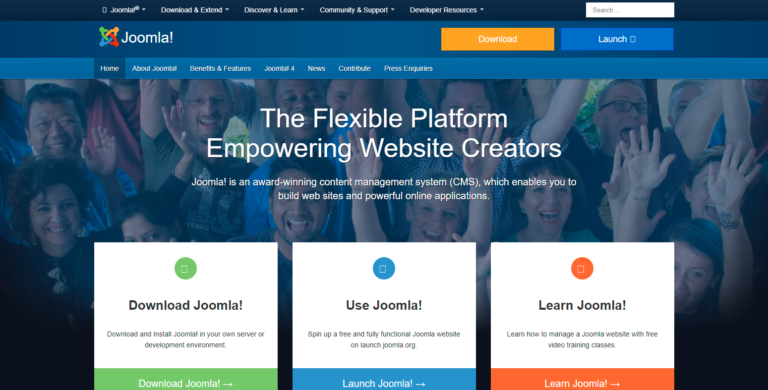 Joomla is also a free CMS. It was created to combine the power and flexibility of Drupal with the ease of use of WordPress. As an alternative to WordPress, Joomla is very popular among more experienced users.
Joomla has more features than WordPress websites and allows for flexible content management. You can use the many extensions available in the official catalog to increase the functionality and control of your site. However, it requires a lot of knowledge and content management.
Joomla is difficult to master, but users with some knowledge of web design will be able to understand and take full advantage of the flexibility of this system.
Wix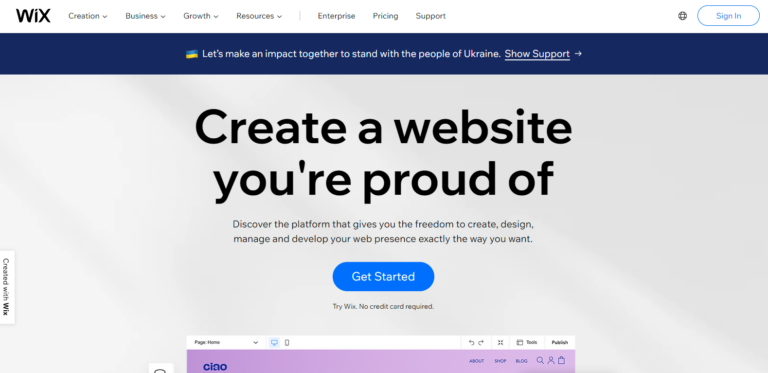 Wix is a paid solution but offers a free plan alongside premium plans as well. It's easy to customize the Wix template for your own site, without any tedious work. With a click of the mouse, you can move elements around and drop them exactly where you want them. Even the free package includes hosting, domain name and support.
Basically, Wix is a fantastic choice for small websites with less than 50 separate pages – a freelancer can create a portfolio this way, and a small business can describe its offering.
Unfortunately, once you select a template, you won't be able to change it, nor can you edit the pages yourself – Wix is not a CMS but a website builder. However, it is much simpler to set up and use than WordPress.
PrestaShop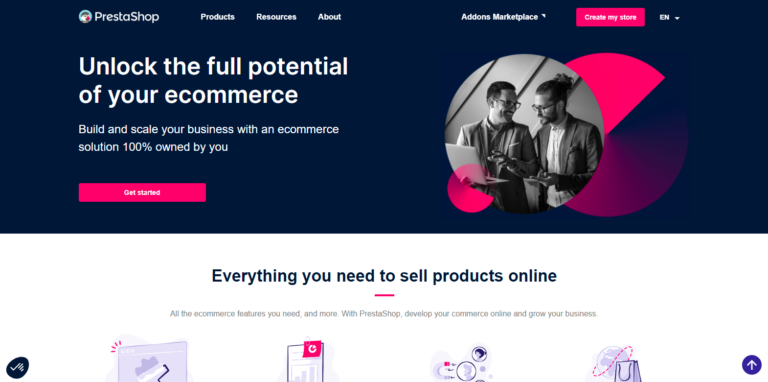 PrestaShop is also a powerful e-commerce platform for running an online store, but it differs from Shopify and WooCommerce in two important respects: it is self-hosted and open source. This means you can use the basic program and change its code as you see fit. However, you must rely on third-party hosting.
PrestaShop has many useful features but is more complex than Shopify. It also has many mods, themes, and add-ons. It might be the best WordPress alternative for large online stores, especially if you hire a good specialist.
WordPress alternatives for blogging platforms
Ghost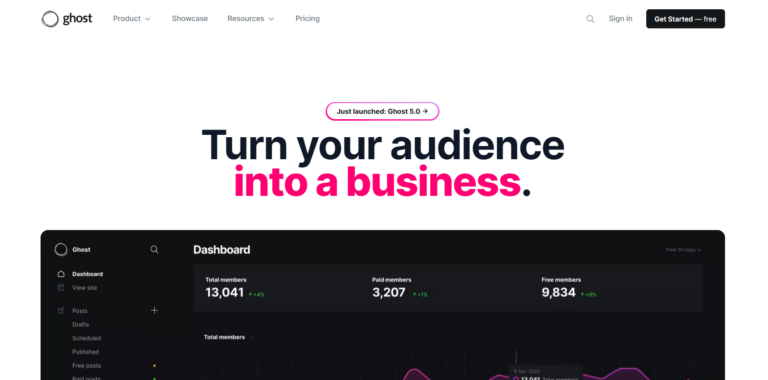 WordPress started as a blogging platform, but over time it has turned into a huge CMS. Ghost is a small platform that wants to focus only on blogging. If you just want to set up a blog, using WordPress may leave you dealing with features and services you don't need.
Ghost is a blogging application based on NodeJS. With it, you'll create blogs – both free and commercial subscription-based. In exchange for this ease of use, you will have to give up the extensive features that WordPress offers. If you're looking for a CMS, Ghost is not a viable alternative to WordPress, but it's a great alternative to platforms like Tumblr.
Medium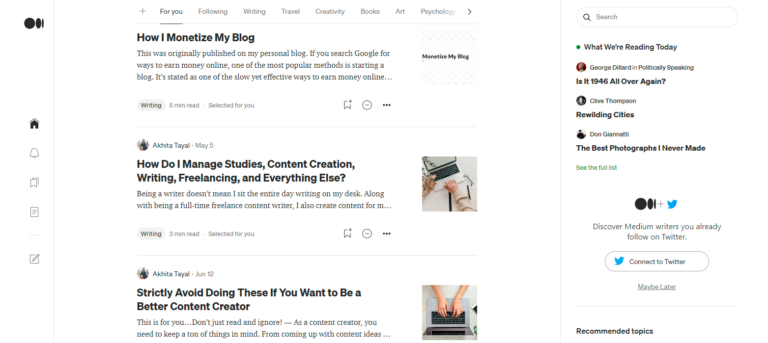 Medium is not your typical content management system. It's more of a substitute for WordPress.com than for WordPress.org. It is effective for professional writers and freelancers.
Medium is more of a publishing platform than a website builder. There is no software to install, nor is there a drag-and-drop builder; you can simply publish your writings on Medium.com. Compared to WordPress, this is more of an external site that can be leased for commercial purposes.
Readers can subscribe to you and bookmark, share, or comment on your content, just like they would on any other blog. Medium provides analytics and a mobile app, as well as site standards. It is not a commercial solution, but it allows professional writers to be compensated for their work.
Tumblr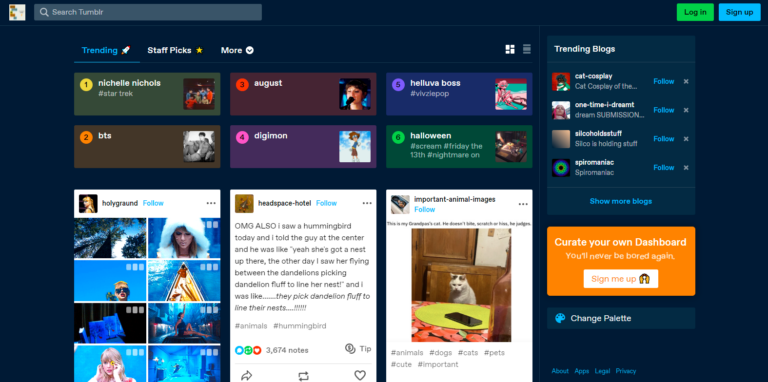 Tumblr is a well-known free blogging site or social networking site. You can also use it to host your company's page. Many commercial sites and plugins are available, or you can buy your own domain. Tumblr is not just for posting memes – blogging tools can be used for website building as well!
You can create complex pages in addition to your blog. It's completely hosted, so you don't have to install or maintain any software. Of course, it's not a good commercial solution, and it's also difficult to manage a Tumblr store, but it's a good option for creative people and freelancers.
CMS alternatives to WordPress
Magento

Magento is an open-source, highly customizable platform for creating large, complex stores. Magento software is free, but extensions regarding hosting. Large stores always require a lot of space – that's why you should look for solutions using Magento.
Magento's robust dashboard allows you to manage multiple stores, use different global shipping providers and conduct transactions in multiple regions, languages and currencies. This is an ideal solution for large stores. Moreover, coding skills are useful to create such a store. Magento has many features that small stores won't use.
BigCommerce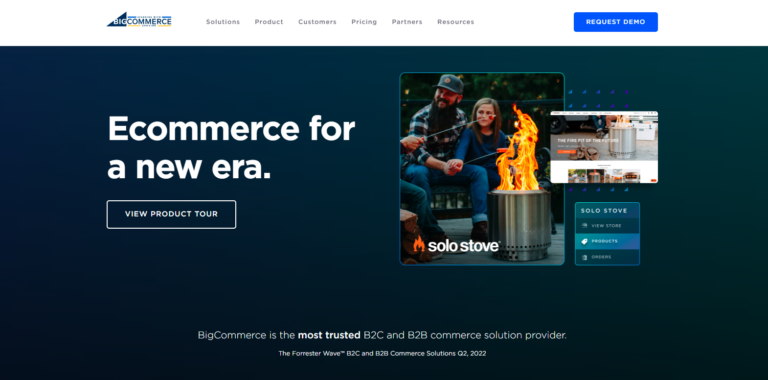 BigCommerce is a great tool for creating stores, which is also a good alternative to WordPress to create eCommerce platforms.
BigCommerce is also great because it doesn't charge transaction fees for the sales you make. On the other hand, however, the cost of an annual subscription can be quite high. It's a good option for medium-sized businesses that care about international growth.
BigCommerce has good features for currency exchange, but creating multilingual stores requires paid plug-ins. It also has far fewer templates compared to WordPress or Shopify.
Conclusion
WordPress is probably the most popular website creation software. However, not everyone prefers to use a WordPress Website since this management system has restrictions.
There are many tools available on the market, but most have a specific customer in mind. You save money on your own site or domain by using free plan models or similar budget solutions such as free web hosting. Basic features available for most tools can be easily found, but the premium content can boost the visibility of your brand. Not all web hosts allow use of an Open Source CMS, for example, so it's worth preparing a good marketing strategy and learning all the WordPress alternatives out there!
You may be also interested in:
How to Make a Portfolio Online?
Best Free Portfolio Websites
Photography Portfolio – All You Need to Know