MENU
5 Reasons to Start Using a Magazine Maker

If you have been considering starting your own magazine, there is no better moment than now! The market is changing quickly, which requires new approaches and tactics, but people are still reading magazines. Sometimes they do it in new, different ways than the previous generations of readers are accustomed to.
According to most experts and analysts, the current trend in magazines is "industry and lifestyle". People who reach for modern magazines do so either interested in a specific business (often with a very specialized, niche approach) or in a particular given pastime or way of life. A magazine outside this narrow spectrum, like ones on "generic sports" or "politics", might not be the best-selling idea these days. Some observers even assume that National Geographic and similar science or information-based magazines might cease to exist by the end of this decade.
You need to adjust your main strategy and abandon traditional approaches if you're making a lifestyle magazine in the twenty-first century. That's why it's important to use magazine maker software, learn how to switch to the digital magazine format, and learn how to prepare magazine cover images to attract readers.
This article contains helpful tips and genuine advice on how to create online magazines. After all, it takes more than amazing articles and beautiful photos to publish quality content online!
What is a digital magazine maker?
Any software that can help you in magazine design and aids you when you build a digital magazine can be called a magazine maker, from MS Word to Adobe Illustrator or Adobe InDesign. Online tools like Pixma or Canva can let you upload images, edit them, and create a PDF magazine. Access to tools like this and can greatly improve your creative process.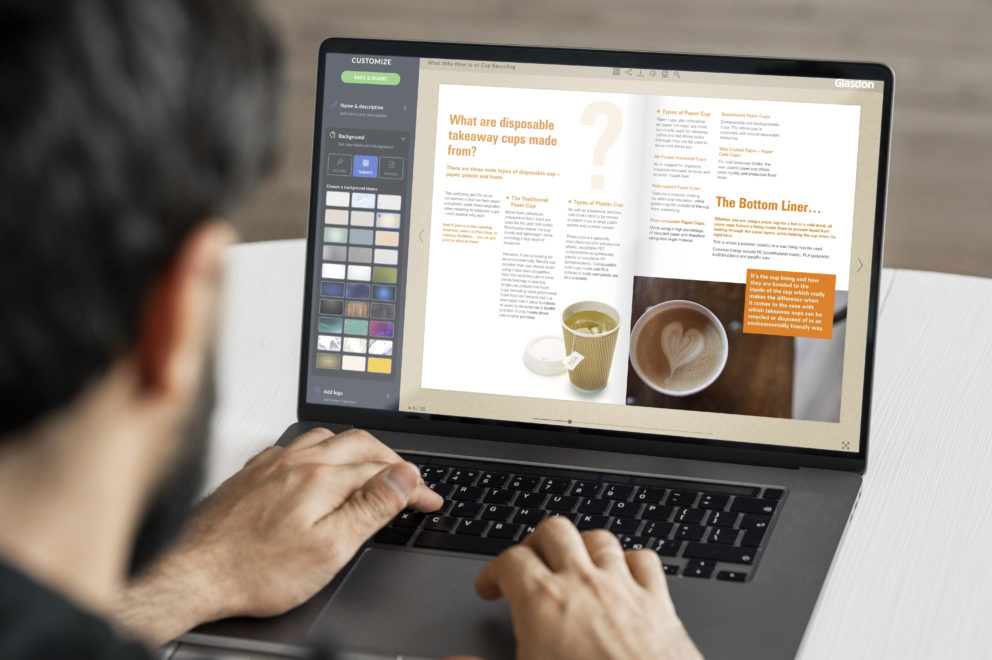 Truth be told, no matter what software you choose to create the PDF document, you can use Publuu to create a beautiful digital magazine, convert it to our Flipbook format, and display it to all your potential readers.
If you decide to pick Publuu to display your own magazine designs, you will be able to distribute the future issues of your magazines anywhere on Earth. You will be able to present your own designs and ideas wherever you want, whether on your own website or embedded in your e-mail.
Why Publuu is the best magazine maker for you
Publuu is a publication platform – you can upload your magazine in PDF format to our platform which will display it as a beautiful Flipbook with a realistic page-turning effect. It will convert your publications to the HTML-5 format, and your readers will be able to see your articles and images using any device with a modern Internet browser.
Publuu's online magazine example
View more digital magazine examples
Publuu lets you either complement the print publications or replace them completely. You can create a magazine that's entirely displayed online and distribute it to your readers without the need for printing. Our digital magazine maker provides you with statistics and access to data on your readers' reading habits, which will let you improve your design skills and the quality of your content.
Thanks to Publuu's versatility, you can also customize the background of your flipbook to match the theme of your brand. Publuu also lets you add multi-media features to your magazine. For instance, you can add an image gallery or set a fun music theme to listen to while reading.
Publuu lets you easily self-publish a digital magazine. If you are a small press publisher, often you don't need sophisticated design tools. Instead, you can rely on our digital magazine maker which lets you transform any PDF into a beautiful flipbook, witthe h good-looking cover! You can read more about publishing your own magazine here.


Post on Facebook, share via direct link, or embed on your website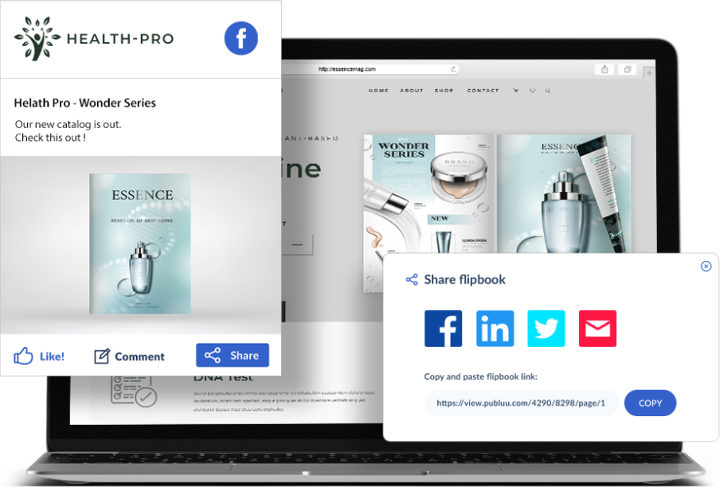 Why should I switch to digital magazine format?
Print magazines might soon disappear completely and paper is on its way out – but people still need professional, fun content to read in monthly installments. If you want to be an editor-in-chief of your magazine you should adjust your content to the modern trends, starting with layout and cover image.
This is why, if you want to make a magazine you should start designing your issues and magazine covers aiming foe digital customers. In many ways, digital designs can be a blank canvas compared to print issues – despite decades of digital publications, many things about layout and page design are still new and exciting.
If you're making a magazine, consider switching to our digital publishing platform. Learning about new technologies can be daunting, however.
Here are 5 reasons why you should switch to the digital magazine format, publish new content online, regardless of your brand, and use magazine maker software like Publuu.
It's easier to display your magazine cover images
Great covers are the hallmark of a good magazine. Physical magazines may be picked up and flipped through – but online, sometimes the cover image will be the main reason to pick up and read a good magazine.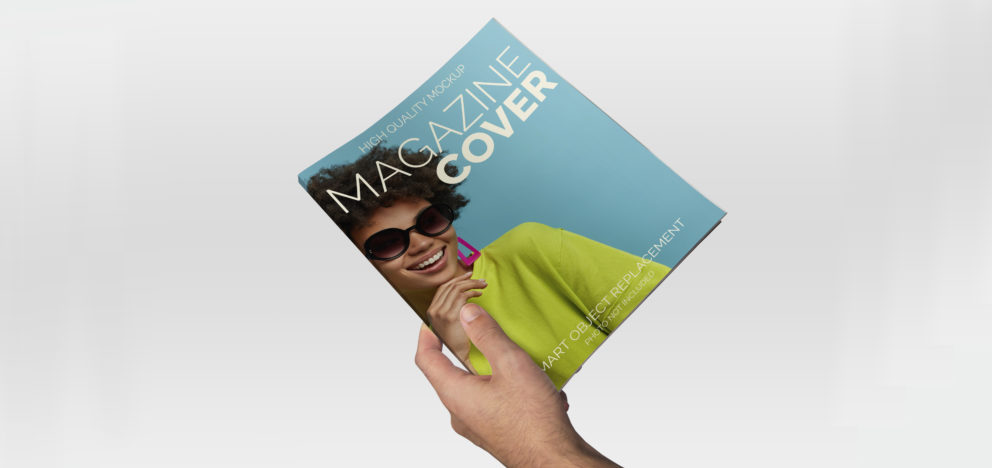 An attractive magazine cover design is also essential to attract readers and can usually entice them to read the rest of your magazine. Sadly, many people still judge a book by its cover.
A good-quality magazine creation software – like Publuu – will help you showcase your content or skills as a graphic designer. Publuu's features allow you to showcase your magazine thumbnail on social media – which will make your personal style or theme recognizable to anyone who scrolls down through the wall.
You don't have to dazzle your readers with a rainbow of colors. Balanced, bold headlines and subheads combined with simple, graphic elements can draw attention to magazine covers in a more subtle way than splashes of color or gaudy appearance.
Many designers recommend the ABC rule – use one large A headline – the magazine title, one prominent B header – the "main issue topic", and several headlines C for important articles. This provides a balanced, readable cover layout. Be sure to use consistent fonts – they should look good with the style of your brand and image on the cover.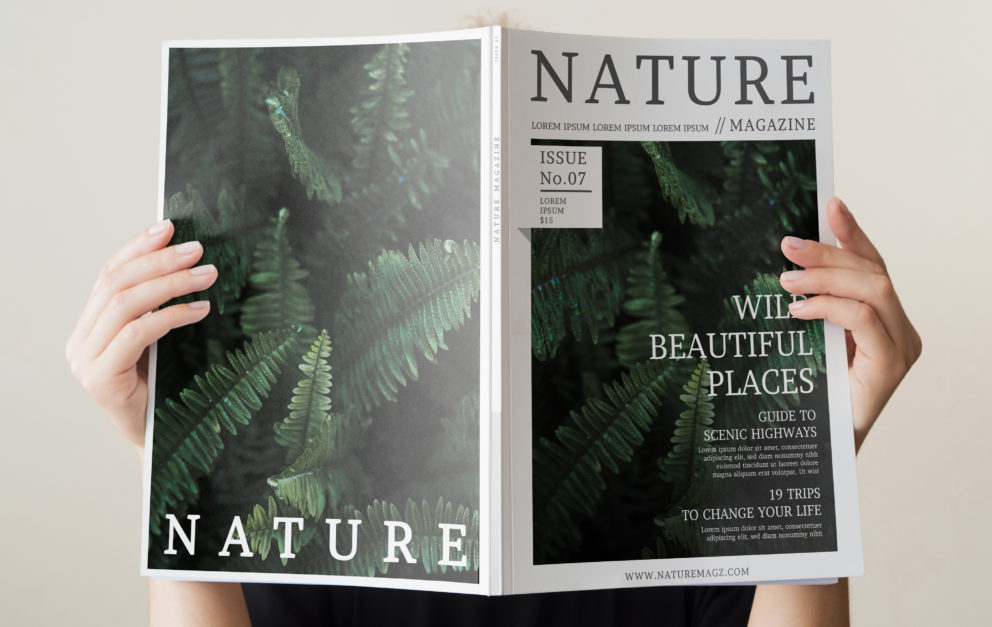 When you combine these headlines with an eye-catching, iconic cover image and areas of white space, you will have an aesthetically pleasing and recognizable layout. ThMany free magazine templates canhow this type of design. You can find inspiration if you browse template galleries available on website tools like Canva.
Access new audiences with youcontentts
Unlike print magazines, thgital magazines can reach billions of consumers worldwide, if you are used to creating content in an international language, like English, Chinese, or Arabic. Good content can draw attention to your magazines as much as the magazine cover page.
Many magazines need a "well" – this is usually a place with the crucial topic; often it's the article of the month, depending on the style and topic of your magazine.
For example, a video game magazine might have a review of the hottest new title, news from gaming expos, or similar crucial articles. For a fashion magazine, crucial articles like this might include high-resolution images, new fashion ideas, photos of top models, or an interview with a famous designer.

This 'well' is what we have called headline B before. Articles like this should be the key point on your magazine cover page. Publuu lets you link directly to the featured articles straight from the cover image, thanks to the elegant and intuitive hot spot functionality. You can write that perfect headline that can grab the attention of any reader – and then allow them to jump to the relevant pages with a single click.
Apart from the well, your magazine often is divided into the front othe f book and the back of the book. The former section is usually the introduction: news, reviews, discussion, and a letters page. The latter section of a magazine contains elements like humor, comic pages or essays, and opinion pieces.
Easily improve the layout of your magazine
A digital magazine has the advantage over most traditional magazines in print – you can easily edit it or update it with new, high-quality images. Publuu lets you keep the original URL link while you're able to update it with a new version of your digital magazine – which is great if you want to introduce minor changes, like for example quickly change a single article on page 3 or adjust the font size.
Using programs like Adobe InDesign, Quark Xpress, or Affinity Publisher can help you make a magazine – but it's also very easy to create a realistic flipbook where pages look beautifully animated, thanks to Publuu. The view of the entire spread will help you display high-quality photos, fashion ideas and more content, and the flipped pages will draw the readers' attention.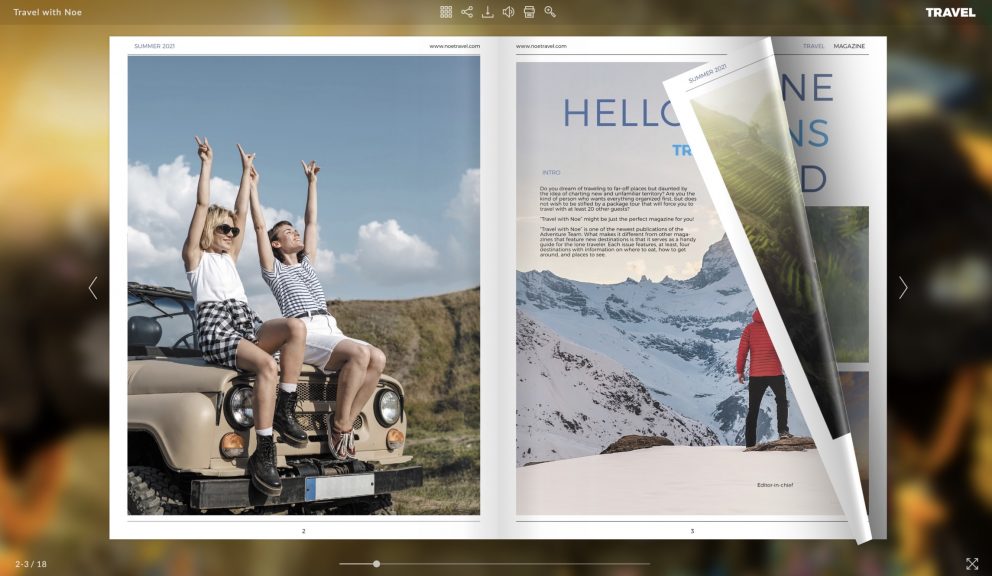 Use a prototype when you make a magazine
Using Publuu lets you create a prototype or the zeroth draft – a trial version of your magazine that lets you showcase it to advertisers future editors or coworkers.
This is a mock-up that can help you estimate how many pages you'll need after layout, adjust the color palette, apply fonts, and use images. You can create sample magazines that won't be yet fit for publication, and Publuu lets you present them as if they were printed.
After you consult with the advertisers and sell some ad space in the magazine, you can start changing this prototype and transform it into the final publication – adding and removing pages as you see fit. Maybe you'll have to redo the cover page or change the order of articles. You can do it easily in an editor, and Publuu lets you upload the new version of your magazine to the cloud.
Magazine maker lets you cut the cost of your magazines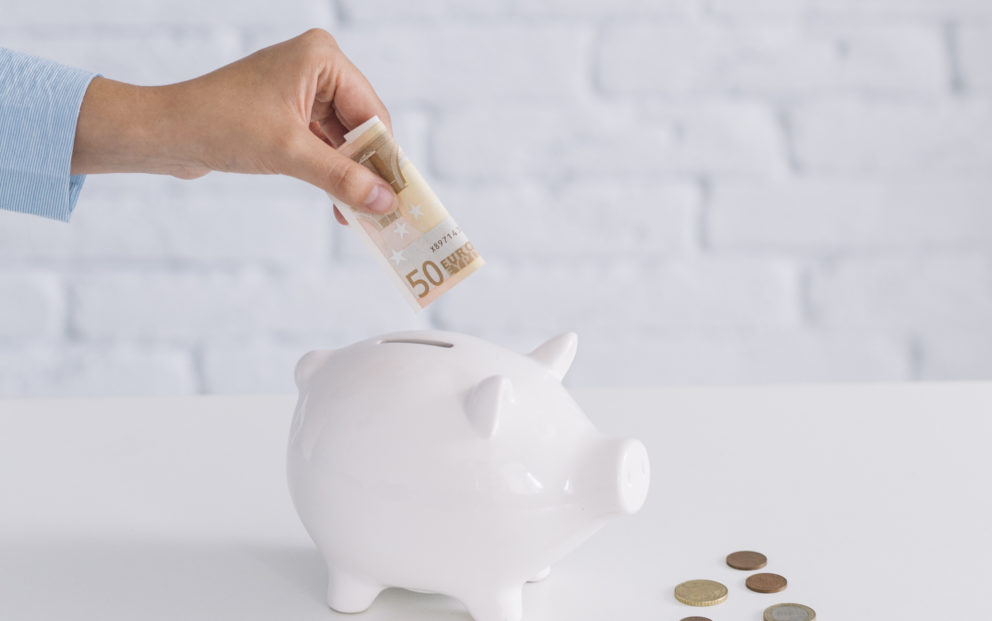 Switching to the digital magazine format also lets you cut costs. You don't have to pay for printing, storage, or transportation. You can host your magazines on-line and your readers can access them with just a double click on their computers.
Online magazines also cut salaries for magazine editors and designers who now can work from the comfort of their own homes and don't waste time commuting. If you pick the right advertisers, you can target the perfectly-matched segment of your audience.
Publuu lets you also create targeted PDFs – which means you can publish various versions of your magazines, addressing them to different groups. You can use our robust analytics function to create personalized links and monitor who opens them – so that you can measure the effectiveness of various versions. Features like this weren't possible when printing a traditional magazine.
Why use digital magazine maker software? A summary
Don't wait for a better time to create your digital magazine! Do it now, and export it as a flipbook. The magazine format is constantly changing, and this affects everything, from the page design to article content. To stay on top, you have to know what professional tools and magazine makers are available – and you could always rely on Publuu.
Thanks to HTML compatibility, your flipbook can be hosted online and replace any paper print magazine. Any article can be viewed instantly and the express conversion can take just a couple of minutes. Additionally, our online analytics function lets you learn more about readers.
With Publuu you can display high-quality images and embed your PDF into your website, creating a unified style for your publication. Flipbooks combine the best features of an online PDF and a print and paper book. Show us what your digital magazine look like!
You may be also interested in:
How To Create a Great Magazine Website?
Online Magazine Maker – 7 Simple Tips!
How to Create Interactive Magazine?