MENU
Best Free Portfolio Websites

If you are an artist or designer, the internet is a crucial tool to keep yourself employed and prosperous. With a digital portfolio, you will be able to present your work to potential clients, friends, and colleagues. Your online portfolio is your metaphorical business card. Anyone can see your work, online so it needs to be as beautiful as possible and easily accessible to everyone. When you want to design portfolio albums online, you need to find the best portfolio websites available.
If you work as a creative person, photographer, writer, or DTP specialist, you will need an elegantly presented portfolio website. In today's world, an artist without a website does not exist. Fortunately, it is easy to build your own website. You don't need to learn programming, because WordPress plugins will take care of it, and many portfolio websites described below also offer free creators with amazing features.
What does it mean to have an online portfolio?
A digital portfolio is a collection of your work which you can use to demonstrate your abilities and skills. Photos, writing samples, case studies, research findings, and lesson plans could all be included in your online portfolio. However, a good-quality portfolio should contain more than just work samples; it should also include your previous work experience, testimonials and skills, proofs of course and degree completion, achievements, awards, and honors, as well as some examples of your work.
When you want to create a beautiful, eye-catching portfolio, you need to build an entire site around it. It could be an image gallery, documents (like flipbooks) embedded into your work history, or some other way of displaying your creative work. You can use your website to introduce yourself, share your thoughts with the world and run a blog, but the heart of a portfolio site should be marketing of your portfolio. We rate best portfolio websites as ones that let you build both a content-rich website and design portfolio gallery.
Best Portfolio websites in the biz
A beautiful portfolio is crucial if you want to get into the visual industry. Whether you're a graphic design artist, a UI/UX designer or a writer, you need a great place to upload your portfolio. You can (and in fact should) start your own website, but placing your work on a dedicated portfolio website is also a good choice. Below we present a couple of the best portfolio websites you can use to create and upload a professional portfolio.
WordPress
WordPress is the technology that powers over a third of the internet. Some people say it's a CMS system, or a programming language or a website builder. In reality, it's two products that use the same technology to let you create great websites or blogs.
WordPress.org is a self-hosted content management system (CMS), which means you'll need to download the software onto your computer and upload it to a server source your own web hosting. It's not hard if you know what to do – usually most website providers offer tutorials and simple guides. Sometimes it's just as easy as clicking on the hosting ISP website. Troubleshooting might require at least some basic familiarity with HTML and PHP or simple CSS skills. Most importantly, basic WordPress is free, and there are many great templates available to novices.
Once you have configured your WordPress website, you can name it, configure its UI/UX, and then outright start uploading content and choosing plugins. There are many free website creation plugins that let you create portfolio sites. Image galleries, portfolio transformers – everything you can use to create your online portfolio.
Before you start building your portfolio website, decide whether you want to use WordPress.com or WordPress.org. WordPress.com is more or less a simple website builder – a blog that's hosted on the WordPress servers. It's a very basic option, but it might be enough to build a simple portfolio website for graphic design professionals who do not want to spend money on unnecessary features. If you're a small, beginning professional, you could use the .com website builder – it's also free and the number of features available is enough who wants to design their own simple portfolio website.
WordPress.org is a more complicated content management system – you could learn some PHP to build the best portfolio websites using this sytem, but you can also leverage the potential that having your own website and domain name gives you. The most cost-effective option for website design is just choose a cheap hosting option and build your own portfolios using free options.
Apart from your portfolio site, you can also use WordPress.org to host your own resume, online store, blog and company website. WordPress is worth putting as #1 among the best portfolio websites just because of its sheer functionality, versatility and the fact that it's free… as are many plug-ins perfect for creating your portfolio website.
Publuu (recommended)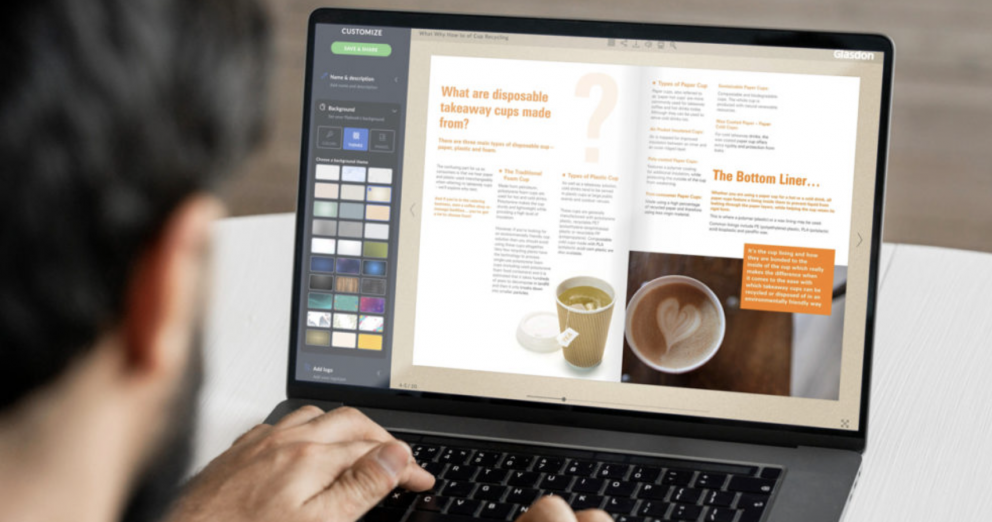 You can also make your digital portfolio more stylish. Creating a beautiful digital flipbook that lets you your content and creations will really show off your portfolio to potential clients. Digital flipbooks from Publuu will help you take your digital portfolio and website to the next level.
A flipbook is similar to an e-book, but it includes digital content as well as multimedia. Flipbooks don't need to be downloaded and can be embedded on your website; all you need is an HTML5-compatible browser to view them. Furthermore, Publuu's flipbooks provide useful visitor data that their creator and uploader can analyze – you can easily determine who has seen your portfolio and what pages draw the most attention. You can also use Publuu to add videos and galleries to your document. This is a far more engaging alternative to PDF.
Flipbooks are also a lot more fun to use. Publuu provides eye-catching, realistic-looking books that look great on any device, whether it's a laptop or a smartphone. The sensation of turning pages, just like in a paper book, makes the content much more appealing and the experience more enjoyable than a traditional PDF or portfolio website. With the elegant, professional-looking flipbook you can create a great portfolio for your website.
Publuu's portfolio example
Interactivity, increased engagement, easy sharing, and performance tracking are only a few features of the Flipbook-format portfolio. Such a portfolio can include videos, audio files, links, and interactive images. Publuu lets you link to outside or embedded galleries easily and your online portfolio can reflect the full wealth of your experience. What's more, your document is more versatile because it can be downloaded without the multimedia, and your potential clients will simply receive your portfolio in the regular PDF – and you can even get the hard print. Many people prefer to design portfolio as an album rather than a portfolio website, and Publuu lets you combine these two worlds.
Your digital portfolio can also easily be shared with people all over the world thanks to the flipbook format. You can show it to all sorts of users via social media like Facebook, Youtube and other platforms, embed them in your e-mail or just put a QR code on your calling card – with a link to a beautiful flipbook.
Flipbooks are designed to work on all screen sizes, resulting in stunning spreads on large screens and fluid scrolling on mobile devices. Publuu's Flipbook is a great way to make an online portfolio that includes elements of a product offer or a resume.
Publuu provides a free trial period, and very effectively priced basic plan – in essence, this is inexpensive PDF hosting. In addition to your portfolio, you can use this website to share other works, which is particularly useful for graphic design professionals and all sorts content creators. Adding a flipbook to your site will make it one of the best portfolio websites out there.
Squarespace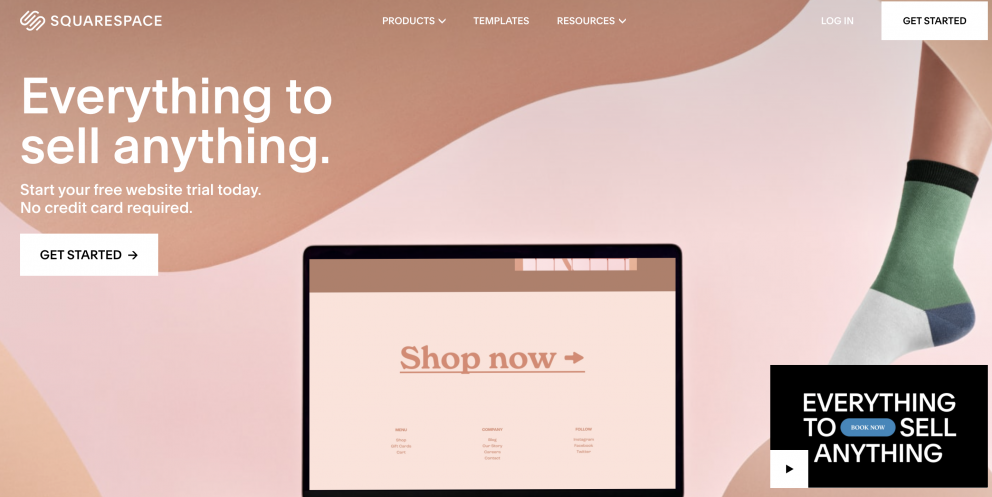 Squarespace is a website builder with which you can build your own online portfolio. This site is especially popular with photographers and artists because of its affordable monthly premium plans and beautiful templates. Squarespace is very user-friendly, and it's easy to create the portfolio of your dreams with it. One of the biggest advantages this portfolio website has over free sites like WordPress is its great, award-winning customer support.
All Squarespace templates look beautiful on mobile devices to make your online portfolio look great anytime, anywhere. Graphic design, style, fashion – you can create great quality, professional-looking portfolio websites using their plans. Today, about 52% of websites are viewed on mobile devices, and many more people are using their business phones to network. So it makes sense to choose mobile-friendly solutions.
Squarespace portfolio templates also have useful features built in. With Squarespace, you'll be able to set up your own blog or communicate contact information to others. However, it's not as flexible a platform as WordPress – you can't easily run your own store, integrate your graphic gallery with your blog or notify you when clients want to contact you.
Squarespace plans cost from $12 per month. Even the basic paid plans give you this large range of features, including unlimited disk space and bandwidth (perfect for portfolios with lots of photos). New users have access to start with a 14-day free trial period so this is a very good feature.
Hostinger
Hostinger offers a tailor-made website builder for both beginners and experienced users, thanks to its intuitive drag-and-drop interface. The user-friendly design allows anyone, regardless of technical background, to easily create visually captivating websites.
Explore a diverse array of professionally crafted templates catering to various industries and design preferences, including an exclusive selection tailored for creating a captivating portfolio website. These templates can be easily customized to align with your brand's identity. Customize colors, fonts, layouts, and content to create a portfolio website that reflects your unique vision. Moreover, the builder has responsive design tools, ensuring your site looks impeccable on desktops, tablets, and smartphones.
Additionally, incorporate dynamic elements like contact forms, social media widgets, and interactive maps to engage visitors effectively. With SEO tools and analytics, your website is primed for better search engine visibility and visitor behavior tracking.
Once you're satisfied with your design and content, hit the publish button, and your site goes live instantly. The builder also provides hassle-free domain registration or connection if you have an existing domain.
Wix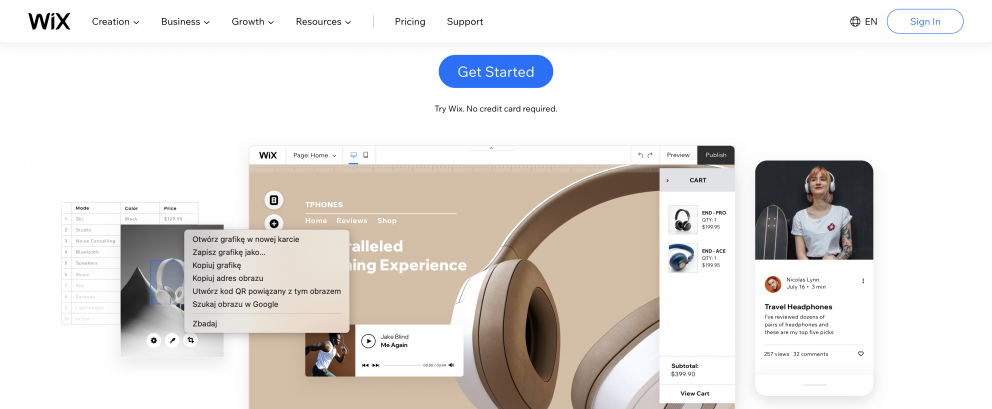 Wix is a simple to use, innovative website builder. Thanks to a very user-friendly drag-and-drop editor, you will be able to craft a portfolio website in no time. This service offers hundreds of templates – with dozens created specifically for displaying portfolios. With Wix you can integrate your blog posts and showcase your work easily.
With many of the options to create galleries, marketing your content, you can create one of the best portfolio websites that can be found on-line.
The whole site is free to use, but the premium plans (starting from $14 per month as of 2021) offer more storage, bandwidth, the ability to disable ads and fantastic customer support. Paid plans let you use a custom domain name and large storage is essential to all sorts of graphic design professionals – as we all know; images can be large. Premium plans let you also use more templates and tools – Wix offers an app store, which has many simplified functionalities that require some programming know-how in WordPress.
Journo Portfolio

Contrary to its name, this is not just a portfolio website for writers and journalists. This portfolio website builder was built to allow the customers to present their entire visual work – it will work great for graphic design professionals as well. Much like other websites, it offers a live preview editor, an offer to run a blog and the ability to get a custom online name.
You can import WordPress content, and the whole portfolio website is well-integrated with social media links as well as Mailchimp – if you're a freelancer, you can keep your customers, followers and potential coworkers well-informed about your recent creations.
Journo Portfolio website offers two paid plans Pro (with the ability to reserve your own domain name) or Plus with unlimited articles and pages – which is great for creative graphic design professionals or writers. The Free version offers space only for ten articles. Due to low costs, availability, great SEO tools, it might be the best portfolio website for professional writers or layout specialists.
Muck Rack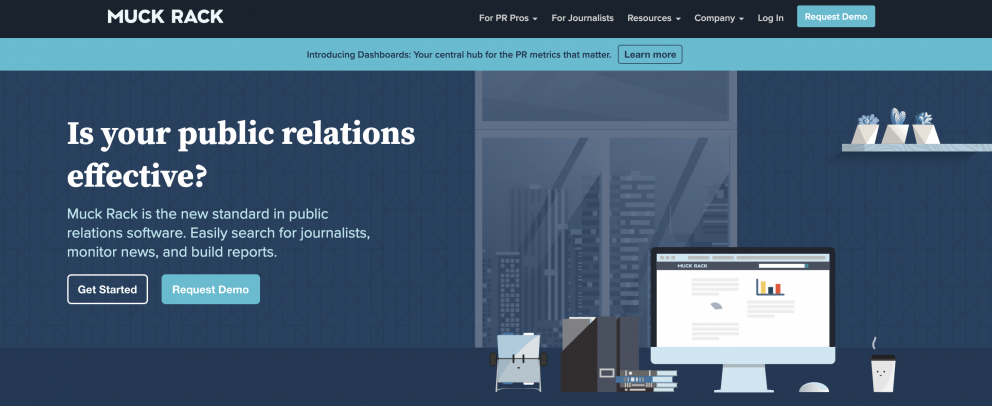 Muck Rack is exactly just a website builder. It's a free database that connects journalists and public relations professionals. You will have many opportunities to network and receive PR offers, and press releases if you are a member of this website. This website will allow you to be kept up to date on new trends and stories.
Muck Rack also creates and maintains your portfolio for you by automatically compiling articles and social media profiles with your name, which is particularly useful for writers and journalists. You can make a portfolio online on your own, but the website will save you a lot of time. However, the main functionality of this website is not to connect authors with clients – portfolio websites for creative designers should be more versatile.
The site is not only available in the United States; you can check to see if it is available in your country. Muck Rack offers a free trial to casual writers and many premium functions to verified media professionals.
Behance

Behance is more than just a portfolio website for graphic designers and artists. It's a professional way to share and advertise your work, integrated with the Creative Cloud which is Adobe product network. Not only can you showcase your graphic work to the world, but you can use Behance to instantly sell it or download assets made by others.
Behance is also an extremely modern social network for all sorts of creative types. You can announce with one click that you are looking for work, comment on the work of your colleagues, and observe other artists. Many professional companies start their search for a graphic designer right on Behance.
This site is simple and easy to use – you can organize your work on a project basis, view a list of graphics you're working on, and ask observers for feedback. It allows you to link your portfolio to your social media accounts – so you can easily keep in touch with your fans. This is very important for creators who can present social proof to potential clients.
This site is perfect for creators who don't have time to create their own standalone portfolio website. Having Behance is essential for any fresh talent who wants to get noticed. The free plan is a good option, but professionals opt for the paid features (which integrate with Adobe) – an excellent investment for a designer.
You can try out other "gallery" based portfolio websites, like artstation (offering a rich online store and many similar abilities to contact clients) or less professional DeviantArt which can, however, contact you with anyone watching your space. For years, one of the best portfolio websites was Flickr which is still used by some photographers, model makers and interior decorators. The basic account on many of these sites is free and widely available.
Adobe Portfolio – more professional portfolio website
Adobe Portfolio is related to Behance – it offers you an ability to integrate with it as well as with the Adobe Lightroom – but it's a portfolio website builder on its own. You can quickly and effortlessly create a beautiful portfolio site that showcases your entire creative work. You can easily pick a layout of your portfolio and customize it – using a whole library of Adobe Fonts.
Adobe Portfolio websites are optimized for mobiles, and you can reserve your own domain for your entire site. The website builder allows you to use lightroom effects and amazing features like photo grids. You can create a beautiful single-page gallery or a multi-page website for your professional portfolio site.
What's more, you can include Adobe Portfolio in your package of Adobe Creative Cloud subscription – including access to Photoshop and Illustrator. If you're an industry veteran, this means that you can effectively get access to Adobe portfolio sites for free!
Weebly
Weebly is one of the simplest and most affordable options for building portfolio websites. On our list, it might be one of the best portfolio tools. Weebly's drag-and-drop interface is very user-friendly, and you can show off your work in just a few minutes it takes to set up a new website.
Weebly's simple designs and templates are mobile-friendly and ideal for basic portfolios, but if you want something more unique, a third-party template is worth considering. Creating a portfolio gallery is easy with these beautiful projects – many let you use whitespace effectively and present your design work effectively. There are many independent creators and you can find the perfect online portfolio package that's just right for you.
Weebly's suite of diverse free SEO tools are one of its best features. From the moment you start writing a post, you have a lot of options to promote your studio to your visitors. Simply by using the SEO package, you will be able to write excellent posts and promote your portfolio online.
Weebly's editor is a simple drag-and-drop editor that allows you to move elements around on the page as you see fit, making it ideal for creative uses. The Weebly editor also has a built-in forms editor, making it simple to add forms and encourage visitors to contact you directly after they have admired your portfolio online. This is useful to let potential clients/customers get in touch with you.
Weebly is a good choice for small, simple portfolios or anyone looking to create a portfolio website quickly and on the cheap. Because editing is simple, you won't need to worry about HTML or PHP knowledge. This service is ideal for newcomers looking for something adaptable to design portfolio gallery.
Weebly has a free plan that allows you to create and publish content without spending any money. However, you'll need the Professional $12 per month plan to remove ads, get real value for your money, and build a truly professional portfolio.
Strikingly
Strikingly is a great website builder tool that allows novices to quickly create modern and beautiful portfolio websites. Strikingly's additional features will allow you to create the online portfolio of your dreams.
If you need a free responsive website design tool that looks amazing on mobile devices, then Strikingly.com might be the perfect solution for you. Just a reminder that a potential client will be viewing your gallery on a cell phone – clients are short on time!
Strikingly is the perfect tool for creating your personal portfolio. No coding knowledge is required. You receive easy-to-use custom templates and elegant design features, supported by a powerful and intuitive drag-and-drop website builder. Even if you use the free plans many of the site features are available to you.
The free website option is a good option for newbies looking to create their own simple portfolio. The first option is a free account that provides a monthly bandwidth of 5 GB and the ability to sell one product per site – a pretty serious drawback for designers who frequently sell their products online. Fortunately, more advanced plans will allow you to sell graphics without limits.
Similarly, the free plan offers a strikingly domain – which is hardly professional. The Limited plan lets you choose your own domain but you can still sell up to 5 products online.