MENU
Travel Pamphlet: Tips for Begginers
Travel brochures are ideal for people who want to explore the world outside their comfort zone. From choosing the perfect destination to packing wisely, planning your trip, and staying safe while enjoying an unforgettable experience, you can reach for a brochure every step of the way.
In our guide, we'll explain how to create your own travel brochure, what a digital brochure should have, and how to publish it online. Read on to learn more about brochure design and start creating!
What's a travel pamphlet?
A travel brochure is a short pamphlet that can give all sorts of information to potential travelers. They provide detailed information about their travel destination different places and attractions, including accommodations, transportation, cultural events, and unique itineraries.
Brochures often feature stunning photos and captivating descriptions, designed to inspire readers to travel and plan their dream vacation in a travel agency or on their own. Travel brochures are now available in print and online, with interactive features for greater accessibility to potential clients.
Publuu's online flipbook example



View more online flipbook examples

MAKE YOUR OWN
What should a travel pamphlet include?


Key features:


Versatility
Whether you're a hotel, a local café, or a historic site, a brochure can enhance your visibility. They can be used to promote a wide range of products and services of your business, from lodging and dining to special events and attractions. You can freely customize it: hotel brochures can be used to showcase facilities and amenities, as well as to highlight special packages and promotions. Restaurants or cafes can also promote menus or recipes.
Formats
Embrace both print and digital formats. While some tourists love the tactile feel of printed brochures, many find convenience in accessing digital versions on the go. Printed brochures offer several benefits, for many people, for example, they are a souvenir from their journey and can be kept for future use. Many tourists also appreciate the tangible experience of holding and reading a printed brochure. However, digital brochures still have many other advantages: your travel brochure can be accessed from anywhere, at any time, and on any device with just a click.


Interactivity
Digital brochures offer dynamic features – page-flipping effects, embedded videos, and interactive links, giving readers an immersive experience and boosting engagements. Videos can be used to showcase your destination or attraction in a more dynamic and visually appealing way, while links and galleries can provide readers of the travel brochure with more information about specific topics or allow them to book a trip or activity directly from the brochure.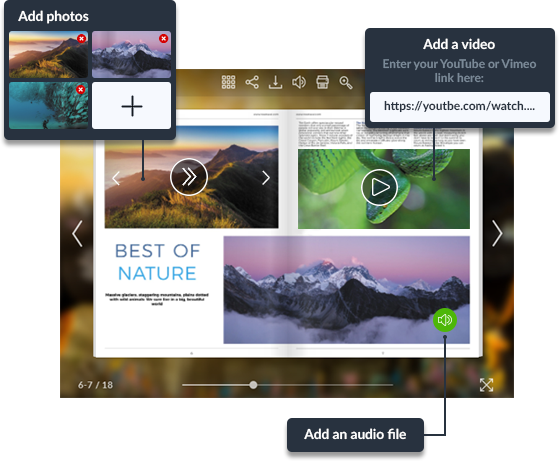 By incorporating interactive features into your digital brochures, you can make them more engaging and informative for readers, which can lead to increased engagement and bookings.
Personalization
Customize your brochure with distinctive branding elements like colors, logos, and custom backgrounds, ensuring your brand resonates with readers. You can do this by incorporating distinctive branding elements, such as colors, brand logo, and custom backgrounds. There are several tools available that can help you personalize your brochures, such as variable data printing and email marketing software. This will help to ensure that your brand interacts with readers and that they are more likely to remember your brochure.


Easy sharing
Digital versions allow instant sharing, embedding on websites, and distribution via QR codes or social platforms. This makes it easy for potential travelers to access your brochure and learn more about your destination or attraction. If you have an email list of subscribers, you can share your brochure with them. This is a great way to reach people who are already interested in what you have to offer.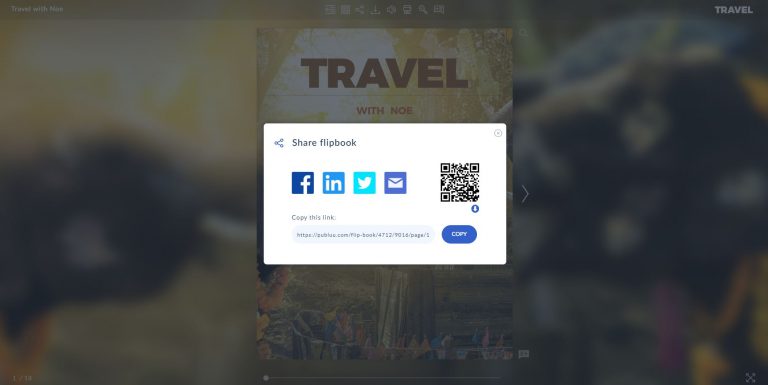 Crafting a travel brochure
You don't have to be a professional graphic designer to create brochures that are both informative and visually appealing. There are many great free tools and brochure templates that will help you in creating your dream work. You can use Canva, Adobe, or even MS Word and use a travel brochure template, adding your own photos. You can find more tips for travel brochure design in our Knowledge Base – see this guide to the best online brochure maker software.


1. Consistent design
Match the theme – tropical destinations might use vibrant blues and greens, while cultural spots might opt for muted tones. Complement your photos with a cohesive color palette. Choose fonts that are easy to read and that complement your color palette – simple serifs might be too boring for exciting vacation adventures!
If you're looking for more travel brochure templates, you can visit our gallery to find inspiration. Our travel brochure template gallery can help you find the templates you need to create exciting designs. Add your own images and customize the templates to design your own brochure, without the skills of a graphic designer!
2. Visual appeal
High-quality images are non-negotiable. Let readers visualize their potential experiences – from sun-soaked beaches to cultural landmarks. Consider using a variety of image types in a travel brochure, such as landscape photos, close-up photos, and action photos – sometimes all it takes is to show a location, but the human element is very important. Use your own photos to create a story about your destination or attraction, showing how it changes the visitors and allows them to relax. You can read more about brochure design by reading our guide to creating the perfect travel brochure.


3. Engaging copy
Write with passion, but remain concise. Use bullet points, headers, and local insights to enhance readability and offer value. Be sure to include local insights and recommendations. This will help make your travel brochure more informative and valuable for readers – avoid marketing language, each brochure must be something useful for the user. Remember also to use a call to action at the end of your brochure – check if your travel brochure templates have a special section for that. Tell readers what you want them to do next, such as visit your website, book a trip, or sign up for your email list.
4. Practical information
Always include critical details – addresses, contact information, and maps. Make it effortless for readers to reach out or find you. For example, you could include a link to your website or a QR code that they can scan to get more information. Consider including other helpful information in your travel brochures, such as transportation options, hours of operation, and admission fees. Remember, if a travel brochure is not useful, it gets thrown away!


Publishing a travel pamphlet
To use interactive flipbook tools like Publuu to publish travel brochures, you can follow these steps:
Create your brochure content. This includes the text, images, and videos that you want to include in your brochure. You can use brochure design software like Adobe InDesign or Canva to create your brochure, or you can use travel brochure templates you can find in our Knowledge Base.

Upload your travel brochure content to Publuu. Once you have created your brochure content, whether from a brochure template or designed it from scratch, you can upload it to Publuu. You can either upload a PDF file of your brochure, or you can use the Publuu editor to create your brochure directly from your design software.

Add interactive features to your travel brochure. Publuu offers a variety of interactive features that you can add to your brochure, such as page-flipping effects, embedded videos, and interactive links. You can also use Publuu's analytics tools to track how people are interacting with your brochure.

Publish your travel brochure. Once you are finished adding interactive features to your brochure, you can publish it. Publuu will generate a link to your travel brochure that you can share with others, or let you embed it in your e-mail.


Travel pamphlet examples
This travel brochure is patterned after a travel magazine. You don't need a lot of design experience – just look for a brochure template similar to a magazine.
The below travel brochure integrates aspects of a guidebook, photo gallery, and accommodation recommendations. You can create similar travel brochures with Publuu!
Summary
Whether you're an experienced traveler or a first-time visitor, a well-crafted travel brochure will be an invaluable resource. Luckily, brochure design doesn't have to be problematic!
You can design the perfect brochure to provide comprehensive information about your destination, including accommodations, transportation, cultural events, and unique itineraries so that your guests have the vacation of their dreams.
Add interactive features such as page-turning effects, embedded videos, and interactive links from Publuu to make your brochure more engaging and add value to your business.
You may be also interested in:
20 Excellent Food Brochure Templates
16 Creative Summer Camp Brochures