MENU
10 Strategies for Creating a Successful Writing Portfolio

Many people want to start a career as freelance writers. You're your own boss, you've got a lot of paying clients, and you do what you like best, namely writing.
However, it is quite difficult to start a new writing career without any examples of your writing proficiency. That's why you need a writing portfolio. For many newcomers, building a writing portfolio is the hardest part of starting a freelance writing business. Everyone knows they need to stand out online – and your online portfolio needs to showcase who you are.
In our blog, we'll write about how to compile your writings, and how to present yourself as the most qualified candidate through examples of successful freelance writers. We'll give you examples of portfolios and how you can use your texts to develop yourself as a freelancer.
Content writing portfolio – all you need to know
A freelance writer can easily present his work to potential employers with an online portfolio. In addition to samples of your writing, your portfolio should include a short, interesting, and not too self-promotional biography as well as a number of testimonials from past clients about your writing skills. You might want to add a resume to your online portfolio, but it should be matched to the style of the entire document or portfolio site.
Since the purpose of your portfolio page is to highlight your copywriting skills, it should include only the best texts you've written. Many freelancers who are just starting out in this business make the mistake of including every piece they've ever written in their portfolio website.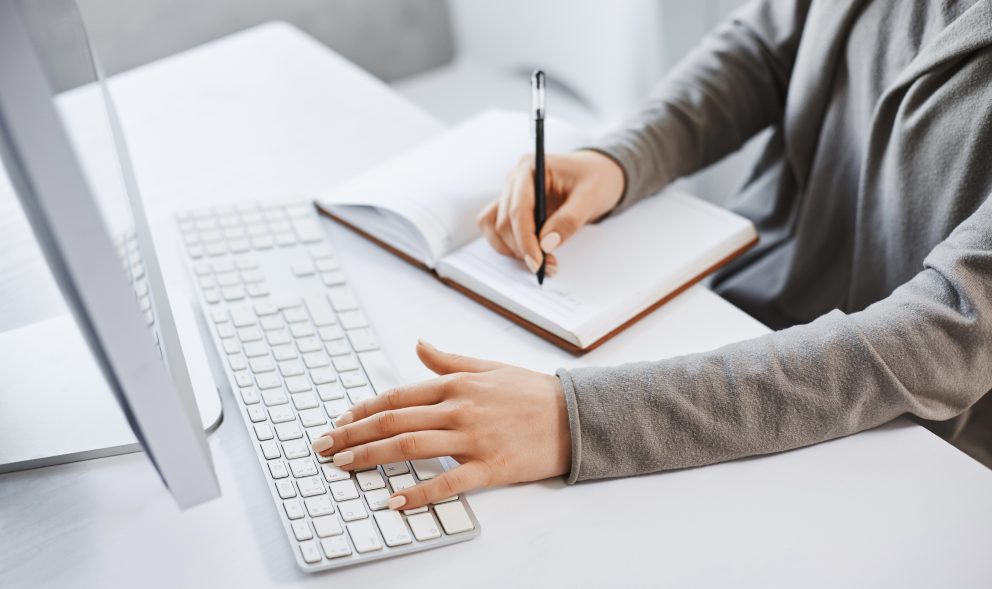 This is not the worst thing to do, but it immediately marks you as a beginner. If you are an experienced freelance writer who has written for various companies, you should highlight only your best work in your online writing portfolio.
The details depend on the industry, but the tone of your portfolio page should be quite professional. If you have a track record in a less formal industry, like creating comics or writing for children, you can use a writing portfolio that is fun, colorful, and lightweight. However, if your writing samples are more general and professional work, stick to a matter-of-fact tone.
All in all, you should choose work that demonstrates your writing style, sense of humor, flexibility, or other desirable qualities to showcase in your writing samples.
Create your writing portfolio with Publuu
An online portfolio should be a compilation of your work that showcases your creative skills and presents them online. That's why you want it to stand out from the crowd, showing your professionalism, enthusiasm, and uniqueness as a freelance writer.
Publuu allows you to create an online portfolio from PDF format. You can easily prepare a document containing your best works, formatted in a beautiful way with a nice layout and well-chosen fonts, enhanced with illustrations and not only these. Thanks to this innovative writing portfolio format you can attach videos, GIF files, or image galleries to your texts, which a PDF portfolio does not allow.
Publuu's online portfolio example
View more online portfolio examples
The digital portfolio can be opened on any online device, and you can also add links to other texts or your LinkedIn profile. All you need to do is create a PDF document showing your work, and then convert it to online portfolio using Publuu.
Your HTML5 resume or portfolio will look like a real book in the hands of users. This will make you stand out from the crowd, as an online portfolio is more engaging than a standard PDF. In addition to work examples, you can include your introduction, and many others – and annotate it all with interactive links.
What's more, digital portfolios from Publuu also have excellent analytics. With Publuu, you can see if a client you care about has read your writing portfolio, and how many people have viewed it in the first place. You can also find out which parts of your content are most interesting to your audience and which pages of the PDF draw their attention.
Writing portfolio – examples
If you are not sure how to make a writing portfolio, we can recommend a couple of popular writers' sites as freelance writing portfolio examples.
Elaine Bleakney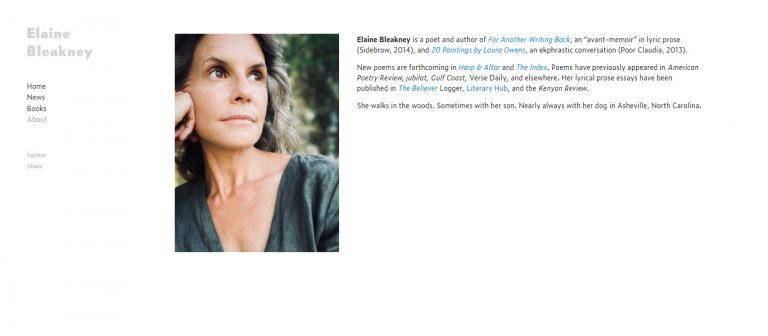 Elaine Bleakney, a writer, provides an overview of her texts and poems on her website, complete with cover art, reviews, and praise from her contemporaries and critics. The simple design of her WordPress site keeps the focus on her writing and makes it easy for readers to find her published works and, if they like them, buy them.
Kelsey O'Halloran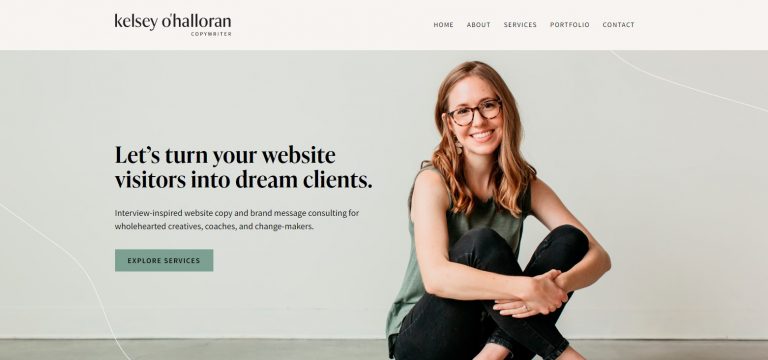 Kelsey O'Halloran's portfolio is a model of professionalism for a copywriter's website. On her homepage, she highlights her most impressive piece of work. Calls to action are an integral part of her professional writing portfolio. People who go to her portfolio website will see that she actively asks them if they want to know more about what she has to offer.
Evan S. Porter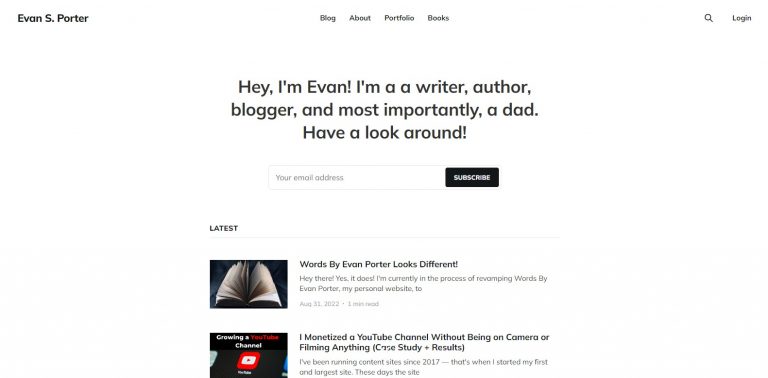 Evan S. Porter's site is very accessible and from the get-go, you can get samples of his writing on this excellent writer website. He is eager to share his creative writing samples and showcase his most useful pieces of work. You can easily contact him and read his blog posts.
We can find many more writer portfolio examples online – but it's important to be creative and not just copy portfolios you find online! Consider the presentation of your work and look at how other writers promote themselves.
How to make a writing portfolio – helpful tips
A good writer's portfolio is simply about telling a story about you and your work, and showing the potential customers samples of what you have achieved.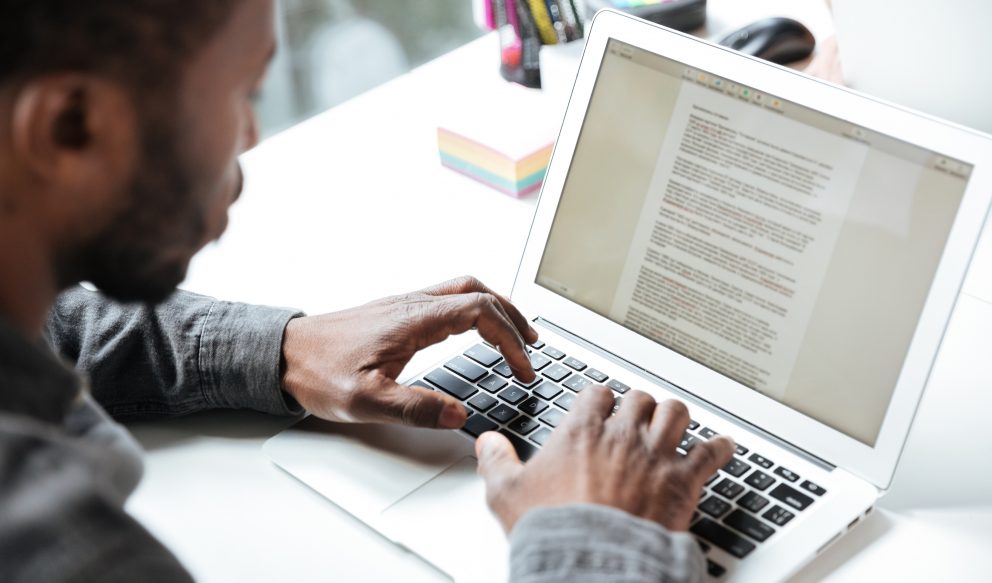 With an online writing portfolio, your potential clients should be able to effortlessly browse through writing examples and learn everything they need to know about you.
In addition to samples of your own writing, you need to provide them with an easy way to take the next step and contact you again. Here are some writing tips to help you create the right writing portfolio website.
Add graphics to the text
Many portfolio sites are not aesthetically pleasing – freelancers simply pick a ready-made professional online portfolio template and call it a day. However, proper use of graphics can make your portfolio page very visually appealing.
For starters, we suggest you use appropriately sized thumbnails that symbolize each of your writing projects. You can use a screenshot or a completed piece of text – a screenshot of your blog site will look quite professional. However, you need to make sure you have permission to use this graphic.
Quality, not quantity
You also don't need to present a mass of writing samples to demonstrate your expertise. In fact, people visiting your online writing portfolio won't have time to go through all your projects, so choose the best ones.
Post 4-5 writing samples on your writer website that showcase as many forms or themes as possible, depending on your area of specialization. If you have some texts that you absolutely want to showcase – for example, ones that won an award, present your writing ability, or were very popular, put them on your portfolio website and make sure that they are visible.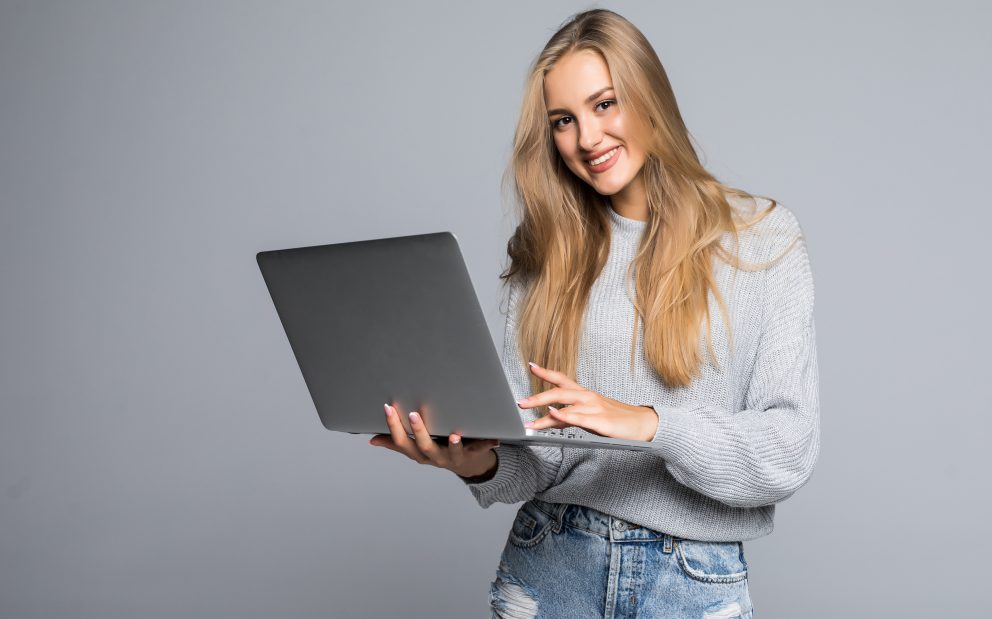 Your biography
Your author bio is designed to present you as a person to potential clients who are interested in your creative writing and your person. Tailor it to your own style and website design.
Consider including the following: where you're from, where you live, and how and why you became a writer. More experienced writers can list already interesting publications, honors and awards, and specializations. Add something interesting that makes you stand out from the mass of others.
Add recommendations from readers
You should also showcase any professional recommendations or testimonials from users on your own writer website.
With testimonials from real people, it can make the reader feel more at ease contacting someone in an age where anyone can say anything on the Internet. Ask your former partners for a sentence or two that can be quotable and put them somewhere in your writer portfolio.
Well-chosen recommendations will help you create an eye-catching online writer portfolio that will help your readers understand your work more effectively.
Add a contact site and a call to action
Once your writing portfolio encourages readers to take action, you need to get them to contact you right away. Create a contact page and link it to the top menu of each webpage you visit. Add some social media links if you have writing-oriented profiles.
Your contact page should be kept up-to-date. Always include a call to action, too. This has a good psychological effect and can greatly increase the number of people who choose to contact you.
How to build a writing portfolio with no experience?
Everyone has to start somewhere – including any freelance writer. A well-built writing portfolio is one of the basic elements by which you can get good gigs, yet you need already existing work to build a good writer's portfolio.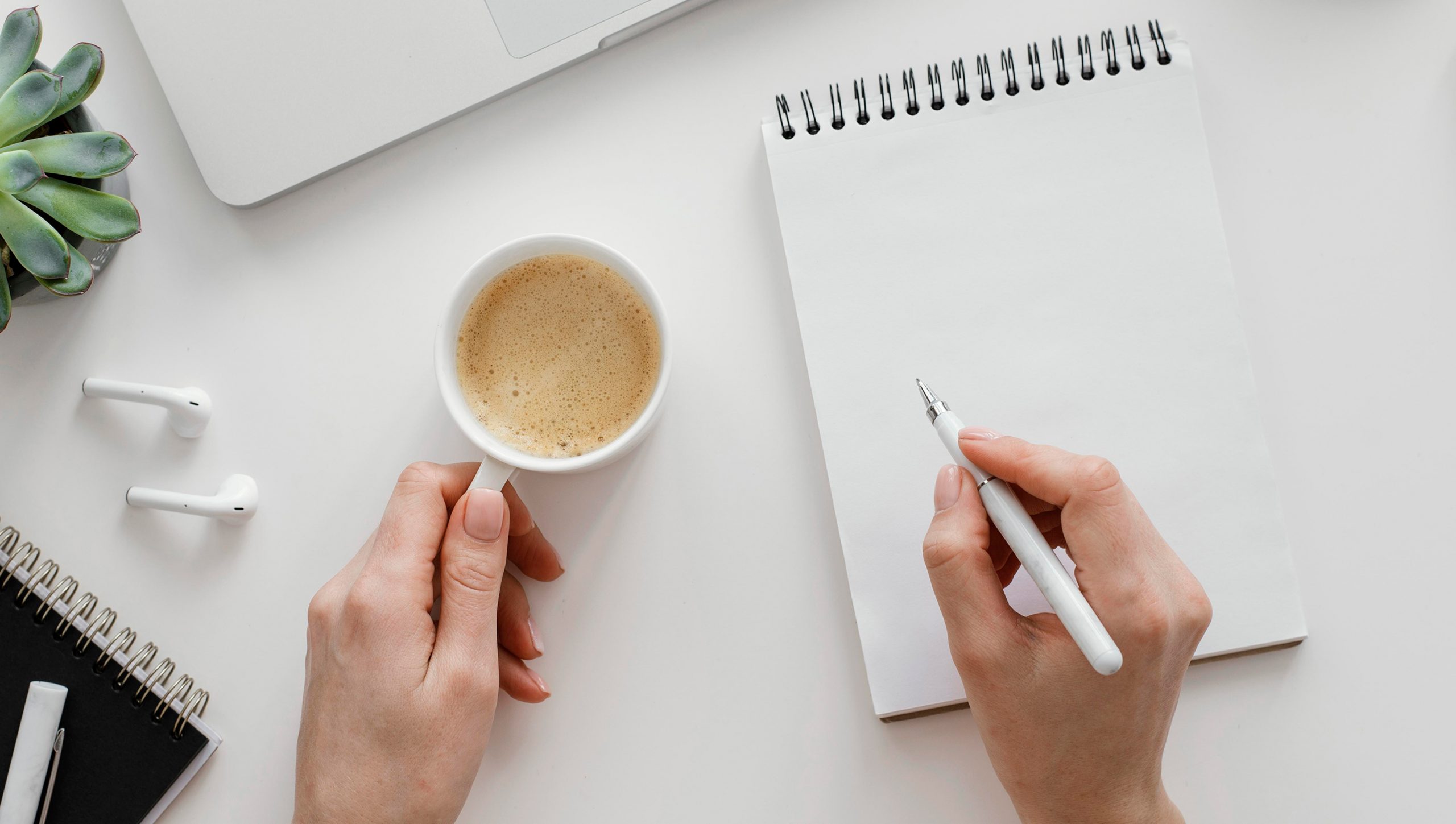 It's a vicious cycle, isn't it? How can you build a writing portfolio when clients won't hire you because you don't have a good writing portfolio?
So how do you build a writer's portfolio without experience? Although it takes some creativity and hustle, it's entirely possible; in fact, countless writers start this way. Here are a few strategies to help you do it.
Reuse any experience
First, you need to realize that you definitely have more creative writing experience than you think. Think about your work and personal experiences, including volunteer or hobbyist work – surely, if you want to become a freelancer, you've written something for them. Maybe you created content for a company newsletter, wrote guest posts on a friend's blog, or created reports or biographies of workmates.
Maybe you were responsible for a website or social media profile at school. Or maybe you even made up bedtime stories for your children. All of this can have a place in a writer portfolio if it's properly edited and processed.
Write for free – only if it's useful
Is it worth adding free samples to the portfolio? Rather not.
A freelance content writer should always charge a fair market rate for their work. Free texts spoil the market. Even if you have no experience, you should value your time and not just do hard work for free.
However, you can do free services for other purposes – free work for NGOs, content marketing for religious organizations, or working on open-source software is not only laudable but helps you gain experience as a freelance copywriter or editor. If you must work for free, at least let it be useful.
Writing on spec – just in case
A better option is writing on spec – that is, with no guarantee that the work will be published or paid for. This is quite a good option for novices who need to build their personal brand, but we advise against it for experienced professionals.
Create a lot of texts related to the self-chosen topic – including the necessary research, interviews, and proper preparation. Then you can put it up for sale – sometimes, if you have direct contact with editors, you can present it to them in person, or use a text marketing website.
Writing on spec works especially well if you have an idea for a niche topic that you feel would be a great fit for a particular publication. And if editors reject the text, you can just as easily move on to the next one, or put the text on the open market. At worst, you'll have a high-quality writing sample for your writing website.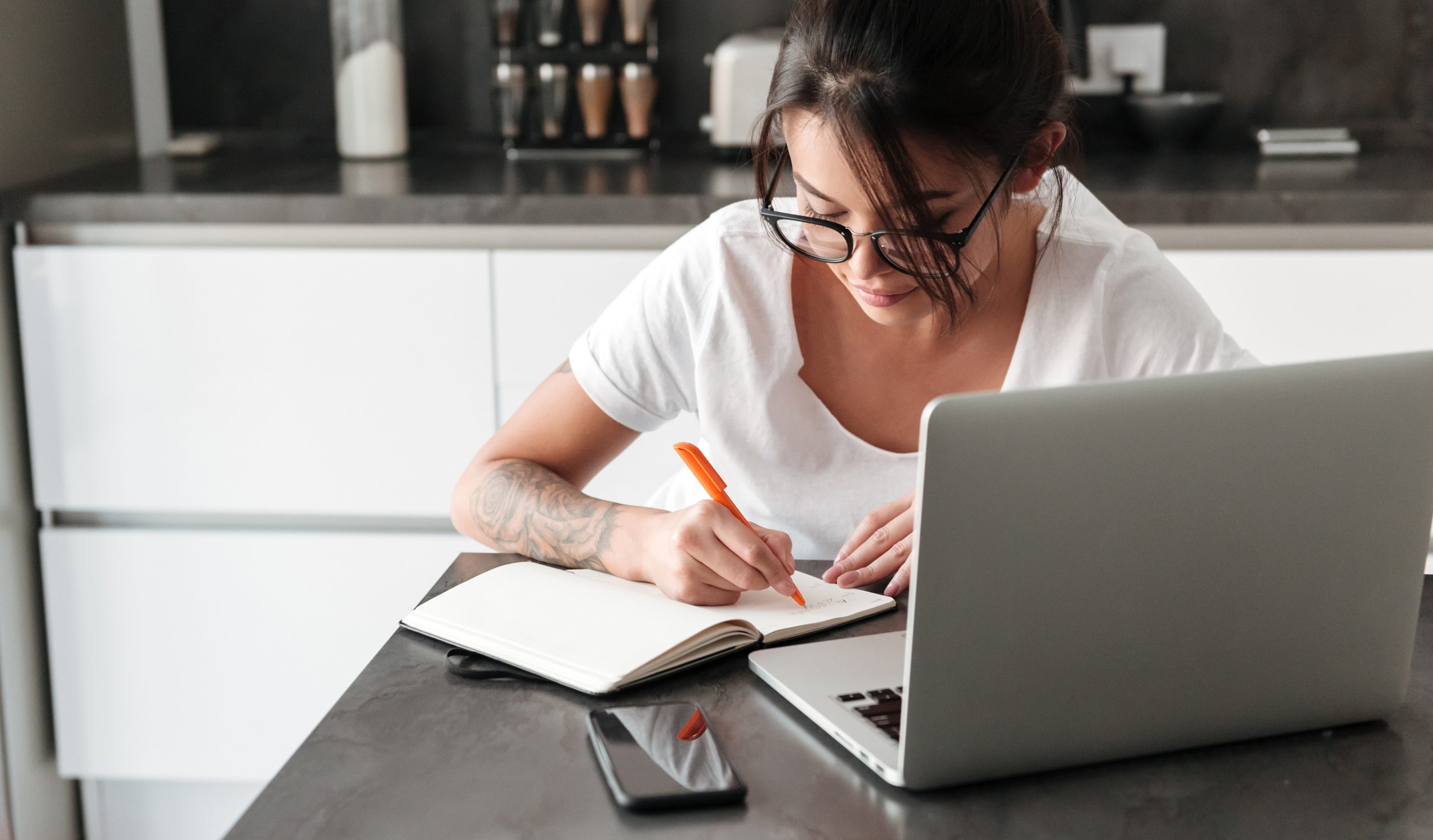 Write for yourself
The easiest way to build your writing portfolio when you have no experience is to write something for yourself. Do you have an uncle or grandfather with an interesting story? Interview them and write a feature article. Watched an interesting movie? Write a review – as if you were writing it for a daily newspaper.
Post it on your blog or social media website, see people's reactions, and rewrite it for your writer portfolio. Having a blog is a great way to hone your writing skills – and whoever doesn't like writing doesn't become a writer!
Write what you like
If you don't have anything to write about… write what you would like to write about. Consider what are you good at, what are you interested in, and what is easy for you to write about, then build your portfolio around this writing niche.
Maybe you like to cook, play video games, or are curious about electronic gadgets? These are all great ideas for a blog – and you can add some of your best posts to your freelance writing portfolio.
You might also consider experiences you want to revisit. Write about your family life, places you've lived and traveled to, or about your future.
However, don't write it like a regular blog post – simply think about how can you sell it. Every thing you put in your writer portfolio should be a part of your personal digital marketing scheme. Would a potential client buy it?
Use tools like Answerthepublic or Google Trends to see what topics are popular. Write about yourself – but for a prospective client.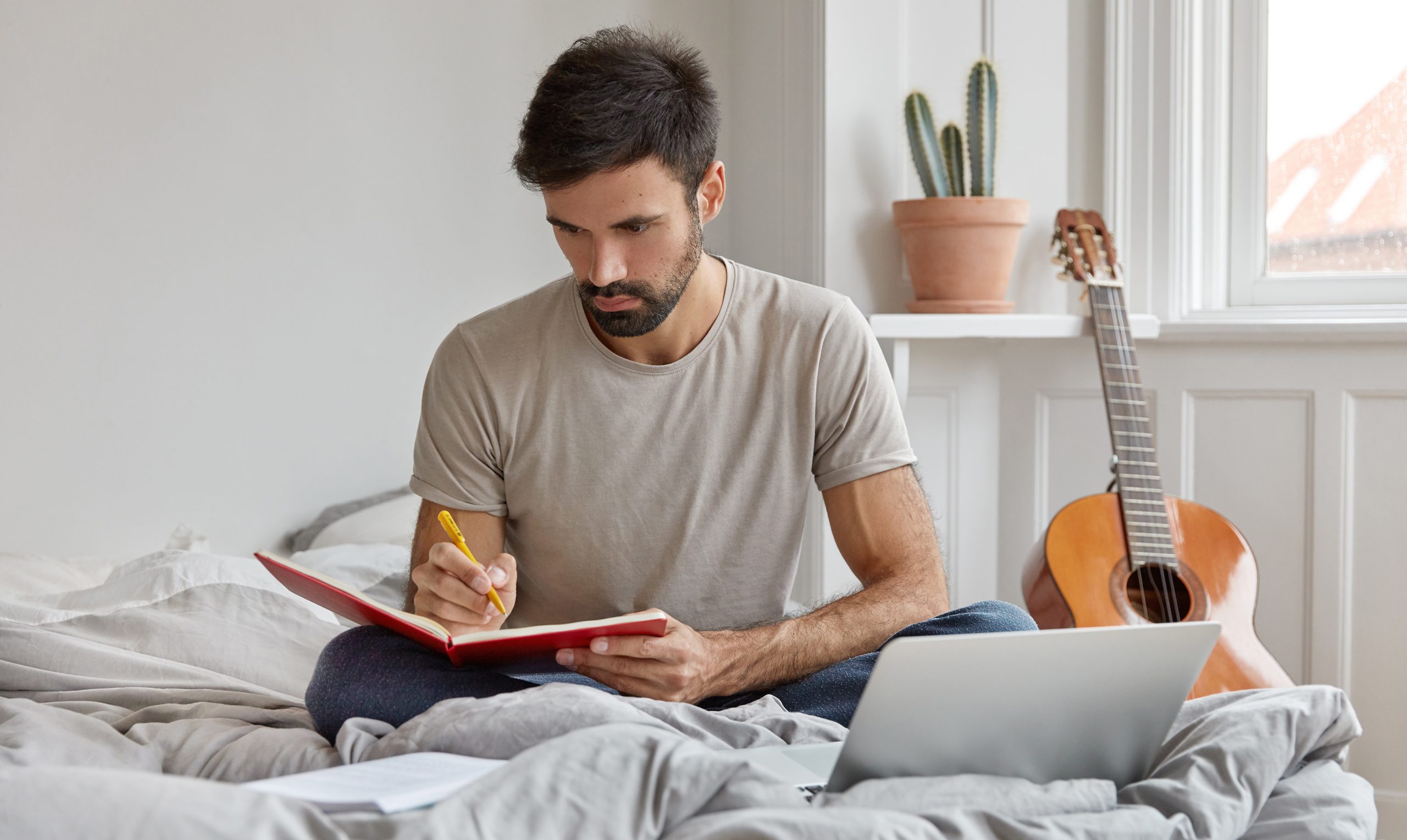 The best writing portfolio sites in 2022
Your online profile is increasingly important to the success of your business as a freelancer. This matters especially in the early stages of your career when most clients will find you through search engines. You want to position yourself well and raise the visibility of your writer portfolio online.
Potential clients who don't know you yet need to be able to evaluate your work, style, and professionalism in a short period of time. You'll need more than just a social media presence to serve as your online business card (although a large number of Twitter followers certainly can't hurt when you're trying to become a writer).
That's why most writer portfolio examples online use a dedicated website. Here are some simple portfolio sites that you might find useful for creating your own gallery – and you can also embed an online portfolio from Publuu on them.
Clippings.me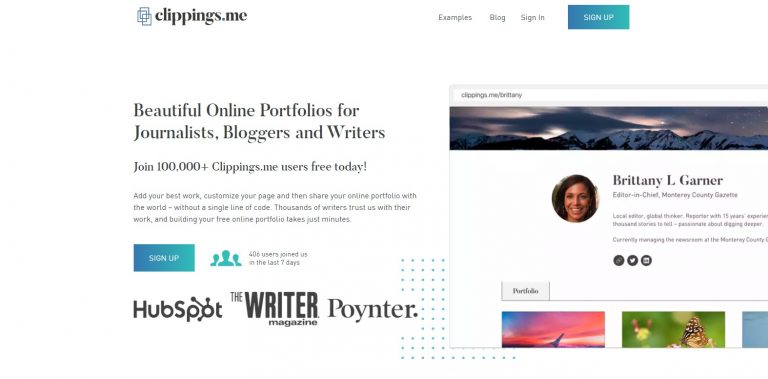 Clippings. me is a site mainly for freelance journalists. You can upload videos there, but you can also upload PDFs and embedded media such as podcasts, so you can create a very spectacular online portfolio.
It's also worth recommending for good help for newcomers and an open journalism directory to help you find new contacts. This is a fantastic option if you are technically inept, but want to change the look of your online portfolio. The basic option (up to 10 articles) is completely free.
MuckRack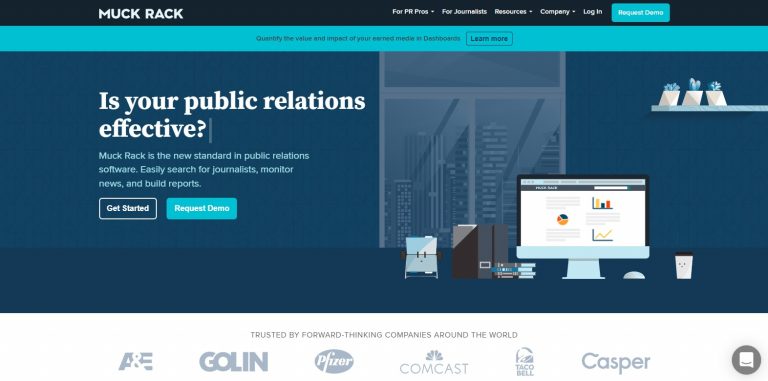 Muck Rack is a media database that facilitates communication between journalists and public relations professionals. You can quickly start working with new groups through it, but many people use it for their writing portfolio sites and profiles.
This site creates and updates your portfolio automatically. You can easily add a selection of your best work to your profile to make it unique. Muck Rack advertises itself as the simplest platform where you can showcase your work without restrictions, and expand your audience. Muck Rack instantly shows how many people have shared your post on social media and which other authors have linked to your work. What's more, the basic version is free.
WordPress.com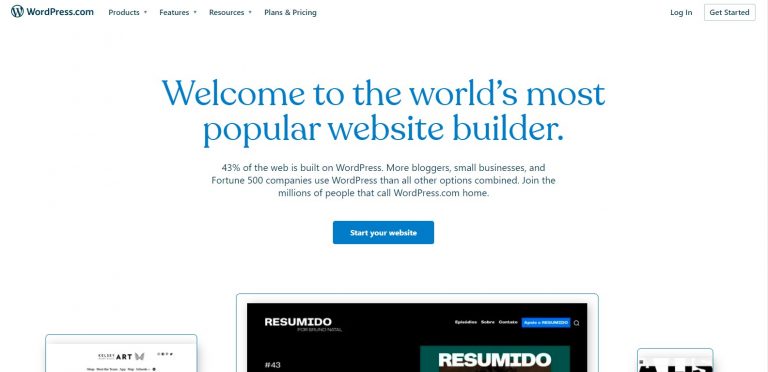 70% of the world's sites use WordPress – because it's free, easy to use, and beautiful – so you can use it too. You can choose a free, simple blog, a premium version with extra features, or a just use the free option if you can find affordable hosting and a domain.
There are plenty of plugins and themes in the WordPress store to build your own writer portfolio – whether for free or by shelling out a bit of cash. If you're looking for a lot of flexibility and freedom in your projects (and don't mind tinkering with HTML and CSS), this is the platform for you. You can use free wordpress.org hosting or set up a wordpress.com blog with your own domain.
Contently.net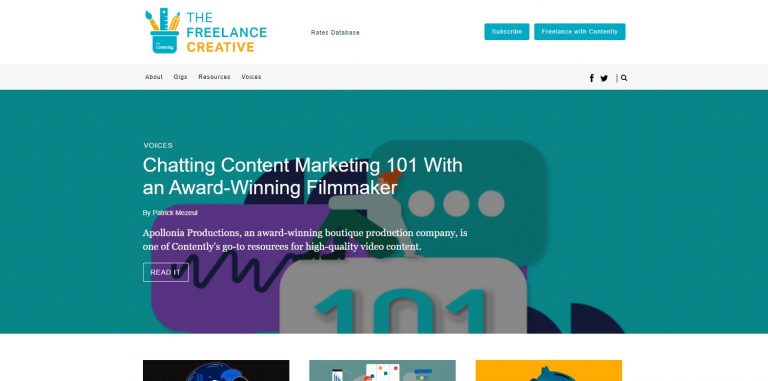 Contently, a content marketing and technology company founded in 2010, also allows freelance writers to create portfolios. Using the service, clients looking for freelancers can find writers with the experience and portfolios they need. However, anyone can simply open their own portfolio using this service and publish writing samples.
Wix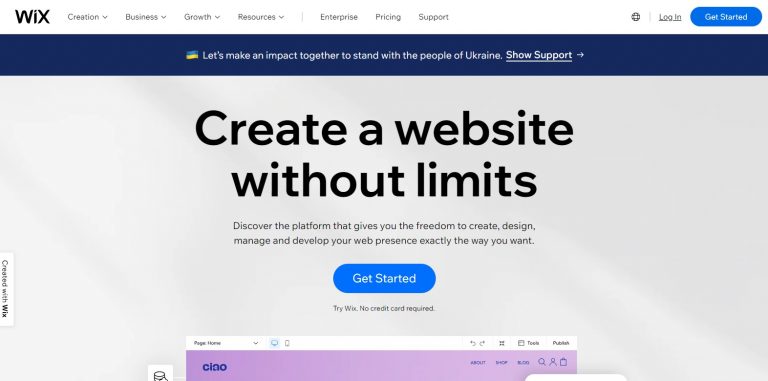 Wix is a general platform for creating websites – not just for freelancers. However, you too can create your own site to publish content. The platform provides a wide range of customizable theme options. The coolest feature of Wix is the wide range of add-ons or modules you can use to expand the capabilities of your online portfolio. It's easy to design your site using the drag-and-drop interface. You can save all your media files and photos in the media library, which has up to 500 MB of space.
Weebly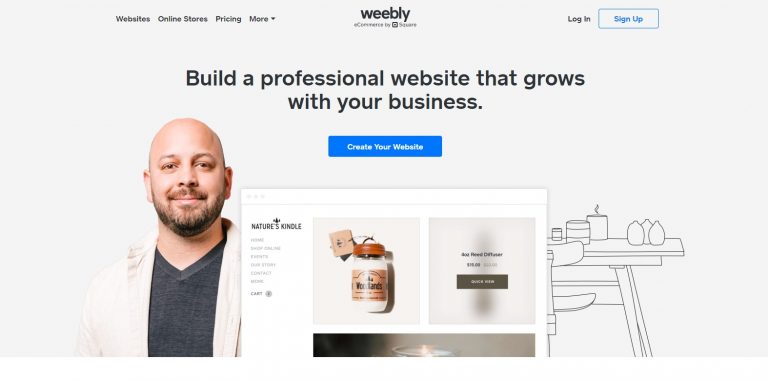 Weebly is another well-liked and practical website builder, ideal for creating all kinds of sites, including online writing portfolios. To start creating a portfolio, choose one of the many available themes – place text files or links to documents like Google Docs, OneDrive or Zoho Writer.
The Weebly editor is easy to use and allows you to incorporate many elements into your site, such as forms, galleries, buttons, and more. Weebly is also free, but the free version allows you to upload files up to 100 MB.
A summary
Aspiring freelance writers know that starting out in this profession is difficult without a portfolio that helps you impress potential clients and showcase previous writing jobs.
Your internet portfolio sites should be professional, tell your story and show your writing skills – thanks to samples and fragments of your best work. There are many great writer portfolio examples online – but you should adjust your own profile to your capabilities and experiences.
One great way to present your portfolio in a professional way is with Publuu online portfolio maker – elegant, online-accessible and containing many great interactive features.
You may construct portfolio sites with Clippings.me, MuckRack, or Contently.net. If you want flexibility and independence in your endeavors, choose WordPress. You can publish files as PDF or embed Publuu digital portfolio to present some of the best portfolios and showcase your writing skill to the world!
You may be also interested in:
17 Modern WordPress Alternatives
5 Tips to Create Your Own Architecture Portfolio
Photography Portfolio – All You Need to Know