MENU
10 Unique Wedding Brochure Templates
A wedding brochure is a marketing tool that can be used to promote a wedding. It is usually designed to provide information about the wedding, such as the date and time, venue and location, dress code, and more.
While many people think of it as just a piece of paper with some text on it, the truth is that you can create an effective marketing tool with a wedding brochure to help you advertise your event. Thus, a wedding brochure can also be used by wedding planners, wedding photographers, or any other organization or brand connected with the wedding preparation process.
In this article, we will take a look at how to make a good wedding brochure or what to include in a wedding brochure content. We will also provide some of the most beautiful wedding brochure templates, so feel free to browse them all and find the inspiration for creating your own digital brochure!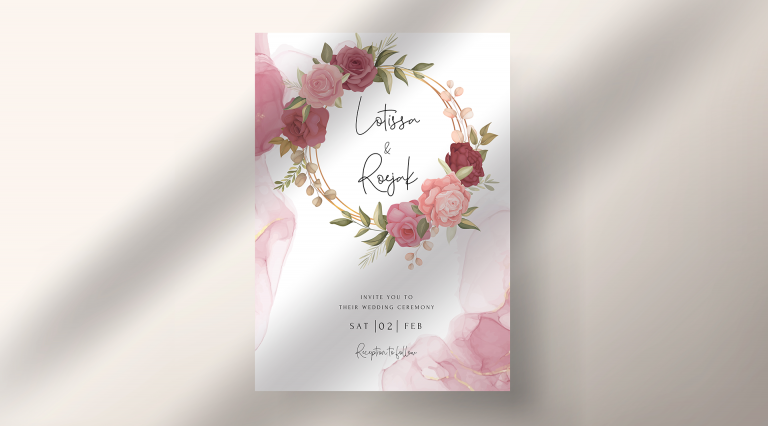 How to design a wedding brochure?
The majority of wedding brochures are designed to make people feel like they are getting an inside look at the couple's life and love story. However, they can also be used as part of the promotion materials for a wedding, or they can be distributed to guests as an invitation.
A well-designed wedding brochure can help make the event a success. An effective wedding brochure design should be eye-catching, creative, and engaging. It should also be able to stand out from other promotional materials.
The most important thing to remember when designing your wedding brochure is that it should be memorable and unique so that people will remember you by it long after the event has passed.


What to include in a wedding planner brochure?
The purpose of a wedding planner brochure is to help potential clients understand the services that you offer. The brochure should include information about your company, your team, and the services you provide.
The content of the brochure should include information about the company's offerings and pricing. It can also feature some photos of the company's previous work.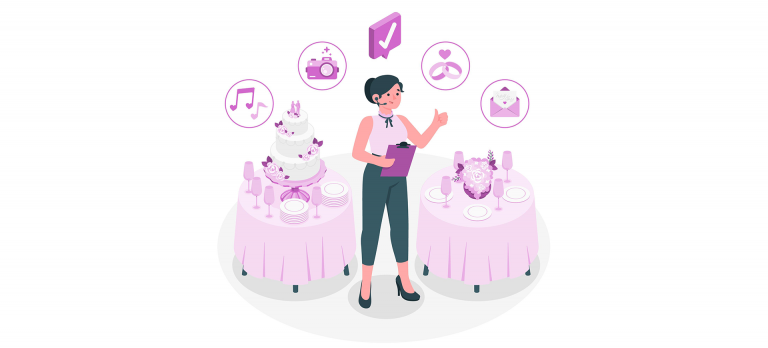 You should remember to include your company's contact information like address and phone number as well as a short description of what you do including the services that you provide, such as catering. Include some testimonials from past clients or any other relevant information that will make them want to hire you for their wedding planning needs.
So, to sum up, if you want to create an unforgettable wedding brochure, you should follow these 7 tips:
1. Ensure that your design is simple and clean.
2. Make sure your content includes information about the venue and other important details.
3. Remember to include testimonials from previous customers.
4. Don't forget to include contact info for the bride and groom so they can easily get in touch with you if they have any questions.
5. Make sure your brochure includes a call to action.
6. Include a wedding hashtag or a hotspot with a link to your website, as in the Publuu online brochure maker, so that guests can easily find and follow your social media.
7. Think about what you want your wedding brochure to say and include those details.
Beautiful wedding brochure templates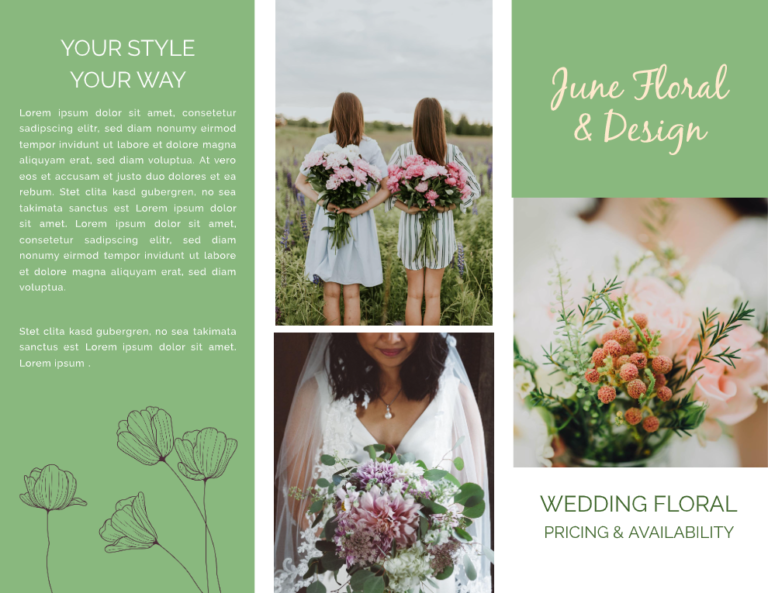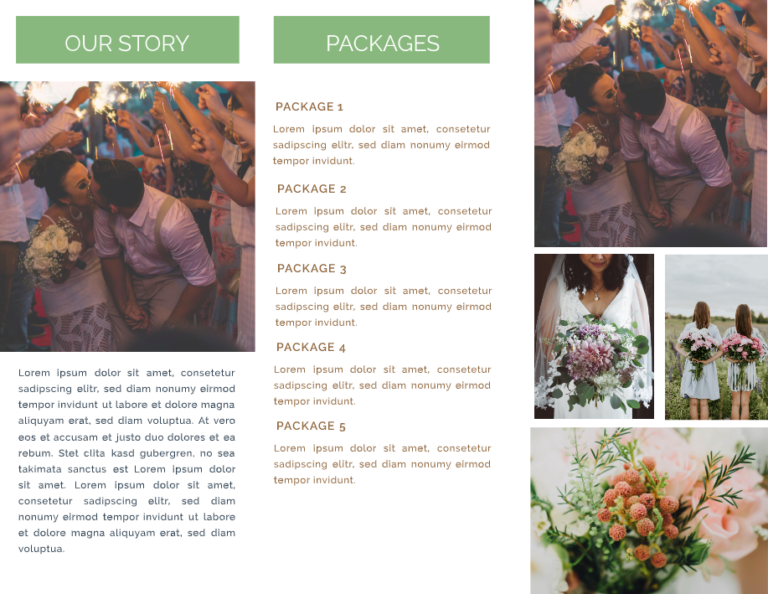 This wedding brochure template comes with a modern design and feminine details, making it easy for potential customers to notice you. Add more information about your business, such as services and resources.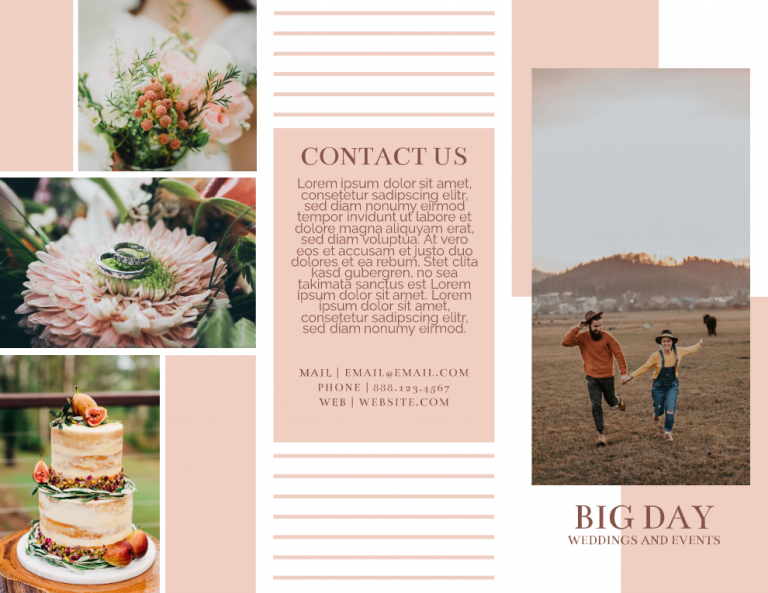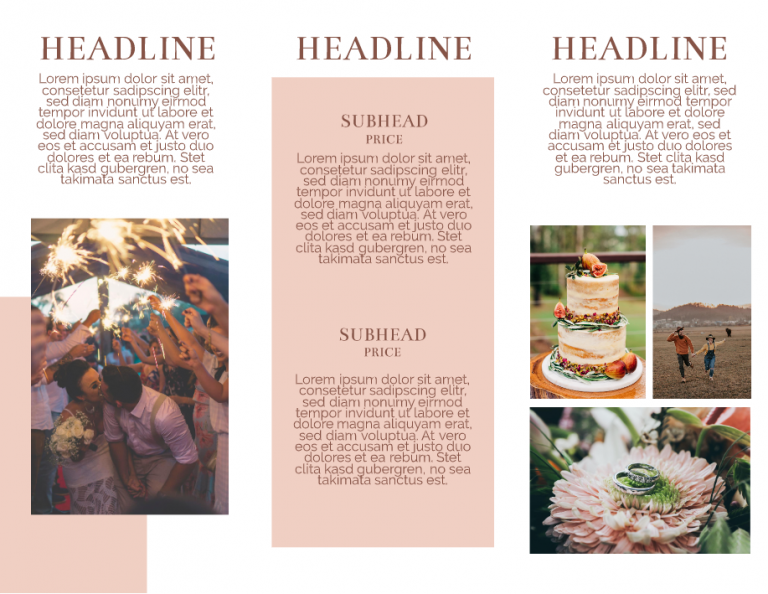 To promote your upcoming events, consider using this tri-fold wedding brochure template. It allows you to place photos and important details, which will help prospective guests get a glimpse of what they can expect.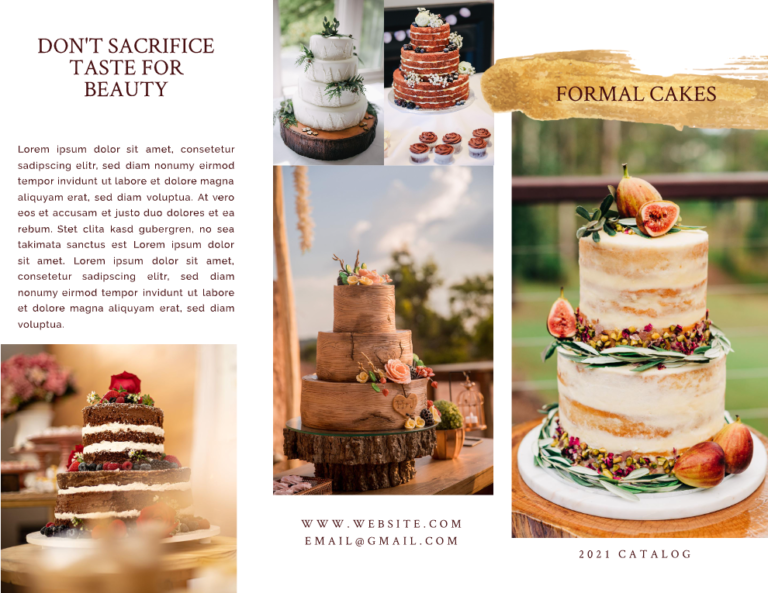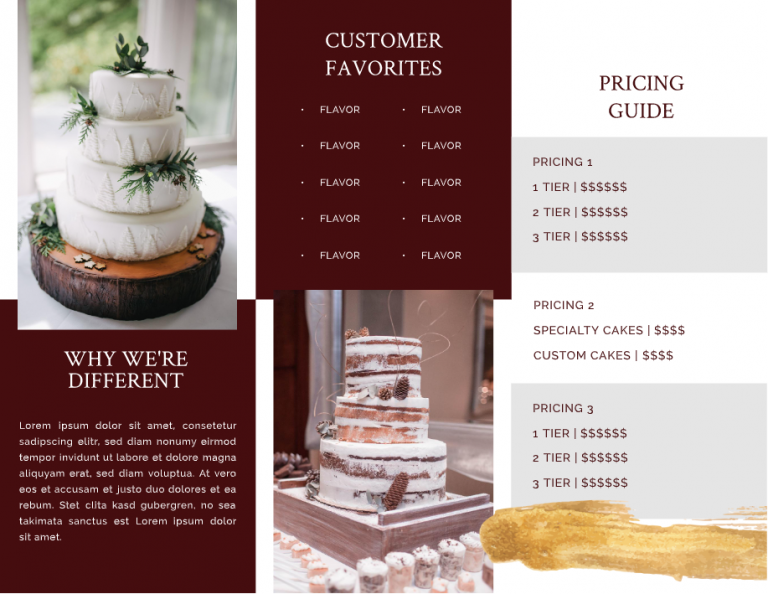 If you search for inspiration to help highlight your wedding cake business, then this innovative wedding brochure template might be perfect for you. You can add your logos and fill it with images of wedding cakes you sell.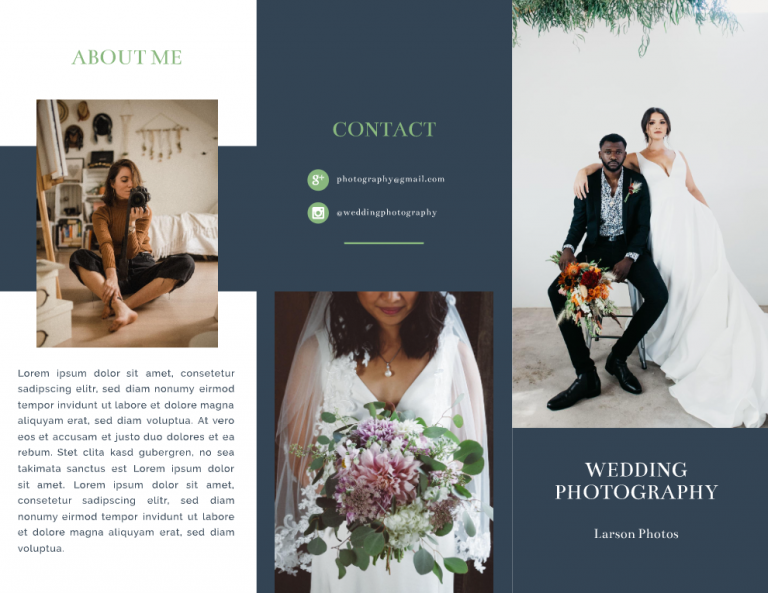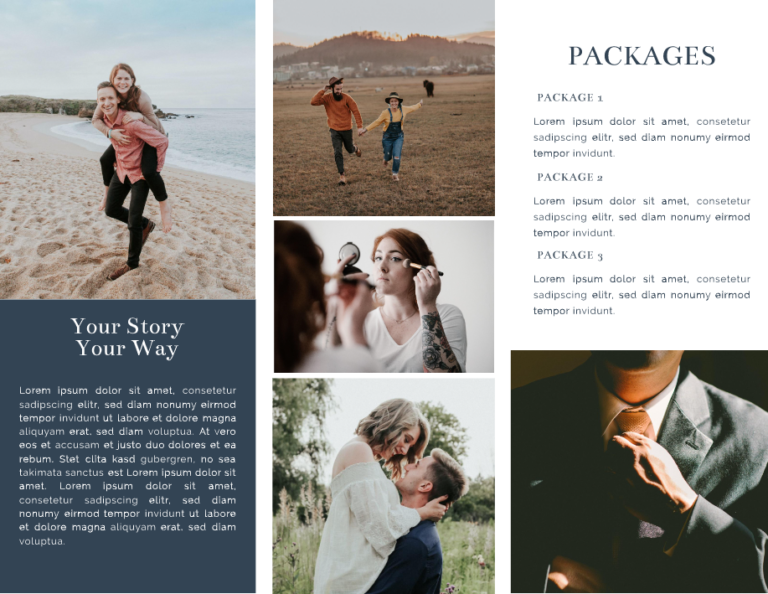 This ready-to-print wedding brochure template is best for a wedding photography business. As a wedding photographer, you pay attention to details, thus this brochure template design will be perfect for you.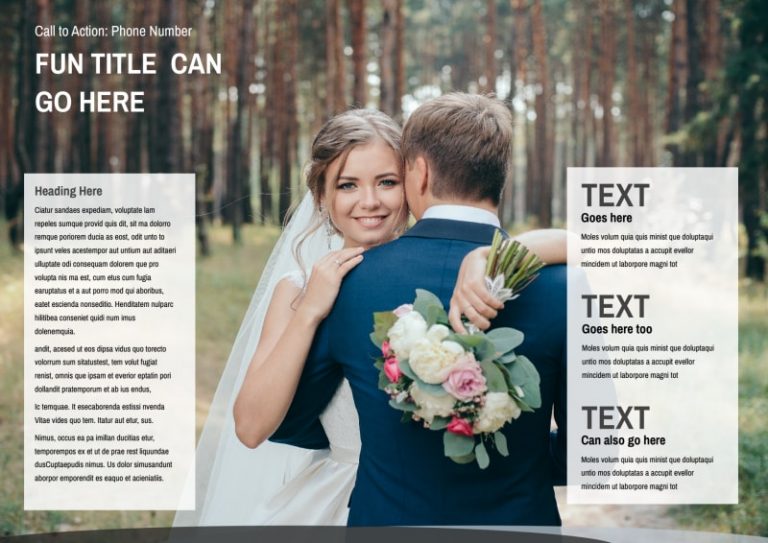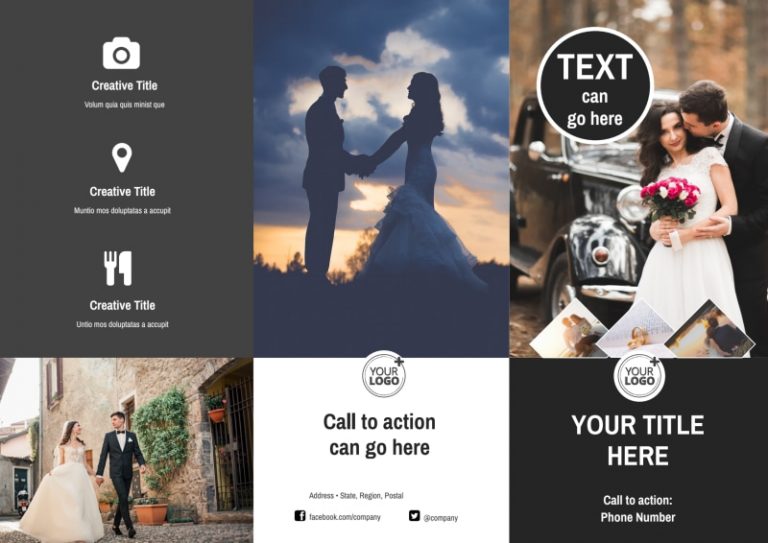 You can easily create and customize the above wedding brochure template, enrich it with beautiful images you have taken at former clients' wedding receptions and provide a list of your wedding photography packages.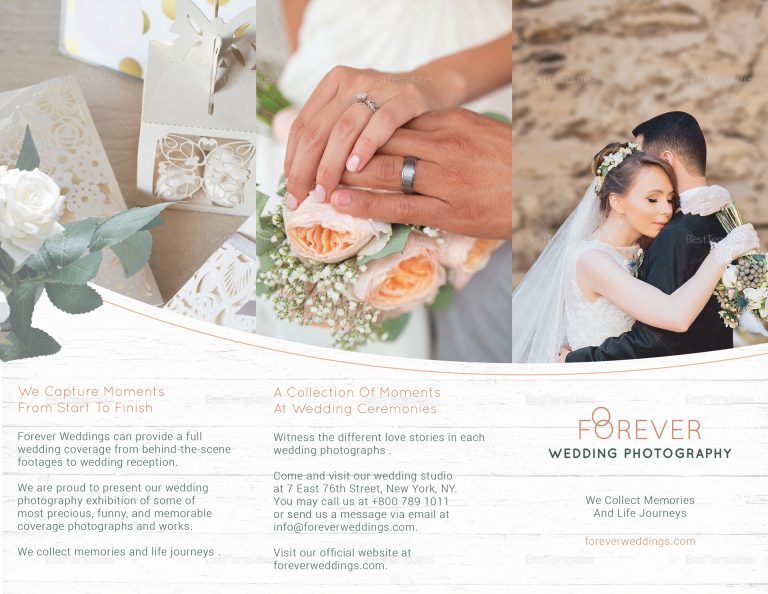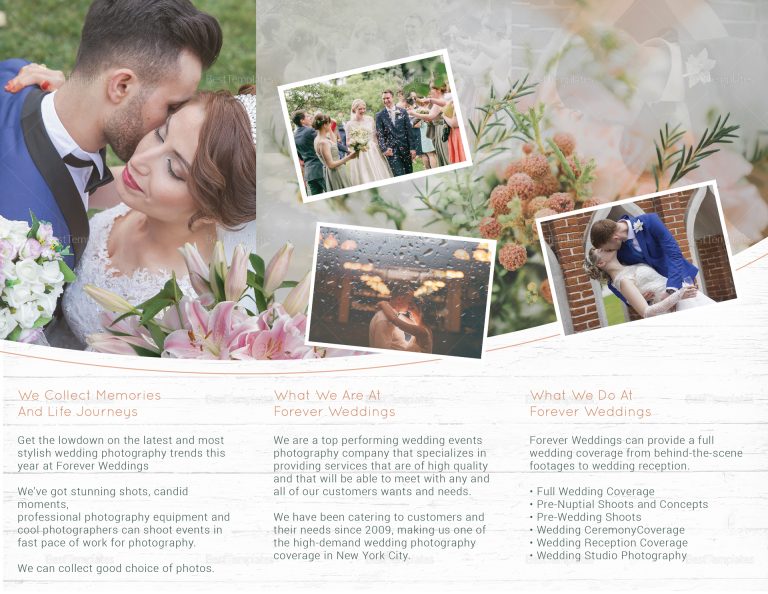 This wedding brochure template can be used by any type of wedding company, such as wedding planners or the wedding photography industry. It is available in many different formats and ready to customize using Adobe Illustrator or Adobe Indesign.
Free wedding brochure templates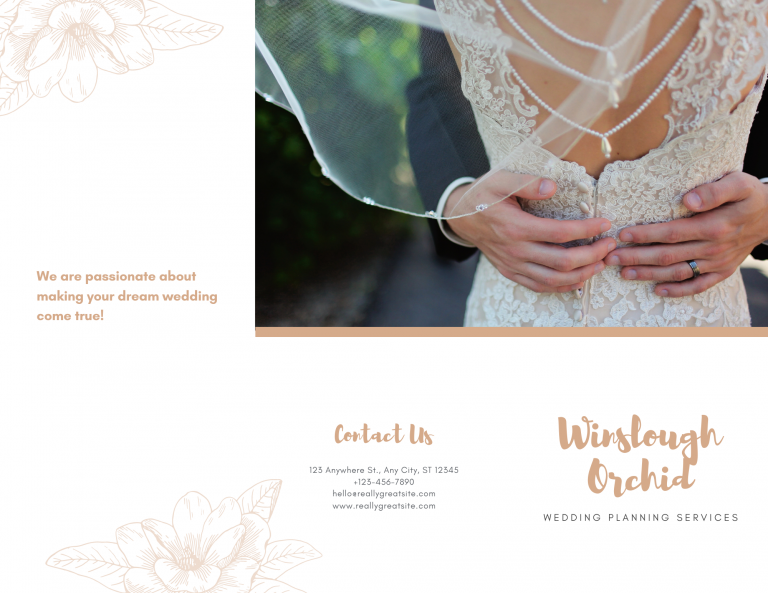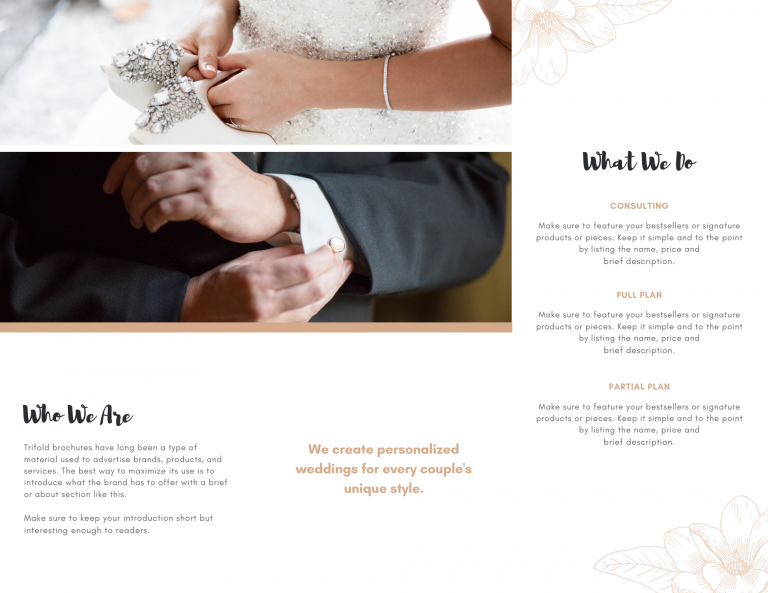 This simple wedding brochure template provides a lot of space for photos to showcase the wedding ceremony and can be used as a presentation for the wedding photography industry.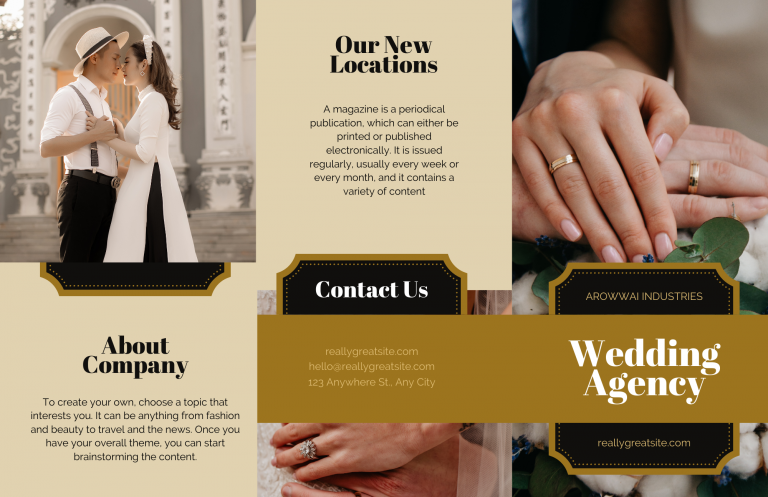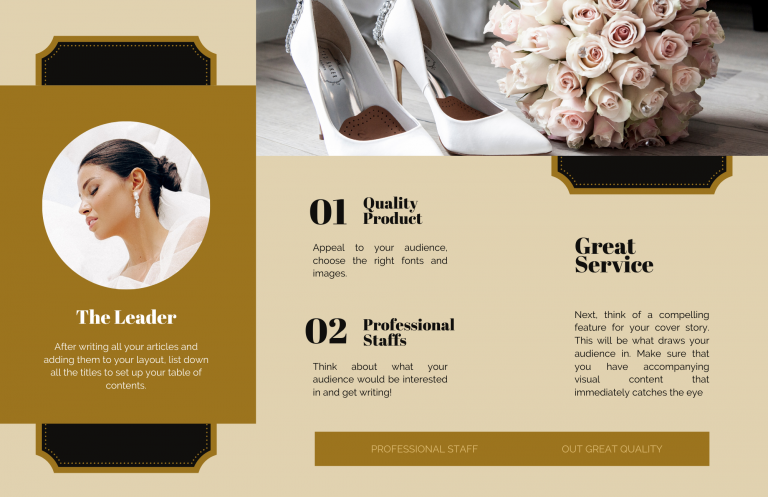 The elegant fonts and well-conceived design make this wedding brochure template great for a freelance wedding planner as well as for the whole wedding agency.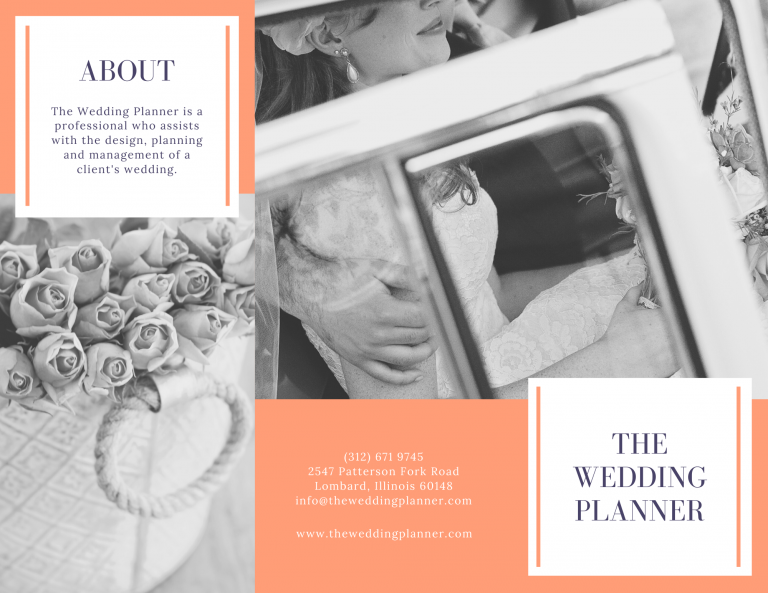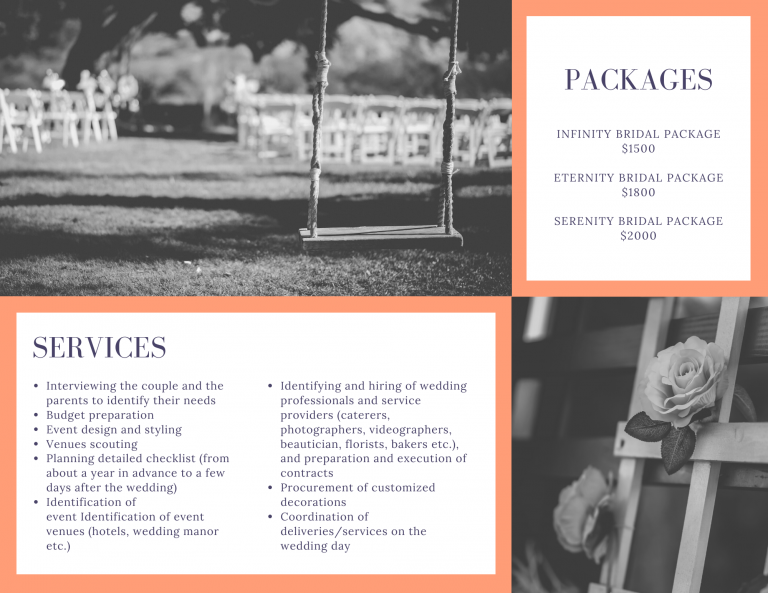 This light salmon wedding brochure template is created to highlight the black and white wedding photography due to a lot of space for images.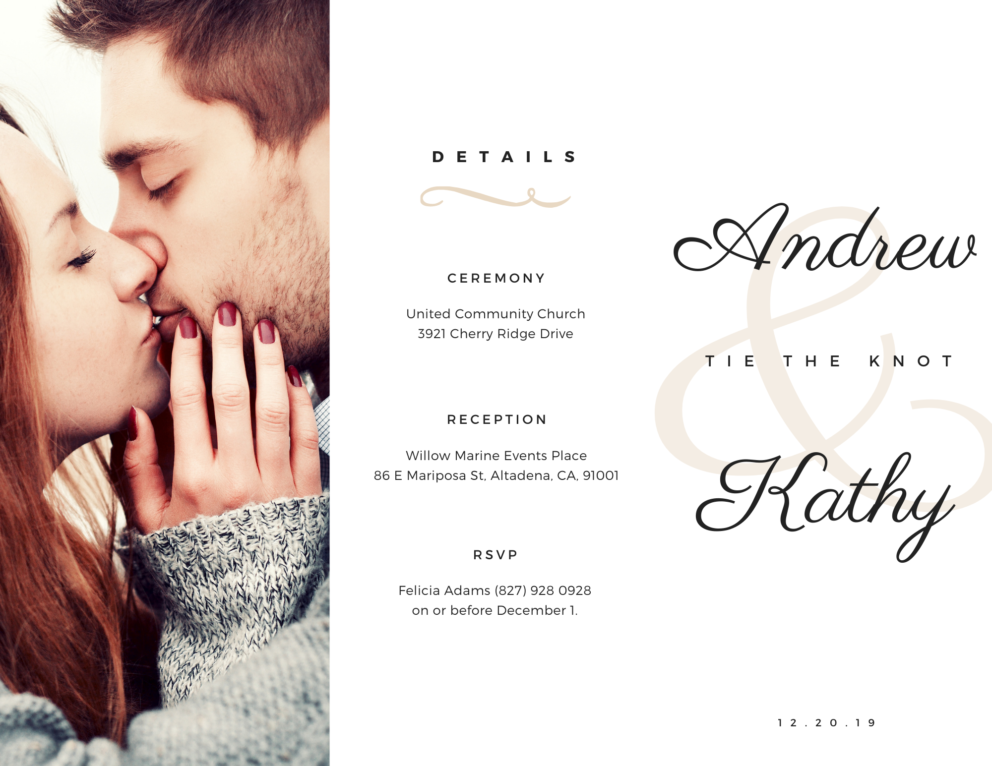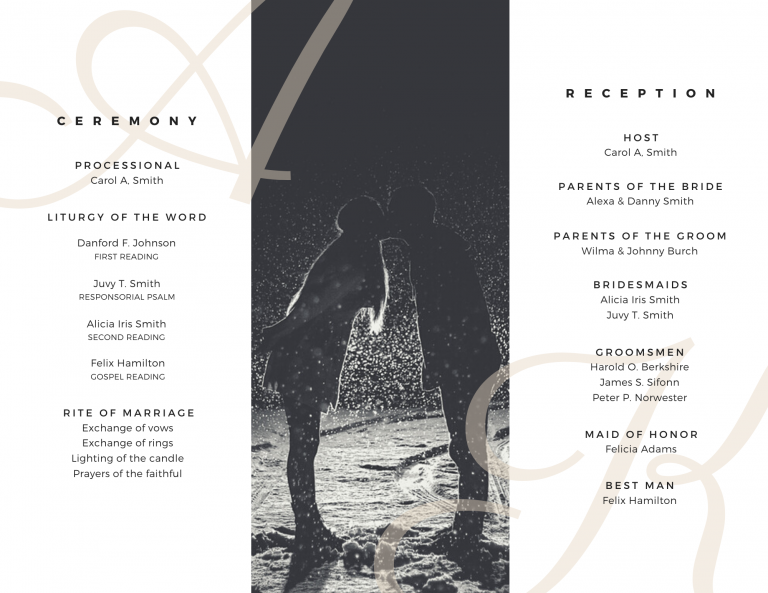 If you have a Canva account, you can create, customize and download this minimalist wedding brochure template with ease.
You may be also interested in:
The Best Online Menu Maker Software for your Restaurant
Top 10 Elegant Hotel Brochure Templates (Spa, Resort, and More)
How to Make a Brochure in InDesign – A Short Guide