MENU
How to Make a Brochure in InDesign – A Short Guide
Are you looking for a cost-effective way to promote your company? One of the best ways to do this is by creating a brochure that informs customers about your products and services in a cost-effective manner. If you know the basics of DTP, you can learn how to create one from scratch.
Trifold brochures have been around for a long time, and they still continue to be an effective method for businesses to communicate with their customers. Brochures, thanks to their simple layout and plenty of space for copy text and images, are an effective way to disseminate information about your company and your products or services. You can easily create online brochures using Publuu or DTP software like Adobe InDesign. Template files are easily available online, and from this article, you'll learn how to create a new trifold or bifold brochure, without being a professional graphic designer!
What do you need to make a brochure in InDesign?
To make changes to any template shown here, you'll need an Adobe Creative Cloud subscription as well as the Adobe InDesign CC application installed on your computer. You can use many other brochure template examples with other DTP software, like Quark Xpress, Xara Designer, or Affinity Publisher.
However, if you do not have access to Creative Cloud, you may discover a broad variety of trifold brochure designs that are identical to this one on sites like Envato Elements and GraphicRiver. Many small companies use Canva which also offers a wide tri-fold brochure template gallery.
Access to Creative Cloud grants you also access to a stock gallery and many fonts – but there are many other repositories of brochure artwork or free fonts.
How to make a bifold brochure in InDesign?
Creating a bifold brochure is simple and you can do it in InDesign quite easily since it relies on the booklet format.
Open InDesign and select File > New > Document from the menu bar. Select Print from the drop-down menu at the top of the window, and then select the Page Size to A4 or Letter if you're in the US, Landscape on the next screen.
Choose 4 pages (or whatever number you choose; you may easily add or delete pages afterward) and leave the Facing Pages option selected. This will create a foldable brochure – you can print it on a single sheet of paper later, but it'll be easier to work on a standard A4 sheet, working on the page panel.
When you create a document choose the 18 mm top and outside margins and 20 mm inside and bottom margins, to provide you with some breathing space. Add a 5 mm bleed to all sides of the page, except the inside edge, which can be left at 0 mm in size. You can adjust these in the document bleed settings.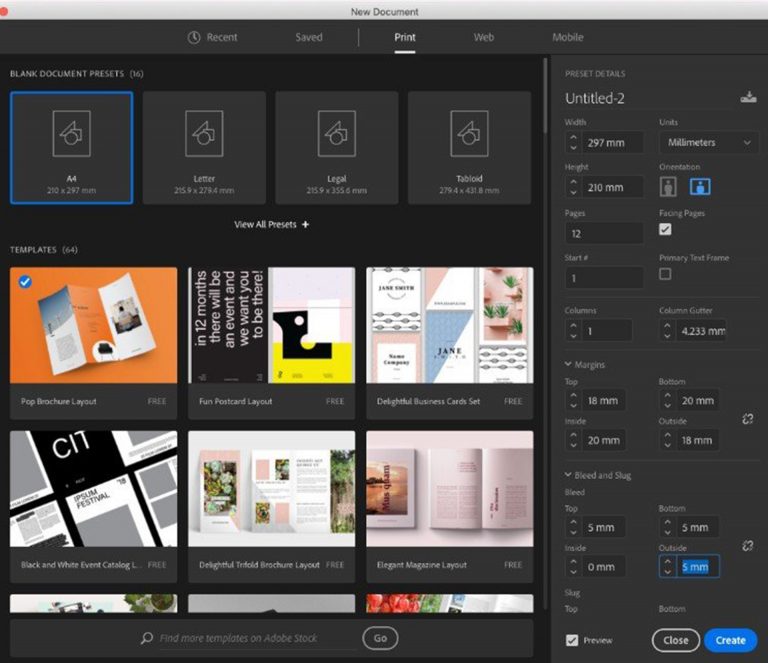 Source: tutsplus.com
This will create a new brochure template – you can customize it using the swatches panel. Pick a color swatch that matches your brand colors or the idea you want to customize. Below, you'll find more brochure templates that will show you how to customize colors and pick colorful artwork that fits your vision.
How to create a trifold brochure in InDesign?
In this tutorial, we will show you how to create a trifold brochure using InDesign. Many people would simply use a simple sheet of paper and plan the folds, but we want to use a little more precise solution.
If the trifold is opened flat, usually it becomes a simple Letter size or A4 sheet. For this lesson, we will be using a Letter-sized page, but you are welcome to use an A4-sized page if you want to. Look at the brochure template examples below to learn more about A4 sheets.
Trifold brochure measurement in InDesign
This tutorial's trifold brochure is the size of a Letter page. First, we must divide the final width (279.4 mm) by three to get the final length of each fold (93.13 mm). We'll need to add a buffer for the fold to this new width to make it work – it should be about 1 mm wide. The two panels have a combined width of 94.13 mm.
To create a new document in InDesign, select File > New. Set the dimensions to the following values if necessary: 94.13 x 215.9 mm is the maximum width of the first page. Choose the horizontal orientation – that's how you fold the tri-fold brochure after all. Choose 6 pages (for 6 folds), and uncheck the box for Facing Pages.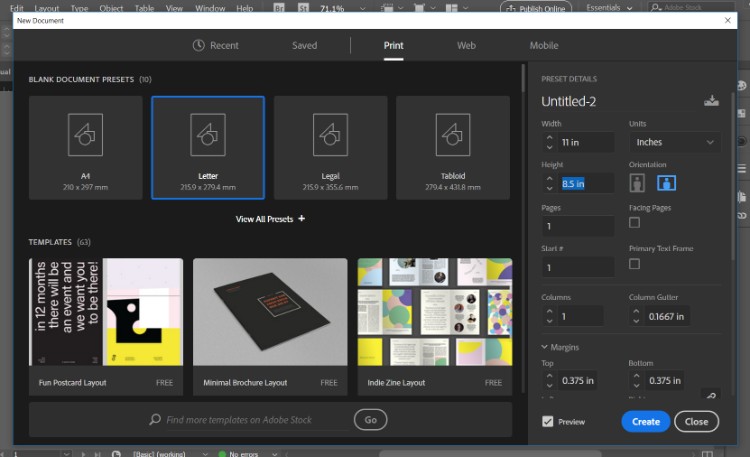 Source: shutterstock.com
Typically, you want a margin of 10 millimeters and about 3 mm of printing bleed. If you're not a self-confessed print geek, ask your printers about their bleed and how large should it be.
Not all folds are equal in these brochure templates – the last panel needs to be a little bit smaller. You need to use two master pages – create a B page using the pages panel. It should be smaller by 2 mm than the other pages so that you could fold it inside. Apply it to the two pages – preferably the 3rd and 4th page.
How to customize your template?
Now the outline for your trifold brochure should be ready. In InDesign, you can use the layers panel to add illustrations and add a body text frame to insert the text of your copy. Simply draw a text box where you want to place your test and add another decorative text box for the titles and logos. Adjust the fonts and their style using the paragraph styles panel. Always remember to double-check your body text if you imported it from software like MS Word – paragraph styles often can get distorted, especially bullet points.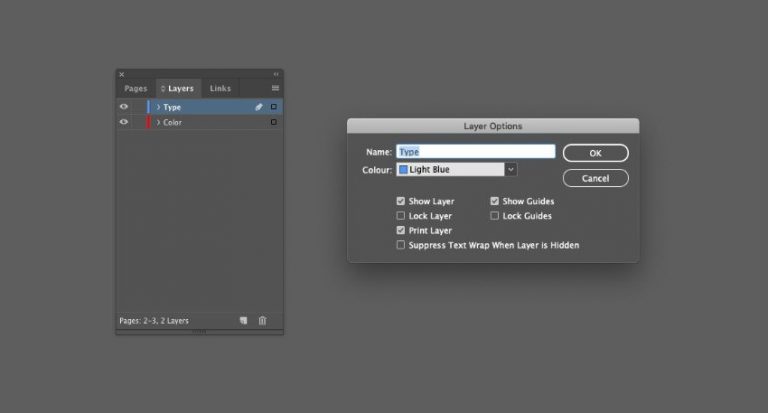 Source: tutsplus.com
How to export a brochure in InDesign?
Exporting your brochure artwork to a print-ready file is also quite easy. Save the file, then go to File -> Export. Choose the PDF (Print) option for the best image quality. It will save your file as a hi-res PDF.
Select [Press Quality] from the Adobe PDF Preset option at the top of the Export Adobe PDF window. Select Marks and Bleeds from the window's left-hand menu.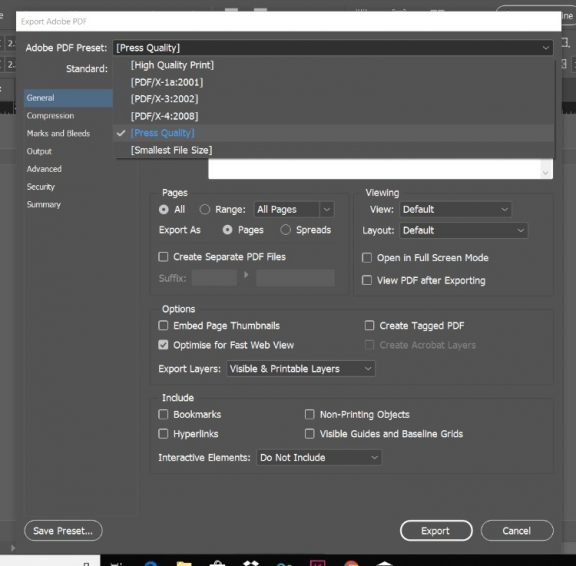 Source: shutterstock.com
If you're creating a PDF for printing, use the Document Bleed Settings to ensure that all printer's marks are visible. After that, click Export. It should save the PDF in the selected place – choose the name and location of the chosen file in the new document window.
5 InDesign brochure templates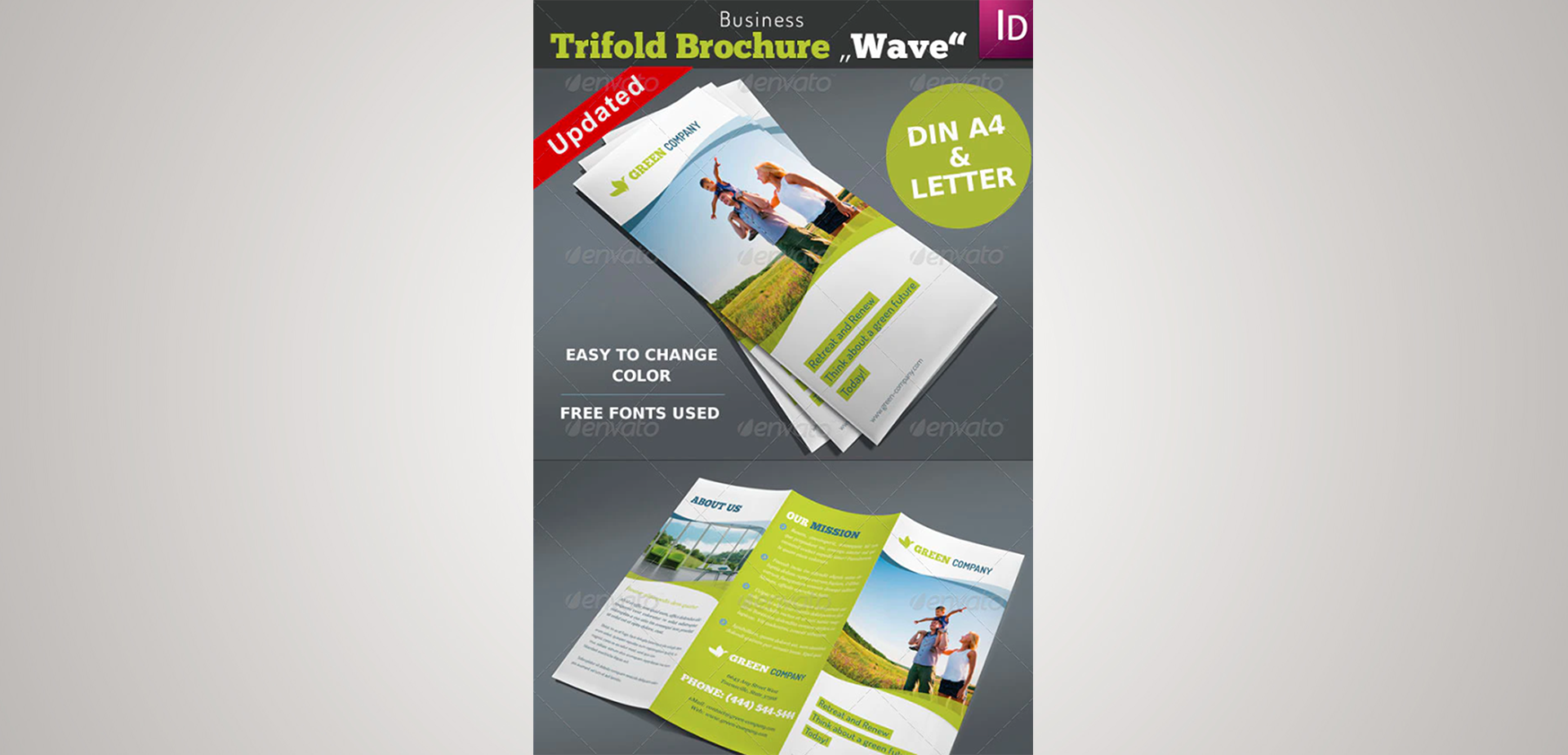 This colorful brochure template uses the basic structure of a trifold brochure and contrasts between colors to achieve the perfect balance between text and visuals.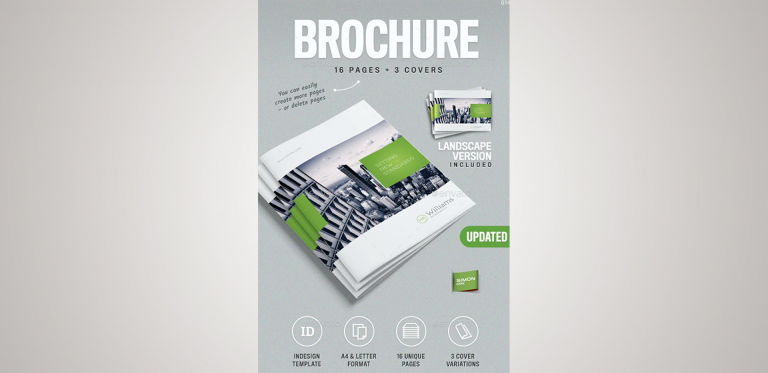 This brochure comes in both landscape and portrait varieties, and you can easily adjust images for your own purposes.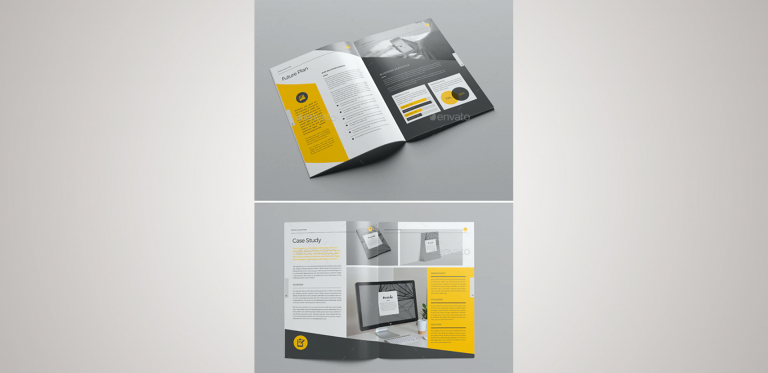 You can create a modern corporate brochure using this template, matching the font color and adjusting text frame properties in InDesign.
In this set, you'll find more brochure templates than you might need – all keeping to the same design industry principles!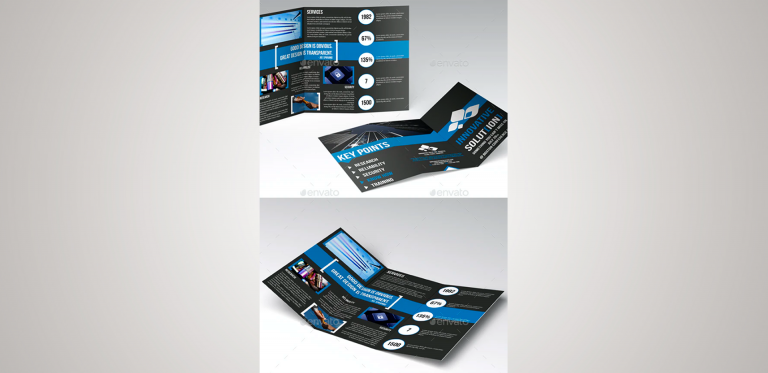 This bundle of brochure templates shows them as three pages' worth of ads, but they can also be displayed as a one-page leaflet.
5 InDesign brochure free templates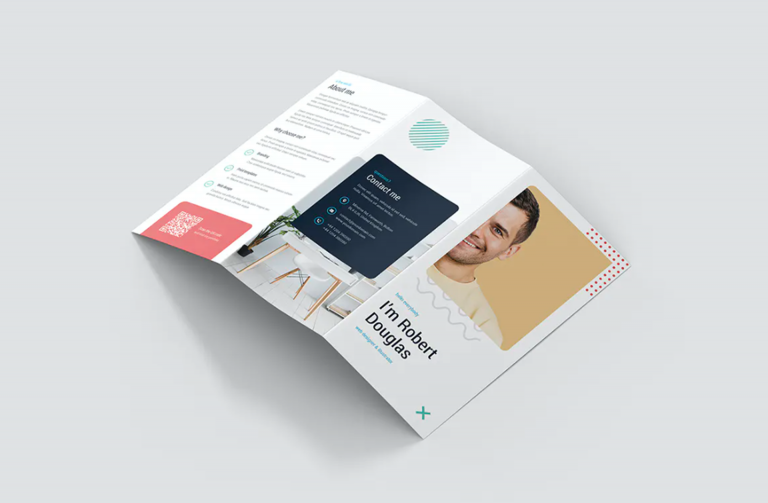 This brochure template uses the structure of three panels to present a resume.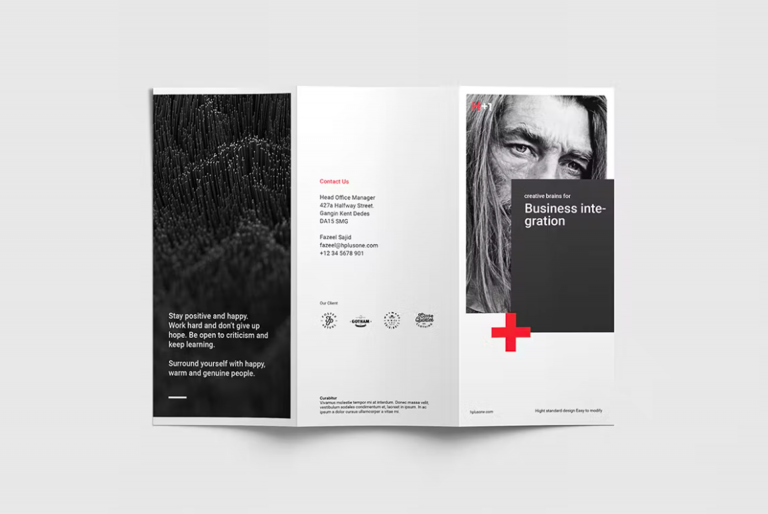 This black-and-white design helps you underline the white letters in the text frame.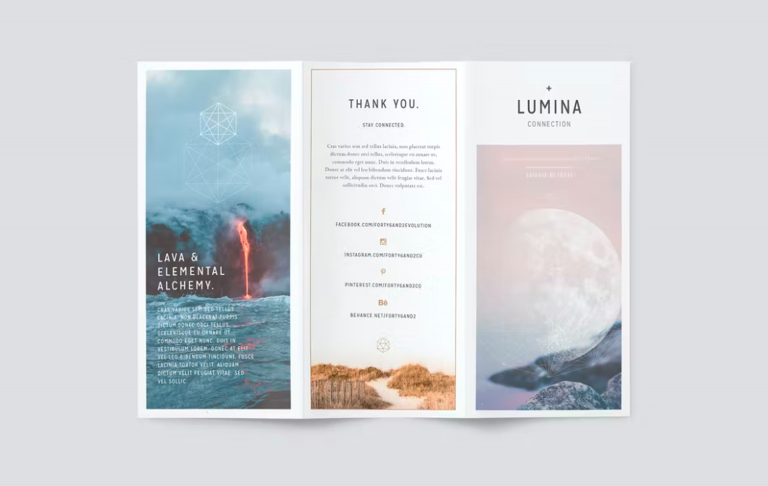 Large images on the front page of this brochure let the reader focus on the one panel that will be the introduction to your product.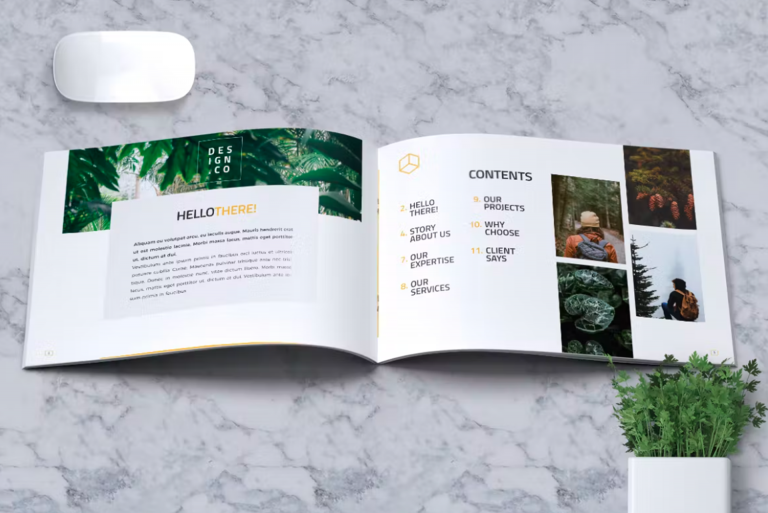 This template will allow you to create awesome work and promote your business.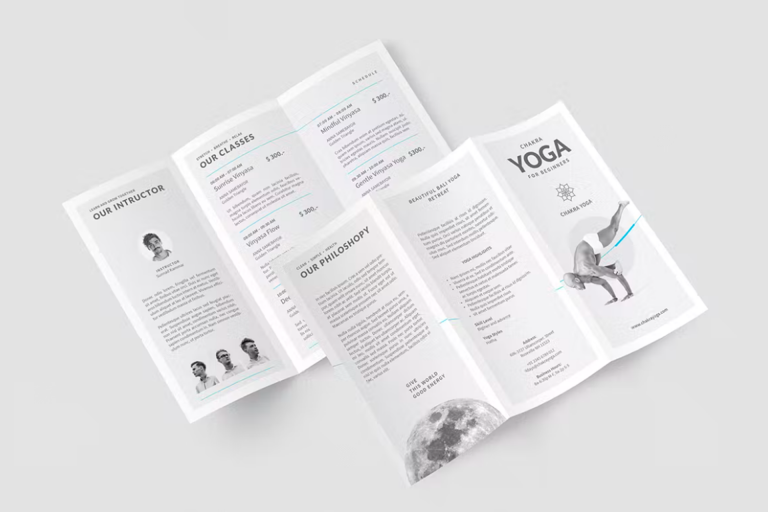 This yoga class brochure is clear and simple to understand. You can add your own image inside the mainframe and adjust the body copy yourself.
Summary
Using brochures is a great method to get the word out about your business. Using a DTP program like Adobe InDesign, you can quickly design them. There are many template files that are readily accessible online, but you can also design your own brochure using simple software.
You can publish your digital brochures online using Publuu, to show your content to your prospective clients. Showcase them to your friends and partners online and customize them with multimedia content.
You may be also interested in:
PDF Design – The Best Software to Create a Professional PDF
5 Best Pamphlet Maker Online Software
Real Estate Brochure Ideas