MENU
Email Newsletter Templates

Email newsletter is a powerful tool for use in e-mail marketing. According to email marketing experts, e-mail is 40x more effective than the most popular social media post in gaining new customers and it has a significantly larger ROI than snail mail.
Email newsletters are online messages sent to your business partners, subscribers, and prospective customers. They don't have to contain direct promotional elements – they are sent completely free and contain crucial information on the company, upcoming events, or news about the industry. Exact details depend on the industry or brand – school newsletters could deliver information about the life of the school, while small businesses can run email newsletters about a new offer or hit products.
For example, if you own a board game store, you can use a newsletter template and use its various section to provide previews of new games, add an article about the most popular game, short reviews of the greatest hits (or links to video reviews), an upcoming event or two: like competitions or game nights at your physical store – and you can finish with a useful message, like a discount code for subscribers.
If you want to create company newsletters you can use one of the free newsletter templates available on the web or even an online newsletter creator to convert your
existing pdf file into great looking interactive newsletter with few clicks – see the example below:
Newsletter example
Why use email newsletter templates?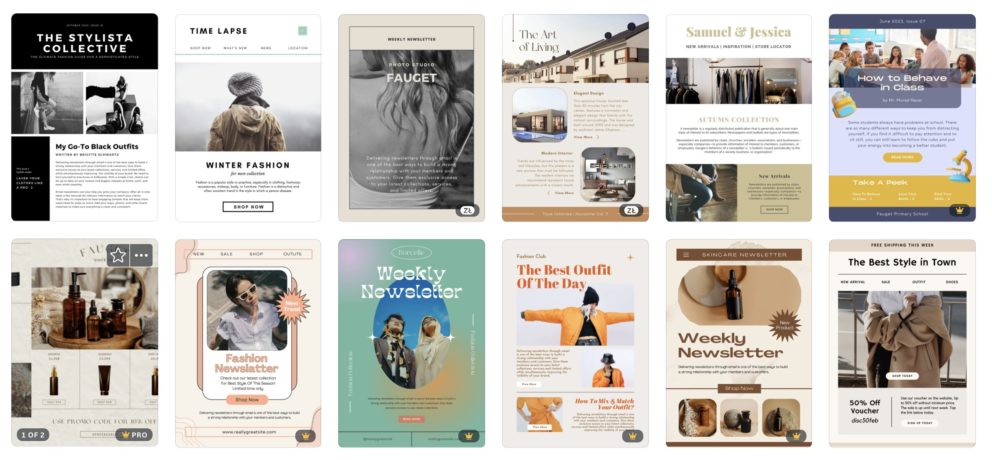 Source: Canva
Most email templates are designed with the assumption, you will use email clients suited to responsive e-mails to edit and read them. Many websites offer free newsletter templates in HTML format – you fill them in, using an HTML editor, an e-mail client or you can also use programs like Photoshop or Gimp. Many newsletter templates are also available to users of online editors like Venngage, Canva, or Photopea.
You don't need coding skills to use a newsletter template. Most of the templates are simple to edit and you can add your own content to get your message across. Many of these programs come with a drag and drop editor that will make email design a child's play. Alternatively, you can use the flipbook format to create email newsletters that will look stunning!
Business newsletters
The Internet gives you the ability to communicate with any customer. In particular, small business owners have to know the importance of contacting each individual customer. That is why they have to know what the best investment newsletters are. A good idea when using the pre-made newsletter templates is to fit them for each individual customer. If possible, you can create a mailing list and address your readers individually.
Another way to use beautiful newsletter templates in a business environment is to create an internal communications newsletter that will be distributed to your workers. It's a good idea to inform your employees about new features in the software you use or any other change in your business. You can use the newsletter templates from sites like Venngage to design newsletters that serve both your workers and your customer relationships.

Source: Venngage
Responsive email templates
These days, more than 70% of e-mails are read on mobile devices. You want your email newsletter templates to be readable both off the computer screen and from the cellphone – which is why it's worth looking into responsive email templates. These email templates are ones that automatically adjust their width and font size to fit the screen, making it easy to read from on mobile devices.
Of course, there are many alternatives to these varieties of newsletter templates. You can also always use PDF templates to create a flipbook newsletter in Publuu. There are many newsletter templates available that don't limit you to e-mail format. Instead, your newsletter can look more like an online magazine or ebook – and will still look great on mobile devices with a modern browser.
Publuu's Flipbook PDFs – an alternative to any newsletter template
Publuu's innovative flipbook format is a great replacement for any email newsletter. Templates might be used to create a responsive e-mail, but Publuu offers you a great, amazing opportunity to convert a PDF document into a realistic e-book with a spectacular page-flipping effect.
Publuu's newsletter example
View more newsletter fexamples
You don't even need an email template to design a PDF newsletter. You can use magazine templates instead, which will work with most graphic design software, like Gimp or Krita. You can design a PDF using widely available, completely free tools like Libre Office – and then convert it to PDF and upload these to Publuu. Any article will look better than surrounded by high-resolution images and carefully adjusted white space.
Publuu lets you easily add links to your website for more information – the functionalities help you connect with your customers. You can link to social media where you place information on the new issues of your newsletter or other announcements!
Publuu and major email clients
Publuu- flipbook creator converts the PDF into an HTML-5 within seconds. You can embed it into your website, but it can also be embedded into the contents of your email newsletter. You can just include it in your email, so that your audience will be able to access your articles and eye-catching design without the need of opening another application.
Many email clients support HTML-5 – and if they don't, you can easily create links to your newsletter in flipbook form on Publuu servers. If anything fails, your readers will still be able to read your email newsletter online. You can replace email content with a great PDF everyone is able to access.
Can I use newsletter templates with Publuu?
Many programs, like Canva or Venngage, can export the files created using email newsletter templates to PDF format. Many HTML editors can export HTML to PDF or some other format that's easy to convert into a flipbook. You can often use almost all the templates offered by numerous online providers of newsletter design tools.
If you're new to newsletter design, it's probably easier to just send a link to your newsletter in flipbook format rather than construct an e-mail from scratch.
Publuu lets you also create and maintain an archive of past issues – which will come in handy if your new subscribers want to learn more about your content. Publuu newsletters are also indexed by Google, which will help you if you want to drive traffic to your website.
How to use newsletter templates when creating your own content?
Many of the e-mail templates are CSS files or HTML files that you can import into major email clients like Outlook. You can use this software to fill in the blanks in your newsletter template and add your own text and images.
Many online apps like Canva or Venngage also have their own template gallery. You can download the final product as HTML files or as PDF you will convert into Publuu flipbooks. Remember to double check whether the email template saves properly.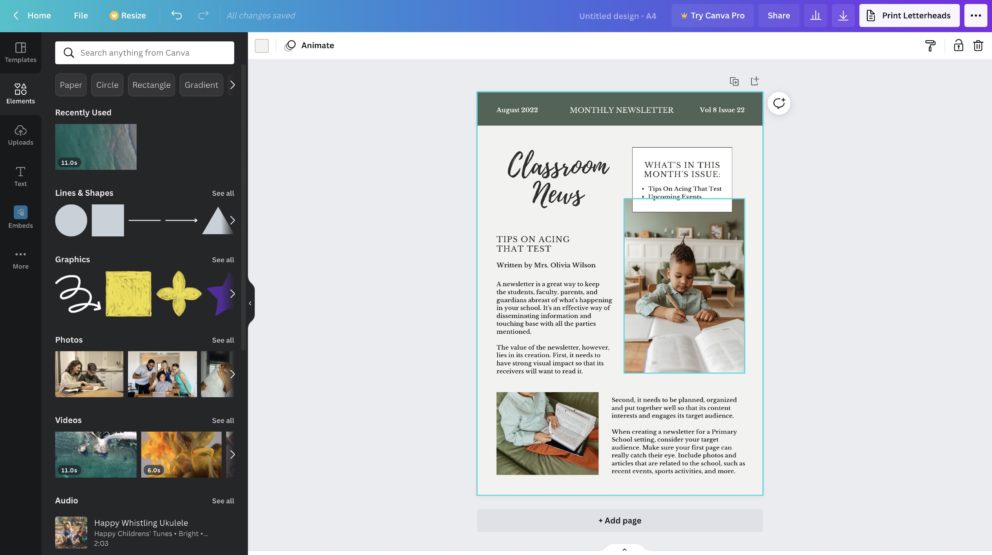 Source: Canva
Many free newsletter templates are also very customizable. You can take a free template and choose your own colors or add your own high-quality images easily. Brand colors help your color scheme be recognizable. Add great content and articles, but remember to keep it short – a school newsletter isn't a magazine, most e-mail readers are interested in succinct messages.
An article shouldn't be longer than two or three paragraphs – instead of writing a longer text, save it for a blog post.
What to add to free newsletter templates?
Apart from your own images, you can personalize content of your email template. Many programs or major email clients allow you to add the name of the recipient to your email newsletter. You can put the name, title (like Mr., Dr. or Ms) or personalized greeting (like "Happy Birthday!") in the subject line. Using tool for generating leads like Publuu will help you in gathering these details.
Another good example of personalizing your email newsletters is the inclusion of the company logo. Color schemes are one thing, but you should constantly try to make your product memorable and add your brand to every message you're offering. Put it in the footer of your perfect newsletter template, or if you're using Publuu PDF format, next to the mention of your products and services.
Email templates – a summary
To publish that perfect business or holiday newsletter you have to learn some key elements of newsletter design. You need to find excellent email templates and personalize them with your brand colors and logos. Fill the templates with quality content, and enjoy the boost in popularity good email design can bring you!
And if the email templates don't cut the mold, you can always use Publuu to create newsletters using the great, responsive flipbook presentation format!


You may be also interested in:
Marketing Materials For Your Business
Lead Capture Tips
Ebook Templates-All You Need to Know