MENU
5 Best Pamphlet Maker Online Software

A digital pamphlet is the best calling card for your business. You can present your offer in the form of an online booklet, showcasing your services and products. If your digital pamphlet is resented nicely, it can look really spectacular and the potential customer will discover your offer at their own pace. There are times when you need to try something new to get the best results, but most of the time we stick to what we know – and you can't go wrong with a good free pamphlet
You have the opportunity to use your inner creativity to create great digital pamphlets using one of the programs described below. We know that sometimes it's hard to choose the best way to create your company's marketing and promotional materials, so we have prepared a list of cheap or free pamphlet maker software, with free pamphlet templates to help you create your own advertising materials.
We have compiled a list of the best online pamphlet maker tools that will help you design your own pamphlet at a low cost even if you are not a professional.
Publuu
Publuu- online pamphlet maker is a great option if you want to display your online pamphlets as beautiful online flipbooks that resemble a physical booklet with a realistic page-turning effect.
With Publuu, you can turn a commercial PDF into a visually appealing pamphlet by simply uploading it to the Publuu app in the cloud. Moreover, Publuu allows you to add great useful functions to your own pamphlets – you can add links to your store or website with marketing hotspots, add links to Vimeo and YouTube videos, or additional image galleries.
Publuu's pamphlet example
View more online pamphlet examples
Thanks to the personalization feature you can customize your pamphlet to match your company identity with colors and logos, further enriching your pamphlet design. Other Publuu features allow you to share your flipbook on your social media or embed it on your website.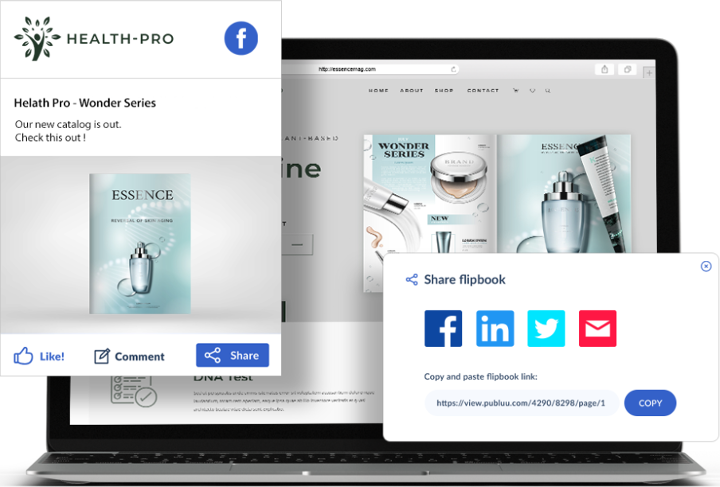 Publuu can also transform your flipbook a great lead generation tool. You can ask readers to provide contact emails or phone numbers if they are attracted to your advertising content.
Similarly, analytics features will allow you to know your customers, and prepare for better sales. Thanks to the tracking links, you can find out who opens your brochures at what times, which will doubtlessly be useful for your marketing department.
Adobe Creative Cloud Express – pamphlet design online

Adobe Creative Cloud Express is a free app that allows you to design pamphlets to promote your company, products, or services. It is available for Android and iOS devices, as well as a browser app. It allows you to create pamphlets from customizable templates. You can change colors, and access premium images and fonts if you have a paid Creative Cloud subscription. Even the free users have the ability to change backgrounds and animate text.
When you make a pamphlet in Adobe Express, you don't work with a blank canvas. You have a large library of Adobe Photoshop effects at your disposal, and you can also remove backgrounds and replace them with your own graphics. The stunning pamphlet you create is simple to convert to PDF (and later upload it to Publuu for example).
Canva – great online pamphlet maker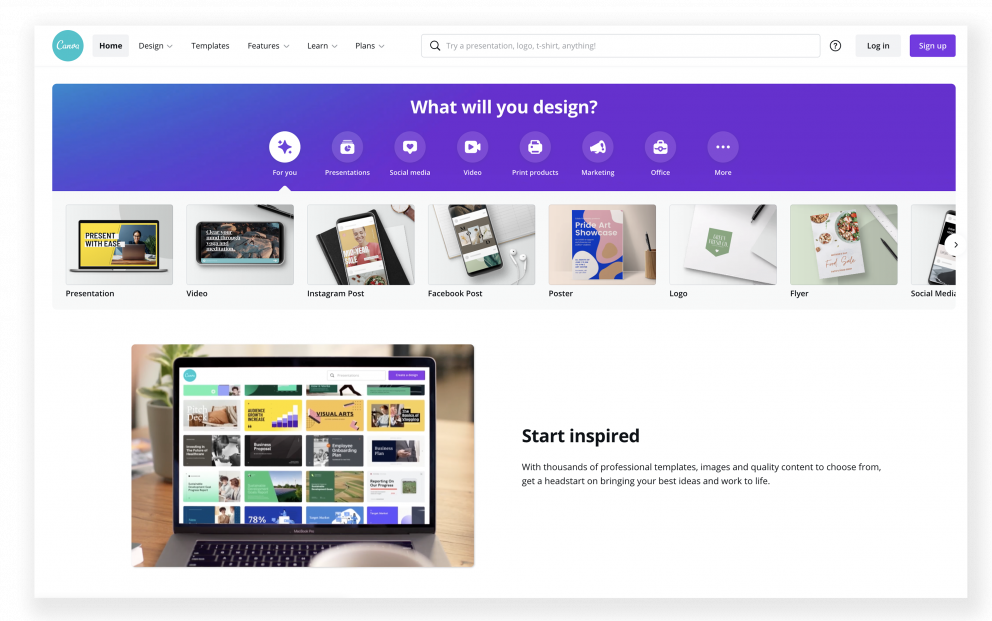 Canva is a simple and easy-to-use online pamphlet maker. It allows you to create beautiful pamphlets by dragging and dropping, which makes the application very user-friendly. Because of the large number of professionally designed pamphlet templates and fonts available in the free version, this drag-and-drop program is ideal for creating marketing materials. It is an excellent and easy pamphlet maker for small businesses and freelancers.
Canva has over 2 million images, icons, and illustrations from various sources. All you have to do is select an appealing template, enter your information, and customize it. When you're satisfied with the outcome, you can save your designs as PDF files and print them in high resolution.
Microsoft Office – pamphlet templates

Microsoft Office is free to use in its online version. You can use Word or Powerpoint to make a pamphlet online – it might not be eye-catching pamphlets, but these programs are free and great for non-designers! MS Word offers many customizable pamphlet templates, some available for free. If you know how to use this office software, you can easily create a pamphlet, just filling in the text boxes.
Other office packages online like Google Docs also offer more than one useful pamphlet template – you can create custom pamphlets online using free assets, without complicated design skills. If you're looking for a free pamphlet maker software, you can easily use these free tools.
Venngage – create professional pamphlets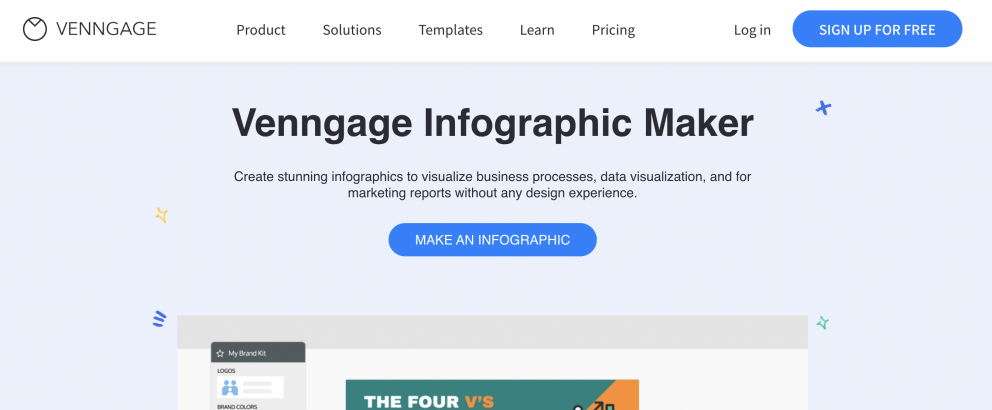 Venngage is an online drag-and-drop graphic design tool addressed mostly for people with little or no graphic design experience. Their library of pamphlet templates makes it easy for you so that even a novice will be able to create a custom pamphlet in no time.
This pamphlet design software focuses mostly on infographics or charts, which makes it ideal for business or technical industries. Venngage can help you transform your pure data into an easy-to-understand and eye-catching pamphlet. Simply select the appropriate brochure template, add your own images and you can easily create a good-looking pamphlet on your own.
Pamphlet design tools – a summary
There are many great tools online that let you design great pamphlets using your own design assets or excellent pamphlet template libraries. You don't need a lot of design experience to create a brochure, use stock photos and convert it to PDF. Once you're finished, you can upload your pamphlet to Publuu and share online the documents you make. Share your pamphlet with your customers and enjoy your newfound popularity!
You may be also interested in:
The Best Booklet Maker Software Online
Real Estate Brochure Ideas
Pamphlet Design Ideas Examples