MENU
Pamphlet Design Ideas Examples

These days, many marketing agencies are focusing on social media marketing, but are they correct in doing so? Pamphlets are still one of the most basic marketing tools – and they actually cost significantly less than online marketing. They are inexpensive, simple to create, informative, and easy to customize. An eye-catching, creative pamphlet can help almost any business, from foodservice and real estate to spas or video game publishers, and will easily capture the attention of a potential customer.
What's more, digital marketers can even use these pamphlets if they are published or used digitally. Publuu allows you to publish your pamphlet online, include multimedia and links, and make quick changes to your pamphlets. Sounds great? You can create your own interactive pamphlet in just seconds – just drag your PDF file and drop it in the area below!
With such remarkable solutions, pamphlets remain one of the best marketing tools for your brand. In this article, you will find examples of pamphlets, and fantastic pamphlet ideas that you can use to design and create your own pamphlet.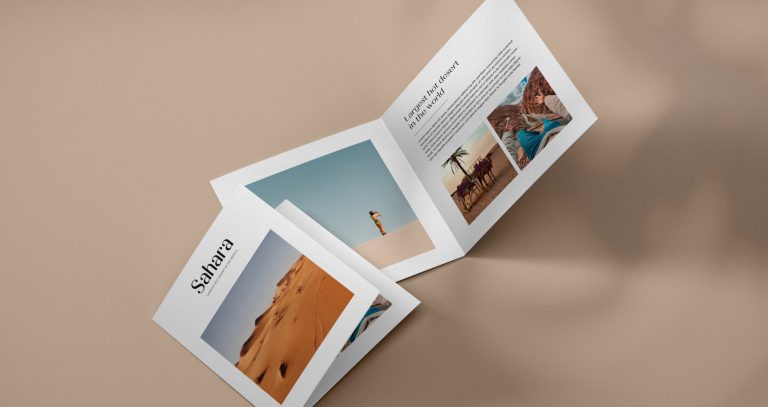 Source: Freepik
Simplicity and pamphlet design
Minimalism is all about keeping things simple and focusing the reader's attention on fewer elements. It is a philosophy of "less is more". A clear and open design will do much more for your pamphlet ideas, including online pamphlet using Publuu. You can find inspiration in many existing pamphlets and visual designs since this style is already quite popular.
Because it is basic and simple, the minimalist pamphlet design is very appealing. If you want to emphasize some key ideas about your brand, such as your style and philosophy, simplicity in visual design may be the best solution. Because there are fewer distractions on the page, your audience can easily notice the important information while ignoring embellishments and details. A minimalist pamphlet design draws attention to your main message quickly.
How to design a minimalistic pamphlet?
A minimalist pamphlet employs fewer colors and relies on white space in lieu of printed elements. You can use a single image or experiment with simple shapes. Using a white sheet of paper and one spot of bold color, perhaps even a single word, will draw attention to your pamphlet's images or graphic elements of choice.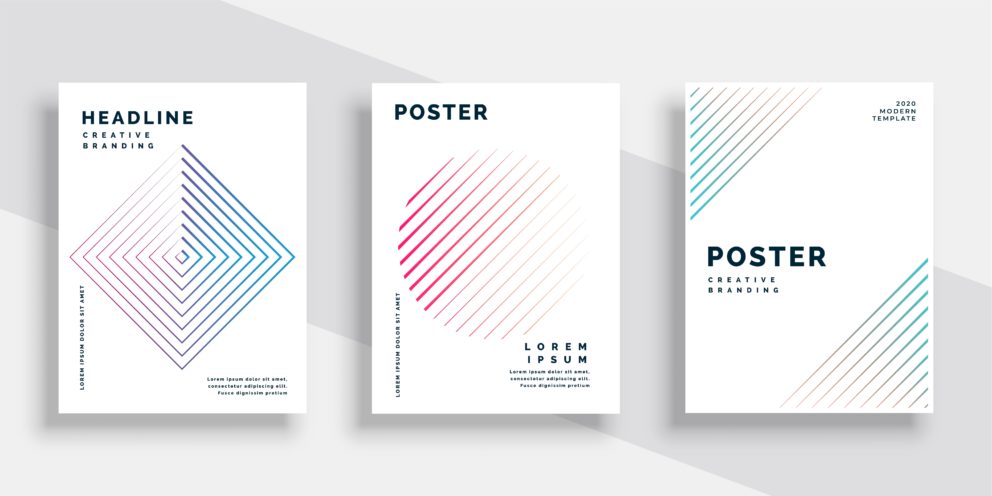 Source: Freepik
A good minimalist pamphlet design emphasizes white space so that other design elements stand out, making the image more than just reader-friendly, but also very sleek and modern. All of the white space interacts with other design elements, such as photos or basic shapes, to create a cleaner, more appealing appearance for your pamphlet.
Who can make use of minimalistic pamphlets ?
Pamphlets like this work best if your business isn't visual or visually focused. It could be great for lawyers, writers or IT specialist, but if you work in real estate or run a restaurant, your content should show what you're going to deliver. Rely on content that showcases your brand, and use image collections that send this message.
Bold Fonts and Colors – different pamphlet design ideas
Bright colors are a popular trend in pamphlet design. As a great alternative to minimalism, it is the perfect solution for a pamphlet that needs to grab the attention of the target audience. This graffiti and urban pop art-inspired style and layout is very popular amount the contemporary design professionals.

Source: Freepik
Why choose bold colors
Why choose bright colors for your business brand? They are strong and vibrant, and the distinctive, contrasting hue and saturation make them visually stunning and eye-catching. You can create this effect using warm or hot colors. Warm colors attract more attention from the viewer than cooler colors such as blue and green, but any shade can be bright if it contrasts with the background and surroundings. You can look at the entire page and notice the bold, interesting message.
Bright and strong color palettes are a great way to stand out from the crowd, and they imply an atmosphere of vigor, optimism, and enjoyment of life – a perfect idea for a pamphlet aimed at young people, in business categories like video games or hobbies. A designer who goes for vibrant, contrasting colors should also choose unusual, large fonts to create a cohesive look and emphasize the overall style of your pamphlet.
Use Publuu for your pamphlet design needs
For those looking for tools to create great pamphlets for their business, Publuu may be a fantastic choice. You can use flipbooks to create interactive booklet with the great page-flipping effect.
The Publuu website allows you to create professional-looking pamphlet without any programming skills, converting files from PDF to HTML-based eBooks that you can post on your own website or social media. You can add complementary multimedia content like videos or background music to your pamphlets.
The flipbook format means that your pamphlet can be opened in any modern web browser, including on smartphones. Thanks to the hotspot functionality you can add links to your pamphlet – both internal, so you can create a table of contents, and external to your website or social media. Designers will appreciate that Publuu is one of the few sites that allows you to convert fonts to vector quality for great detail.
Publuu's pamphlet example
Very important for pamphlet creation are the powerful analytics features that help you track user statistics. You will find out how many people were able to open your pamphlet and whether significant users opened the file. This is great for business pamphlet design because you can easily make changes and fix things that didn't catch your readers' attention.
Make sure you have access to the good content
The length of the content and the text and the size of the pamphlet will depend on the industry you are basing your brand in. If you're a lawyer, your illustrations may be abstract and symbolic, but if you run a travel agency, it makes sense to rely on beautiful graphics rather than text. Whatever option you choose for your brand, it's a good idea to save words, since you have limited space for text.
Since a pamphlete is primarily a visual medium, you need to make sure that any images that come with it are of good quality. You can rely on vector graphics, illustrations or photos – if you can, crop your own images, as stock images often look cheap and are easily recognizable. Your brochures will look great using creative photos made by an experienced professional designer that will improve their layout.
End your pamphlet with a call to action
End your pamphlet with a call to action (CTA) that should be short, powerful and activating. Tell the recipient what you want them to do – call a lawyer, book a dream vacation. It's a great idea to place these at the end of the pamphlet, right next to your contact – also make it easy for the recipient to see your call to action and emphasize it visually.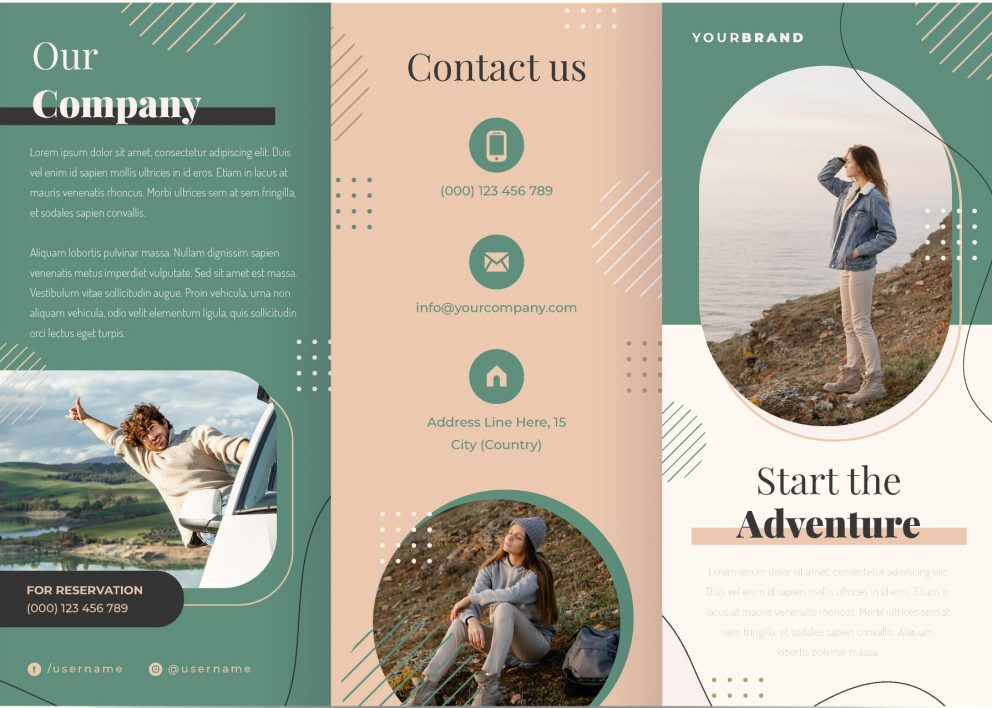 Go 3d with your brochure ideas
Another major design trend is the use of CGI-inspired imagery like 3-D graphics and similar abstract shapes. You can go full Pixar in your brochure design, utilizing cartoon characters in your creative brochure design as mascots, making your brand appear very appealing. This doesn't need to be limited to the young reader, even a travel brochure or one for real estate can use CGI Graphic imagery. Creative use of advanced effects is a great way to make your booklet stand out from among the sea of stock photos.
Fold your pamphlet!
You can also use the natural 3D space of your pamphlet – call to action to use the folded content to your advantage. If you have some amazing pamphlet ideas, you can design them with holes in page, and sample cutaways, so that they resemble a pop-up book. These interesting ideas are successfully used by creative designers to inspire and show some fun ideas. Other successful pamphlet ideas are ones that look like boxes, have cut-out holes, or some other unusual methods of attracting attention.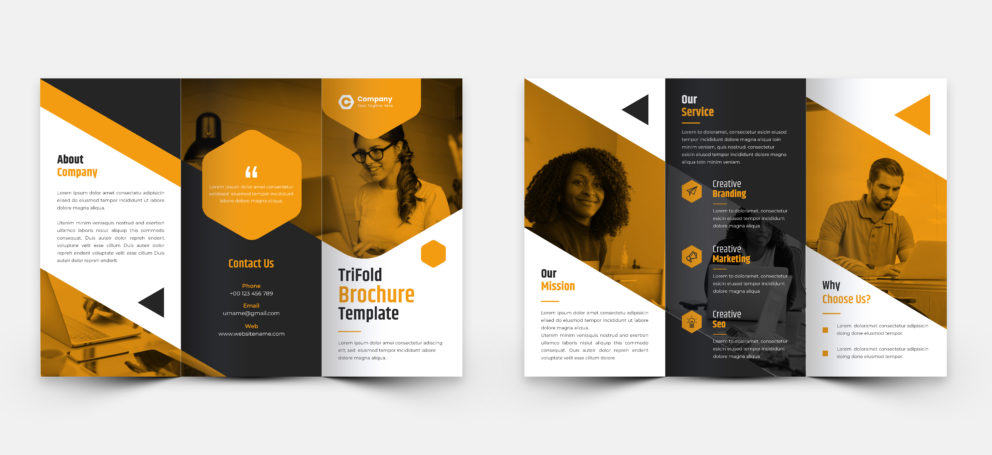 This creative type of pamphlet might look less professional, but it ensures that your pamphlet will be kept as memorabilia and your message and idea will be remembered. This is a great option for a designer who wants to showcase their art skills in a creative industry, like digital art or a folder for a movie festival. If your brand is all about thinking outside the box, these interesting ideas can be great inspiration!
Use stats and infographics in your pamphlet design
Using statistics and infographics as the main visual focal point in your pamphlet design is also a great idea. Statistics and graphs are usually noticeable and can easily be used as a focal point in the design. It will definitely grab the attention of the reader who takes a glance at the pamphlet.
What should you include in your infographic?
A well-crafted infographic is really useful for marketers. You certainly have access to interesting data that you can use when designing your pamphlet. Programs like Excel allow you to create nice illustrative charts and you can add icons or vector graphics to enhance the perception of the data in the infographic. It is also a good idea to use different forms of data representation to add variety to your pamphlet design.
Choose graphics that match the theme of your statistics. To emphasize your statistics, place a symbol next to them. Vector graphics can be abstract because they are illustrations of data, or they can be generic or somewhat cartoonish characters.
How to use layout to showcase your ideas?
How your audience will read your infographic is an important part of proper pamphlet design. Place it well in the pamphlet, preferably in the middle. Think about what points you want people to remember after reading your infographic and what they shouldn't miss. You can add arrows and descriptions to make it easier to move from one point to another, using layout to make the infographics a natural centerpiece.
Pamphlet design tips – a summary
There are many more pamphlet ideas – you can find more in our knowledge base or by examining the ones already Published in Publuu. We hope you find your inspiration and create a fantastic pamphlet that will help you drive more customers to your business.
You may be also interested in:

How to Make a Pamphlet?
How to design a brochure? Quick Guide
Digital Products Brochures. All You Need to Know