MENU
The best online catalogs that you can view instantly

With the convenience of online shopping, it's no surprise that free online catalogs have become increasingly popular. As more and more people turn to the internet to shop for everything from clothing to home goods, online catalogs have become an excellent resource for finding great deals and unique products.
Realistic flipbooks can transform your catalog into a great book that combines the availability and convenience of a website with the feeling of excitement once granted by paper catalogs. You can create the best online catalogs with an online product catalog maker using Publuu's innovative flipbook software. That way it will be more engaging for your clients, as well as the potential ones due to the interactivity that comes with it and real page-flip effects! It can become available to anyone, whether a business customer or an individual reader, all within just a few clicks.
Publuu's online catalog example
View more online catalog examples
Whether you're looking for the latest fashion trends or searching for a specific item, there's no shortage of options available in the world of online catalogs. In this article, we'll introduce you to the top 10 free online catalogs that offer an exceptional shopping experience.

Enhance your online catalog
In today's digital age, companies are always looking for new and creative ways to present their products to customers. With the rise of online shopping, it's even more important to give customers a smooth and interesting way to browse what you have to offer.
This is where Publuu's HTML5 Flipbook Maker comes in. Businesses can bring their products to life in a dynamic and interesting way by turning a PDF online catalog into an online flipbook. Regardless of whether you want to share free catalogs online with a wider audience or integrate it with your online store, you can share your offer with everyone.
Publuu's digital catalog maker is the perfect tool for companies that want to stay ahead of the competition and create truly immersive online catalogs. It offers a wide range of features such as customizable branding, the ability to embed video or animated gifs, or even integrate it with tracking features to see the number of downloads of your catalog.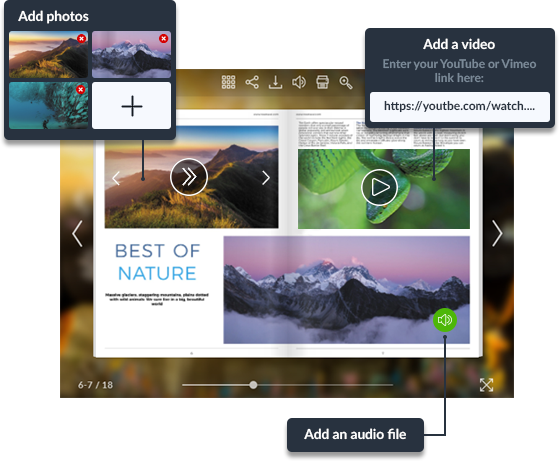 In addition, HTML-5 enabled ensures that customers can easily access your free catalogs online on any device, making it a convenient and effective way to showcase products and drive sales. Whether you are creating a catalog or a fashion lookbook, online flipbooks always come in handy.
In addition, the ability to share catalogs as a direct link instead of an email attachment makes it easier for both businesses and customers because they don't have to download the catalog.
The robust analytics feature lets track how well the entire catalog and each page is performing, and you can learn a lot about how customers are behaving and change your marketing strategies accordingly. The ability to add external links to product pages on a website also speeds up the sales process, making it easier for customers to go from browsing the free catalog to buying.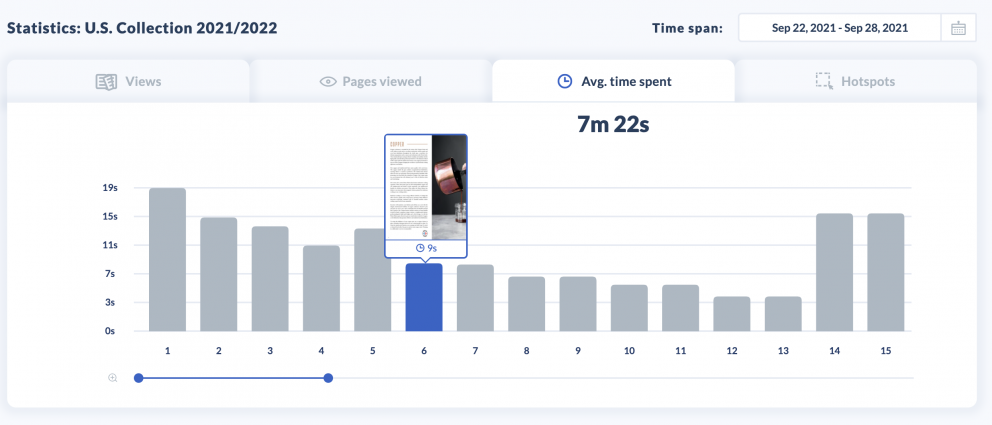 Digital catalog creator is a complete solution for businesses that want to create powerful and interesting online catalogs that look good and work well. If you want to create your own free catalogs online, below we prepared a selection of some of the best online catalogs to inspire you!

Best online catalogs
From intimate apparel to garden essentials, there are countless free catalogs online available for consumers to browse and shop from. To help narrow down the options, we've compiled a list of the 10 best free catalogs online that offer exceptional products, unique gift ideas, user-friendly interfaces, and an overall enjoyable shopping experience.

Audi A8
The Audi A8 catalog showcases a new model of the Audi A8, providing customers with up-to-date information on the latest offerings from the brand. This free catalog also includes large and detailed illustrations of the car, giving viewers a closer look at the design and aesthetics of the vehicles.
The inclusion of embedded videos of new car on display is another great feature of this online catalog, as it allows customers to see the vehicles in action and get a better sense of their performance. You can showcase visual information using online catalog creator.

deBuyer U.S. Collection
The deBuyer catalog of a wide assortment of utensils and cooking tools offers a variety of advantages for professionals and home cooks alike. Firstly, the catalog includes beautiful photos of delicious treats prepared using utensils and tools, providing inspiration and ideas for customers.
Another advantage of the deBuyer free catalog is the great descriptions of the professional cooking tools available. The catalog also includes a specific photo for every tool, which allows customers to see the item in detail and get a better sense of its size, shape, and features.

More Colors Catalog
The uDesign interior design company catalog is an innovative and visually captivating experience for anyone looking for inspiration or guidance in their home decor. The online catalog makes use of animated gifs that immediately draw the viewer's attention and make the browsing experience more engaging. The interactive image galleries are another standout feature, allowing users to see different angles and perspectives of the images.
In addition to stunning visuals, the catalog also offers expert advice on design margins and features large, high-quality photos that showcase the company's capabilities and home decor style.

Decathlon Catalog
The Decathlon online catalog is designed to provide detailed information on each product, with every item accompanied by a clear and detailed photo and a comprehensive description. In addition to the product descriptions, the catalog also features informative text about major sports and outdoor activities, making it easier for corporate buyers to make informed decisions about their purchases.
The use of animated gifs and embedded videos throughout the catalog adds an extra layer of excitement and engagement, showcasing the products being tested in real-life scenarios.

Betacraft Workwear Catalogue
The Betacraft workwear catalog uses stunning full-page photos that showcase the workwear products in detail, giving customers a clear view of the quality and design of their exceptional clothing. The text throughout the catalog is informative but not overwhelming, providing customers with all the necessary information about each item without bombarding them with too much detail or excessive information.
Another useful feature of the catalog is the description of the layering system, which helps customers understand how to build the perfect outfit for their needs.

Coral Skies Catalog
The Coral Skies papercraft supplies catalog is a visually stunning guide for artists looking for high-quality paper art supplies. The catalog boasts a highly graphic layout, featuring high-resolution pictures of each product, both the packaging and the product itself being used.

Adige
The Adige Design catalog features large, high-quality photos that allow customers to see every detail of the crafting materials available. The catalog uses a consistent, grid-based design that is easy to navigate and visually appealing.
In addition to showcasing its products, Adige Design profiles a variety of skilled craftspeople, including blacksmiths, tailors, and interior designers, offering customers examples of how their materials can be used and inspiring them with creative possibilities.

Dri-Duck
The Dri-Duck workwear catalog stands out for its magazine-like layout, making it engaging and easy to navigate. The photos showcase not only the clothes and accessories being used on the job but also their versatility in casual settings. Thanks to the design, the clothes don't just feel like workwear, and the catalog establishes them as quite fashionable casual apparel.

Mercedes
The Mercedes GLA catalog boasts beautiful and detailed photos of the car from various angles. They zoom in on specific details of the car, making it easy to examine the car's features. Additionally, the catalog provides links to the brand's social media accounts, allowing customers to engage with the world-famous Mercedes companies on various platforms.

Golden Acres
The Golden Acres catalog for food service corporations is a visually appealing brochure that showcases fresh produce at affordable prices and dishes prepared using their products. Each section for each service provider has a unique and different design, making it easy to differentiate between them.

Summary
In conclusion, online catalogs have become an essential resource for shoppers, providing access to unique products and great deals. With the rise of online shopping, companies must present their products in a smooth and interesting way to engage customers effectively. You can base your free catalogs online on the ideas found in this section.
Publuu's HTML5 Flipbook Maker is an excellent tool for businesses that want to create dynamic and immersive online catalogs. Its customizable branding, embedded videos, and analytics features make it the perfect solution for creating powerful online catalogs.
You may be also interested in:
Stunning Product Catalog Template That Stands Out
How to Create an Online Catalog For My Business