MENU

Document creation software is often a staple of many small businesses and schools, and it's hard to imagine a home computer without it. Such programs are used to modify, enhance, and distribute written work – there are text editors, word processors, and programs for designing and publishing PDF files.
Many of these programs, like Publuu flipbook maker, also allow you to store created documents in the cloud, share them with others, or convert them to other formats. In most cases, document creation programs are bundled with other tools or designed to integrate with broader enterprise software; however, they can also exist as stand-alone, specialized platforms.
How do I create a free document online?
Document editing tools allow you to create text files. However, you don't have to install such editors on your computer. Books, business letters, memos, resumes, or even marketing and business plans can be edited with an online word processor.
Most of these programs work in HTML 5 and you can run them from Chrome, Firefox, or Safari. One of the most popular free online word processors, comparable to Microsoft Word and other desktop word processors, is Google Docs. They integrate easily with Gmail and can be seamlessly shared with others.

What are the best PDF document creator apps?
However, there are many online document editing tools. Below, we'll present some of the best ways to easily create word documents, presentations, and other documents and work with them online.
What is the best document creator online?


Publuu Flipbook Maker
You can use this online flipbook maker to turn documents made in Canva Docs, Google Docs, or Zoho Writer into beautiful, interactive flipbooks that look like a real magazine, brochure, or other publication with pages that turn.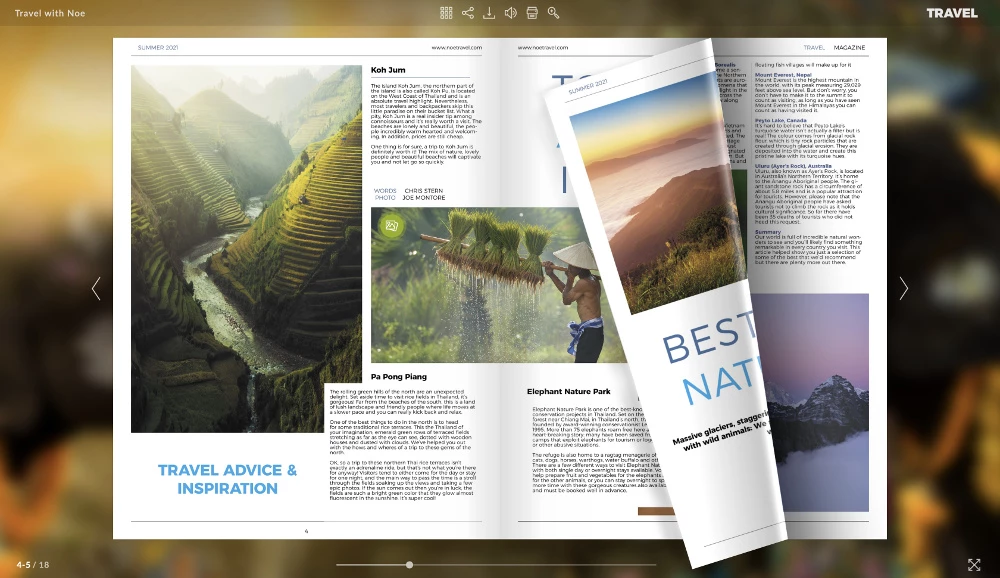 Convert your PDF documents into stunning flipbooks!
Once you've published your PDF documents to our cloud, Publuu gives you the ability to modify the look of your flipbooks to be consistent with your brand and provide your customers with a more engaging visual experience. You can add images and videos, personalize backgrounds, and add hotspots to them.
Once you've published your document as a high-quality PDF flipbook, you can take advantage of rich analytics features. You can find out how many times your flipbooks have been viewed, where your viewers are coming from, what links and media they click on, and which pages of your flipbook they find most fascinating. With these analytics, you can create documents that get more and more play.
Canva Docs
The Canva service was created so that anyone, regardless of artistic ability or experience, can share images, graphics, or photos on social media. You don't need experience or expensive hardware and software to do so. More recently, Canva also offered, for the first time ever, Canva Docs, a document creation package.
Canva Docs is an excellent page layout tool and text document editor comparable to professional documents. You can combine text with images and video, available in Canva's library, which includes fonts, palettes, effects, photos, videos, animations, and sound. With Canva Embeds, it allows users to embed other Canva designs inside the documents they create. For people using Canva Docs and other design tools, we have prepared a special guide – a Short Guide to Ebook Design.
Zoho Suite
Zoho as a corporate product, is a Customer Relationship Management system that is easily adaptable to unify a whole team for customer support. However, for small or individual customers, Zoho can be an excellent tool for document creation. Zoho Office lets you create a word document, edit styles and use functions unavailable in Google Docs, while Sheet lets you edit spreadsheets, and Show lets you create presentations using free templates. For an individual customer, this web option is comparable to the free Google suite.



Google Drive
Google is the ubiquitous browser that also lets you create documents using its free storage system. You can use Docs to create business letters, proposals, or white papers, or you can create presentations or forms. Documents created in Google Suite are easy to integrate with Gmail, and there are many plugins and templates to use.
Free online document creator – examples


This document ha been created using Publuu flipbook maker – the professional designs in the document have been enhanced by Publuu interactive hotspots and illustrations. Links and graphics can be also enhanced by the design of your flipbook. With Publuu your online documents will shine through, regardless of whether they were created in Google or Canva Docs.
Summary
When choosing your document editing and management software to download and use in your company or as a freelancer, examine your real needs first. You might only need the document download capabilities to share your work, as with Publuu, or you might want your entire team to work on a single document.
Regardless of what online document editing suite you choose, you can publish your documents online with Publuu. You can embed them on your website or publish them easily on social media.


You may also be interested in:
How to Send Documents Securely Over the Internet?
How to Share Documents? A Quick Guide
Interactive PDF Examples