MENU
The Best Tools for Ebook Creators
More and more people are deciding to create a free ebook to promote their business, brands, products, or services. Ebooks show your skills off and are a great incentive for readers to visit your website, and can also show that you know your industry like the back of your hand. They're a great way to promote your company, and generate some leads or even profits.

Free ebooks or virtual store?
You can use self-publishing to present your ebook in Kindle store, perhaps even try selling it for money. Free ebooks are a great incentive, but if you are an authority in your business or industry, maybe your ebook might be worth paying for.
An ebook is also a great way to ask customers to get in touch with you – as a way to receive an e-book they can subscribe to your newsletter, or leave you their name or cellphone number.
It's easy to become an ebook creator. You just need to spend some time, put your back write chapter after chapter, then put it all together. In fact, if you are able to write a blog post, you will be able to probably just use an office word processor, like MS Word or Google Docs, to save your file as an ebook using the EPUB file format or as a PDF and then publish it online. You can easily find some free or Public Domain images for cover art and market your ebook using your blog, and directing the readers to your landing page.
But sometimes you might want to present your ebook in a more sophisticated fashion. Ebook design is not that hard once you understand the rules. The basic EPUB or MOBI (used for Amazon Kindle readers) file formats are essentially HTML, which means that they're not much different from a blog post or a website. To create a more presentable, eye-catching PDF you could use your skills in working with Photoshop or InDesign… or at least some ebook templates. But you don't have to overcharge the budget of your company when you want to create that exceptional ebook. There are some great free or low-cost tools available on the market that will help you write an ebook and publish it online.
Online ebook creator software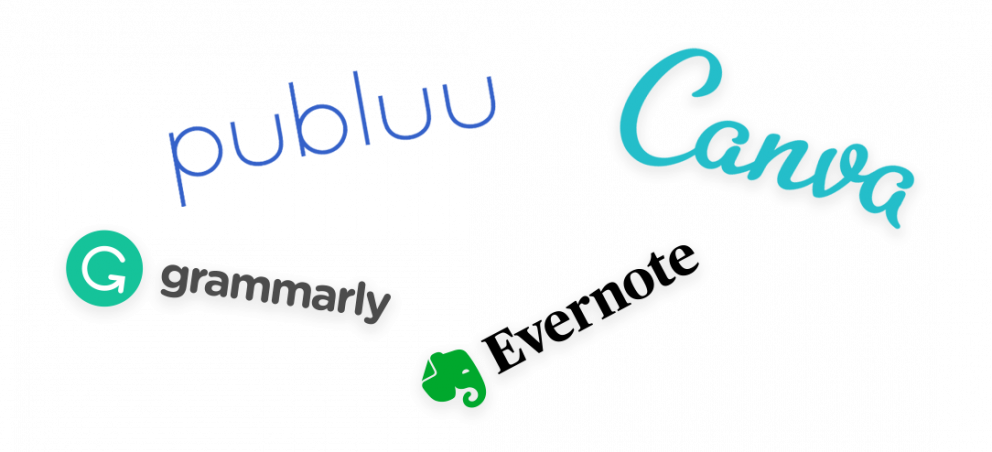 These websites will help you make an ebook for your business, though they require an online connection. Often, you can use them on Chromebooks, phones or tablets. Online ebook creator tools are a great choice if you use multiple devices, especially on the go, as many small business owners do.
1. Publuu (Recommended)
Publuu – online ebook creator is one of the leading generators of flipbooks. Simply put, when you have finished creating an ebook, this software can turn your PDF into an interactive document, which you can use to generate leads and evaluate user behavior – for example, by learning what point in the ebook they reached. You can use hotspots to link them to your landing page, videos, or additional content. Publuu is an interesting tool that provides something different from the other ones on this list.
Publuu's online ebook example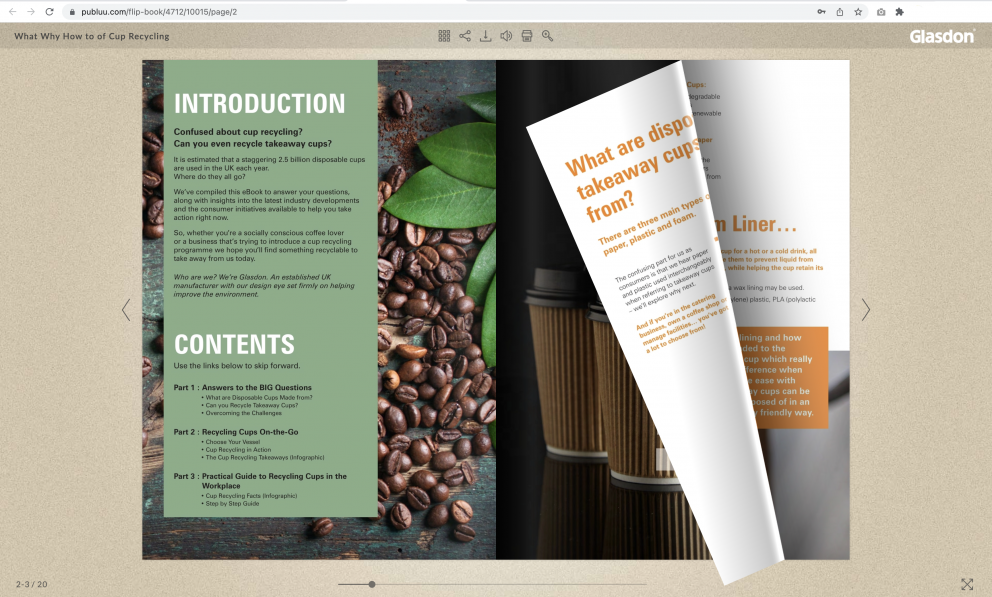 With flipbooks, you can target all sorts of readers, not just ones using Kindle or iPads. Flipbooks are available on all platforms that use HTML and work online for everyone.
2. Canva
Canva isn't InDesign, but it's quite good enough for small ebook writers who need to quickly design the page layout. It's an online design tool that offers a variety of designs and functions, and has more than a dozen ebook designs to choose from. You can choose not only the arrangement of the ebook cover but also the page layout – the design of the pages within the ebook, which is essential for a small business designer. And, naturally, you can customize all the colors and images in the ebook to match the branding of your company. You can easily pick ebook cover from a selection of pre-made stock art, or upload it yourself.
Canva is great for any ebook creator. You can use Canva to create all types of graphic components, save them in the editor as PNG or JPG files, and use pre-made graphics to decorate the text. You can also use a variety of typefaces so that the simple Calibri or Helvetica don't bore the reader to death. Moreover, you can simply get a ready-made ebook template for little money and modify it yourself. Designing PDFs becomes much easier with software like this.
Note that Canva can export only short PDFs that are only a few pages long. You can choose to create short PDFs for free and later merge them using simple tools (for example, like Scribus below). Or, if you're paying for ebook templates, you can always use their free trial.
3. Evernote
Evernote is a great tool for note taking, which is especially useful when you're gathering information for your ebook. You can always store your thoughts in Evernote: notes, memos, blog posts, links to fascinating websites, images, PDF documents. You can have it all in one place. A great alternative app is OneNote, which works well with MSOffice, if you want to use this software package. It also integrates well with MS Word and Publisher, so if you plan to create an ebook using these programs, OneNote might already format your text for you, for example.
4. Grammarly
Grammarly is among the best English spell-checker programs. It gives recommendations that you can instantly implement, simply by clicking on them. The quality of your written text increases significantly with this program: it works great in particular with the spelling and stylistic errors. It will make your life easier when you write emails and ebooks in English, even if you are a native speaker. You can also install it as a free browser add-on.
5. Anthologize
Many businesses use WordPress as their Content Management system, whether to create their website or present their offer. If you already have a popular blog, you can use Anthologize to make your ebook using blog posts. It is an ebook creation plug-in that can convert a blog post into a chapter in your ebook, and th entire blog into a fully-fledged ebook document. It can export the websites to Epub, PDF, or HTML format. Note that it has been developed quite a long time ago and might not work with newer versions of WordPress. You can also try alternatives like the Beacon plug-in or a paid software like Zinepal or Pressbooks (they also have free trials).
Offline tools for any ebook creator

These are programs you need to download on your computer if you want to make an ebook. Some of them might not work for Macs, others are unavailable for devices like phones or tablets.
Sigil
Sigil is an open-source ebook creator. It can help you create an ebook from a DOC file or write your own for scratch. You can use it to layout and design your EPUB file just the way you want and then convert it to MOBI using Calibre – or to PDF to display as a flipbook later, using Publuu.
Calibre
Calibre is a great software for managing and reading ebooks in various formats – and it's one of the best free tools to convert from one format to another. It lets you edit EPUB and MOBI files, which is very useful for ebook creation.
yWriter
yWriter is a tool for writers that is specifically geared towards NaNoWriMo (which is National Novel Writing Month). It can help you organize chapters and scenes, but it also works great as a simple word procesors. It's geared towards writing fiction, but it can be a great help for anyone looking for a productivity tool.
Scribus
Scribus is the best free PDF creator tool. This software lets you design simple e-books and lay them out professionally, creating eye-catching designs. It does require some knowledge about DTP but if you chose PDF as your ebook format, this tool is probably your best free choice.
Kindle Create
Kindle Create is a tool used by Amazon to help you design books for Kindle. It can divide your book into chapters, it contains several useful ebook templates that can help you create a well-designed ebook. Using Kindle Create, you can prepare ebooks for the most popular viewing device and format images well.
Now that your ebook is ready, you can promote and present it anywhere whether on the Kindle Store, or showcase it online with Publuu.
You may be also interested in How to Create an Ebook With Publuu Ebook maker?