MENU

These days, if you are an artist, writer, photographer, engineer, or programmer, you must create an online portfolio. It is a collection of your accomplishments that demonstrate your creative or professional abilities in a far more accurate and detailed manner than a resume. You must present your portfolio online in today's world.
A good portfolio should speak for itself, displaying your professionalism, passion, and personality in your work. It will be your first impression and must stand out from the other portfolios submitted. In your portfolio, you should demonstrate the people interested in your talent, what distinguishes you from the competition, and why they should choose your offer over someone else's. We will assist you in developing a strong online portfolio.
Start by gathering inspiration for your online portfolio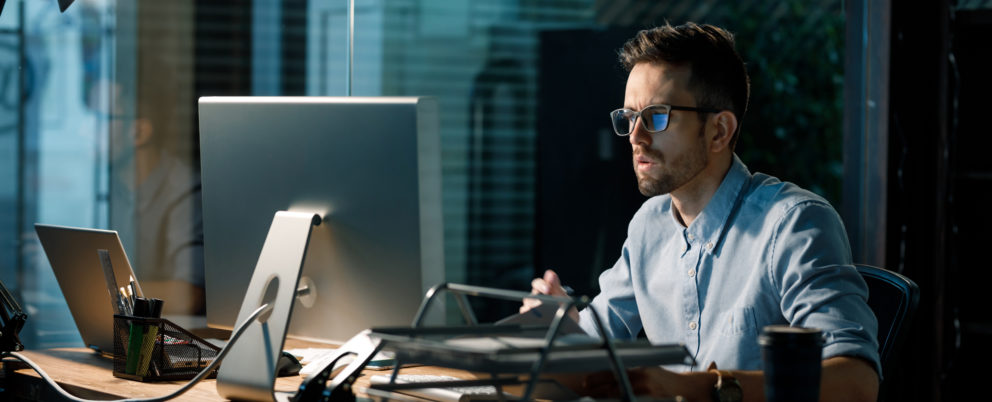 Whatever field you're in, you can look around at some other great artists, photographers, or writers and find inspiration and great creative ideas. Look at websites by other people in your specific niche or industry.
Many magazines offer also a look at the professional artistic portfolio. Browse them and learn how to present their ideas effectively. If you know how to design pdf (or just doc files), you can use these arrangements to create your own flipbook with Publuu.
When browsing these resources, don't pay attention to the quality of their art. If you want to make an online portfolio, you need to base your own creativity on their own style and presentation. An online portfolio is not just an effectively designed website – you should pay attention to the color palette, fonts used and how to navigate the art collection on their online portfolio. A sculptor can devote four photos for each sculpture, and describe their inspiration and the meaning of the work in a separate paragraph on one page – and the choice of font could matter for your portfolio site.
Use Flipbooks to make an online portfolio
A digital flipbook or HTML5 flipbook is an elegant-looking digital document format to use. You can create such a flipbook from any PDF file. Such a document looks extremely professional – Publuu offers realistic page-turning effects, as well as other key elements for an online portfolio.
Publuu's portfolio example
You can, unlike a regular boring PDF, add videos, gif files, additional annotations in the image gallery and links to sample projects to your online portfolio. So you can create a PDF document showcasing your work and including a Resume and then convert it to a Flipbook with Publuu so the client can view it.
The analytical features are worth mentioning. With Publuu, you can see who has viewed your portfolio online and verify that this important contractor has actually read it. You can see statistics and learn what in your document is actually interesting and which pages users are viewing.
When you have created a resume or portfolio in PDF format, you can easily present it like a real book. This is more interactive than the classic PDF and will make you stand out from the crowd. It looks awesome and will also highlight your design and presentation skills.
Use great photographs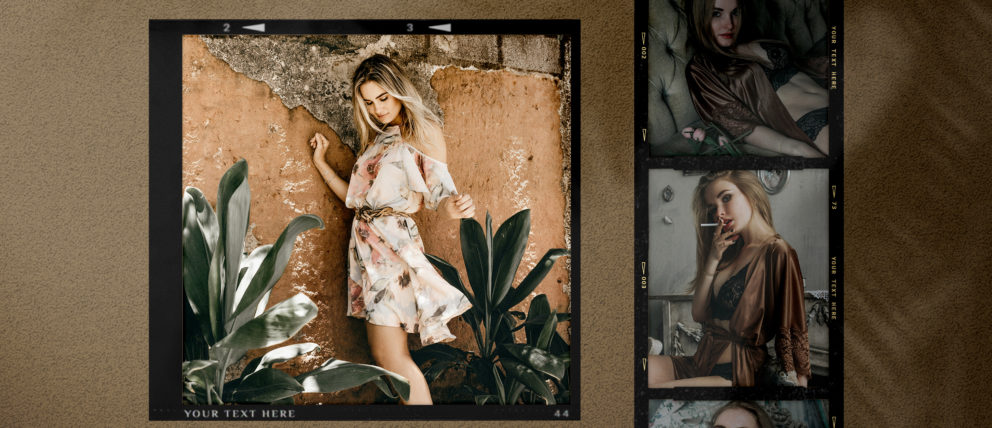 Photographers are not the only people who need to use quality photos to represent their work. If you're a painter, sculptor, model, or clothing designer, you need to have the best photos possible. Put some time and effort into photographing your work, actual process and products to make sure it looks as good online as it does in person. You can use a couple of shots of yourself at work – they will add dynamism to your gallery online.
If you need models, hire professionals – don't rely on your friends. When a professional photoshoot isn't possible, use mock-ups to bring your visions to life. Put those photos on your website or in a pdf flipbook. Online portfolios look best when they contain professional pictures portraying real work, not stock photos or memes.
Who can create an online portfolio?
Even if you aren't a graphic designer or do creative work, having an online portfolio is a good idea. Every employer wants to see your accomplishments, which you can demonstrate with an online portfolio. You can always demonstrate your hard work, and an online portfolio is an excellent addition to your resume.
If you have relevant work experience, you can include a case study in your portfolio. Write a few sentences about the project you worked on and how you solved problems. Visualize it with a photo of yourself or your team, and you're done! Scientists and researchers can always add research results and charts to their online portfolio – they will tell a lot to those who are knowledgeable about the subject and will dazzle the layman.
You can also include various certificates in your online portfolio, either as a pdf file or as a flipbook from Publuu. Furthermore, if you prepared presentations at your workplace, they are an excellent addition to your professional portfolio. Any screenshot showcasing what you've been doing can completely change online portfolios.
Showcase your best projects on your portfolio website
Source: Frreepik
Your artwork is the foundation of your online portfolio, so make it stand out as much as possible. Your best work needs to be visible and easily accessible from your homepage and/or site menu. Create a dedicated "projects" page on your portfolio website to highlight this work. In Publuu, use hyperlinks and similar advanced features to direct visitors to the work on the cover of the flipbook or in its table of contents.
Show clients only your best work to demonstrate your creativity and skill. This way, you can direct their attention to your strengths while maintaining a consistent level of quality within your portfolio site. If you have any success stories, mention them! Include reproductions of awards alongside your writing.
However, don't overburden your prospective clients. Choose only the best projects that you are most proud of and that demonstrate the pinnacle of your abilities to place on your portfolio website. Even if they aren't specifically in your industry, you might want to brag about your accomplishments. Consider what makes your work so great, what it says about you, and what skills it demonstrates.
In addition to showcasing your best work, remember to update your portfolio website regularly so that you are always sharing your latest work. This will show visitors that you are active, still working and have previous experience. Publuu allows you to upload new files, but leaving your old address. This way, you can create an online portfolio that is easy to update, allowing you to easily add new projects on the fly.
It's a good idea to include a narrative with each project, so potential clients can understand the context of your work. PDF files styled like an ebook are great for this. Be sure to include a brief description of the project as well as your role and the collaborators you worked with. This way the client will verify you and trust your professionalism.
Rely on ready templates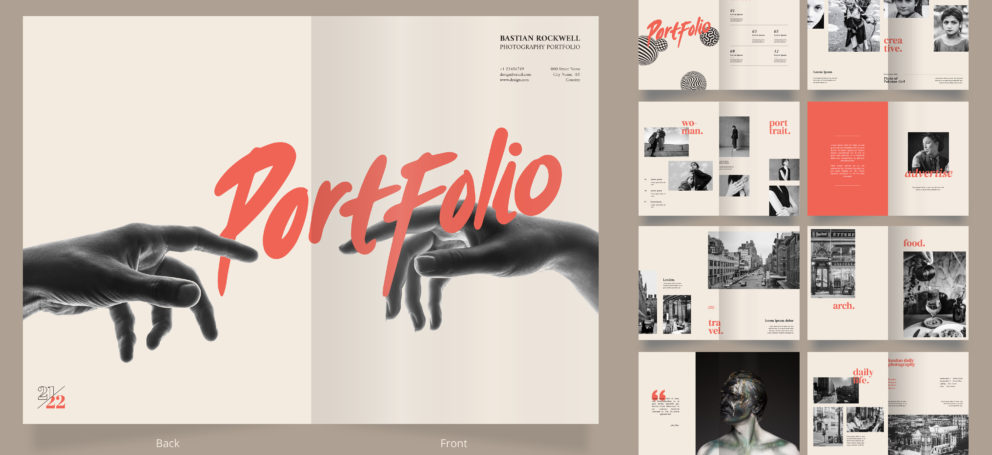 Source: Freepik
Websites like ArtStation, LinkedIn, and Google Docs aren't going to cut it. To advance in the industry, you simply must have your own website. Traditional resumes (black text on white paper) are becoming increasingly obsolete. They become outdated as soon as you achieve something new. Your own portfolio website promotes you, your online portfolio, and even your own store. Because Publuu's flipbooks are HTML, you can easily embed them on your website, resulting in a one-of-a-kind portfolio.
Anyone can have their own website – a ready-made template costs pennies, and free hosting is available. If you want to use a ready-made WordPress template, you don't even need to learn programming. Instead, you can choose from thousands of free website themes and templates to create a simple, memorable portfolio website. Some hosting services can also come with website builder apps – be sure to choose one that offers good quality portfolio page templates, preferably free ones.
What should you include on your portfolio website?
Begin with a self-presentation. Demonstrate your personality. However, don't bore HR with your life story because the majority of people simply won't interested. In terms of your portfolio introduction, keep it simple with one or two sentences about who you are and what you do, as well as a photo. You can include some catchy tagline, such as "I know gloves like the back of my hand," as your slogan.
Of course, you'll need to display your portfolio – whether through WordPress plugins or the online Publuu directory. Your portfolio could also include links to your online store. It should be the focal point of your portfolio website. Also, it should be simple to access and navigate through your gallery.
After you've introduced yourself and shown off your work, you should provide a way for potential clients to contact you. A contact page is the best way to accomplish this. If you want to add a contact form, it is relatively simple; most design themes include a pre-built contact page that you simply need to customize. If your theme does not include a contact page, a suitable WordPress plugin can easily be found.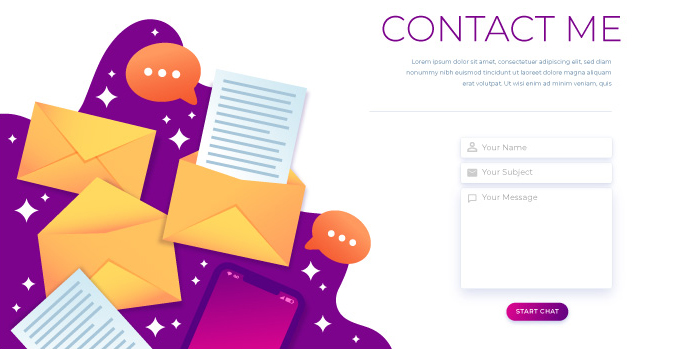 Optimize your online portfolio for mobile devices
It's easy to forget that today, it's likely that most people will view your online portfolio via a smartphone. Mobile devices account for nearly 60% of all website views worldwide. This means that your online portfolio needs to look equally beautiful on mobile and desktop devices. The best website designers can offer you good responsive web designs.

If you choose to create a website, you need to create a responsive version. A mobile site is more than just a smaller version of your site for computers. That's why you should choose Publuu to display your online portfolio – which will create an HTML5 document that displays wonderfully on any device with a modern browser.
The mobile version of your site needs to look elegant on a small screen where only the most important elements are displayed. Also, make sure the fonts and colors are easy to read. To make navigation easier, reduce the amount of text and consider adding a search bar. Again, you will find it useful here to review your competitors' sites. It's also useful to take care of search engine optimization – good web design includes this in its paradigm.
Be minimalistic when creating an online portfolio
Many young designers simply upload all their work online, creating a simple gallery on their website, especially if they receive accolades for their talent. However, the most important thing is to avoid creating a crowded portfolio, because a potential client will be overwhelmed by your offer.
It's worth committing to minimalism. When you showcase your work online, focus on menus and designs, don't invest in colorful backgrounds and excessive fonts. Your artwork should be the heart of the page. The Flipbook format will also allow you to use this to the fullest – it's enough to use Microsoft Word to prepare a simple PDF booklet, you don't need to be a graphic designer and learn how to create PDFs.
Use white space to avoid clutter. This is the white space around images, text, buttons and other design elements. White space directs the user's attention and keeps the pages from getting too crowded or cluttered. Around the illustration – it will attract attention and make viewers focus your eyes on it.
The portfolio should be simple and easy to browse in one sitting. Important pages you should include are the home page, the "about me" page, the contact form, and a gallery of your work. In flipbook, start with an introduction – you can put your resume at the last page or two.
Rely on word of mouth

If you've ever worked for any client, ask them for a reference to put in your online portfolio. Why? People are more likely to trust someone if they see that someone else has done it before. You simply must collect customer feedback and testimonials and include them in your portfolio.
Portfolio building can be quite hard when you are just starting out, but don't give up! Remember that every client is a potential reviewer, and this includes fans of your free work. If you don't have feedback from clients, you can also seek testimonials from mentors or more experienced friends in the industry.
You can also do this through social media. Every Instagram, Flickr, or Facebook comment is a potential review. Create social media accounts and include links to and from your portfolio; this will show visitors that other people are interested in your work and are following your projects. Social media let you also show Publuu Flipbooks – the preview includes the cover which can be your resume or photo.
You can even include a feed from your social media accounts in your portfolio. This can be a great way to show what you're working on right now, showcase when you've last updated your portfolio or to demonstrate new skills. However, remember to maintain a professional demeanor on social media.
We hope that these simple tips can make it easy to create a portfolio website. If you have any more great tips and examples, be sure to connect with us!
You may be also interested in:
Best Free Portfolio Websites
Teachers Portfolio – How to Prepare It ?