MENU
How To Create a Great Magazine Website?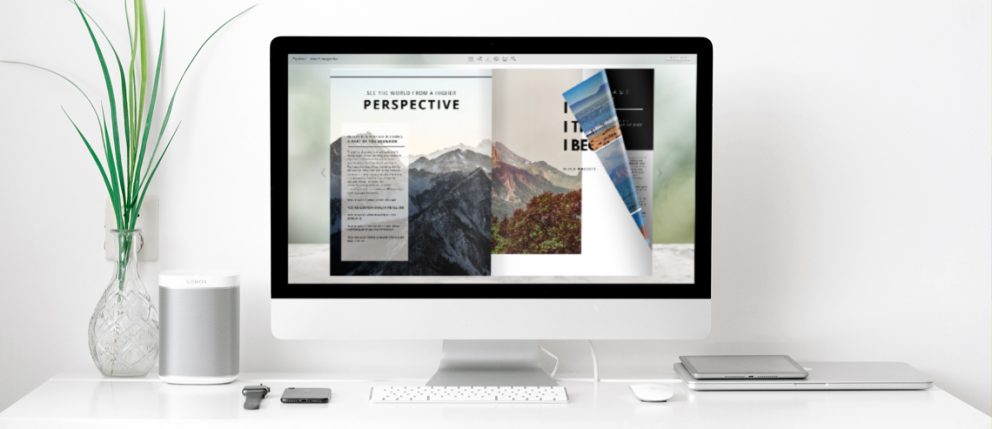 Let's assume you have published your magazine and created the layout of the first issue… but what now? How to present your online magazine? How do you provide your readers with high-quality digital content? You'll find answers here in our article!
Websites for magazines or website magazines?
Many people publish magazines as laid-out PDFs or use services like Publuu to share these digital media in the innovative flipbook format. However, many other magazines are still published in website format. Such a magazine is usually a website that provides a consistent stream of material on a single topic or a broad variety of topics. Sometimes you can gather the news and content from the magazine website into the printed version or distribute it as an ebook or flipbook so that your audience can read your content off-site or on their mobile devices.
However, the PDF format can meld well with the magazine website – you can embed them in your website. If you run a magazine for your supporters or customers, you can place them embedded in the relevant posts or have a virtual shelf where they will be, for example, reflect on your entire years' worth of collection.
Your magazine website's theme can be whatever you like. Most of the time, though, that the topic you choose has enough breadth for you or your writer to write several unique pieces on a regular basis. World news, reviews, movies, stories, health issues, finance guides, image galleries, recipes, guides, and other types of material are all possible. Regardless of what form your digital magazine takes, publishing it on the world wide web requires good consideration.
How to create the best magazine website for your publication?
Choosing the form of your magazine website is one of the crucial decisions you can take in the publishing industry. Using the site format for your digital magazine has some advantages.
It's easier to search for your content and Google offers indexing of your media. You can also send your friends only the link to the featured article you want them to read, or link to them via Twitter or Facebook. You can quickly update your magazine, change the content of your stories as more information is revealed.
However, Publuu lets you do all of these – and more. It works well with Google indexing your PDF since it converts them to the HTML5-compatible format, and it integrates smoothly with social media functions. You can update the file very quickly and it looks great on mobile devices.
Presenting your magazine as a digital flipbook can be far more useful and there are many more great unique features you can make use of.
Flipbook magazine example
View more online flipbook examples
The flipbook format is one of the best ways to distribute content – the realistic effect of flipped pages is a great way to include it in your design.
You can easily underline featured media – the classical magazine format helps you underline crucial content and popular trends. A website looks like any other website, but thanks to innovative layout you can use images or hot links to show top quality stories or articles.
Traditional magazine format is better for longer reading sessions. It's great for stories, reports, interviews, and similar longer content, less ideal for quick news or finance articles.
It's easier to monetize – Publuu allows you to run a web kiosk (see below), and as long as the flipbook stays online, it's harder to pirate: so you can retain copyright over your products.
It's easy to establish your unique brand identity. A magazine website can use a template, but it isn't much different from other websites on the Internet. However, a PDF flipbook is an opportunity to create a unique design of the layout that's immediately associated with your brand.
It's easy to share it on your social media – you can just share the hotlink to the flipbook, and your friends and interested people can access your content with a single click. In Publuu it's easy to link back to your social media profile.
You can decide whether it's downloadable so that users might read new content the way they decide or if it's embedded in the webpage so that it might depend on the access to paid websites.
What is Publuu's Web Kiosk?
Web Kiosk builder is the best way to create a good-looking magazine website for your online publication. You can use it to gather your magazines together and distribute them to your readers. It's a modern way to display your content and take it to the next level.


Publuu's Web Kiosk example
Click here to see it in a full screen mode
Web Kiosk builder allows you to share flipbooks in a single place – including your digital magazines. This way you can quickly and easily build a website for your magazine by creating a virtual magazine rack. You can put them on your company website or on social media, to drive access to your content and news services all over the internet.
Such an online kiosk will allow you to put all your magazines in one convenient place, giving your readers all over the world easy access to your entire magazine archive. You can sell them or offer them for search and browsing for anyone who has bought access to your archives. This kind of website is also easy to personalize with your choice of color and background, you can add elements that will make your design truly unique. The online kiosk easily adapts to all screen sizes, including PCs, tablets, and smartphones.
You can also utilize the kiosk to link to the outside or even sell advertising space in it – a very interesting solution and better than the classic stock page. Every user will enjoy convenient access to your best magazines and the latest news.
Such kiosks are also easily integrated into websites and blogs, just like individual flipbooks. You can take the entire bookshelf and create a new platform for your readers to enjoy. You may present a new issue for a single day for free – and encourage premium readers to purchase them separately.
An online kiosk is one of the best ways to share your news and stories all over the world and connect with the global audience – it might be a better option than a simple magazine website, or it may synergize with a traditional or new website – it's your decision to make!
Combine your magazine website with a dynamic flipbook
Many publishers blend this model, using both a magazine website and a digital PDF available for purchase. You can make some articles available for free, while unique content or popular stories can be available only in your web kiosk site.
You can create a magazine bookshelf only for the issues of your magazine, making your content available in attractive flipbook format for premium customers or the backers of your fundraising or crowdfunding campaign. In this way people who search for your archive will be able to discover it easily.
You may be also interested in:
How To Publish Digital Magazine?
Online Magazine Maker – 7 Simple Tips!
How to Start an Online Magazine?