PDF documents tracking in real time
Convert your PDF documents into easy to access, stunning and trackable online flipbooks! Use documents tracking options to check how they perform in real time.
PDF tracking
Publuu's documents tracking system, which you can use via Publuu's Statistics Panel, allows you to easily check your PDF documents' performance and your readers' interactions with them. Try our PDF tracking solution for free: get to know your clients and see how your online publications respond to their needs!
Try now
Number of views
Publuu's PDF tracking system allows you to set the timeframe in which you want to check your HTML5 document's performance. It also shows how many times your flipbook was opened. See how effective your marketing is and draw conclusions thanks to PDF tracking!
Pages viewed
Analyze your audience engagement using advanced PDF tracking solution. Check how many times each of your flipbook's pages was viewed to determine which one is the most popular and why. Use documents tracking system to understand how to make the least popular pages engaging!
Average time spent
Get to know your clients' behavior with PDF tracking system. Use it to check how much time they spent on each of your flipbook's pages, and which one kept them for longest. Understand what interested them most. Use documents tracking to work on your content and improve it!
Hotspots
Use Publuu's PDF tracking solution to make your clients more engaged. Go to documents tracking section to check their interactions with the hotspots you added and see which video, gallery or link had most views. Start working with PDF tracking to understand what draws your clients to read your content. Use that knowledge in your future publications!
The world of flipbooks
Publuu's trackable flipbooks are being used by more and more clients around the world. So many stunning publications were created using our flipbook maker!
Try now

How to start tracking PDF documents?
Tracking your documents couldn't be easier. Follow our guide to see how to make the most out of the PDF tracking system!
UPLOAD
Log into your Publuu account or register for free. Convert your PDF document into a flipbook – an interactive version of a static PDF file, which is easy to share and track. Copy your flipbook's direct link and share it via email or social media. You can also embed it onto your website. This is how you will generate your documents tracking statistics.
TRACK
Once your link gets opened, it will start generating PDF tracking statistics, allowing you to see how much time your clients spent on each of your pages and which was the most popular one. Also, use PDF tracking options to understand which of your hotspots was most popular among your readers.
BE NOTIFIED
Switch on notifications and reminders to track your flipbook's performance in real time. This way you will know when it was opened and you will be reminded if it wasn't opened by a certain date.
USE TRACING LINKS
Use our PDF tracking solution to track links you shared with your clients individually! Click on tracking links button. Documents tracking option will allow you to monitor your clients' interaction with the PDF documents you sent them.
Start tracking your documents!
Convert your PDF into an interactive flipbook. Make use of our PDF tracking options to get to know your clients!
Tracking links
Thanks to Publuu's PDF tracking option you can monitor the performance of individual links sent to your clients. Keen to share your interactive flipbooks with your clients separately and know how they interacted with your content? Use documents tracking statistics to check all details about your tracking links!
Notifications
Publuu's PDF tracking system will help you monitoring your PDF documents in real time. Use documents tracking to receive instant notifications every time your clients open your flipbook. You can also switch on reminders which will be sent to you when your flipbook will not get opened by a certain time. By knowing when your publication was clicked on, you can follow it up at an appropriate time. This is how PDF tracking can make your marketing actions more effective!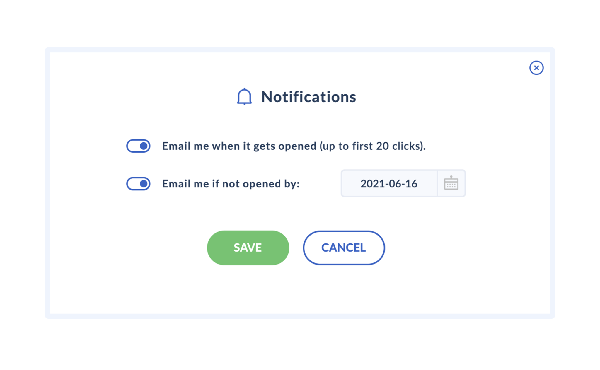 Try Publuu's PDF tracking system now
PDF tracking is a marvelous marketing tool. Get to know your clients and improve your publications with Publuu's documents tracking system!
PDF tracking benefits
PDF tracking can make your life much easier. Check out all the fantastic options it gives you!
Create a professional
flipbook
With Publuu, you can convert a PDF to flipbook with page-flip effect, and make your digital publication truly interactive. Your static PDFs will become engaging and simply stunning. Use flipbook's thumbnails in the flipbook's menu to navigate within its content in an easy way.
Make it unique
and engaging
Attract your clients by making your HTML5 flipbook unique and engaging. Add interactive hotspots, make it clickable and fun. That way your clients will be keener to remember your company!
Make your brand
stronger
Digital flipbooks will help you making your brand stronger. Add your logo and direct links to create a professional publication that will reflect your company's style and publicize your offer!
Our customers talk about us
14-day free trial!
Go beyond boring PDFs and create digital flipbooks that conquer the world! Upload you PDF and try for free Publuu's great PDF tracking solutions!