MENU
How to Make a Flipbook?

Flipbooks are one of those things, that you will only remember if you grew up before the internet.
Those little cartoons that you drew in the corner of your notebook would come alive whenever you wanted them to. And while kids these days can play with their fancy smartphones all day, we know that nothing will ever beat those good old days.
But, what we told you that you can play with flipbooks as an adult? Business presentations, e-books, family albums – each one of those things can be better. You just need to find a way to make a flipbook out of an ordinary document.
In this article, we will explain what's the best way to do it.
Create your digital flipbook with Publuu!
With Publuu, making a flipbook takes less than a minute!
First, make sure that your file is in PDF format.
Then, simply select a file that you want to animate and upload it to Publuu – the rest is done automatically.
From there, you can still add your own spin on it – change the background, embed a video, or even add a sound. Possibilities are only limited by your imagination!
Publuu's example below
View more examples

MAKE YOUR OWN
How to make a real flipbook – step by step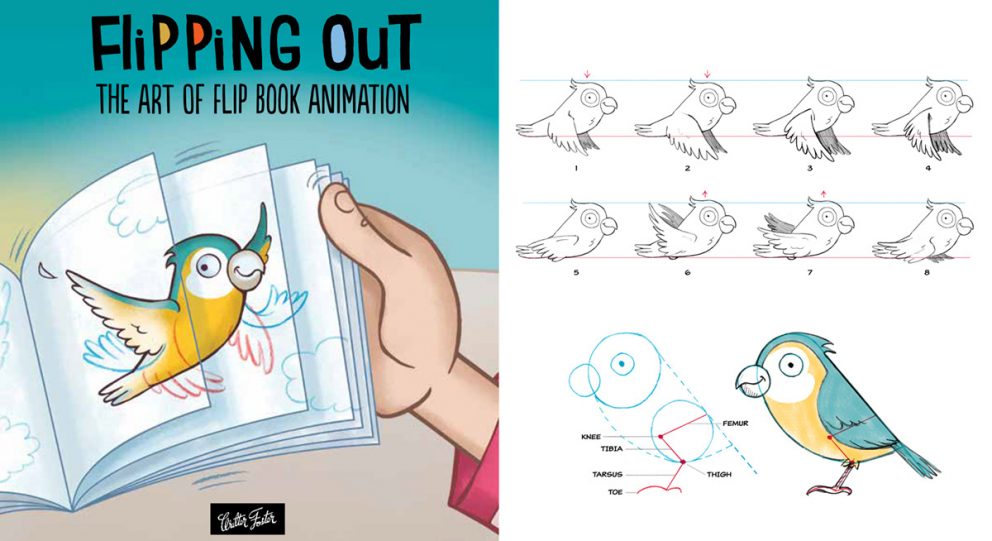 Source: Behance – David Hurtado
Even if drawing isn't your strongest suit, you can still make an amazing animation with as little as a notebook and a pencil.
So before you do anything – think. What would you like to draw? What story there is to tell. Is it a story of a man dancing in the rain? Or is it a story of a blooming flower? In case you need a little inspiration, here's a little example of great storytelling in a flipbook:
Prepare your tools. A pencil and a thick notebook should be enough, but you can't go wrong with a little color. Don't overdo it! Remember – you'll be drawing the same picture multiple times over 20-ish pages.
Draw your first page. It could be a drawing of a man standing still or a picture of a peaceful village. Set the stage for your story.
Draw the LAST page of your story. Yes, the very last one. This way you will have a better idea of how to pace your drawings in the middle.
Fill in the middle of your flipbook. Make sure that elements that are not meant to move will remain at the same distance from the edge of each page.
Flip it! See how your characters have come to life!
Turning PDF into a Flipbook- why (and how) would you do it?
While digital flipbook is not exactly the same as the animation made on a piece of paper, it can be just as engaging. Imagine a product catalog, that looks visually pleasing not only because of high-quality images but also because of how nicely the pages flip!
Want if you want to make a family album that everyone would want to see?
Here's how to make a flipbook out of your family's photos.
Select 40 to 60 pictures for your album. That part is probably the hardest one – these are not just random pictures – these are your favorite memories. And to decide which is best – it's like deciding which one of your parents you love more. So if you find yourself struggling, ask yourself this: which picture tells a better story? There's a difference between "Me and my friends went to the beach" and "Me and uncle Rob went fishing in the river and we ended up pulling trout so big, that we could barely lift it". A good story is better than any animation or video.
Organize them. Chronologically, thematically – it's up to you. The advantage of digital photo albums over paper ones is this – you can add videos as well! But, try not to put too many elements on one page. Anything between 4 to 6 should be just about enough. For that part, you will need some sort of software to organize your photos properly. There is a number of good tools available online, but you can always use your favorite search engine- like Google – to find one that would suit you personally.
Save your album. If you want to make a flipbook that turns pages just like a real album, then we suggest saving your photo album as a PDF.
Turn your album into a flipbook. You can do that by uploading your file into Publuu, or use one of the alternatives. This will allow you to add features that no paper photo album would have – such as animation and sound effects.
Share your album. Send it as a link or share it on Facebook. If you plan on making multiple albums, you can share them all at once as a virtual bookshelf. You will not only enjoy an outstanding animation on each individual flipbook – you will be able to browse them almost like a Facebook feed. No paper flipbook can do that!
Digital Flipbook- other ways to make one
In case you are not in a mood for walking down a memory line and all you need is a tool that will turn your PDF into a flipbook, then you're in luck. You won't have to spend the next 3 hours asking Google "how to make a flipbook online" or "flipbook free" because we did it for you! And while some sources recommend making a flipbook animation yourself, we decided not to include these sources.
After all, there are tools out there that can create your flipbook for you:
Publuu – a complete flipbook maker ( recommended)
With Publuu making a digital flipbook is easier than ever!
Select a document that you wish to turn into a flipbook.
Upload it to Publuu's flipbook maker.
Customize it – add a background, change animation and the sounds of your flipbook.
Share your flipbook o many ways
Track your flipbook performance in real time
And the best part? No watermarks – not even in a free trial. And if you feel confident that your flipbooks can attract customers (which they do), share them on your website as a virtual bookshelf.
This way, you can add new flipbooks every day, without affecting the layout of your page.
How cool is that?
EasyPDF – PDF multitool with a flipbook making feature
EasyPDF is an online tool designed for editing, merging, and publishing PDF files. One of its features, called Ease Flip, allows you to upload your PDF and add an animation to it. Unfortunately, the free version also comes with a visible watermark added to every flipbook that you will make. Flipbook made with EasyPDF could potentially be used for personal files that you don't intend to use very often or show publicly.
Now that you know how to make a flipbook, the question is: will you make one?
Let us know in the comments below.