MENU
Catalogs – 101 Guide. Design Ideas, Top Tips, and Templates
Although we rarely think of it this way, a product catalog is essential to content marketing. With its help, a company can promote its offerings, expand its customer base, and increase sales. An online catalog is especially effective because it can be easily shared on any device.
The word catalog or catalogue comes from the late Latin 'catalogus' – list. Such a list is today a collection of products and their specified price. Usually, catalogs contain the company's offer, which can be illustrated and well-presented.
To release your product catalog, you can use Publuu flipbooks, which offer a more engaging experience than traditional PDFs. Not only do they highlight realistic elements of your catalog, using the realistic effect of flipped pages, but they also can show your products in a way that ordinary catalogs can't. They can include interactive elements such as images, videos, and links to pages with detailed product information, just as in the example below:
Publuu's online catalog example



View more online catalog examples

MAKE YOUR CATALOG

In this text, we'll explain how to create a product catalog, what software to use, and share with you design ideas, tips for creating a great catalog, and a selection of the best catalog templates.
How to Make a Catalog?
The first step in creating a catalog is to gather all the necessary data to create such a document. Prepare a thorough inventory of your offerings: product names, descriptions, prices, high-quality images, and videos (if applicable), and any other relevant information. Also, think about how you want to present the products and in what order. Decide on the organization of your products and how to present them to your audience. You can group your products into categories or sections, use a table of contents, or organize them according to certain themes or functions. For example, a software company might describe basic programs at the beginning and advanced tools later in the catalog.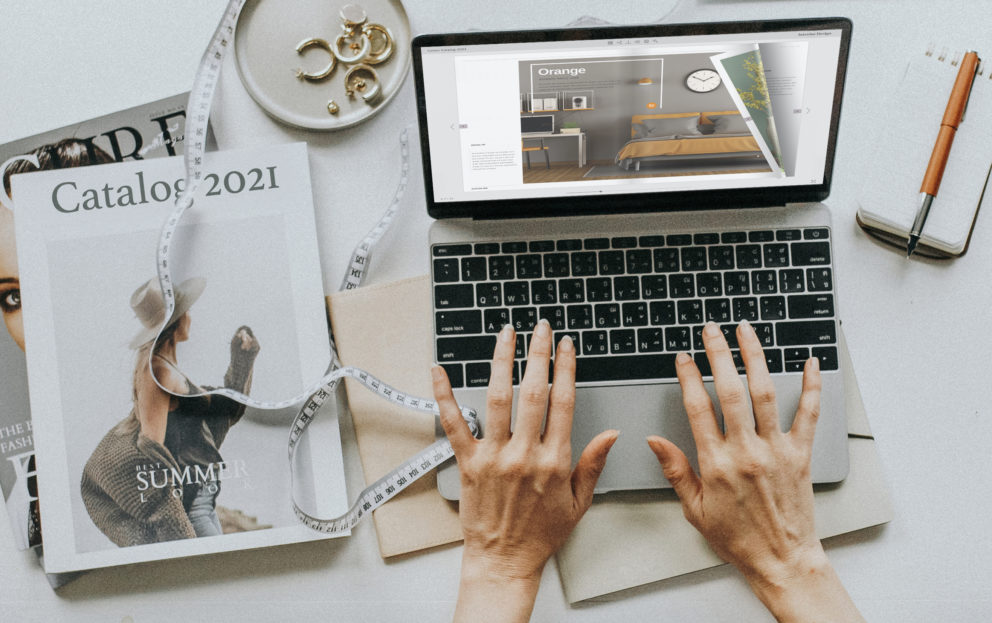 Once you have an idea you can start designing. Catalog design plays a key role in engaging your audience and reflecting your brand identity. Choose a visually appealing and consistent template that complements your products. You can use design software such as Adobe InDesign or Canva, or any tool from our catalog maker software list.
Once your catalog design is ready, it's time to add product details and other content. Carefully place photos and product descriptions, making sure they are clear, concise, and attractive. Consider using bullet points or short paragraphs to make the information easy to digest. Don't forget to include additional content, such as customer reviews or usage examples, to enhance the overall appeal of the catalog. Remember to keep a consistent design that matches the style.
Once you're confident that your catalog is error-free and visually appealing, it's time to publish it. Choose the format that best suits your needs and target audience.
We offer more tips on how to make a catalog in our knowledge base article.

Online Shopping Catalog vs Paper Catalog
Online catalogs can be accessed from anywhere with an internet connection, allowing them to reach a wider audience.
One of the biggest advantages of online catalogs is that they can be updated and changed quickly and effortlessly, ensuring that the latest products and information are always available. You can also track and measure the effectiveness of online directories with analytics, gaining insight into user engagement and conversion rates. If you will decide to upload your catalog to Publuu, analytics systems allow you to learn more about your readers and at what times your PDF is browsed!
While online catalogs are popular with younger and tech-savvy audiences, they may not be as effective in reaching older demographics less accustomed to digital interactions. That's why paper catalogs remain highly popular. They provide a tactile experience, offering customers a more immersive and engaging experience, and paper doesn't tire the eyes the way reading from a screen does. However, paper catalogs can be more expensive to produce and distribute compared to online catalogs, especially for large print runs.
There is no one-size-fits-all answer to the question of which type of catalog is better. We have prepared a more complex summary in our article: online shopping catalog vs paper catalog.

Best Catalog Software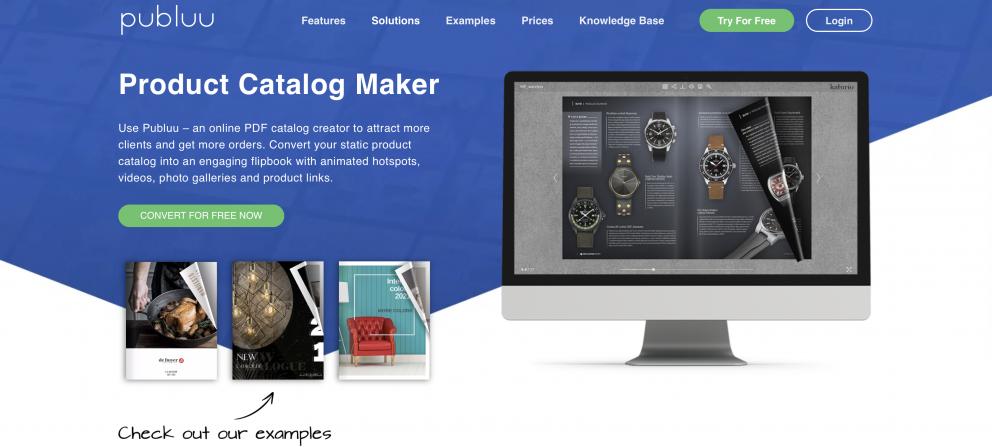 With the advent of online catalog tools, creating interactive and compelling catalogs has become more accessible than ever before. These digital tools offer companies the flexibility to design catalogs that can be viewed on any device. But how to choose the best software to create and manage catalogs?
Among the plethora of online catalog creators available, some of the best options stand out for their unique benefits and features. You'll find them through a list of catalog software in our article.
Using catalog creators mentioned there, you will be able to unleash your creativity and customize catalogs to achieve their marketing goals, whether it's increasing sales, boosting brand awareness, or attracting new customers.

Creative Catalog Design Ideas
To create a compelling catalog, simplicity is key. Incorporating graphics and creative design templates can enhance the visual appeal of your brochure. Using contrast and color can also make the content more engaging. Always keep in mind the target audience and purpose of the catalog, ensuring the tone and style align with your overall brand image.
High-quality, relevant images and graphics will help you showcase the products or services you offer, and a user-friendly layout is essential to ensure easy navigation and readability. Encouraging interaction, including a call to action such as a link to your site or a contact form, can encourage readers to take the steps they want.
Start with an attractive home page with a compelling image that represents your brand or flagship product. The cover is the first impression of the catalog. Don't forget to include contact information on the back cover, making it more convenient for interested customers to get in touch for further inquiries or purchases.
These are just a handful of ideas you can incorporate into your design. You'll find more in our catalog design ideas guide.

Tips for Creating a Great Catalog
If you are looking to create a fantastic catalog, it should be based on customer personas. Developing a detailed buyer persona allows you to capture customer preferences, behaviors, and needs. Tailor the communication and presentation of products in your catalog to resonate with the right segment.
Set your catalogs apart from the competition by introducing creative and visually appealing images. Use eye-catching photos and illustrations that present your products in a unique and compelling way.
Use unusual color combinations. Try to match your catalog's color scheme to your company's model, but remember that classic color blends are often easily recognizable. Think about the catalog's color palette and stick to it when choosing a template.
Make sure to check more tips to make your catalogs stand out!

Top Catalog Templates
Whether you're a seasoned designer or a complete novice, using a well-chosen template is always a good idea. You can always customize it to fit your individual needs and save time in the creation process, as creating it from scratch can be a difficult task.
But with countless options available, finding the perfect template can be overwhelming. That is why, we have prepared a list of top free catalog templates.
In our article, you will find a list of the best websites that offer free catalog templates, but also a selection of product and custom catalogue templates, such as the one below:
Creating your product catalog with one of those templates will surely empower your company to expand its reach and connect with a broader audience.

You may be also interested in:
Product Buyers Guide – All You Must Know About It
How to Create a Professional Annual Report – a Short Guide